Michael Skinner, President and CEO of the Innovation Cluster – Peterborough and the Kawarthas, knows how rocky the world of startups can be.
An entrepreneur himself, he says having the right resources available can make a world of difference to a business and a community's success.
"A common industry stat is that 80 percent of startups fail in the first two years," Michael says. "When they run through an incubation program, this is reduced to less than 25 percent."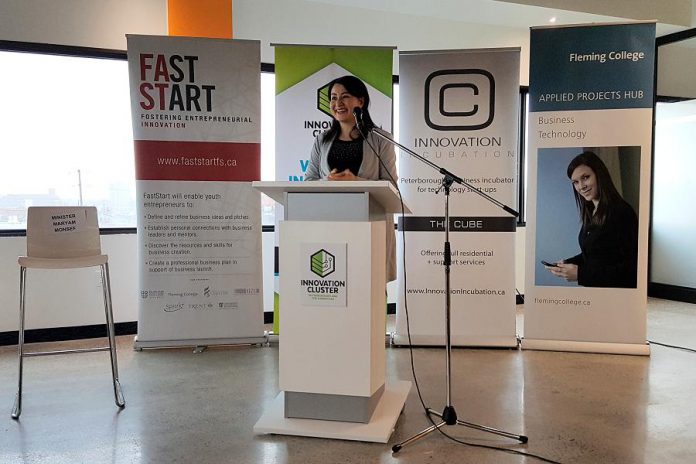 The Innovation Cluster launched its reimagined innovation space yesterday (April 19) at the VentureNorth building at 270 George Street North — including the downtown Peterborough location of The Cube, a business incubator.
The Cube provides the tools that modern entrepreneurs need to build innovative companies, including office space, meeting rooms, a library — and even space allocated to become a virtual reality development studio.
Smart design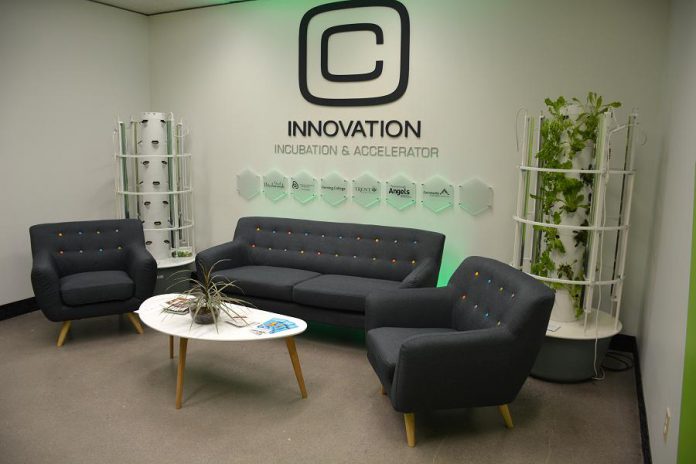 According to Rosalea Terry, Marketing Manager and Innovation Specialist at the Innovation Cluster, the space itself is designed to foster innovation. Part of this is the open-concept design.
"Having it open concept means that clients are working with each other, because a lot of them are at very different stages in their businesses," Rosalea explains. "Some of them are further along than others. They may have faced the same mistakes and challenges. It was meant to get them to interact with each other; to feel comfortable to walk around and talk to other people."
The space is also themed by colour. The green area hosts companies based upon innovation: clean tech, ag tech, digital, and health care companies. The orange is home to youth-focused programs like FastStart and Fleming applied projects. Teal areas are for collaboration (this includes the kitchenette and some of the meeting rooms). The yellow zone is the creativity area — this is where the virtual reality equipment will be housed.
Local innovation and local job development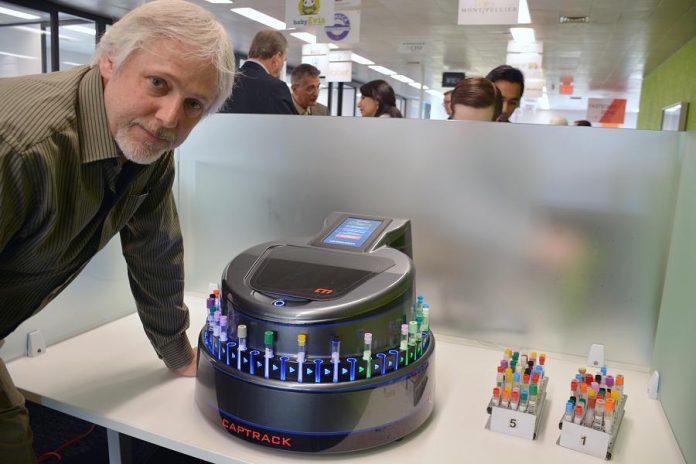 The Innovation Cluster has already yielded some impressive numbers, as Michael told the crowd at the April 19th launch.
"In the last 12 months, the Innovation Cluster has supported 28 different innovation companies, working with our entrepreneurs to create 62 full-time positions, 40 part-time positions, just under $1,000,000 in sales, just under $200,000 in personal investment, and just under $12,000,000 in equity that's been invested in these companies."
It's a great start, but Michael and his colleagues have far-reaching goals.
"We're motivated by the idea of retaining young talent from our two post-secondary institutions, revitalizing the downtown here, and keeping our tech companies in this region."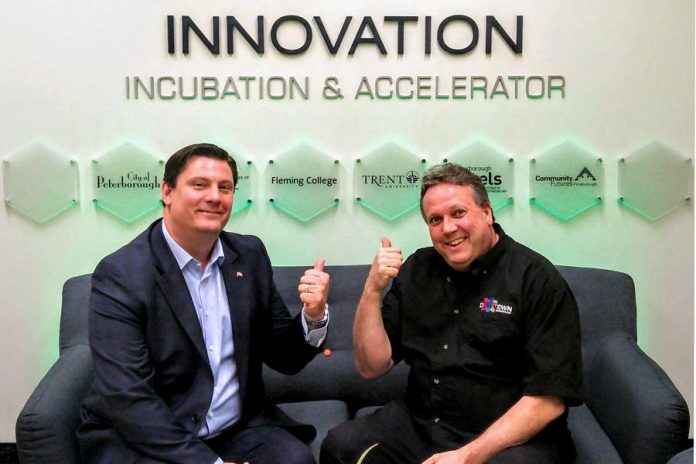 According to Michael, tech is a key focus because of its potential to create rewarding jobs in our region.
"Tech is very very important because it's one of the fastest-growing markets. It's always changing, and typically tech companies are high growth and also higher paying."
It's worth noting how Michael himself is a case study in how tech entrepreneurs can create jobs. Back in 2001, Michael launched his own tech startup in Peterborough, an e-learning company called Operitel, with five employees. By the time he sold the company in 2011 to Waterloo-based OpenText, Operitel employed around 70 people (OpenText continues to operate at the Peterborough location).
Mentoring from business leaders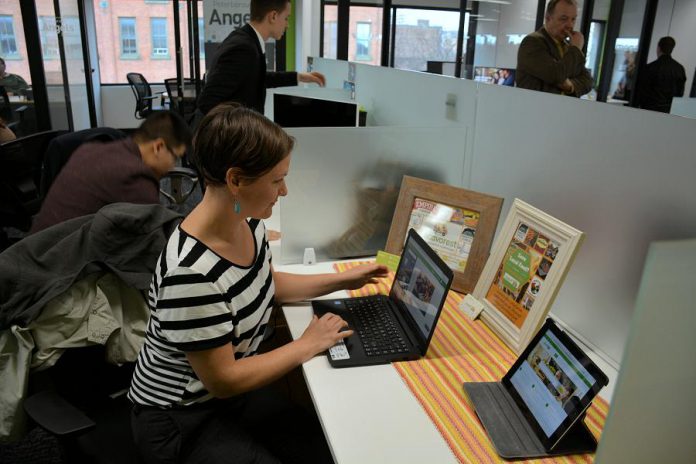 In addition to providing facilities, the Innovation Cluster will set up new entrepreneurs with coaching and training from industry experts. Michael says that this is something he would have benefited from in his early days as an entrepreneur.
"Sometimes you don't know to ask — and you don't know what you don't know."
He says that clients of the Innovation Cluster are matched with mentors who can help them overcome problems.
"When we're working with our clients and we identify a roadblock, we go into our database, find a mentor, and then we bring those two together."
Megan Boyles, Chief Creative Officer of Locavorest (an online farmers' market that connects consumers with local producers), says that one of the key benefits of the Innovation Cluster is access to professional mentors.
"There are experts in intellectual property, marketing, branding, insurance, and lawyers," Megan says. "It's an awesome program because a lot of entrepreneurs and startups don't have the funds to be able to talk to a professional."
The Innovation Cluster also provides a networking opportunity that can lead to funding.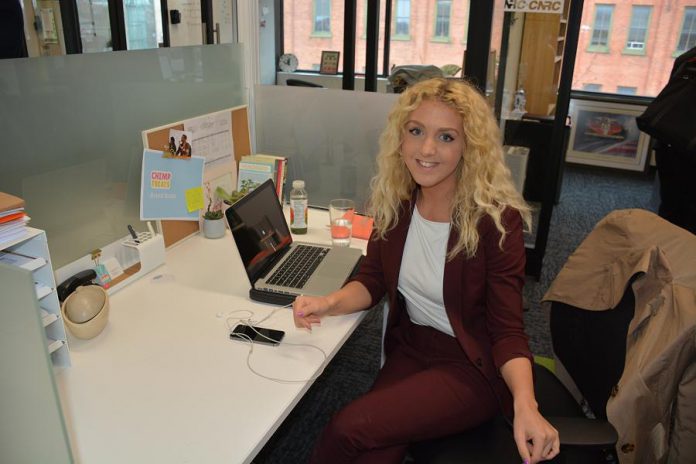 Brooke Hammer, founder of Chimp Treats (a company that makes frozen desserts entirely from bananas and other fruit), has seen her business thrive with the help of the Innovation Cluster.
"We're rolling out in Whole Foods next month. We're being picked up by North America's biggest natural foods distributor."
Brooke connected with investors through her mentor.
"I closed my first investment round with his help, and now he's really active in the business. It's been great."
A place to meet like-minded entrepreneurs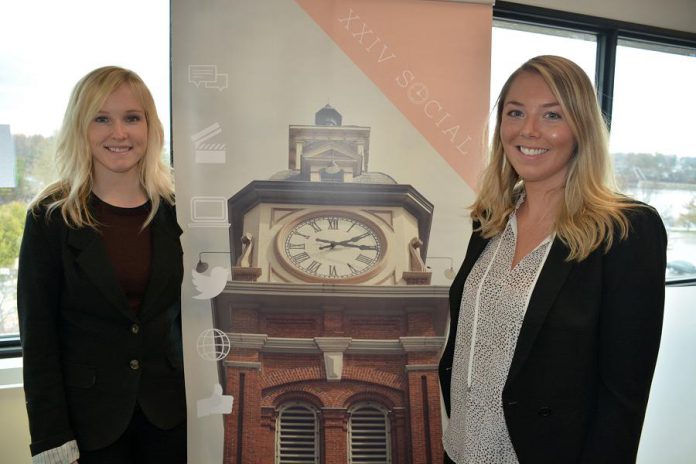 Melissa Butler and MaryBeth Miller of XXIV Social, a social media marketing startup, began working at the Innovation Cluster incubator part time in February. MaryBeth says that having a professional office space has been key for their home-based business.
"Part of the thing we've found useful is having our clients meet us here. It's nice to have a space where your clients can come to you and they can feel comfortable."
Melissa adds that the Innovation Cluster is a great place to get inspired by other entrepreneurs.
"There's just an awesome energy up here. It's all entrepreneurs who are startups, so you can come up here and talk to people and bounce ideas off of them."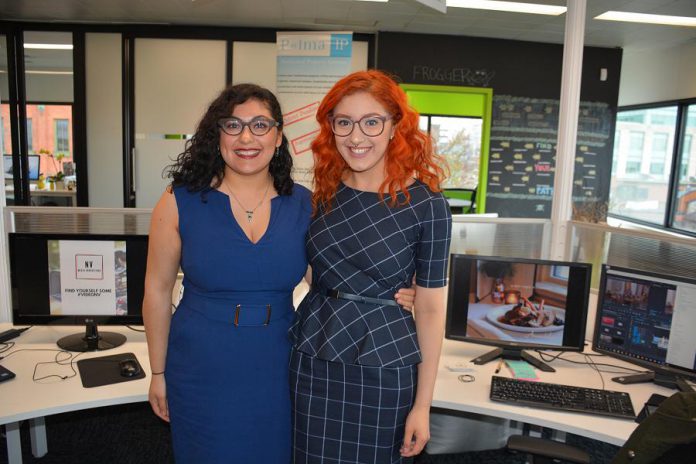 Sisters Bianca Nucaro-Viteri and Mercedez Nucaro run NV Media Productions, a company specializing in corporate video, wedding videos and food photography. Notably they have begun work on Sofie Andreou's BizMapPtbo, a video project that showcases local business success stories. They say that the Innovation Cluster has been a great networking opportunity for their business.
"You get to meet so many people. We meet clients right here in this space."
Rob Howard of Kawartha Local, a company specializing in locally sourced gift crates, is planning a new retail project. He showcased what he describes as a "micro-shop", a merchandiser that local producers can rent to sell their products.
"They learn about merchandising and signage and branding."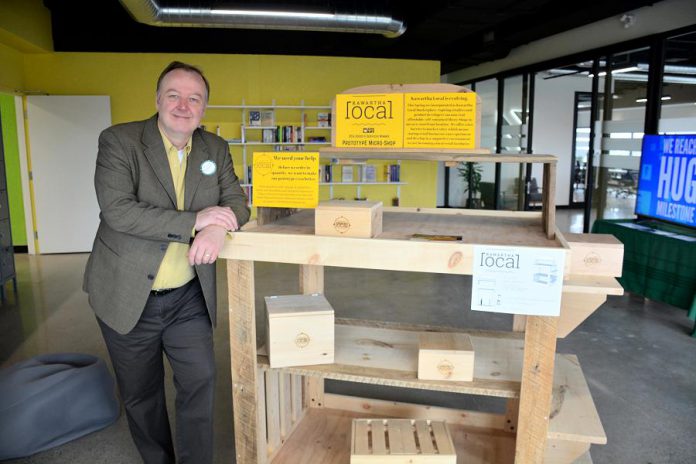 He plans to house eight to 10 of these displays in a larger shop, providing an opportunity for entrepreneurs to get started retailing their products.
"It's low-barrier entry for people who want to experiment with a retail environment."
In addition to The Cube in downtown Peterborough, the Innovation Cluster's original incubator space at Trent University's DNA Building will continue to operate. It will specialize in supporting projects that require state-of-the-art laboratory facilities, such as green technology, health care, and agricultural technology.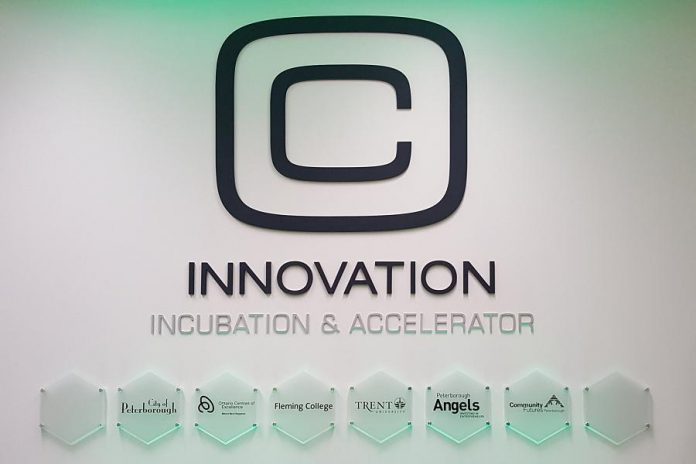 A not-for-profit organization, the Innovation Cluster is funded by Trent University, Fleming College, The Ontario Centres of Excellence, the Peterborough Regional Angel Network, and the City of Peterborough. The locations sponsors are The Konrad Group and the VentureNorth partners.
According to Paul Bennett, president of Ashburnham Realty and a partner in VentureNorth, the VentureNorth building was planned as a home for business innovation.
"We targeted different groups that help to start and grow businesses and tried to get them under the same roof."
Peterborough Economic Development will be moving into the first floor, and the lower level is home to Junior Achievement Peterborough Lakeland Muskoka.
Paul says that they got even more interest than they were expecting, and are considering creating another building in the parking lot.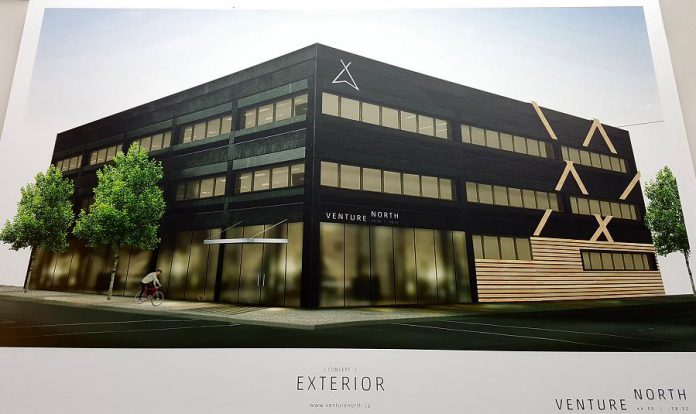 For more information about The Cube and the Innovation Cluster's other programs, visit www.innovationcluster.ca.