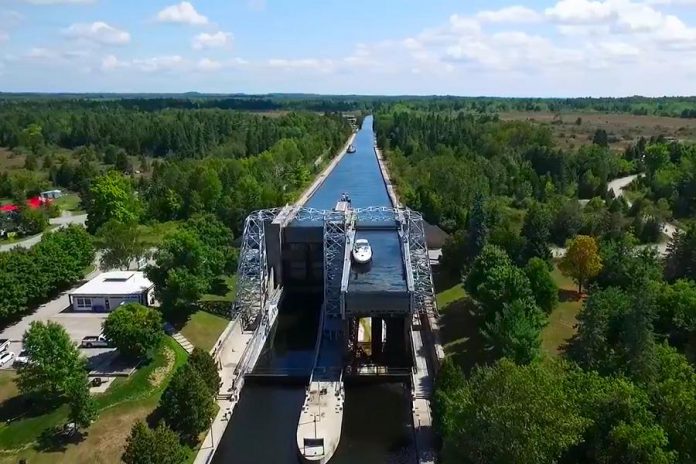 This weekend, Parks Canada celebrated the official opening of the Trent-Severn Waterway for the 2017 navigation season at Lockfest in Bobcaygeon on Saturday (May 27), along with the release of a new video showcasing the locks and promoting free lockage permits as part of the Canada 150 celebrations.
The video features dramatic aerial drone footage of several locks in the system: the Peterborough Lift Lock (Lock 21), Ranney Falls Flight Lock (Lock 11/12), the Kirkfield Lift Lock (Lock 36), Rosedale (Lock 35), Big Chute (Lock 44), Port Severn (Lock 45), Otonabee (Lock 23), Buckhorn (Lock 31), Douro (Lock 24), Ashburnham (Lock 20), Fenelon Falls (Lock 34), Couchiching (Lock 42), Swift Rapids (Lock 43), Boslover (Lock 37), and Percy Reach (Lock 8).
VIDEO: Welcome to the Trent-Severn Waterway
Parks Canada celebrated the official opening of the waterway with Lockfest, which took place on May 27th at Lock 32 in Bobcaygeon.
Lockfest began with a flag-raising ceremony to install a new Canada flag and a Canada 150 flag at the lock station.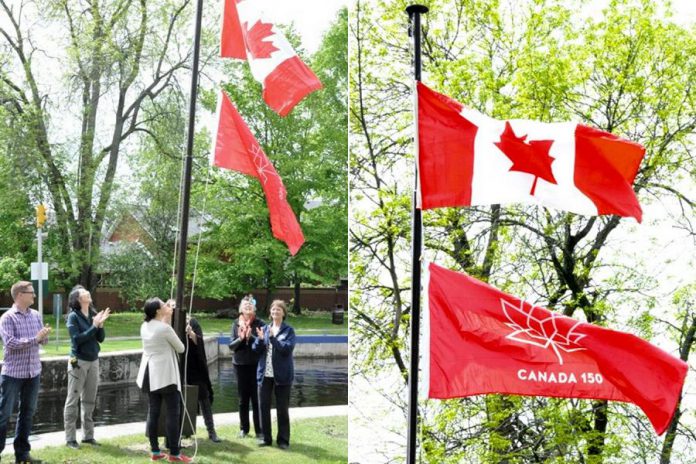 Peterborough-Kawartha MP Maryam Monsef attended Lockfest on behalf of the Honourable Catherine McKenna, Minister responsible for Parks Canada.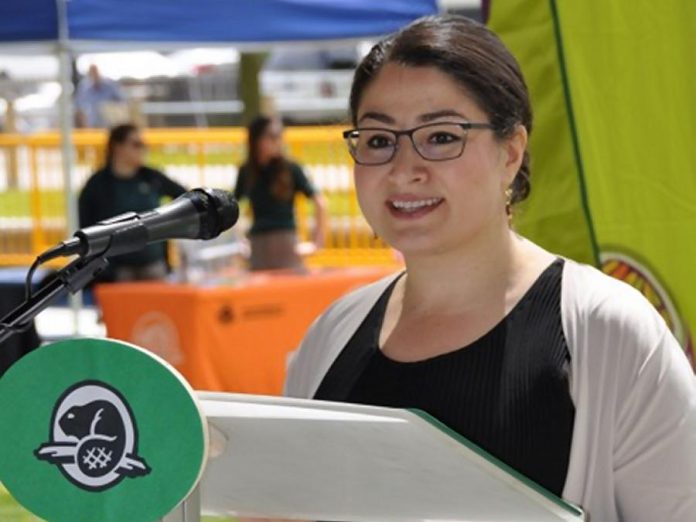 Parks Canada had a booth set up where visitors could pick up a free lockage permit as part of the Canada 150 celebrations. It allows passage through lock systems on all of Parks Canada's national historic canals throughout the entire 2017 navigation season. You can visit any lock station on the Trent-Severn Waterway to get your permit, or you can order it online.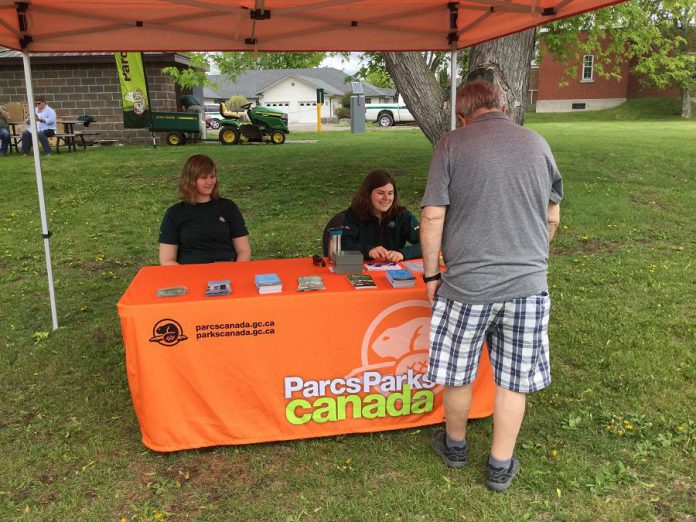 Happy Days Houseboats of Bobcaygeon offered houseboat tours and seminars on how to lock with houseboats.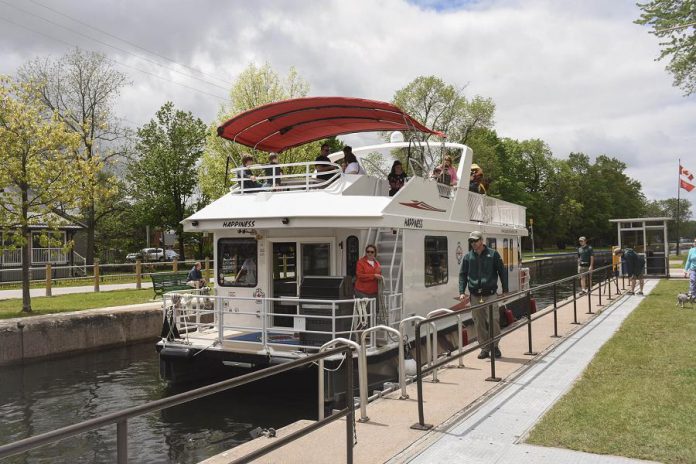 Parka, the Parks Canada mascot, was also at Lockfest.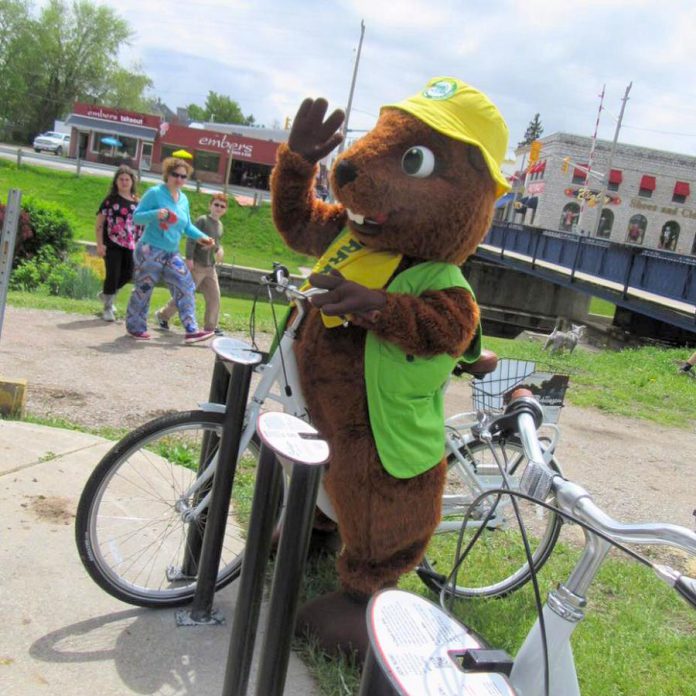 For the kids, Parks Canada offered temporary tattoos.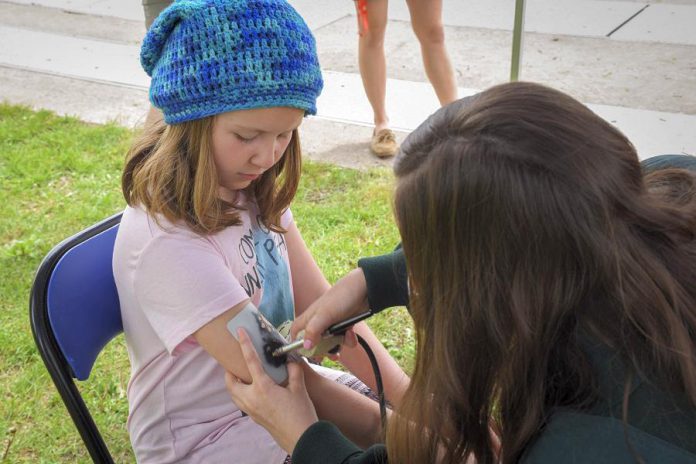 Parks Canada also offered custom coasters, hand made from reclaimed gate logs, featuring the Parks Canada logos.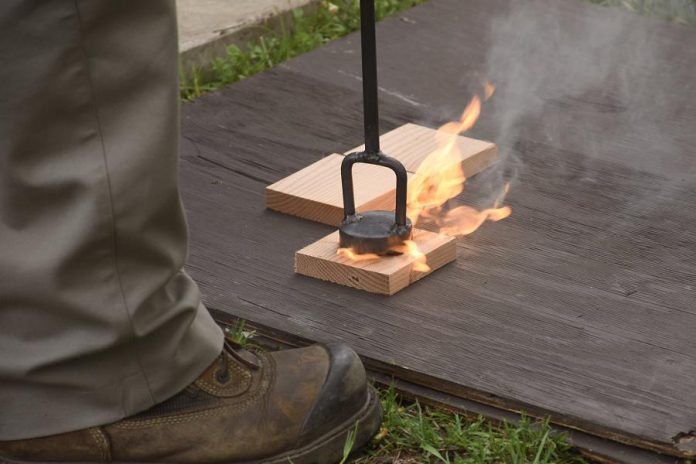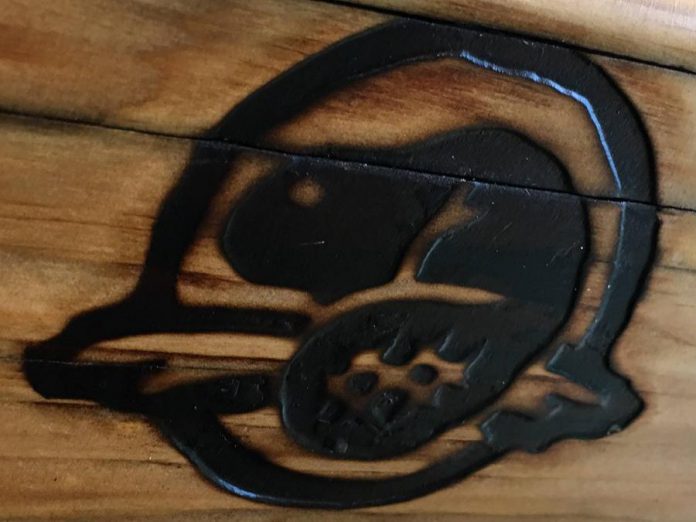 Although the Trent-Severn Waterway officially opened this past weekend, due to continued high water levels and flows, Parks Canada is opening the lock stations on the waterway for boat traffic in stages.
As of May 27th, Locks 28 (Burleigh Falls) through Lock 45 (Port Severn) are open to boat traffic, as well as Lock 20 (Ashburnham) and Lock 21 (Peterborough Lift Lock). Parks Canada will open the remaining locks for boat traffic when it is safe to do so.