---
Public Hearings for Employment Standard Act Changes
In July, there is an opportunity to participate in the upcoming Public Hearings on Bill 148, The Fair Workplaces, Better Jobs Act.
The Chamber heard from many of you that the proposed changes such as increased minimum wage, 48 hours notice for canceled shifts, and more will have significant impacts on your business. So the Chamber wanted to make certain you were aware of these hearings.
This is an opportunity for you to have your position on raising the minimum wage and proposed labour reforms heard by the Standing Committee on Finance and Economic Affairs and the Chamber encourages you to participate.
If you are selected (number of presenters is limited) by the Clerk and wish to present in person, their office will reach out to inquire about your availability to present at the following locations on the dates listed below (please note the presenter registration deadline):
Week 1 (Presenter Registration Deadline is Tuesday, July 4, 2017 at 10 a.m.)
Monday, July 10: Thunder Bay
Tuesday, July 11: North Bay
Wednesday, July 12: Ottawa
Thursday, July 13: Kingston
Friday, July 14: Windsor-Essex
Week 2 (Presenter Registration Deadline is Monday, July 10, 2017 at 10 a.m.)
Monday, July 17: London
Tuesday, July 18: Kitchener-Waterloo
Wednesday, July 19: Niagara
Thursday, July 20: Hamilton
Friday, July 21: Toronto
Interested people who wish to be considered for an oral presentation on Bill 148 should provide their contact name, mailing address, phone number, and email address to Eric Rennie, Clerk of the Committee, at 416-325-3506.
If you would prefer to submit in writing, you can also participate by submitting your comments in writing to Eric Rennie at erennie@ola.org before 5:30 p.m. on July 21st. Learn more.
Wealth of Choice Brochure Flats Available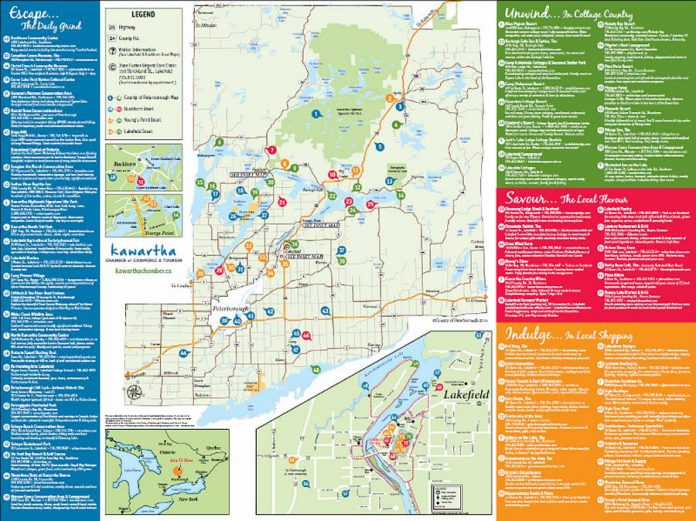 18″ x 24″ flats of the Kawartha Chamber's Wealth of Choice Brochure & Map are available at the Chamber office, 12 Queen Street, under the town clock in Lakefield.
These maps have lots of local information and are great for counter tops or bulletin boards at your business! To reserve your copy, email info@kawarthachamber.ca.
Lamination for this large size can be done at Staples — a Kawartha Chamber Member!
If you would like copies of the folded brochures for your business, please email info@kawarthachamber.ca the quantity you would like and the Chamber will reserve them for you.
Service Providers – Send the Chamber your Photos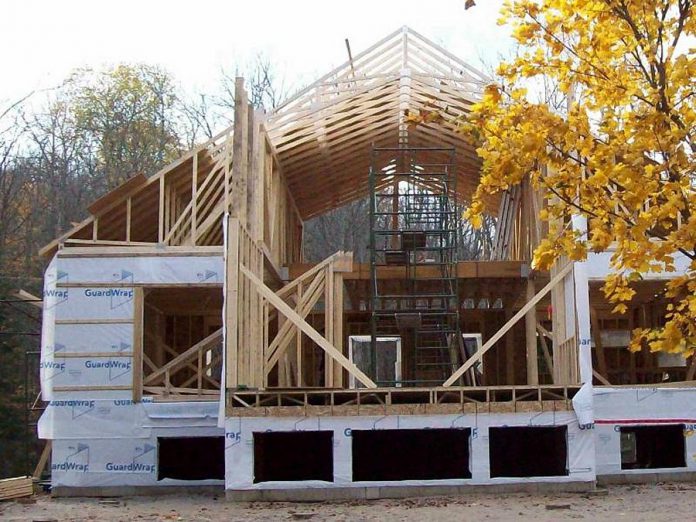 The Chamber is in the process of creating print material that represents its service provider members: personal services, home & garden, construction & home improvement, auto & marine, professional services, finance & insurance, real estate, etc.
The Chamber want to use photos of its members! Please send your high-quality photos as consideration to info@kawarthachamber.ca. If your photos don't get used in this project, the Chamber will keep them on file for future Chamber communications.
Available Space in Lakefield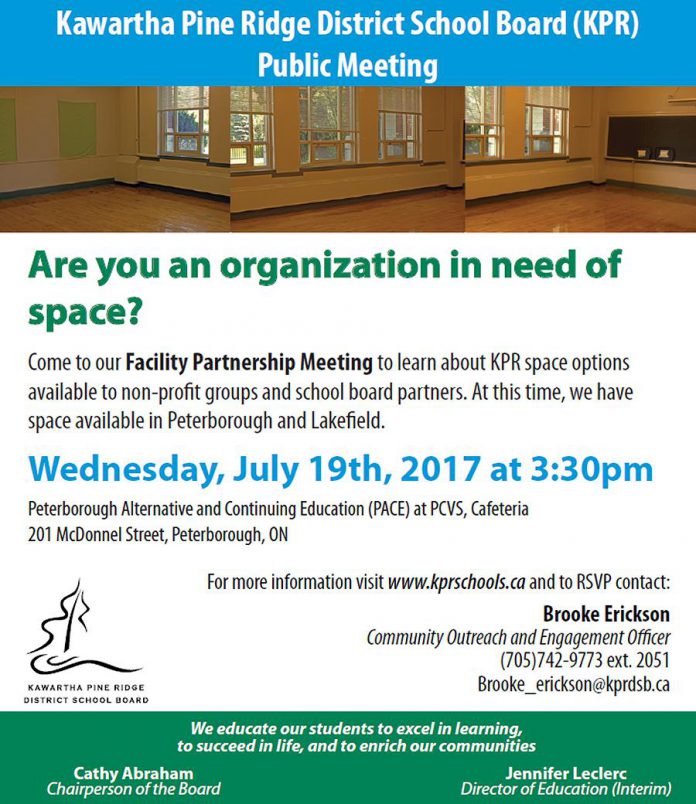 Lakefield District Public School (formerly Lakefield District Secondary School) currently has one main floor room available for rent.
When Kawartha Pine Ridge schools have under-utilized space, the board can lease that space out to a group to use for their purposes (office space, program space etc.). This group must be willing to act in accordance with the Board Facility Partnership Principles, as well as enter into a lease agreement with KPR.
Attend the Facility Partnership Meeting on July 19th for more information. Meeting details above. Learn more.
Warsaw Habitat Home Dedication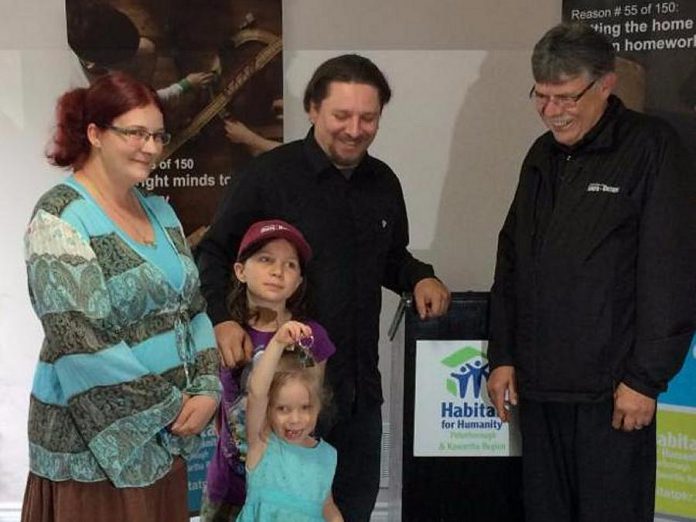 Warsaw officially has its newest residents!
Homeowners Josh and Natasha Clark-Bandi, with their daughters Autumn and Jasmine, received the keys to their new home on Tuesday (June 27) at the Habitat Home Dedication Ceremony at 887 Peterborough Street in Warsaw.
This home dedication marks the 30th family that has been helped into home ownership by Habitat for Humanity Peterborough & Kawartha Region.
Celebrating Canadian Artists at Gallery on the Lake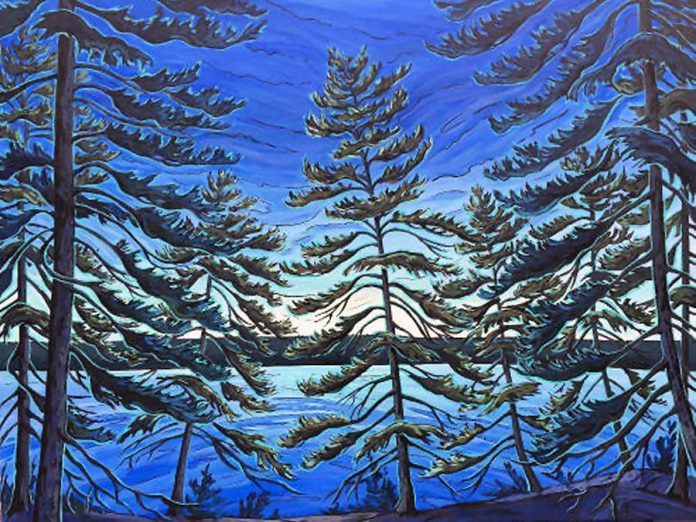 The Gallery on the Lake is pleased to present its "Celebrating Canadian Artists!" Celebrating Canada 150 Group Show.
The Gallery on the Lake is celebrating its 17th year of operation and will be showcasing an incredible line-up of world class art to help Canada celebrate its 150th birthday.
Opening July 1st is the most noteworthy event, a group show, entitled "Celebrating Canadian Artists!" This exhibit will showcase amazing artwork, including sculptures, by our very best artists and will continue through to July 28th.
This event also provides a fantastic opportunity to meet many of the artists in person during the opening reception on Saturday, July 8th between 1 and 4 p.m. Learn more.
Celebrate Canada Day in the Kawarthas!
Apsley Canada Day Parade, July 1st beginning at 1 p.m.
Celebrate Canada's Birthday by enjoying the Apsley Canada Parade hosted by the Apsley & District Lions Club! The parade begins at 4 p.m. at Apsley Public School and ends at Lions Park where the festivities continue! In the park, there will be a bouncy castle, games, music, Lions food booth and more! Fireworks will begin at dusk.
Buckhorn Community Centre (BCC), July 1st beginning at 1 p.m.
Canada Day Celebrations in Buckhorn take place from 10 a.m. to 4 p.m. and 8 p.m. until dusk. This year's event will include North Star Productions planetarium and shows inside the BCC, Evolve Skateboard and Scooter lessons, pony rides, petting zoo, bingo in the park and much more! Check out the licensed pub for a cold one and enjoy entertainment by the Buckhorn Jammers. Fireworks begin at 10 p.m.
Isabel Morris Park in Lakefield, July 1st beginning at 3 p.m.
A free family-oriented event to celebrate Canada's 150th Birthday! Enjoy vendors in the park, petting zoo, children's games, Peterborough Utilites Water Truck, Lakefield & District Lions BBQ Truck and much more! There will be live music from 3 to 8 p.m.. PyroFlys Fire Jugglers perform at 9:15 p.m. and fireworks by Fire in the Sky Productions at 10 p.m.
Lakefield Legion, July 1st, beginning at 1 p.m.
Celebrate Canada Day at the Lakefield Legion with karaoke all afternoon on the patio. Come for a song and drink. Food available from the Lakefield & District Lions Club BBQ trailer.
Grand Opening of Selwyn Skate Park
The Township of Selwyn is proud to showcase the new Selwyn Skateboard Park for all to enjoy!
Visit Isabel Morris Park on July 1st at 3 p.m. for the grand opening. Be sure to stay after the ceremony for the Canada Day festivities!
Historic Dominion Day at Lang Pioneer Village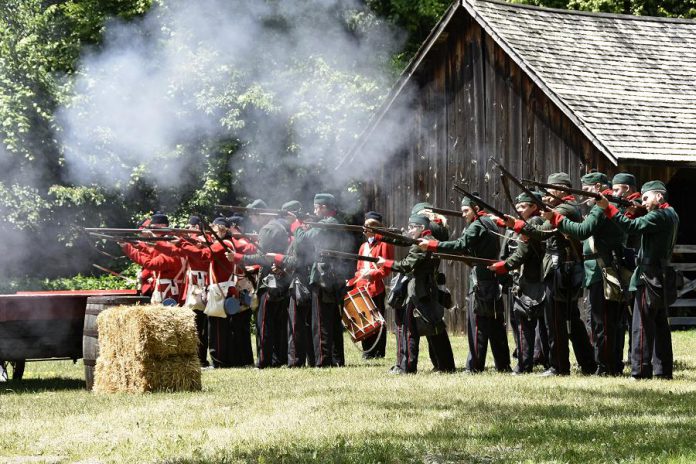 The best place to be on Canada's 150th birthday is back in time! Celebrate Canada's sesquicentennial birthday with an 1860s celebration during Historic Dominion Day, Saturday, July 1st from 10 a.m. to 4 p.m. at Lang Pioneer Village Museum in Keene.
Learn about the First Nation perspective on Confederation and their contributions to the development of the nation at the Aabnaabin Camp, enjoy free horse-drawn wagon rides throughout the historic village which will be decked out for the occasion with bunting and the historic flags of Canada, and much more.
Visit the Lakefield Country Jamboree June 29th – July 2nd
Visit the Lakefield Country Jamboree beginning Thursday, June 29th at the Lakefield Fairgrounds.
Rough camping is $70 per person, or walk-in weekend passes are available for $35. Day passes for Thursday are $10, and $15 Friday-Sunday.
Click here for full weekend line up.
Upcoming Events
Family Paddling Day – June 28th
Lakefield Legion 10th Annual Golf Tournament – July 8th
Lakefield Jazz, Art & Craft Festival – July 8th
For more information about the businesses and events listed above, please visit the Kawartha Chamber of Commerce & Tourism website at kawarthachamber.ca.
All photos supplied by Kawartha Chamber of Commerce except where noted.