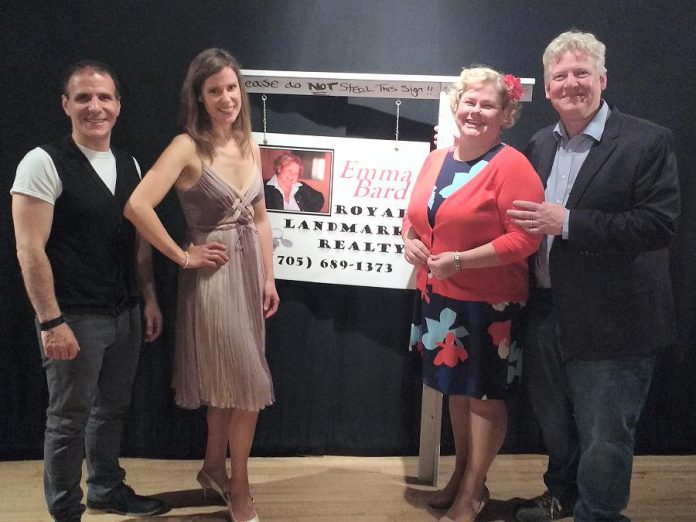 On Wednesday, June 28th, Globus Theatre in Bobcaygeon opened its summer season with their production of Real Estate, a comedy drama by Canadian playwright Allana Harkin.
Directed by Sarah Quick, the production stars Sarah, James Barrett, Cyndi Carleton, and Sam Rosenthal in a show that isn't at all what I expected it to be, but is perfect summer theatre.
Making its premiere at Theatre Collingwood in 2015, Real Estate became a hit at Hamilton's Theatre Aquarius. Since then, the play has been performed all over North America and as far away as New Zealand.
James Barrett plays writer Joel Hopper, a crime writer who is in a slump. With his agent continuously calling him, Joel has recently put his father into a nursing home, has separated from his wife Estelle (Cyndi Carleton), and is suffering from writer's block.
Retreating to the rural home he grew up in, most days Joel can't even get out of his pajamas. With mounting financial problems looming over him, Joel is forced to make the decision to sell the family home.
This is when Emma Bard (Sarah Quick) comes crashing into his life. Brand new at the real estate game, Emma has never sold a house before, but now finds herself against the clock and has to find a buyer and seal the deal within seven days.
As Emma tries to spin her perky magic on this house of gloom, Joel's wife Estelle shows up — with her new partner Ted Phillips (Sam Rosenthal) — demanding that Joel sign divorce papers. But facing one another again, it's questionable if either Joel or Estelle really wants a divorce.
Soon Emma finds herself drawn into Joel's drama and not only acts as his realtor, but as a therapist, match maker, life coach, and friend to a man whose life is in shambles — while still trying to make a decent commission.
I'll admit that Real Estate really surprised me. Globus Theatre may have slightly underplayed this show by advertising it as a comedy in their promotional material. I was expecting a more traditional comedy with lots of jokes, hijinks, and misunderstandings. Instead, I was surprised to find that Real Estate is a well-crafted play that finds a perfect balance between comedy and drama.
There is a deeper story in Real Estate about relationships and how love goes wrong. Playwright Allana Harkin also tenderly creates a sense of history and backstory to the house being sold, resulting in a mixture of sentimentality and pathos. While the dialogue is often quick and funny, there are a lot of emotional punches to this show, and the cast is able to make each one of those hits count. The result is a comedy with a lot of depth, which wasn't something I was expecting.
I have seen both James and Sarah in a lot of Globus productions over the past four seasons, but Real Estate gives these two delightful performers something a little different to do.
The role of realtor Emma was tailor made for Sarah Quick, who brings her brand of lively wit and energetic stage presence to the character. Colourful, cheerful, and full of surprises, Emma has an ambition to not only sell a house, but to do right by Joel who she immediately recognizes as a pathetic soul looking for a break.
Part of the comedy of Real Estate is how deeply involved Emma become in the mess of Joel's life. She basically moves into his home and is unable to merely witness the drama unfolding before her; she seeks to fix it and make everybody have a happy day. Sarah is a true delight in this fantastic role, and this may be one of my favourite parts I've seen her do.
Meanwhile, James breaks out of the type of roles he often plays to take the part of downtrodden writer Joel. With a quick wit cutting through his cynicism, Joel is a man whose life is in a downward spiral, where all that has been good in his life seems to be slipping through his fingers. A dark cloud hangs over him, which is brushed away by Emma's sunny disposition.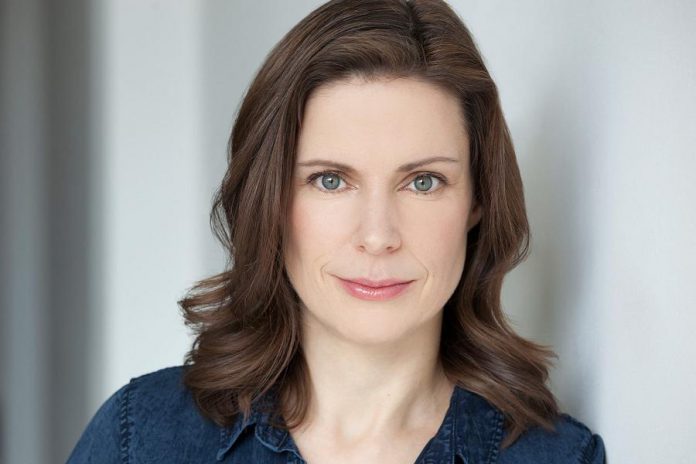 This creates a lot of fun when James and Sarah bring these characters together, but James' strongest performance comes when he shares the stage with Cyndi Carleton as Estelle. When James and Cyndi are together, a different type of spark flies — one of hurt and sadness but also a sort of melancholy romance.
I really like Cyndi Carleton a lot and, out of the four characters in this production, Cyndi is the lightning rod for the drama in this show. Her layered performance adds the emotional elements that make Real Estate more than the farcical comedy I expected.
Cyndi gives a very honest performance as a woman who is as lost as her ex-husband, caught between wanting to move on and wanting to run back to the past. Although her motives seem clear, she keeps the audience guessing where her heart lies, leaving it completely unclear how things are going to work out until the very end.
Possibly the biggest laughs of the night go to Sam Rosenthal as Estelle's partner Ted. The comic relief in this show, Sam plays "asshat" very well — and this character is a real piece of work. He's the kind of guy you love to hate, and end up hating that you love him. Obnoxious, vain, and completely clueless, Ted is a brilliant character piece and Sam relishes the part.
In a way, Sarah's role as Emma and Sam's role as Ted are the comedic yin and yang of the show, with Emma getting laughs with her sweetness and Ted finding comedy in his arrogance. Together, they provide the comedy while James and Cyndi provide the drama. The result is a wonderful mixture of actors who create a show filled with different dimensions and emotions.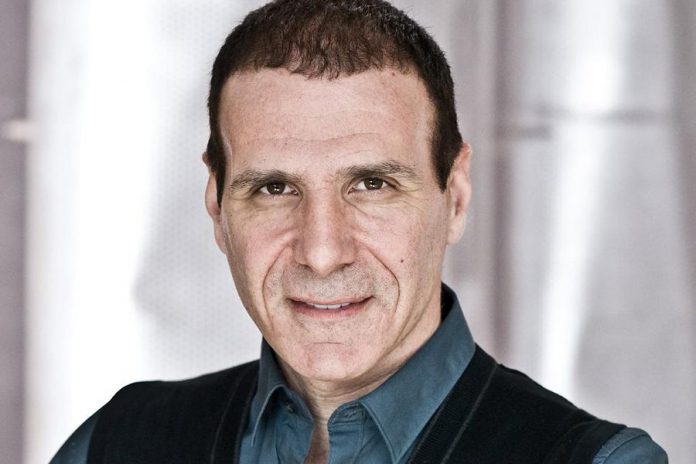 Although it's a subtle thing, I want to take a moment to mention the pre-show music. I noticed the individual songs were carefully selected to reflect the theme of homes and houses, by singers as diverse as Crosby, Stills, Nash and Young to The Talking Heads to S Club 7. It's a small but very effective touch, and I wonder how many members of the audience around me noticed. I personally appreciate that kind of thing and found myself waiting to see how the next song would tie into the theme. Sometimes it's the little touches like this that enhance the overall theatrical experience.
Real Estate is the perfect show to open the summer theatrical season in the Kawarthas. The cast is likeable, with all four actors giving strong performances. But what I most appreciate about the production is that it goes beyond the light and breezy comedies that seem to be most popular with summer audiences, and instead digs a little bit deeper into the heart.
Real Estate is a real winner. If you have yet to visit the Lakeview Arts Barn in Bobcaygeon to see a Globus Theatre production, Real Estate is a great introduction to the type of shows James and Sarah bring to the Kawarthas. This is a show that does not disappoint.
Real Estate runs from until Saturday, July 8th at the Lakeview Arts Barn in Bobcaygeon, with performances at 8 p.m. on June 30th and July 3rd to 8th, and 2 p.m. matineees on July 6th and 8th. A three-course table d'hôte menu is available at 6 p.m. prior to every evening performance.
Tickets are $31.50 for adults and $20 for students for the show only, or $65.50 for adults and $54 for students if you want the dinner and the show. For tickets, visit the box office at Lakeview Arts Barn or call 705-738-2037.