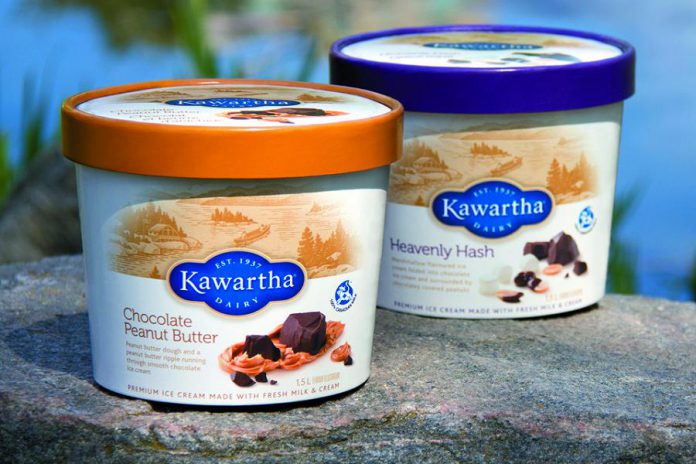 Earlier today (August 2), Premier Kathleen Wynne was at Kawartha Dairy in Bobcaygeon to announce $311,200 in provincial funding to help the family-owned company build a new state-of-the-art refrigeration and distribution facility.
"Kawartha Dairy is a wonderful Ontario success story," said Premier Wynne. "Our support for this major expansion project will help the company build on its success and create new jobs in the food processing sector."
Premier Wynne also took the opportunity to serve ice cream cones to some Kawartha Dairy customers.
It's never too early for ice cream. And when you're at @kawarthadairy it's impossible to say no to chocolate! pic.twitter.com/QCtNfo7L6H

— Kathleen Wynne (@Kathleen_Wynne) August 2, 2017
Kawartha Dairy's new refrigeration and distribution facility will create 10 new jobs and support 115 existing jobs in Bobcaygeon. The Province of Ontario is funding four per cent of the project, with Kawartha Dairy funding the remaining 96 per cent. The facility is expected to be completed by the fall of 2017.
The investment, through the Eastern Ontario Development Fund, will help Kawartha Dairy better ensure consistent product quality and explore new product lines so it can expand its domestic and export markets.
"Our new state-of-the-art refrigerated and frozen distribution facility in Bobcaygeon will help take our company to the next level by growing our presence and exploring new product lines," said Blake Frazer, Vice-President and General Manager of Kawartha Dairy.
Kawartha Dairy, which is celebrating its 80th anniversary this year, sells products such as ice cream, milk, and butter through its nine retail stores. It also supplies a wide range of retailers, restaurants, and large grocery chains including Loblaws, Sobeys, and Wal-Mart.
Kawartha Dairy makes all of its products using fresh milk from Ontario farms and is an important employer in the Kawarthas region. Visit kawarthadairy.com for more information.