For 25 years, GreenUP has been central and eastern Ontario's leading organization focused on issues of environmental education, sustainability, and stewardship.
GreenUP invites you to join us for our 25th birthday celebration and family night on Thursday, August 24th at 6 p.m.
The party will be held at GreenUP Ecology Park at 1899 Ashburnham Drive in Peterborough and is free for nature lovers of all ages.
Family Night is an annual favourite event for many Peterborough area families and this year attendees can look forward to some special activities in celebration of GreenUP's 25th including face painting, scavenger hunts, stream study, and birthday cake!
Join The Paddling Puppeteer for a puppet show and music at the campfire, and make a lantern and follow along on a guided lantern walk around the Ecology Park Trails. Participate in the Enviroscape watershed education demonstration to follow water flowing through a watershed and learn about sources and effects of water pollution — and find out ways to prevent it.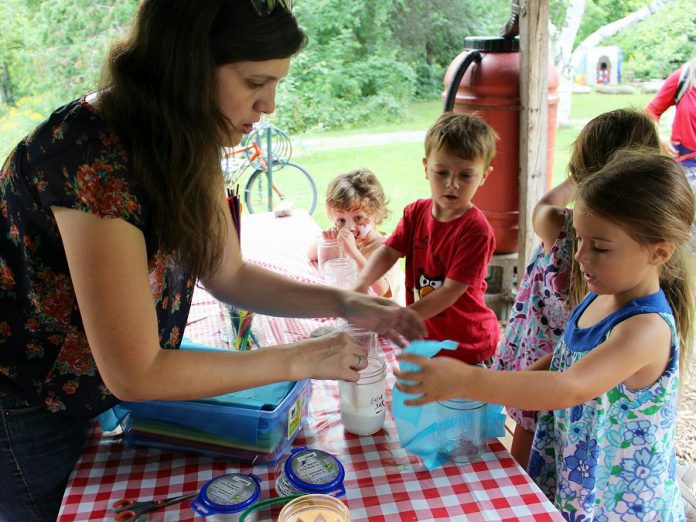 Don't forget to bring your bike! Ecology Park is located along the Trans Canada Trail in East City offering a great opportunity to ride the trail. Bring your bike lights for the ride home; we will provide plenty of bike parking and a bike decorating station for the kids.
As we celebrate our 25th birthday, we also look back at our beginnings and plan for 25 more years of environmental stewardship in the Peterborough area. We hope to see old and new friends at the celebration.
"I am amazed by the persistence of this wonderful organization through decades of challenges and opportunities," says founding GreenUP board member Clifford Maynes. "GreenUP is constantly innovating and reinventing itself to stay fresh and meet new needs. And yet it stays true to the original vision — community-based in its identity and methods, ready to partner with just about anybody, focused on practical solutions as the foundation for transformational change. GreenUP is an inspiration."
Are you a former GreenUP staff or board member? Perhaps you know GreenUP through our energy audits and want to know more about our many other environmental programs? Maybe you visited Ecology Park years ago with your children and haven't been back through to see what's new? We invite you to join us for this wonderful community celebration and to share your memories of GreenUP programs throughout the years.
As well as being our birthday, it is also an exciting time for GreenUP Ecology Park as we undertake our biggest fundraising campaign ever, to enhance facilities at the Park.
For children growing up in this region, GreenUP Ecology Park has been a site of wonder, learning, and environmental immersion. Funds raised will strengthen our capacity to offer high-quality outdoor programming, maximize the impact this unique facility can have on the health of children, and increase accessibility to enable a greater number of children to use the park.
Plans for improvement at Ecology Park include enhancing the teaching shelter, replacing the hand-washing station, and adding a drinking water station. They also include the installation of additional lighting and a fully accessible washroom.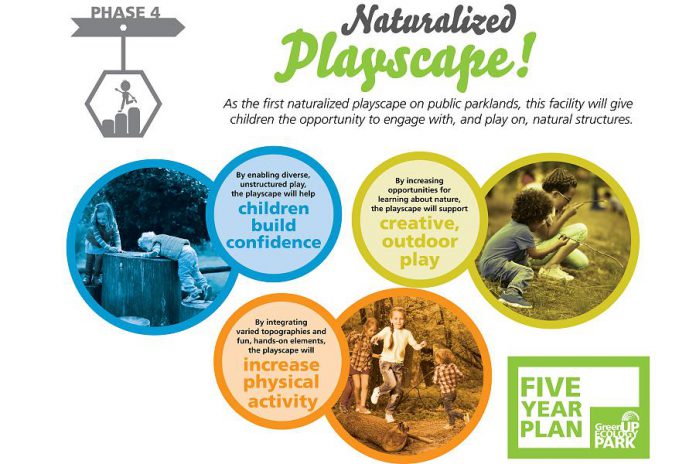 "We are excited to improve our facilities and increase our capacity to educate the next generation of environmental stewards," says GreenUP Executive Director, Brianna Salmon. "GreenUP Ecology Park provides a critical site for immersive environmental education in an urban setting, and as we look toward the future, we appreciate how important sites like this are. Community support remains essential to the sustainability and growth of the Park, and we're extremely grateful for the generosity of the Peterborough community."
GreenUP founding partner Linda Slavin adds: "In the face of climate change, and other interconnected environmental, social, cultural and economic challenges, the Peterborough area needs GreenUP now more than when it was founded … and hallelujah, GreenUP is ready!"
Our Ecology Park 5-year Plan Fundraising Campaign is underway! Read more about the Ecology Park Master Plan and donate today. We also encourage supporters to view our Birthday Wish List at www.greenup.on.ca/donate and consider donating an item in celebration of our big year.
For more information about the GreenUP 25th Birthday Party and Family Night, please visit the GreenUP Events Calendar or let us know you're coming via our Facebook Event Page.