It comes as no surprise, but there's a lot of talent hidden in the Kawarthas. Earlier this week, we wrote about Peterborough native Michelle McLeod, who landed the lead role in the full-length feature film Don't Talk to Irene, which premieres on September 11th at the Toronto International Film Festival (TIFF).
Now we've learned there's yet another film with local connections about to premiere at TIFF on Sunday, September 10th. The short horror film Latched, written by Toronto-based filmmaker Justin Harding and co-directed by Harding and Rob Brunner, has the distinction of being the opening short film for the festival.
Not only was Latched shot last fall on Dewey's Island just north of Fenelon Falls, but Rhonda Causton of Omemee created the creature special effects in the film. Causton, the owner-operator of Reel Twisted FX, is a special effects makeup artist who also teaches courses at Fleming College.
VIDEO: Latched Trailer

Latched is a 17-minute horror film about a newly single choreographer Alana (Alana Elmer) who heads to an island cottage in the off season for a creative retreat, taking her 14-month-old son Bowen (Bowen Harding) with her.
When the two go for a walk in the woods, they discover the decomposing remains of what they think is a bat — but they soon discover they've inadvertently awakened the corpse of a vile fairy (Jarrett Siddall).
The production is given extra realism with Harding writing the roles of Alana and Bowen specifically for his real-life wife and son. What's more, co-directors Harding and Brunner are both reality-TV veterans. Brunner has directed The Amazing Race Canada, Wild Things with Dominic Monaghan, and Top Chef Canada, and Harding has produced The Amazing Race Canada, Master Chef Canada, and more.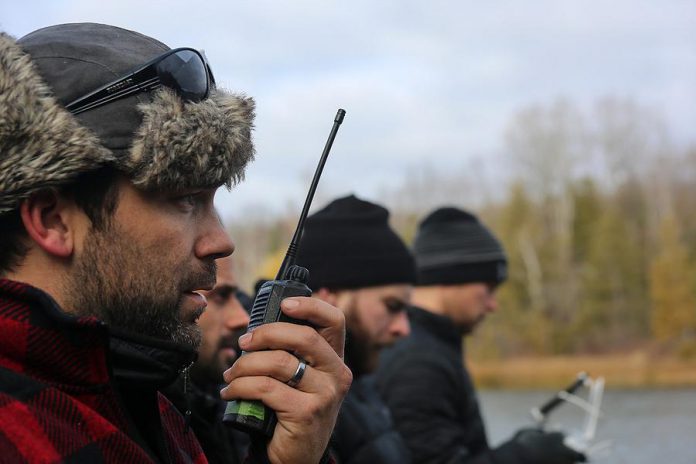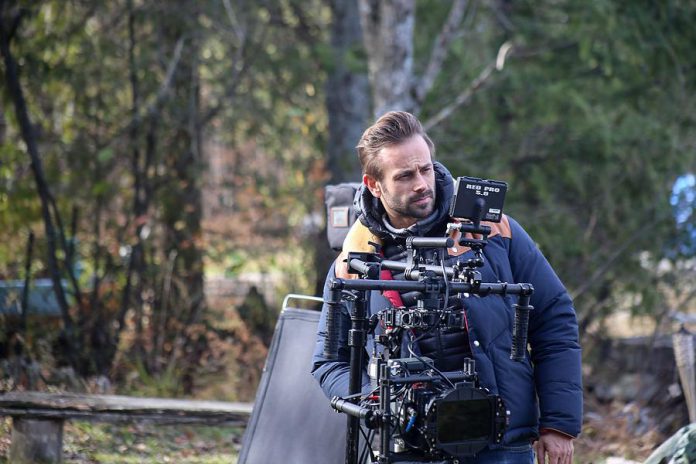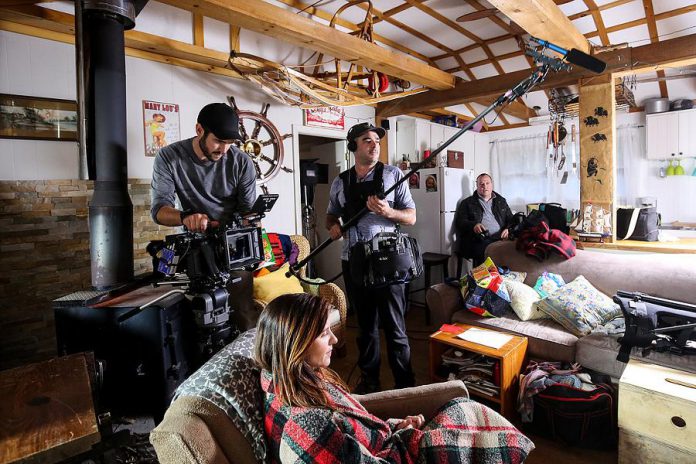 For her role in the production of the film, Causton worked on the makeup effects for the creature played by Jarrett Siddall.
"The makeup application took five hours," Causton tells kawarthaNOW, "and two hours to remove."
She was helped by her young makeup FX assistant Raya Rickerby from Cobourg, who Causton says "endured a very long 24-hour shoot day to assist me."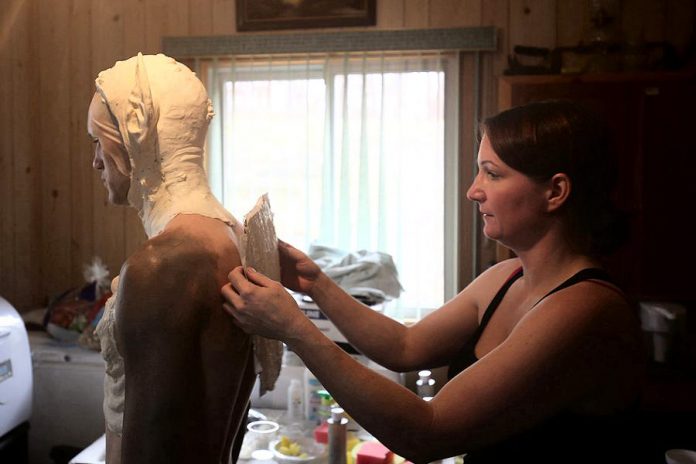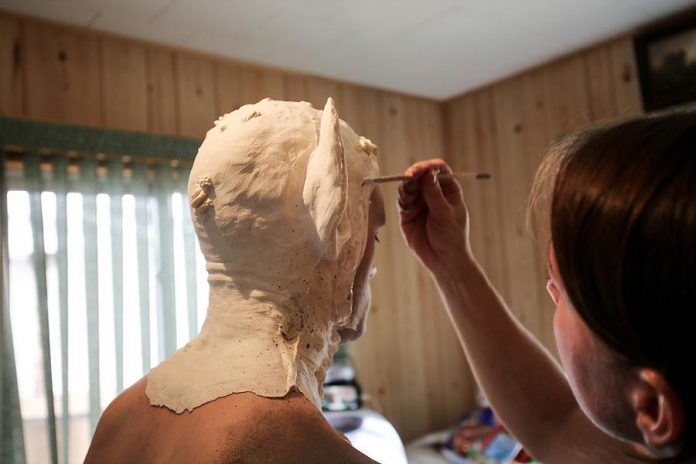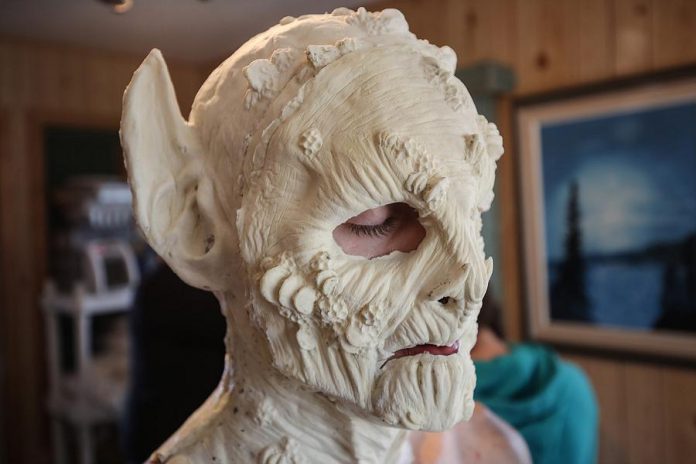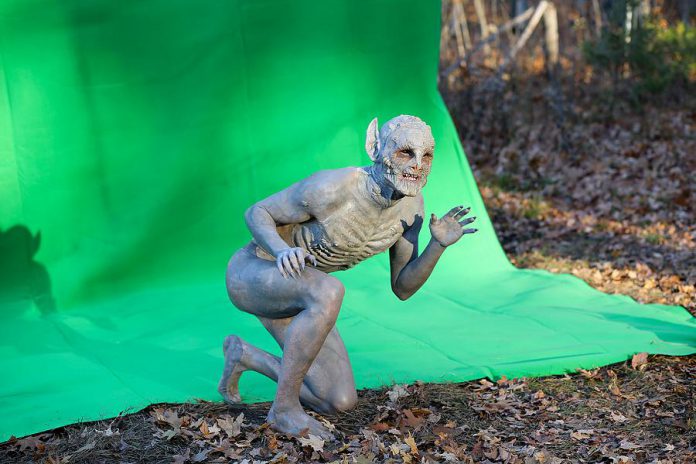 Joshua Howe at Scene Creek calls Latched one of 10 "must-see shorts" at TIFF.
"Latched expertly combines folklore and horror into a thrill ride that will have you gripping the arms of your chair," he writes. "Directors Justin Harding and Rob Brunner know tension and suspense, and their visual effects are magnificent."
Causton, who trained at the School of Makeup Art in Toronto, specializes in custom prosthetic appliances, theatrical veneers, and dentures, props, and blood gags.
She was a special effects makeup assistant on Silent Hill: Revelation 3D and her work is featured in the short films The Doorway, The Passing, and BoneOrchard, as well as the feature film The Haunt.
She's also been busy recently working as the special effects makeup artist on four upcoming features: Drowning, EMP, Arala, and Cult Of Nightmares.
"I've been a horror and sci-fi fan since I was a little kid," she explains in a February 2017 interview with David Briggs of Indie Film Ontario. "I used to paint and sculpt and draw and my subjects were always monsters and horror-themed stuff."
"Horror movies were my thing and I'd play around with makeup that belonged to my mother when I was a kid. But I would never do beauty makeup with it — I'd always try to do other stuff."
If you're not faint of heart, you can check out more of Causton's amazing work on her Reel Twisted FX Facebook page, or watch her demo reel below … but be warned, there's (fake) blood and gore.
For more information about Latched, visit www.latchedfilm.com.