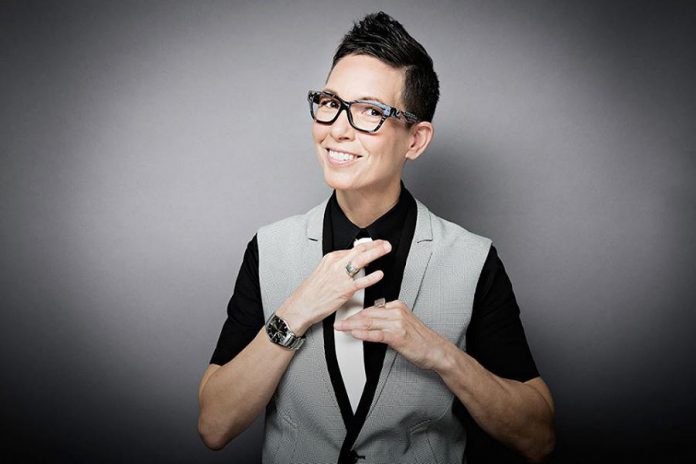 Peterborough Pride Week — the annual celebration of human rights, inclusiveness, and diversity regardless of gender identity or sexuality — returns from September 15th to 24th, with a series of community-run events including an evening of cabaret entertainment featuring award-winning queer comic Elvira Kurt on Saturday, September 23rd following the Pride parade and Pride in the Park celebration.
The theme of 2017 Pride Week is "Out for Good", speaking both to the rights of people to freely express their self-identity throughout their lives without facing discrimination, and the vital role people who identify as LGBTTQI2S (Lesbian, Gay, Bisexual, Transgender, Transsexual, Queer, Intersex, and Two-Spirit) play in supporting the community.
Peterborough Pride Week kicks off on Friday, September 15th with a flag-raising ceremony on the south lawn of Peterborough City Hall at 12 p.m. — including a flag to celebrate advances in transgender rights this year. Pride-related events continue on Friday evening and every day throughout the following week, including live music, workshops, discussions, religious services, film and literary events, games, and more.
The week culminates with the Pride Parade on Saturday, September 23rd from 1:30 to 2:30 p.m. (departing from City Hall) followed by "Pride in the Park", a family-friendly celebration that runs until 6 p.m. in Millennium Park.
There are far too many individual events to list here, but you can check out our Peterborough Pride 2017 events column or browse the events calendar at peterboroughpride.ca.
Some of the events are hosted by the Peterborough Pride organization, some events are financially supported by Peterborough Pride, and other events are independently hosted by other local organizations and groups. Regardless of your interest, there's something for everyone.
One event of special note is the "Act On It!" Pride Party on Saturday, September 23rd at 8 p.m. at Catalina's (131 Hunter St., Peterborough).
Presented by Mysterious Entity and supported by Peterborough Pride, it's an evening of cabaret and entertainment that kicks off with "Say Yes to My Dress!", curated and hosted by David Bateman, followed by "Homosexual Panic" by comic and queer activist Elvira Kurt from 9:30 to 10:30 p.m.
Kurt is a multi-award winning comedian (including a Canadian Comedy Award for Funniest Female Comedian) and she's appeared on The Tonight Show with Jay Leno, George Stromboulopoulos Tonight, CBC's The Debaters and This Hour has 22 Minutes, and many more. She is no stranger to Peterborough, having brought her acclaimed Fringe Festival show Parallel Play to The Theatre on King in Peterborough in 2014 (directed by Peterborough's Linda Kash).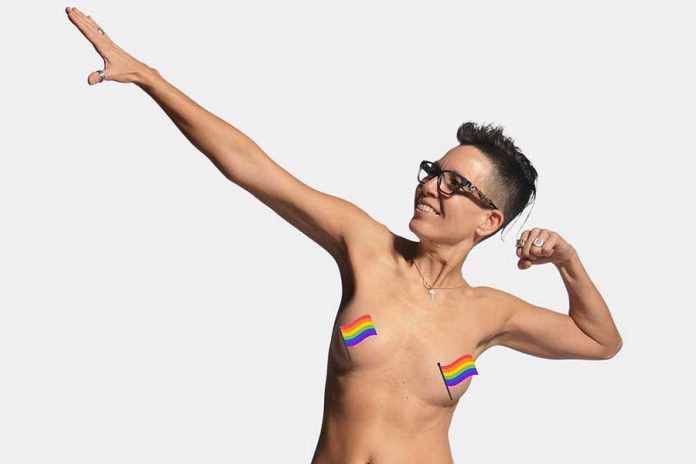 "Homeoexual Panic" is based on Kurt's sold-out stand-up show of the same name, originally presented at Buddies in Bad Times Theatre in Toronto earlier this summer as part of Queer Pride 2017.
"If you know me, you've never seen me like this and, if you don't know me, you're going to get a master class in stand-up comedy," Kurt says in an interview with Antoine Elhashem of theBUZZ.
"As someone who lives in constant anxiety (the name of the show is not a coincidence) and has missed out on a lot of amazing things in my life because of that anxiety, I don't want to make people feel bad if they miss it," she says.
"If you do come, you'll be glad you did because laughs will be had and they will be those deep tissue cleansing kind of laughs that make you feel less alone in your own homosexual panic, whatever that may be."
VIDEO: The Deviants and The Odd Man Out

Following Kurt's show, Deviants and the Odd Man Out will perform at 10:30 p.m. All members of this newly formed punk band from Port Hope are transgender.
A DJ-fuelled dance will then take place at 11 p.m. to closing, and Mysterious Entity's own artistic director and skilled bartender Em Glasspool will be serving specialty cocktails all evening long.
Tickets for the full evening with all performances are $15, or pay what you can for the band and the dance. For advance tickets, contact Mysterious Entity at m.entity@gmail.com or 705-933-4510.