Peterborough is home to a number of beautiful gardens that boast a number of benefits: offering pollinator habitat, food production, curb appeal, and improvements to physical and mental health.
Over the last two years our community has experienced conditions of both drought, and flooding. From one extreme to the other, gardens designed with water in mind can offer resilient solutions.
While water is necessary for a garden to grow, gardens also play an important role in protecting and preserving water.
There are a number of similarities and differences between a garden designed for flood mitigation (a rain garden) and a garden designed for drought mitigation (a water-wise garden). While you may see many of the same native and drought-tolerant plant species in each of these garden types, the difference is most apparent in the shape and function of the garden.
This year we have experienced large amounts of rainfall, resulting in isolated flooding events throughout the City of Peterborough. This phenomena of more extreme weather patterns is predicted to be more common due to changes in the climate.
During heavy rain events, water can quickly overwhelm traditional stormwater systems like storm drains since increasingly paved and impermeable surfaces leave very few natural places for water to go. A rain garden can offer water a natural route through urban centres, diverting water away from aging pipe systems and back into its natural water cycle.
A rain garden is 'ready for rain' due to its shallow bowl-shaped design, which allows rainwater to be temporarily captured before it is slowly absorbed and filtered into the ground, leaving the garden commonly dry between rain events. A depression in the garden is a key identifying feature of any rain garden.
The GreenUP Ready for Rain Peterborough program is helping residents create eight new rain gardens in the city to help mitigate ongoing isolated flooding events and inspire others to soak up rain on their properties. These rain gardens will be installed during the last week of September, with a number of opportunities for community involvement.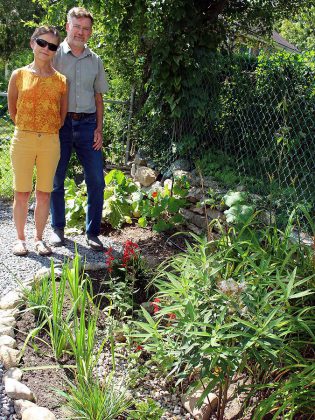 While a rain garden is a green solution for flood mitigation, a water-wise garden offers water conservation solutions.
According to Environment Canada, domestic water consumption can increase up to 50 per cent during the summer months when many people water their lawns and gardens. It can be easy to see why outdoor water use increases by such a large amount when, according to Statistics Canada, six out of every 10 households water their lawns in Ontario.
You can significantly reduce the amount of water used outdoors by transitioning away from lawns and thirsty grass species like Kentucky bluegrass, towards the planting of a water-wise garden. Water-wise gardening methods can help reduce water use, so it is never too late to start taking water-wise steps in your garden.
Drought-tolerant plants are a key part of any water-wise garden, along with the use of ground cover, two to three inches of high quality mulch, and a rain barrel.
The Water Wise Landscape Recognition Program is recognizing front yard gardens within the City of Peterborough. These are gardens where water-wise steps are being taken to reduce water use. Recognized gardens can be found by looking for blue rain drop lawn signs around the City. If you know a water-wise front yard garden that should be recognized, or for more information, please visit www.greenup.on.ca/water-wise.
Have you been thinking about moving from lawn to landscape and taking more water-wise steps in your own garden? Fall is a great time to start redesigning your current garden. Planting in the fall can allow plants to develop a sound root structure before being exposed to drought conditions in the following year.
Visit GreenUP Ecology Park during its annual upcoming Little Tree Sale, which is also a great time to purchase some drought-tolerant plants for your garden. Water Wise "Garden in a Box" starter kits will be available during the sale, giving you all the plants you need to get started.
If you are looking for some inspiration from your neighbours, join us on September 28th for Bike Night. We will visit a number of rain gardens and water-wise gardens in Peterborough, view some of the similarities and differences between these flood and drought-tolerant designs, and enjoy a group bike ride together. To register, visit www.peterboroughmoves.com.
GreenUP is currently running a number of landscape programs highlighting the relationship between water and the urban landscape. Find out more about how to get involved with these programs at greenup.on.ca or contact Heather Ray at heather.ray@greenup.on.ca or 705-745-3238 ext. 205.