Just a few blocks off of Highway 7, nestled on a side street in a small unusually shaped building, is Lindsay Little Theatre. Established in the early 1960s with regular performances at the Academy Theatre, Lindsay Little Theatre moved into its permanent home in 2002.
I was charmed by this unique little space when I visited it for the first time to see a preview of Peggy and Grace, the opening production of Lindsay Little Theatre's 55th season.
Written by Canadian playwright Bonnie Laing as a television sitcom pilot in 1985, Peggy and Grace was a bit ahead of its time. Her concept was rejected by television executives, who told her that nobody would want to watch a show about two retired women. Later that year, The Golden Girls would make its debut on NBC, proving wrong those who dismissed her idea. However, Lange would take her rejected concept and transform it into a stage show, which has become a perennial favourite at theatre across North America.
Lindsay Little Theatre's production of Peggy and Grace features Pam Brohm, Beth Harrington, and Mike Crosmaz who, together as a team, directed each other in the show as well. A play about the strength and fragility of friendship and life on the road, Peggy and Grace is a show filled with comedy, drama, and tension, as everything isn't what it seems to be.
Two retired widowers, Peggy (Pam Brohm) and Grace (Beth Harrington), go on an adventure of a lifetime when they sell their homes and belongings and purchase an RV to go travelling across the United States. Friends for 40 years, the two mature ladies have shared everything over the years — laughter, tears, secrets and celebration. However, are they quite ready to share the cramped living arrangements of an RV?
Tensions quickly begin to flare when it becomes evident that Peggy and Grace have different ideas about what retirement looks like and how they want to spend their extended holiday. Loud, vivacious, and outgoing, Grace is looking for parties, concerts, entertainment, and the company of fun people. Quiet, conservative, and introverted Peggy is looking for peace and quiet and the chance to paint landscapes.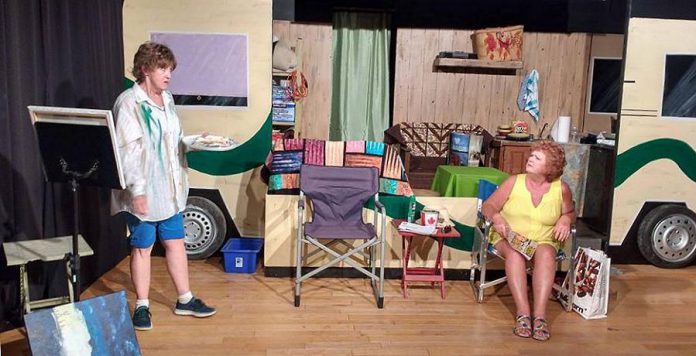 After compromising with one another every few days, cracks begin to appear in the two women's relationship. However, things change afer their RV breaks down in Utah and the ladies meet a young hitchhiker named Sam (Mike Crosmaz). When Sam fixes the RV, the women agree to drive him to Las Vegas, where the duo suddenly becomes an unusual trio.
Things seem to improve as Peggy, whose difficult relationship with her son is a continuous plot thread throughout the show, mothers the young man, while Grace, who seems to be searching for her second childhood, has someone to play and flirt with. But the truce is only temporary when a night marked for celebration turns ugly — a long-kept and life-changing secret is revealed and an ugly betrayal challenges the women's friendship forever.
When first introduced to the basic premise and characters in Peggy and Grace, I thought the show was going to be a one-note farce in the vein of The Odd Couple, with Peggy as the straight man and Grace as the comic in a road-trip story filled with geriatric jokes.
My first assumption couldn't have benn more wrong. The wonderful thing about this show is that the audience really has no idea what kind of trip they are taking and, as the show continues, Peggy and Grace's characters become more complex and more real to life.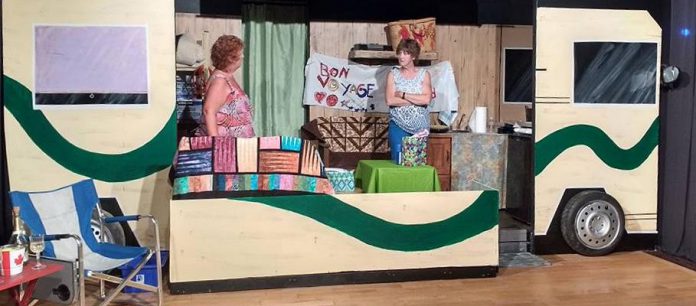 As the two women converse and fight, the chemistry between the actresses becomes so natural you stop seeing them as characters but two women who are really living on the road together. It's the kind of chemistry that can only result from two women who obviously have a lot of trust in and support of one another both on and off stage. The relationship that Pam and Beth create together in Peggy and Grace is wonderful and becomes the dramatic crux of the show.
Meanwhile, Mike Crosmaz also creates a character as complex as the women themselves. His character has so many different sides that his relationship with and feelings towards the two women can be seen in many different ways, and is open to interpretation by the audience.
Peggy and Grace has a solid script that could have been presented as a comedy, a drama, or even a thriller. The co-directors of Lindsay Little Theatre's production wisely chose to focus on the comedic side of the show. Although it's filled with drama and tense moments, the love and humour between the two leading ladies is the constant touch point of the show, making it a sure-fire winner for audiences.
I'd also like to give a shout out to Dave Henry, Brad McMasters, Caren McNeilly, and Kirsten Dodson who, along with the cast and crew of the show, create a unique set containing both the interior and exterior of the RV. It's an imaginative set that works on multiple different levels.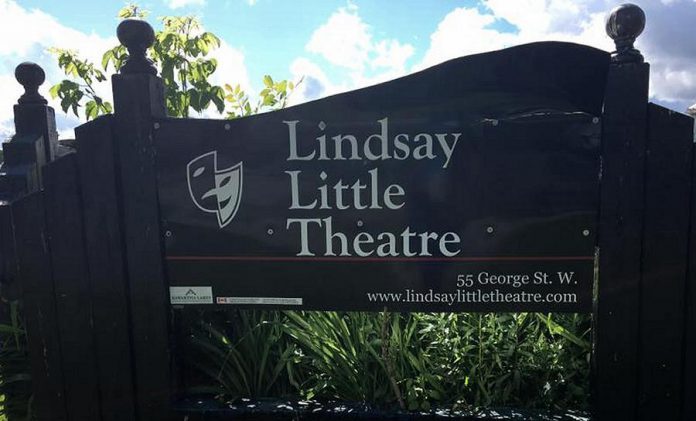 This was a perfect show for my introduction to Lindsay Little Theatre and I look forward to visiting again very soon. Lindsay Little Theatre has an eventful season planned featuring a dedicated and loyal company that is keeping this small theatre thriving. Only 30 minutes out of Peterborough, this wonderful theatre experience in a delightful space is something you need to experience. I've found another favourite theatre space to visit.
Peggy and Grace runs on September 22 and 23 and September 29 and 30 at Lindsay Little Theatre (55 George St W., Lindsay). Show time is 8 pm and tickets are $18, which can be purchased in advance in person or by phone at the Academy Theatre box office (2 Lindsay St. S., Lindsay, 705-324-911), online at www.kawarthatickets.ca, or at the door the night of the performance.