This Saturday (October 14), some of the area's most talented musical theatre performers are coming together to pay tribute to possibly the busiest man in Peterborough theatre: musician Justin Hiscox.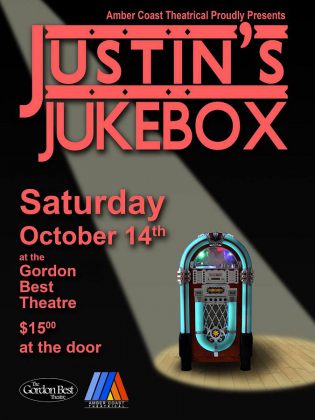 The latest event produced by Amber Coast Theatrical, Justin's Jukebox is a musical revue looking back at the shows that Justin has worked on in his 20-plus years in theatre, and features many of the performers who appeared in those productions.
Produced by Amber Coast co-founder Lucas DeLuca, Justin's Jukebox is a proper celebration of the hard work and dedication that Justin, along with his family, has given to the Peterborough theatre community.
"I was blown away when the Hiscox Family got on the Peterborough Walkway of Fame," says Lucas, referring to the distinctive honour bestowed on Justin and his brother Mark in 2016. "I was so happy when I saw that, but I didn't feel there was enough people there to celebrate it the way it should be.
"It didn't feel like the arts community got to thank the Hiscox family the way that they should. So I thought 'What if we did a show and got all the performers that have done shows with Justin?"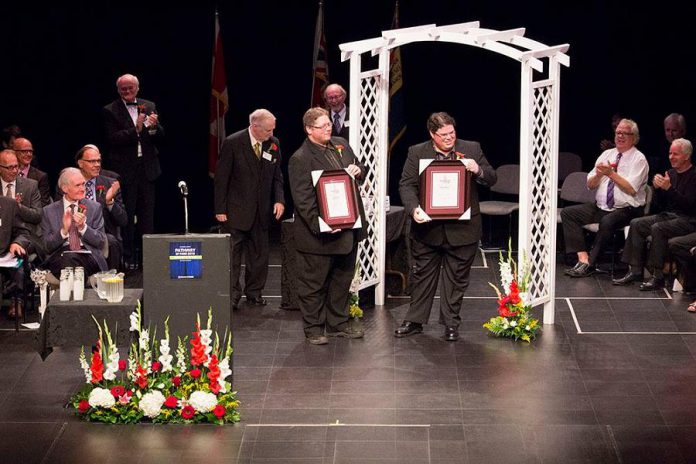 Over the summer, Lucas reached out to a number of people who have worked with Justin and has since collected a spectacular group of local favourites for the show including Mark Hiscox, Kate Suhr, Keely Wilson, Hannah Bailey, Lyndele Gauci, Brian MacDonald, Kate Brioux, Carl Johann, Erik Feldcamp, Sophie Robinson, Ryan Hancock, Kevin Lemieux, Haley Rosenthal, Geoff Bemrose, Eddie Sweeny, and Karsten Skaries — with more performers potentially being added on the final bill.
Throughout the evening these performers will be doing highlights from many of the musicals that Justin has worked on, including Les Misérables, Cats, Spring Awakening, Heathers, Ordinary Days, My Fair Lady, Lady in the Dark, Chicago, More Than a Memory, First Date: The Musical, The Little Mermaid, Sweeney Todd, Fiddler on the Roof, and more.
"We haven't been lucky enough to get everyone Justin's ever worked with, but we did the best we could," says Lucas. "But it really comes down to thanking the Hiscox Family for twenty plus years of excellent and giving and caring and just love. They are amazing human beings. They give more than anybody else I know."
Although I have been a huge admirer of Justin over the four years I've been covering the theatre scene for kawarthaNOW.com, sitting down with him to discuss Justin's Jukebox is the first time the two of us have ever really had a chance to talk because, as the people who work with him know, Justin disappears fairly quickly after performances.
So it was a huge moment for me to actually be able to talk with Justin about his career in musical theatre, and to discover the warmth of this man for myself after hearing about it from others for so long.
"When I was growing up I learned by playing classical music and I found out that I could read music really well," Justin says "But I realized I couldn't play by ear, so I couldn't do rock n' roll or jazz. I had to be able to see my music. So I was wondering if there would ever be any cool music for me to play as someone who could read. Well, it turns out that Broadway orchestration is incredibly challenging and really rewarding for someone who has to read music.
"The first show I ever did was Babes in Arms when I was in high school. I was playing piano in the pit orchestra at Crestwood, way back. I guess it was 1992. That show has some of the best jazz standards that have ever been written. My Funny Valentine is in there, and The Lady is a Tramp. It had a whole pile of amazing songs. After that I started with St. James, the Theatre Guild, Anne Shirley Theatre Company, the St. James' kids shows … and it's just kept going."
It's hard to come up with a full list of local theatre companies Justin has worked with. Beyond those mentioned above, Justin has worked with 4th Line Theatre, Art for Awareness, Cordwainer Productions, the TASS Musical Theatre Productions, Lakefield College School, Amber Coast Theatrical, and more that have slipped from memory.
Currently Justin is working on four upcoming shows: as musical director for Amber Coast Theatrical's Fugitive Songs, Lakefield College's Damn Yankees, Anne Shirley Theatre Company's The Hunchback of Notre-Dame, and as co-musical director for TASS's upcoming production of Cinderella.
"I've been in Peterborough for going on six years, and Justin Hiscox has done the music for every show I've ever been in," Lucas points out. "Musically, Justin has been the root of everything I've done in Peterborough and, at three or four shows a year, for the last six years, we've done thirteen shows in that time."
I asked Justin what some of the standout moments in his career in theatre have been, and he gave some interesting answers.
"Directing Lady in the Dark was a big thrill," Justin recalls. "Anytime I get to do a show that is a premiere, a show that has had its rights held back for a long time, like Les Misérables, is always a big thrill. Also, in Buddy Holly when we went on at the end and did that big concert. That was amazing. I love doing most of the newer shows because they are piano heavy. Shows like First Date and Ordinary Days are really fun and push me as a piano player.
"I really enjoyed the two-piano version of My Fair Lady my brother Mark directed. We just had the two pianos and no pit orchestra, which kind of shocked everyone. They said they liked it, but it felt like they were at a rehearsal. We had this great arrangement and it was a huge show, and we were doing it without a conductor. So that was a big thrill."
"Justin has fundamentally changed the way you get musicians for shows in this town," Lucas adds. "You hire Justin as a music director and he has a mental rolodex that he goes through to find additional musicians. He says 'You need a violin player? I have five violin players. You need a guitarist? I have five guitarists.'
"It's a gift to see that Justin has networked with every single person and treats everyone so fairly, so respectfully, and so lovingly that they'll beg to come back and work with him. Nobody ever says no to him."
As the current musical director of 4th Line Theatre, Justin has been responsible for many of the original songs featured in the shows over the past few years, and Justin and Mark will be performing a medley of those songs at Justin's Jukebox. But for one of his favourite projects, Justin referred back to one of 4th Line's most experimental shows to date: The Shadow Walk of Millbrook, which thrilled audiences last Halloween.
"The Shadow Walk of Millbrook was one of my favourite things I'd ever done," he notes. "I wrote everything in D Major. I learned that I could remember songs that way. I had to walk around with an accordion and it was a lot of fun."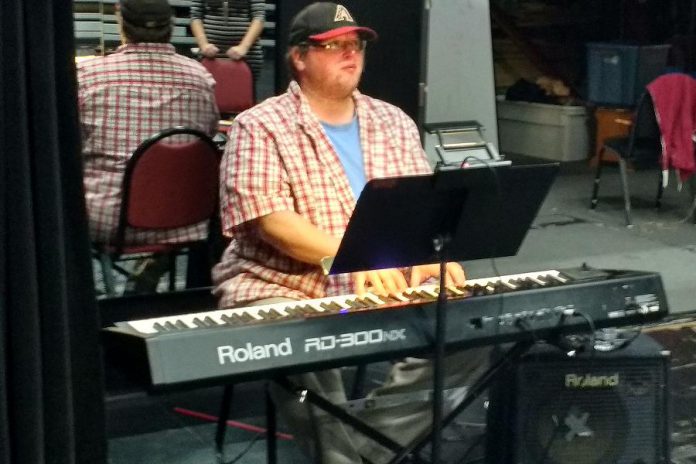 As recognizable in the theatre community as the actors on the stage, one of Justin's trademarks is the exuberant sound of shouting he makes at the performers during the performances when they are really on fire. It's an unusual thing for a musical director to do, but one that has become endearing to his performers.
"As an actor you can tell how well you are singing on stage by how loud Justin yells 'YEAH' at you," Lucas says.
"Good music is very exciting," Justin adds, explaining the vocalization.
Justin's Jukebox is going to be an incredible night of Peterborough performers paying tribute to an incredible man who has touched the entire theatre community with his talent, his music, and his kindness. This is the perfect way to celebrate everything that Justin Hiscox and his family mean to our community. It's the show to be at this coming weekend, and is a must for anybody in our community who loves musical theatre.
"What I hope for more than anything else is to give a proper thank you to Justin for an amazing twenty years of music," Lucas explains. "I hope some of the performers will give tributes to Justin and his family when they get up to perform. And, more than anything else, that we present an anthology of the 'best of' Justin."
Justin's Jukebox will be performed at the Gordon Best Theatre (216 Hunter St. W., Peterborough) on Saturday October 14th at 8 p.m. Tickets are $15 at the door.