This month, Eva Fisher catches up with two new restaurants opening in the Kawarthas, gets a sneak peek at The Night Kitchen's new location, learns about a new squash trend hitting the Kawarthas this fall (hint: you don't have to peel it), and discovers one of the best Day of the Dead parties in the region.
---
Moody's Bar and Grill is open in Millbrook
Why did a lawyer and a paralegal decide to start a restaurant?
It sounds like the beginning of a joke, but to Peter Vance and Sarah Cooling, co-owners of Moody's Bar and Grill (3 Tupper St., Millbrook, 705-932-6663) , it's a way to create community connection through great food and atmosphere.
The two met while working at the Legal Centre of Northumberland.
The new restaurant opened its doors without much fanfare on Wednesday. October 11th and, fortunately according to Peter, there weren't any hectic opening night surprises.
"I was pleasantly surprised by how smoothly everything ran. All of our staff swung into gear and did a great job."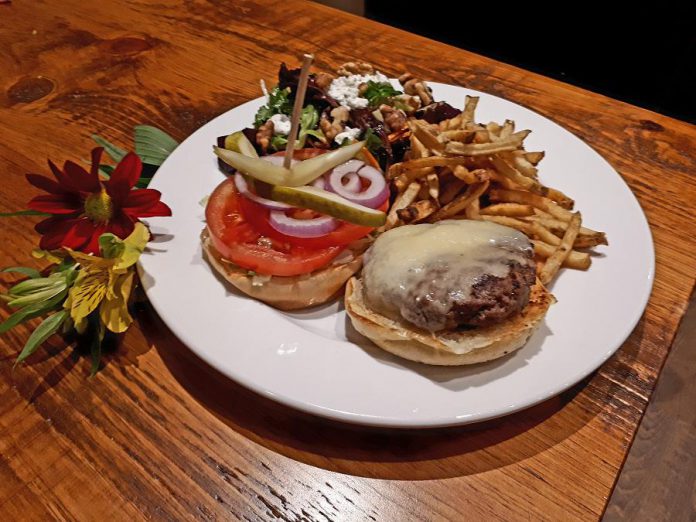 That may be because the restaurant is staffed by an experienced team. General Manager Jamie Williams previously held the position of General Manager at The Social Bar and Table in Port Hope. Chef Lee Black has spent the last decade working at Kawartha Downs but, prior to that, he worked at Peterborough's Brio Gusto.
The restaurant offers a menu of sandwiches, appetizers, salads, and pasta with an emphasis on locally sourced ingredients and food made from scratch.
For Peter, opening a restaurant is about more than the food — it's a way to create community. He notes that although there are great dining options in Millbrook, at the moment the only restaurant open after 9 p.m. is Subway.
"For me, the roots of this project are based in a love for real culture. Real local culture is an important driving forced in society for good. It's really easy to get caught up in pop culture and have your life revolve around what folks in New York or Los Angeles or London are doing. There's something really meaningful about real interpersonal relationships with people from your community.
"The idea of a bar or restaurant is about creating a space for people to have real interactions with each other."
For more information about Moody's, including their menu, visit their Facebook page.
It takes a village to make a Taqueria
Taco fans rejoice — a new tacqueria and Mexican restaurant is opening in the heart of Peterborough's cafe district. La Mesita Catering (229 Hunter St. W., Peterborough, 705-875-2505), a popular vendor at the Peterborough Farmers' Market, is in the process of renovating 229 Hunter Street West, the location formerly occupied by The Night Kitchen.
Owner and chef Martin Carbajal and his wife Kelly Carbajal are thankful for the support they have received from their customers, including during renovations. Martin explains: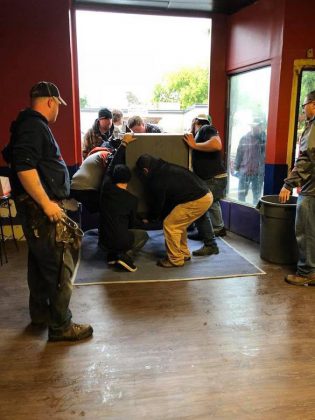 "The doors at the new location are very old and most of the equipment could not be passed through, so we asked friends and customers for help. The response was amazing. Many people came to help and it was like the old days when friends help each other building barns."
A room full of friends and customers lifted La Mesita Restaurant and Catering's new steam table through the front window of 229 Hunter Street.
The new restaurant will serve tacos and authentic Mexican food. They will serve tortas (Mexican sandwiches) made with fresh torta bread baked daily in house. There will be vegetarian and gluten-free options. There will also be a variety of soups, salads, and desserts to round out the menu.
Martin is excited to bring a new restaurant concept to Peterborough.
"We are excited about having a spot where people can try real Mexican and also enjoy a concept not to common in Canada, the taqueria concept"
Martin and Kelly plan to open the new location on October 30th, just in time for Día de Muertos ("Day of the Dead"). In the meantime, you can stay up to date on the renovations by following La Mesita Restaurant and Catering on Facebook.
A new spin on The Night Kitchen
The Night Kitchen (168 Hunter St. W., Peterborough, 705-741-0300) has moved to a new, larger location just down the street from its previous spot at 229 Hunter Street. Although they are reluctant to name a date, they will be open very shortly.
Owners Yannick Thiriar and Tim Weatherup occupied the previous spot beginning in 2001. Tim says that it was time to move on.
"The place had done us well for a long time, but it needed some love."
The extra square footage will allow them to offer a more diverse menu and become licensed to sell alcohol. Tim says that although menu expansion is in the plans, they're starting small with a few appetizers and desserts.
"What we want to do is get open, and once we're open we can start adding more to the menu."
That means all of your old Night Kitchen favourites will remain on the menu. Tim's preferred pizza these days is the Lone Wolf.
"It's got cilantro pesto, spinach, jerk chicken, pineapple, jalapeno peppers, tomatoes, mozzarella … it's an interesting bunch of flavours that work well together."
Yannick's favourite "changes every day. I like the Bocce Spin. It's a red sauce pizza with tomato, portabello mushrooms, and red onion. I like eating my slices with honey."
At The Night Kitchen, the name is a key part of creating a new pizza.
"A lot of people come up with good pizzas who work for us, and that's my first question. What are you going to name it? You meed a good name. Each one has a little story behind it."
The Lone Wolf is inspired by the iconic t-shirt displaying a wolf howling at the moon. The Bocce Spin got its name from Yannick and Tim's love of bocce.
Some have musical names: Closer to the Heart references a Rush song, and there are pizzas inspired by Hall and Oates and Devo. Tim and one of their previous staff members brought some Devo-themed pizzas to their show in Toronto and ended up backstage with the band.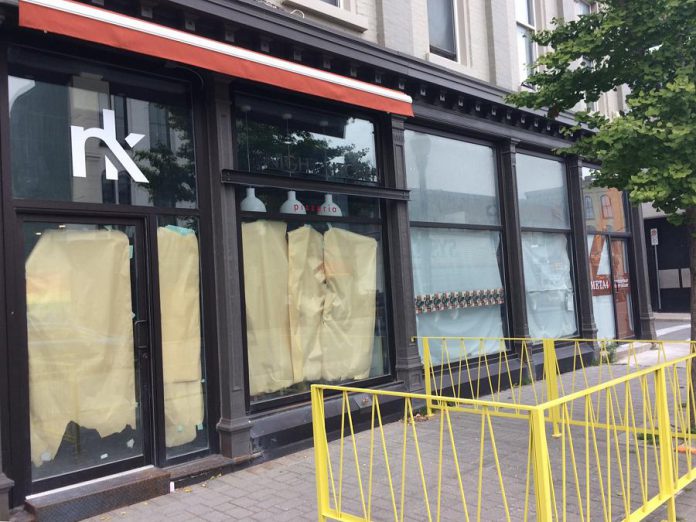 I asked Yannick and Tim what message they wanted to send to their customers. Yannick spoke first.
"We're still here. It's us."
Tim agreed. "It's going to look a little different, but we've been waiting a long time to make the next step and this is the next step for us. We're excited by the chance to push the envelope again."
For more information about The Night Kitchen including the re-opening, visit nightkitchen.ca.
Ode to Squash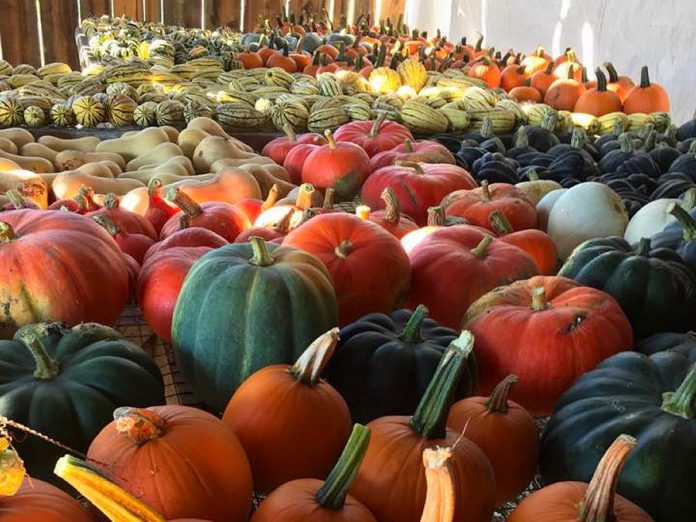 Butternut, spaghetti, hubbard, or delicata — squash is everywhere this time of year. I spoke with a farmer and a restaurant owner about some of the best ways to enjoy squash this season, and the surprise favourite squash that you don't need to peel.
A grower's perspective
Sherry Patterson of Chick-a-biddy Acres (5009 County Rd. 2, Hastings, 705-696-3506) grows a variety of organic vegetables, specializing in "hand made food. We don't have a lot of big equipment."
At Chick-a-biddy they grow "at least a dozen varieties of squash", and this year's harvest was particularly bountiful; Sherry estimates "easily a tonne".
The butternut is the most popular, but sweet dumpling, spaghetti, and kabocha types are also big hits. Uchiki Kuri (also known as hokkaido squash) is her favourite variety.
"It is so dry, creamy, nutty, sweet … bright orange red."
A chef's perspective
Bridget Cullen, owner of By the Bridge (382 Water St., Peterborough, 705-775-5050) is no stranger to the culinary joys of squash. By the Bridge serves squash in soups including their Thai coconut and their squash and apple bisque. They offer a black bean, sage, onion, and hokkaido squash salad and they often cut squash into wedges, roast it, and put it on sandwiches.
By the Bridge sources their squash from three different local farmers including Twin Pines and Real Acres.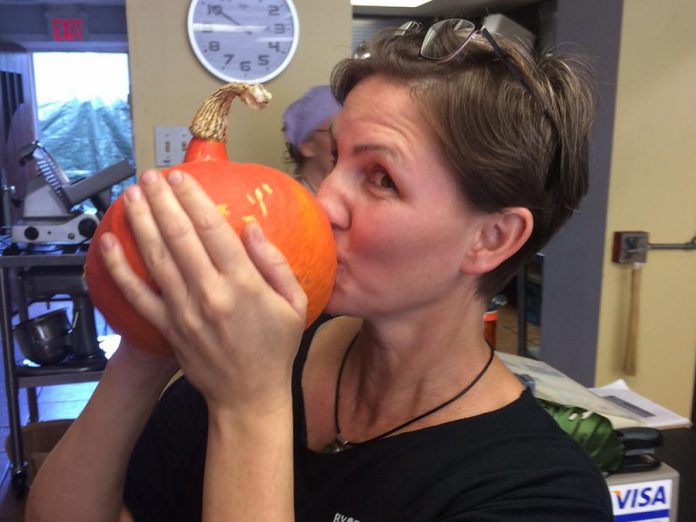 "We are drowning in squash right now. They're everywhere."
Reaffirming my belief that I need to run to the Farmers' Market as soon as possible on a squash mission, Bridget's favourite squash is also the hokkaido.
"It just has a different texture, so it's half way between a squash and a sweet potato. And you can eat the skin so you don't have to peel it."
Celebrate the Day of the Dead with three local chefs
Sandra Lennox, owner of La Hacienda (190 Hunter St. W., Peterborough, 705-742-1559) has hosted one of the best Day of the Dead parties in the Kawarthas for the past five years. This year, chefs Kevin McKenna from Sam's Place and George Madill from Primal Cuts will also take part. This is the first time that outside chefs have been involved in the event.
The event takes place on Friday, November 3rd and Saturday, November 4th beginning at 8 p.m..
Day of the Dead (Día de Muertos in Spanish) is a traditional Mexican memorial celebration for loved ones who have passed on, and Sandra notes that food can be a big part of that.
"It's a day to remember them and to eat in their honour. We bring out the foods that they like."
One food that's always on the menu? Day of the Dead Bread. It's traditionally made only for the holiday, and is spiced with anise and brushed with an orange glaze.
George from Primal Cuts will bring Canadian shrimp and heritage pork, which will be used in the main course, a drowned sandwich which is, just as it sounds, drowned in sauce. There will also be traditional desserts and more courses still to be planned.
The annual Día de Muertos celebration transforms the restaurant.
"It's a real ambience. People get their faces painted and wear tuxedos. You are transported to a different place."
And although it's a memorial event, it is still lighthearted.
"I think Mexican culture is the only culture that laughs about death. It's fun even though it's sad."
You can reserve a seat by calling La Hacienda, but this event sells out every year so book now.