Watson & Lou isn't your standard gift store.
If you're looking for a cheerfully wacky gift for the person in your life, this quaint gift boutique has everything you need from jewellery, textiles, embroidery, ceramics, vegan personal care products, paper goods, home decor, and kids items — all diverging from the norm.
The store, which opened its doors in September and is located at 383 Water Street in downtown Peterborough, specializes in local and one-of-a-kind handmade goods by more than 30 artists and makers from Peterborough and the Kawarthas, and others from across North America.
Watson & Lou also takes the shop-local mantra even further and doubles as a studio space and hosts regular workshops, so visitors can kick-start their creativity or learn a specialized skill in a convenient, shorter format.
Celebrating local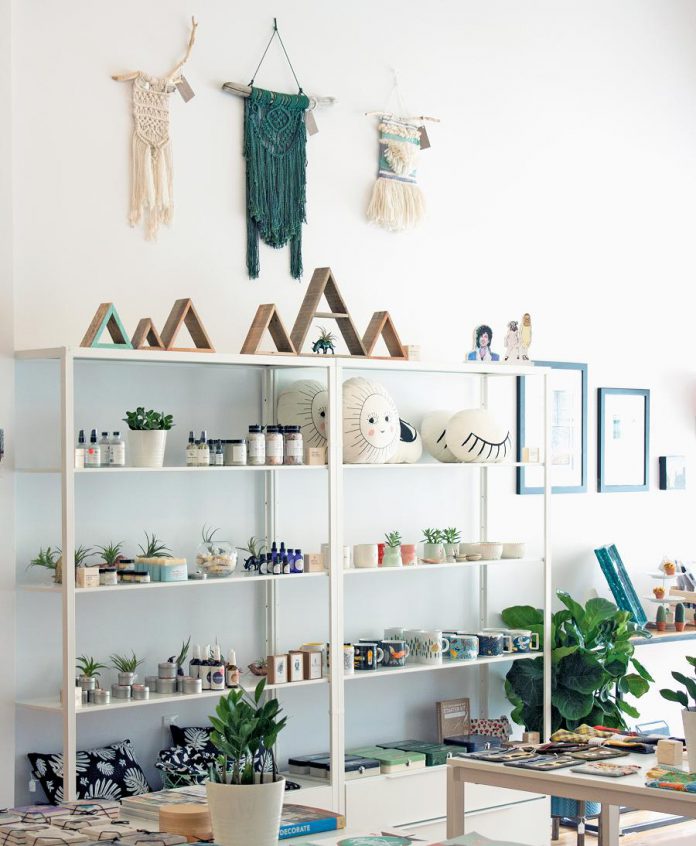 Owners Erin Watson and Anna Eidt met while competing as finalists during last year's inaugural Win This Space contest organized by the Peterborough Downtown Business Improvement Area.
They decided to team up after realizing their mutual love for contemporary art and design was fuelled by a similar vision: to showcase and celebrate the beauty, ingenuity, and kindness of the region's local creative economy.
Their commitment to sustainable practices and ensuring the products they sell are made and sourced in a responsible and sustainable way was also a top priority for the two entrepreneurs.
After recognizing similarities in their business ideas, Watson says she asked Eidt to meet for coffee.
"Initially, neither of us were considering a partnership," Watson explains. "But the more we got talking, we realized that this is something that Peterborough really does need, and that our diverse skill sets would really make a good match in business together.
"There are so many talented artists everywhere, but we want our main focus to be local," she says, adding that, with over half of the makers producing right here in Peterborough and surrounding areas, it's giving a personality to their store and allowing people to connect with their business on different levels.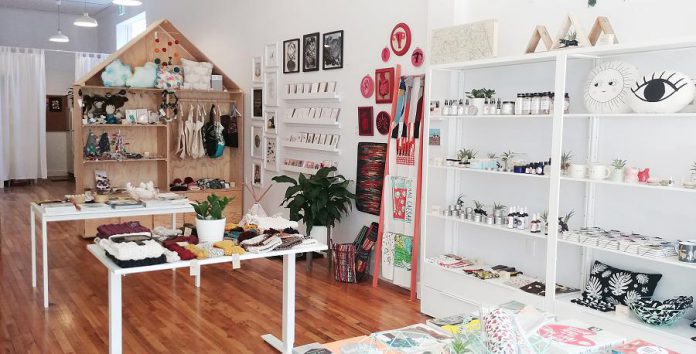 Creating a dynamic hub for local makers allows them to share their work with a wider audience while growing and refining their practice through dialogue and skills-sharing.
"The concept of what we're doing is not new, but it's new in Peterborough," Watson says. "We have access to such a wonderful spread of local talent who are working out of their basements or from their kitchen tables with kids running around, and they are coming out of the woodwork asking us, 'Where did you come from?' and saying that this space is exactly what they are looking for."
Eidt adds that, despite the flurry of fantastic local artists' markets popping up throughout the year — like Focus Fair Annual Craft Fair, Finer Things Show and Sale, and Modern Maker's Market, as well as groups like Electric City Makers — there was no place to go to if you needed a little something out of the ordinary at the drop of a hat.
"If you need a unique gift today and there's no market coming up, what do you do?" Edit says. "We wanted to have lots of these things in one place, year round."
One-of-a-kind merchandise
This is a true whimsical store. If you poke around, you'll discover tons of cool stuff like:
stained glass feathers by Orillia artist Jessica Wisniewski
cultural standees by Peterborough artist Lucky Jenny Jackson featuring Jean-Michel Basquiat, Star Wars, and The Big Lebowski
Golden Girls coasters
handmade healing and aromatherapy products from local doula duo Hello, Baby
organic cotton soft dinosaur toys
witty handmade cards
personal adornment pieces including a fabulous line of earring, rings and necklaces by Peterborough's Nikki Cobden
upcycled vintage saucers and plates with a few choice words by Lou Brown Vintage.
And that's just the icing on the cake. Every nook and cranny of this space is filled with contemporary pieces and inspired vintage statement items.
Some merchandise is also available to purchase on the Watson & Lou website at watsonandlou.com.
Although all items do go through a selection committee to decide on what goes in the store, Eidt says they're always scouting for new pieces and are updating inventory on a regular basis.
"Even though we can't fit all items in our store, we have a better awareness of all of the incredible stuff that is being made here in the region," she notes.
Shared studio space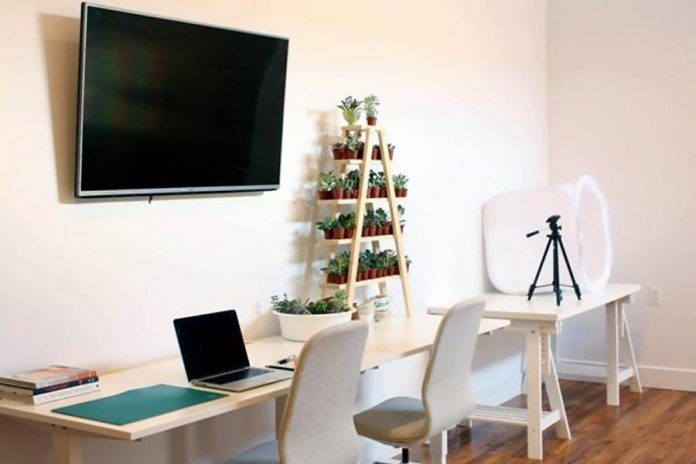 Are you a local artist in Peterborough who needs a space outside of your home studio to get some serious work done? Or perhaps you just want a change of scenery from your usual creative space?
At the back of the boutique is a bright, open, versatile and spacious multi-purpose studio — a space where local artisans can work on their creative projects.
An annual membership includes a day to try out the shared studio space, free of charge. After that, you can rent the space from $6 an hour up to $280 per month.
Rental includes access to workstations, a kitchenette, accessible washroom, locked storage, drafting table, sit and stand desks, comfy office chairs, product photography station with a light box and DSLR camera, sewing machine with basic supplies, paper cutter, a tabletop light box for tracing, and wifi.
"People can come in and rent the space during the day to work on whatever sort of freelance project they might have going on," Eidt says.
The space also offers the opportunity for creative minds to meet other artists and possibly collaborate or even learn about another art form.
Watson & Lou hopes to offer private studios in the space above their store sometime next year.
Workshops and events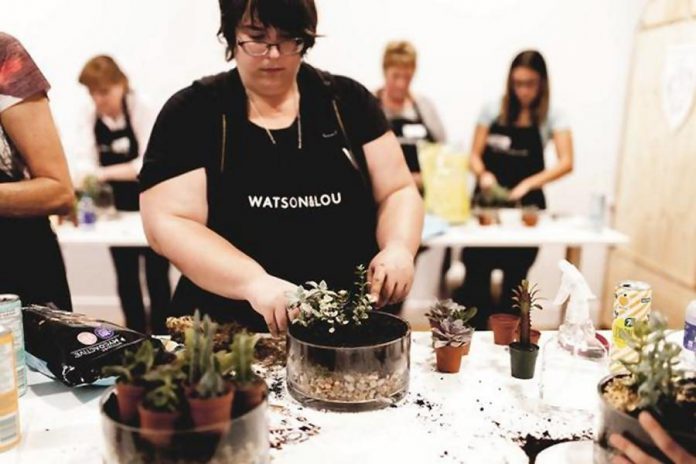 If you have an upcoming event to celebrate or just want to get together with friends and do something a little different, Watson & Lou offer a variety of workshops to bring your creativity to life.
Here are the upcoming workshops scheduled this fall (follow the links to register):
Got a crew of family, friends or colleagues who want to get in the holiday spirit? Try a holiday card collage making party, a gingerbread house competition, or a class where you can create your own one-of-a-kind natural winter wreath — all while you eat, drink and be merry! Various dates are available throughout November and December.
Watson & Lou is located at 383 Water Street in downtown Peterborough. For more information, call 705-775-7568, email hello@watsonandlou.com, or visit watsonandlou.com. You can also follow Watson & Lou on Twitter, Facebook, Pinterest, and Instagram.