Family, friends, fans and fellow musicians have been posting messages of both grief and love on social media following news yesterday (November 6) of the sudden passing of Peterborough musician Jan Schoute at the age of 54.
Schoute was a well-known and beloved performer who was the lead guitarist for local band Jericho's Wall, which played every Saturday night at the Historic Red Dog Tavern in downtown Peterborough for 15 years. He also performed in The Tony Silvestri Band among many others.
Schoute's body was discovered after he failed to show up for a rehearsal for the upcoming fundraising concert for musician Rick Young, who is undergoing treatment for cancer. The cause of death will be determined by autopsy, but a heart attack is suspected. The musician's final Facebook post was made on the evening of Friday, November 3rd and reads "friends … what a fun night at McThirstys last night! let's do that again."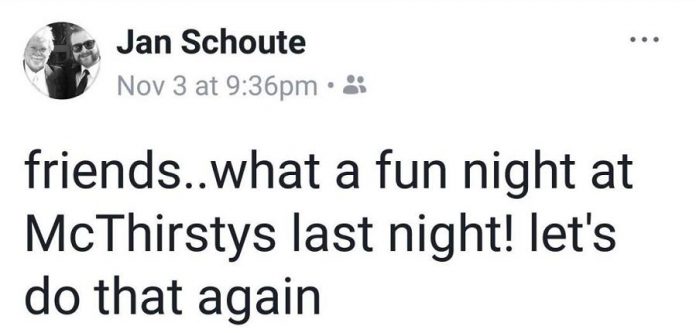 After learning of his death, Schoute's family, friends, and fellow musicians have been posting comments on social media to remember and honour him.
"Words can't describe how much we'll miss you," writes Gailie Young. "Thank you for everything Jano."
"One of the dearest friends I've known and one of the greatest singers I've known," writes Ryan Weber of The Weber Brothers, who also posted the video below. "His influence on me is immense and is surpassed in my heart only by his love and my love for him."
VIDEO: "Mull Of Kintyre" performed by Getting Better with Jan Schoute

"Catch you on the flip side Bro…And Thank You for the musical memories over the years… Miss you Jano," writes Jerome Levon Avis.
"Very sad news today. RIP my good friend Jan Schoute," writes Andrew Shedden.
"I have just lost one of my dearest friends and longtime bandmate of 20 + years," writes Terry Guiel. "I love you Jan Schoute and will miss you greatly."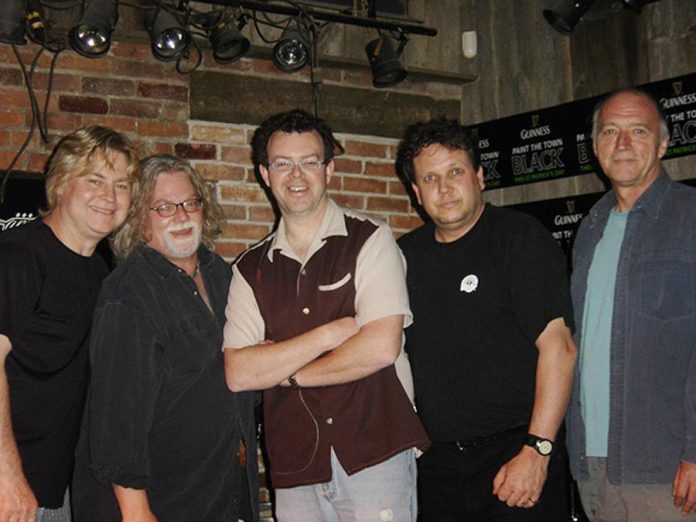 "RIP Jan Schoute. I'm completely shocked," writes Shaune Walt.
"Probably the most amazing human I have ever had the pleasure to play with ever has died and this hurts," writes Craig McEachern. "I hope he knows how important he is to many. Jan Schoute…man you are amazing Dude."
"Rest easy Jan Schoute. It was great finally having a brother — if only for a few years," writes Wray Ellis, who also wrote a song (below) as a tribute to his friend.
VIDEO: "Be Free" by Wray Ellis (a tribute to Jan Schoute)

"RIP Jan Schoute," writes Sue Tyler. "To all my friends in Peterborough know I am thinking of you and sending my love."
"I am heartbroken," writes Kate Suhr. "Love you to the moon and beyond Jan Schoute."
A celebration of Jan's life of Jan Schoute was held last night (November 6) at The Black Horse Pub (452 George St. N., Peterborough).
"Back from the impromptu wake for Jan Schoute … feeling mortal and blown away by the passion (and quality) brought to the music that spontaneously erupted at the Crash and Burn at the Black Horse tonight," writes JP Hovercraft. "Jan would have loved it so much. Someone said, 'That's the way musicians heal.', and I think they're right. No Dixiland music, but the feel was New Orleans funeral 100%. Just make damn sure I get one this good! 'Laughing just to keep from crying …'"
Another celebration of the life of Jan Schoute will take place at the Red Dog Tavern (189 Hunter St. W., Peterborough) on Sunday, November 12th beginning at 7 p.m. The event will include a musical celebration, open mic format, with one song per performer. People are asked to bring printed photos of Schoute that will be on display during the event and then will be given to his family.
Admission will be a $10 donation at the door, with proceeds going to the Schoute family (he left behind two children). More information is available on Facebook.
Schoute's funeral will be held on Tuesday, November 14th at 1 p.m. at Living Hope Church (1 Consumers Place, Peterborough, 705-740-9293). The public is invited to attend the funeral.
There will also be a visitation taking place on Monday, November 13th from 2 to 4 p.m. and from 7 to 9 p.m. at Comstock-Kaye Life Celebration Centre (356 Rubidge St., Peterborough, 705-745-4683).