Local volunteers have covered the bridge in the town of Bancroft with more than 2,000 hand-crafted poppies in honour of Remembrance Day.
Knittervention, a group associated with Hospice North Hastings, created the poppies that have been installed on the Constable Thomas Kehoe Memorial Bridge across the York River. The bridge, formerly called the Station Street Bridge, was renamed in 2015 to honour a local police officer and World War I veteran who was killed by a drunk driver in 1929.
"The poppy is such an important symbol to us as Canadians," says Hospice North Hastings coordinator Heather Brough. "It reminds us of the sacrifices made so that we can have freedoms that others don't, so that we can have hope for our future and so that we can know peace. Each poppy was created with personal reflections and personal meaning put into each and every stitch."
This is not the first community project by the Knittervention group, which was formed in 2016 through a grant from New Horizons for Seniors. Last May, the group to crafted pieces to cover the front of the Bancroft Village Playhouse to welcome visitors to the town during the summer season. The project was so well received that the group decided to work on another project with a Remembrance Day theme.
The Knittervention group wanted the poppies to be on display for the week before Remembrance Day, so volunteers installed the poppies on the bridge on Sunday (November 5). The cold and rainy day reminded the participants of the terrible conditions endured by Canadian soldiers in the trenches during World War I.
Riverstone Retirement Residence and the Métis Nation also participated in the project. Hospice North Hastings and the Knittervention volunteers also recognize the support of the Town of Bancroft, The Royal Canadian Legion Branch 181, Reverend Lynn Watson, and all those who donated poppies, yarn, and support for the project.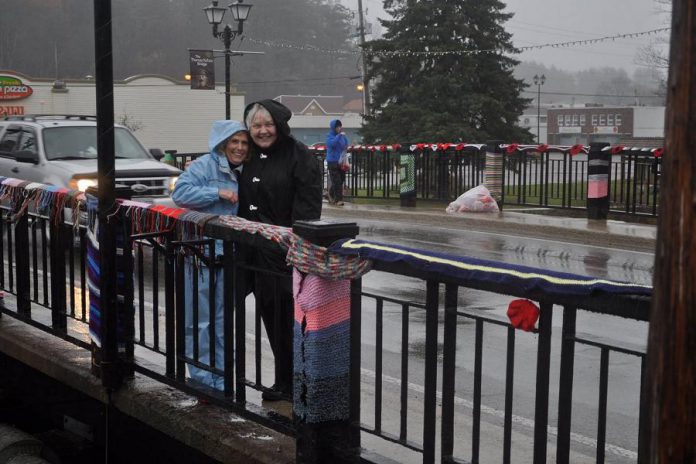 The poppies will remain on display on the bridge until Monday, November 13th.
"This is a time for us to really reflect on what's happening in the world and in our community," Brough says. "We hope that people find this art installation as inspiring as we do."
If you live in the Bancroft area and are interested in joining the Knittervention group, it meets each Thursday evening from 6 to 8 p.m. at Vintage on Hastings (67 Hastings St. N., Bancroft). Everyone is welcome at the weekly gathering.