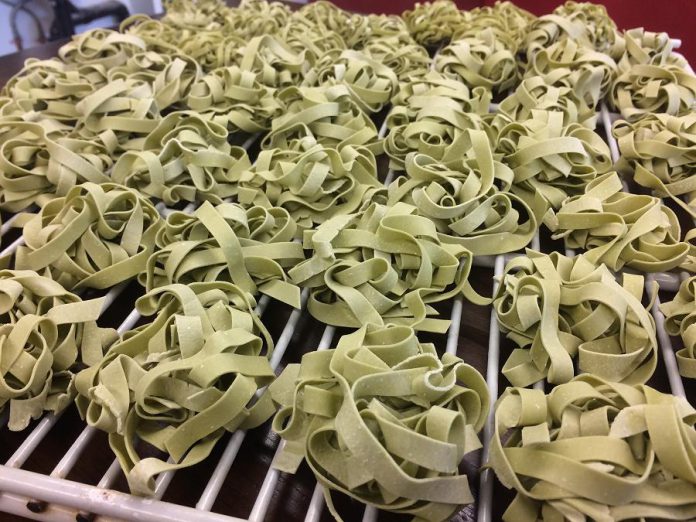 This month, food writer Eva Fisher explores locally made fresh pasta and incredible olive oil. She finds a workshop opportunity that dedicated foodies won't want to miss, and checks in at a new restaurant that raises money for emergency services.
---
Finding fresh pasta in Peterborough
It's hard to beat the incredible flavour and texture of freshly made pasta and, in Peterborough, there are plenty of varieties to choose from.
Kevin and Anna Lisa Breese of The Pasta Shop (165 Sherbrooke St., Peterborough, 705-745-6080) make fresh pasta every day with the help of their three sons. The family-run business can cut fettucini, linguine, spaghetti, spaghettini, and angelhair pasta on command. They also make rigatoni, a pigtail pasta and shells. In addition to selling it fresh or dried, they use their fresh pasta to make lasagna and canneloni and they sell homemade sauces including roasted red pepper.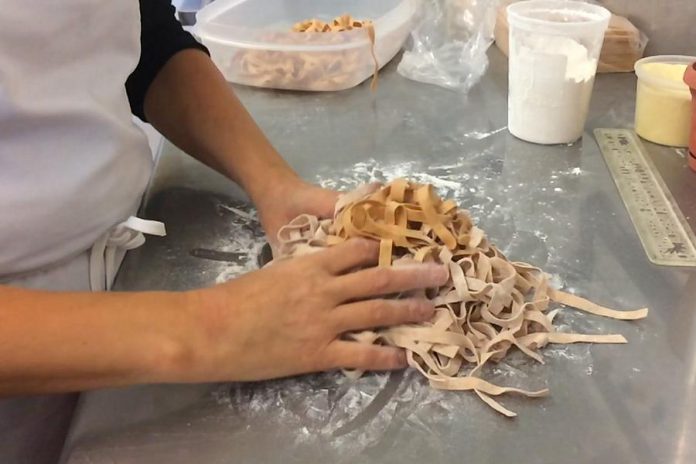 The Pasta Shop also makes custom specialty pastas in many different flavours: dijon mustard, roasted pumpkin and squash, spinach, tomato basil, lemon lime black pepper, and roasted beet. All of their pastas are made with no added colours or preservatives.
When cooking with these pastas, Anna Lisa recommends a subtle sauce that will allow the flavour of the pasta to shine.
"You don't want to mask it with sauce, so I'd recommend a white wine or olive oil or butter sauce with garlic and some chicken, fish or beef. You can also cook it in a stirfry, serve it as a side or just serve it plain with parmesan cheese."
One Fine Foods (800 Erskine Avenue, Peterborough, 705-742-6200) also sells fresh pasta in a variety of styles.
They use it to make crab and mascarpone ravioli, parmesan gnocchi, lasagna, canneloni, rigatoni, bacon macaroni and cheese.
In addition to their pastas, they have sauces including alfredo, vodka sauce, a signature homestyle sauce and a vegetarian sauce, and they offer pork and beef meatballs.
Pasta Plus (193 Simcoe Street Unit 9, Peterborough, 705-749-9077) is another must-visit pasta spot.
Proprietor Lucia DeLuca offers fresh pasta including fettucini, linguine, spaghetti, spaghettini, and angelhair and rotini.
She also prepares lasagna, and a variety of manicotti from scratch, and makes sauces including tomato sauce, cream sauce and what many describe as the best pesto in town. I had heard it myself, but when I brought it up with Lucia she was humble.
"I've heard a number of people say that, so I'm really thankful for that."
Olive oil tasting with Delectable Fine Foods offers exciting flavour profiles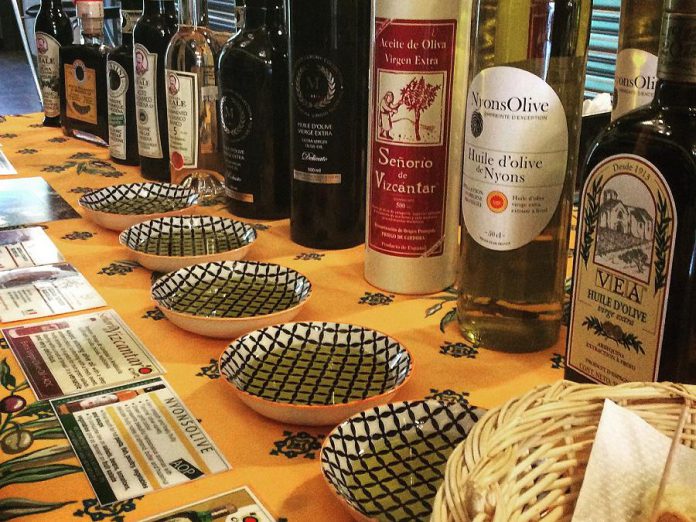 Not all olive oil is made the same. Spicy, bitter, fruity, smooth, maybe with notes of almond or hazelnut: a good quality olive oil can have incredible flavour complexity.
Delectable Fine Foods (550 Lansdowne St., Peterborough, 705-750-1200) offers regular olive oil tastings to introduce customers to the incredible diversity of flavours. They regularly stock a variety of over a dozen olive oils, including oil from Italy, Spain, France, and Australia.
According to owner Christel Rumgay, over 700 varieties of olive can be used to make olive oil. Different olives yield different flavour profiles. The time of harvest also has a huge influence on the final product.
"Olives harvested early produce a stronger more robust flavoured olive oil often with a peppery finish. Late harvest olives produce a much more delicate flavoured olive oil, which is often described as fruity and smooth. Everyone has different taste preferences and many people have never experienced an early harvest robust oil. They are surprised by the spiciness."
Delectable Fine Foods offers an exciting variety of oils. These include single varietal oils and blends. One oil is made exclusively with olives from trees that are over 500 years old. Another is from a mill once owned by the son of Christopher Columbus.
Although some of Delectable Fine Foods' olive oils have great stories, it's the flavour that will leave you wanting more. Christel has lots of suggestions.
"I love a loaf of crusty bread and a really good olive oil to dip it in. Or fresh salad greens lightly tossed with a robust oil. We also carry a blood orange infused olive oil that is amazing drizzled over roasted beets. I love olive oil with a fresh bufala burrata and fresh cracked pepper, or drizzled over white fish, truffle oil drops on top of my homemade cream of mushroom soup…"
She could go on, but I recommend discussing it with her or her staff in person.
Delectable Fine Foods is open seven days a week. To stay up to date with tastings and events, visit their website at delectablefinefoods.ca or follow them on Facebook.
You can start a food co-op! Farms at Work workshop will show you how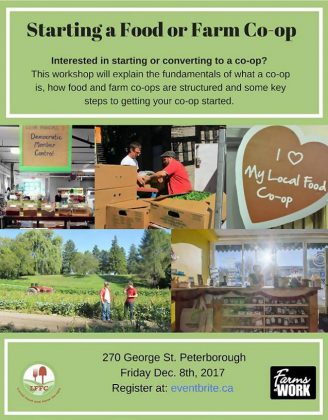 Have you ever dreamed of starting your own food co-op? Farms at Work (270 George St., Peterborough, 705-743-7671) is offering a workshop on Friday, December 8th from 1 to 4 p.m. that will teach you to do just that.
Farms at Work is a non-profit charitable project with a mission: to create a vibrant rural community and ensure that farmland is used productively, especially for growing food.
You don't have to be a farmer to start a food co-op. Pat Learmonth, Director of Farms at Work, explains.
"This workshop is intended to provide farmers and food people. It could be anyone in the food system that thinks that they might be interested in working cooperatively with others in the food system."
That could be grain farmers working together to market their grains and setting up a mill to make flour, or it could be farmers deciding to set up a cooperative farm structure. It could even be a buying group, such as the Ontario Natural Food Co-op.
"The cooperative structure can have many different purposes. We just want people to have a chance to understand what co-ops are and how they might go about creating one, but their ideas would be their own."
Pat is hoping that the workshop will develop into some exciting new projects. "The possibilities are unlimited and I want people to come to this with their own ideas."
The event will feature a presentation by Peggy Baillie of Local Food and Farm Co-ops.
To sign up for this $15 workshop, visit Eventbrite page. Farms at Work offers programming year round, and there will be more workshops offered throughout the winter. To stay up to date, follow Farms at Work on Facebook or sign up for their e-newsletter on their website.
10-12! Welcome to Firehouse Subs
Firehouse Subs (1005 Lansdowne St., Peterborough, 705-748-3473) has come to Peterborough. Franchisee Jason Taylor opened the restaurant in partnership with local hockey legend Cory Stillman on November 6th.
The firehouse-themed sub chain started in a fire station in Jacksonville, Florida. Brothers Robin and Chris Sorensen were both firefighters and they would make subs at the station before starting their first shop, which would ultimately grow into a franchise of over 1,000 locations. The Peterborough restaurant is the 13th location in Canada.
Firehouse Subs boasts a hefty portion of meat and cheese on their sandwiches. Jason says that that's a key reason why he bought into the franchise.
"We have hearty and flavourful food. On a medium sub you get a quarter pound of meat. On a large sub you get a half a pound of meat. It's all steamed, so that heats up the meat, brings out all of the natural flavours in the meat, and it melts the cheese. Then we serve it on a freshly toasted bun with fresh cold produce."
The restaurant hasn't lost touch with its firehouse roots. Firehouse Subs actively raises funds for The Public Safety Foundation, an in-house charity that gives grants to first responders throughout Canada for lifesaving equipment and training.
The Peterborough location is decorated with archival photographs and vintage equipment from Peterborough Fire. The staff also uses the emergency code 10-12 to announce that a new visitor has entered the shop. When they hear a 10-12, every staff member yells "Welcome to Firehouse!"
Area representative Alex Gerzon says that that welcome is part of what makes the franchise special.
"We make a special sandwich. After one bite people love it. But I'll tell you, what's really wowing people is the service, the genuine hospitality."