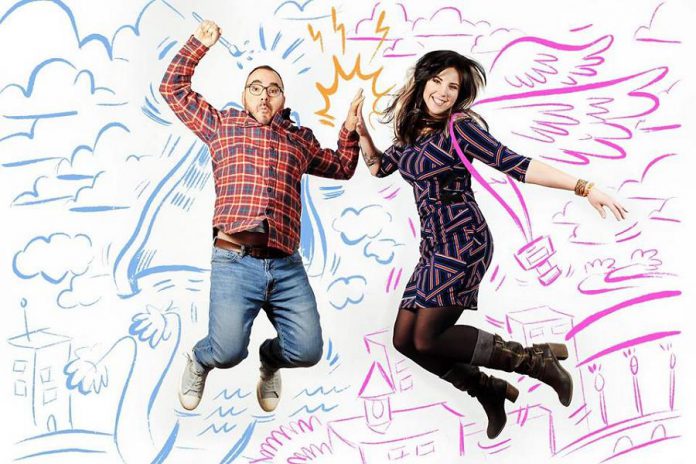 In this week's businessNOW, we feature an innovative collaboration between two local creative professionals in Peterborough, the Women's Business Network of Peterborough annual fundraising gala, information about the upcoming opening of Northumberland's new business incubator, and other local business news. And since it's the holiday giving season, that means lots of business-supported fundraising auctions along with holiday socials.
We publish businessNOW every Monday. If you have business news or events you want to share with our readers, please email business@kawarthanow.com.
---
Peterborough photographer and illustrator combine their talents in new, fun graphic design service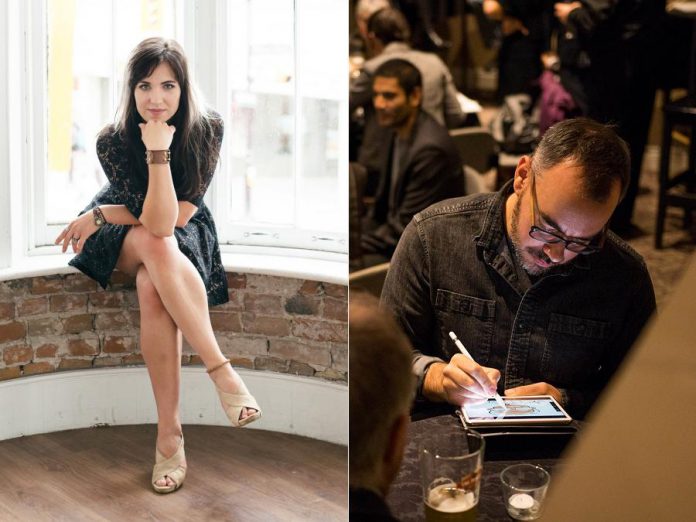 Two creative powerhouses in Peterborough have united to provide an innovative graphic design service that combines illustration and photography.
Illustrator Jason Wilkins of Wilkins Arts & Creative Consultation and photographer Samantha Moss of MossWorks Photography are teaming up to fuse their two talents.
"Our eye-catching images are ideal for businesses, unique headshots, and ad campaigns," Samantha writes on Facebook. "Or if you just need an excuse to update your profile picture and look cool like us."
For more information and to get a quote, contact Samantha Moss of MossWorks Photography at contact@mossworksphotography.com or 613-857-4790.
Women's Business Network of Peterborough requesting donations for fundraising gala on December 6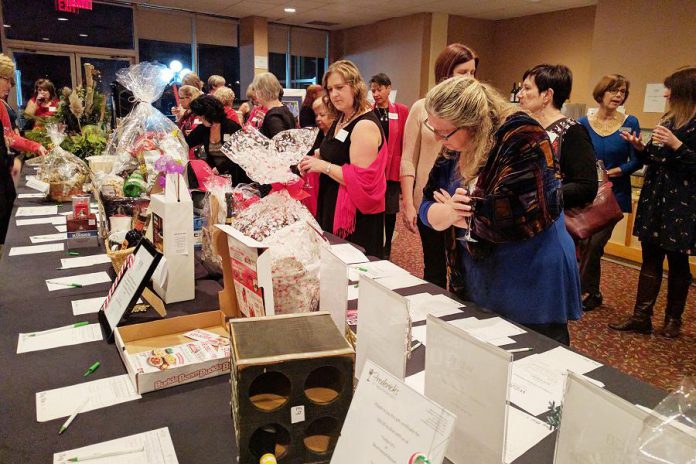 The Women's Business Network (WBN) of Peterborough is in the final stages of preparation for its annual Holiday Gala and Auction Fundraiser on Wednesday, December 6th at the Holiday Inn Waterfront in support of YWCA Peterborough Haliburton's Crossroads Shelter.
The gala, which will be attended by nearly 160 members and guests from the community, is setting its sights on raising $20,000 from the live and silent auctions that evening to support women and children in crisis at YWCA Crossroads Shelter.
With donations coming in from WBN members and local businesses, the WBN is continuing to reach out to members of the business community to support their fundraising efforts by donating items, gift cards, or services to the gala live and silent auction. Donations will be accepted at the YWCA office at 216 Simcoe Street until Thursday, November 30th.
Under the theme "Holiday Songs: The Hidden Gems," the gala will provide a unique and fun opportunity to bring attention to a very serious subject, and every dollar raised will go directly to helping women and children who are victims of family violence receive healthy food, supplements and vitamins 365 days a year. In addition to receiving healthy meals for themselves and their children, women also learn about meal planning, food preparation, and the principles of nutrition.
Research shows that domestic violence surges during the holiday season with calls to Ontario women's shelters increasing by as much as 30 percent.
Since 2005, WBN has raised a total of $275,953 for the Crossroads Shelter. Thanks to WBN support, each year YWCA prepares, serves and makes available over 25,000 meals for women and children living at Crossroads Shelter.
For more information about WBN, visit www.womensbusinessnetwork.net. For more information about YWCA Crossroads Shelter, visit www.ywcapeterborough.org.
Venture13, a Northumberland-based business accelerator, set to open its doors in March 2018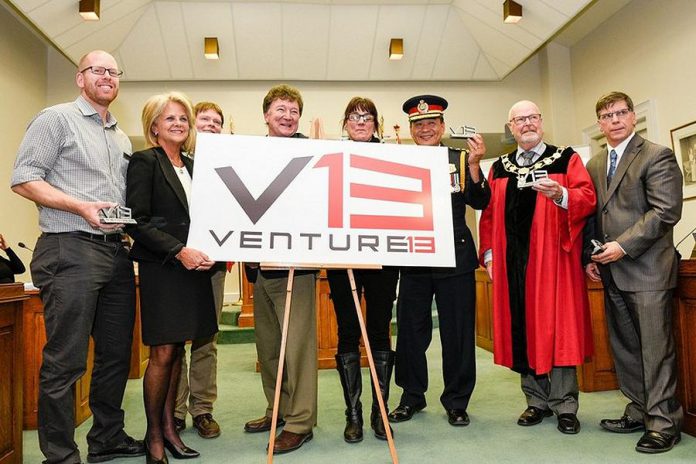 Last Wednesday (November 22), the Town of Cobourg and the Northumberland Community Futures Development Corporation made several announcements about Venture13, a regionally unique facility that will focus on the advancement of technology entrepreneurship, making, and learning.
The announcements included the formation of a new strategic partnership with Fleming College, the unveiling of the Venture13 logo and brand identity, as well as confirmation of the opening date for Venture13 in March 2018.
Venture13 will be located at 739 D'Arcy Street in Cobourg, a 30,000-square-foot building owned by the town that has been vacant since 2011 and will be renovated. The innovation and technology hub will be locacted on the first floor, with space available for startups, and the Cobourg Police Service's business unit will be located on the second floor.
There will also be an 80-seat lecture hall with virtual lecturing capabilities, two seminar rooms equipped with state-of-the-art technologies facilitating global connectivity, public and private meeting rooms, a café and lounge area, a full-service hardware MakerLab, and more.
Over two years, Venture13 is project to create 73 jobs and support 16 new business start-ups, more than filling the void left in Northumberland County when Port Hope's business incubator IDEAHUB ceased operations last year.
The total project cost will amount up to $1,620,000, made up of $1,370,000 for design and construction costs and $250,000 for outfitting costs. The project is being funded with investments from the Eastern Ontario Development Program, the Town of Cobourg, Fleming College, and various sponsorships and donations.
Federal fisheries minister comes to Peterborough to discuss the Trent-Severn Waterway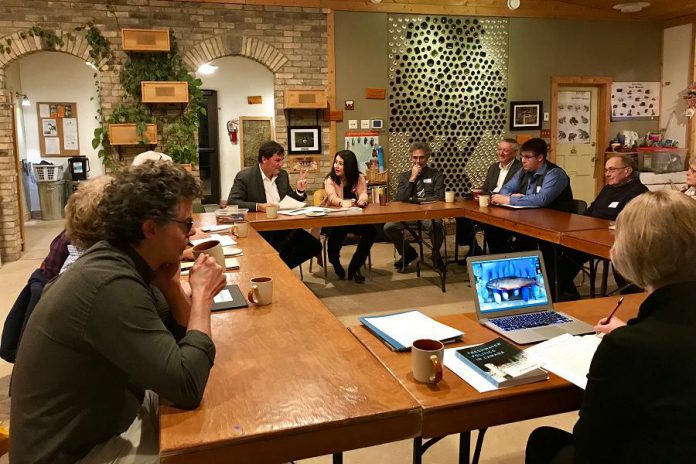 Last Thursday (November 23), Dominic LeBlanc, Minister of Fisheries, Oceans and the Canadian Coast Guard, and Peterborough-Kawartha MP Maryam Monsef met with representatives from local conservation organizations, researchers, and advocates working on issues related to fisheries and freshwater.
"The health and prosperity of Canadians is connected to the environment in which we live," Minister LeBlanc said. "I'm thrilled to be here in Peterborough, where the Trent-Severn Waterway is the backbone of so many communities and residents understand that we must all cooperate to protect our fisheries and aquatic ecosystems. Tonight's conversation highlights how we can best work together to steward our resources and ensure our waters are protected for future generations."
Participants at the meeting discussed the impact of the Fisheries Act, the preservation of local aquatic ecosystems, and the need for both local residents and visitors to have opportunities to continue to enjoy outdoor recreation opportunities in the area.
Six finalists announced for 2017 Cubs' Lair Competition in Peterborough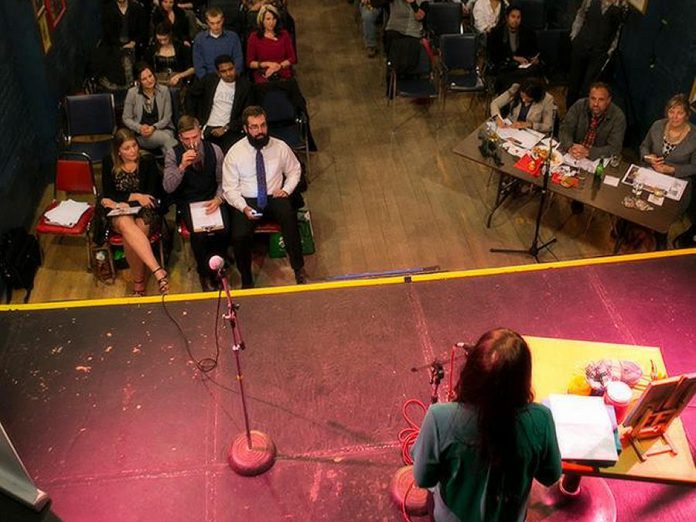 FastStart Peterborough, the Innovation Cluster, and the Trent Youth Entrepreneurship Society have announced the top six finalists for Cubs' Lair, a youth entrepreneurship competition.
The finalists are Jeremy Brooks of Excavation Realm, Mackenzie Evenden of Evenden Imaging, Rich Cochrane of Status Exempt, Spencer Langlois of Solar Wire, Sultan Moni of Zatiq, and Victoria Naish of The Cake Engineer.
More than 20 applications were received, and they were of such high quality that the preliminary judging committee added a sixth finalist to the original five spots. The finalists will pitch their startups to a panel of five judges at the Gordon Best Theatre in downtown Peterborough beginning at 7 p.m. on Thursday, November 30th.
The finalist determined to have the startup with the most potential will win a grand prize of over $14,000 towards building his or her business, including incubator space at the Cluster, coaching and mentoring from established startups, and more.
Nominations for Northumberland 2017 Business Achievement Awards are now open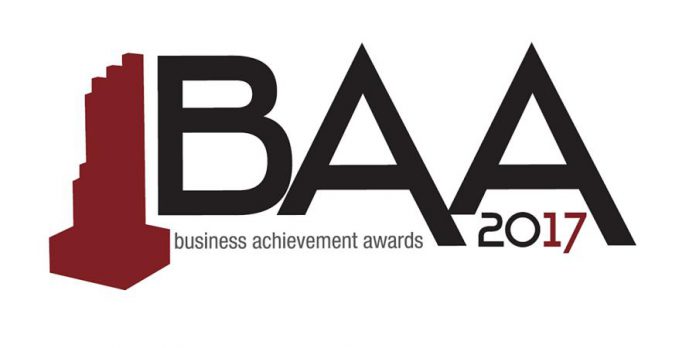 The Northumberland Central Chamber of Commerce and the Town of Cobourg are seeking nominations for outstanding business achievement in nine categories (Business & Consumer Services, Communications & Technology, Health & Wellness, Hospitality & Tourism, Manufacturing & Agribusiness, Non-Profit Sector, Retail Trade Sector, Skilled Trades Sector, and New Start Up).
To qualify, a business must receive three independent nominations and operate within the Town of Cobourg, the Township of Alnwick/Haldimand, or Hamilton Township. With the exception of the New Start Up category, a business must have been operating for at least two years.
Nominations close on Friday, January 5, 2018, with the Awards Presentation Ceremony taking place on Friday, February 23, 2018 at the Best Western Plus Cobourg Inn & Convention Centre.
For more information and to submit a nomination online, visit the Northumberland Central Chamber of Commerce at nccofc.ca/form/view/10851.
Bidding now open for 2017 Kawartha Rotary Online Auction
The Rotary Club of Peterborough-Kawartha has launched is annual Christmas Online Auction, featuring hundreds of gift ideas for everyone on your list.
There are also gifts available for businesses, including a $750 advertising package from kawarthaNOW.com.
Proceeds from this year's auction will go to support the Rotary Outdoor Gym being built at Beavermead Park in partnership with the Peterborough Rotary Club and the City of Peterborough.
Annual Christmas auction will support local home builders and Habitat for Humanity Peterborough & Kawartha Region
The Peterborough and the Kawarthas Home Builders Association (PKHBA) — which has represented the professional home building industry in Peterborough and the Kawarthas since 1956 — is hosting its annual Christmas dinner and auction on Thursday, December 7th at 6 p.m. at the Peterborough Curling Club.
Funds raised at the event will not only support the programs and work of PKHBA, but this year a portion of the proceeds will be donated to Habitat for Humanity Peterborough & Kawartha Region, supporting the charitable organization's mission to help low-income families achieve strength, stability, and independence through affordable homeownership.
An selection of live and silent auction items will be up for bid throughout the evening, including building materials and supplies, furniture and design, sports and entertainment packages, and unique experiences.
Tickets are now available to the public and can be purchased for $50 each (or $350 for a table of eight) by contacting PKHBA at 705-876-7604 or info@pkhba.com.
Upcoming Business Socials

There are a number of business organizations in the Kawarthas holding their annual holiday socials in December.
First up is the Greater Peterborough Chamber of Commerce's PBX Christmas Social, on Tuesday, December 5th from 4 to 6 p.m. at The Publican House Brewery (300 Charlotte St., Peterborough). The event is open to all, but registration is required as space is limited. The Chamber will be drawing its #LoveLocalPtbo $1,000 contest winner at the event.
On Wednesday, December 6th, the Women's Business Network of Peterborough (WBN) is hosting its annual Holiday Gala and Auction Fundraiser at the Holiday Inn Waterfront Peterborough. The event is open to WBN members and their guests, and will raise funds for the YWCA Crossroads Shelter (see our story above).
On Thursday, December 7th, the Port Hope Young Professionals group is hosting its Annual Holiday Social from 6 to 8 p.m. at Table+Loft (59 Walton St., Port Hope). Festive attire is encouraged, and festive drinks and food will be available for purchase. While admission is free, attendees are asked to bring a wrapped gift of a $10 value to participate in a gift exchange game.
On Wednesday, December 13th from 5 to 8 p.m., Kawartha Lakes Construction (KLC) will host the Kawartha Chamber of Commerce & Tourism's Annual Christmas Social at KLC's location at 3359 Lakefield Road. Mingle by the fireplace, check out the showroom, and enjoy holiday refreshments. KLC will be collecting toys for the Lakefield Lioness Club's Toy Drive and donations for the Lakefield Community Food Bank and, once again this year, will be running their employee DIY Christmas Tree challenge (guests will be asked to help pick the winner).
Deadline for nominations for Peterborough Business Hall of Fame is November 30
The deadline for nominations for inductees into the 2018 Peterborough Business Hall of Fame is Thursday, November 30th.
Each year, Junior Achievement chapters across the country recognize people who have demonstrated a life-long commitment to enhance the economic prosperity of their local communities. These are people who are widely respected not only for their business acumen, but also for their vision, leadership, and integrity. They serve as role models both for Junior Achievement students and other young Canadians.
To nominate someone for the 2018 Peterborough Business Hall of Fame, download and complete the nomination form. You can nominate a business person who is living or one who has passed away.
Nomination forms must be received no later than 3 p.m. on Thursday, November 30, 2017 at the office of Junior Achievement – Peterborough, Lakeland, Muskoka (270 George Street Courtyard Peterborough, ON K9J 3H1).