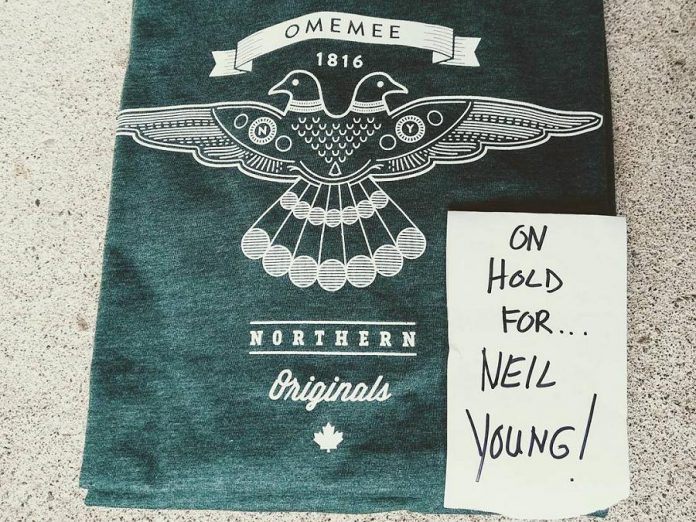 In this week's businessNOW, we feature two local businesses that provided Neil Young and Daryl Hannah with some souvenirs, a new travel mug invented at Trent University that keeps your coffee and tea at a safe drinking temperature, a Premier's Award for an entrepreneur who graduated from Fleming College, recent changes affecting local Peterborough media, award-winning entrepreneurs, and more business news and events.
---
Two local businesses provide Neil Young and Daryl Hannah with local souvenirs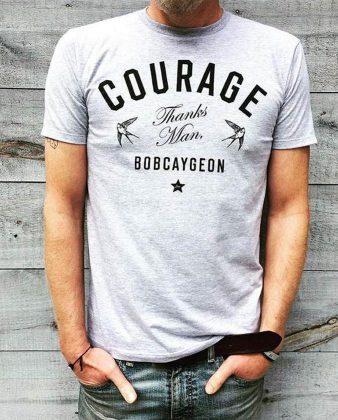 When Neil Young was in Omemee for his hometown concert on Friday (December 1), two local businesses had the opportunity to provide Neil Young and Daryl Hannah with some souvenirs.
First, a woman named Dana visited Douglas + Son (68 Bolton St., Bobcaygeon, 705-957-5702), which sells retail vintage goods and also carries their own original designs reproduced on wearables.
It turns out Dana is the girlfriend of Neil Young's manager Elliot Roberts, and she hung out for the afternoon chatting with Douglas + Son co-owner Sacha Douglas.
According to Sacha's husband and Douglas + Son co-owner Bill, the two hit it off and Dana invited Sacha and Bill to attend the Neil Young concert in Omemee that night.
Dana also picked up two of Douglas + Son's "Courage" fundraising t-shirts — an original design honouring the late Gord Downie. Douglas + Son donates $10 from the sale of every shirt to the Gord Downie & Chanie Wenjack Fund.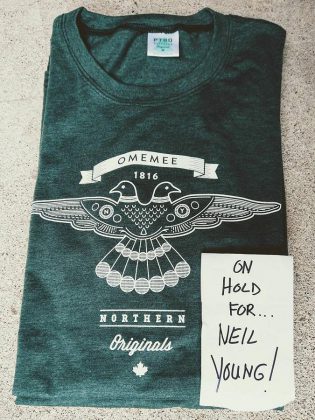 While this was going on, Douglas + Son also got a call from Neil's team, who were trying to locate an Omemee-themed t-shirt. They referred Neil's team to PTBO Northern Originals, which carries an Omemee tee.
Neil's team phoned PTBO Northern Originals to reserve a pair of Omemee tees for Neil and Daryl, and dropped by on Friday to pick them up.
PTBO Northern Originals owner Mike Watt says when they originally designed the Omemee t-shirt they had Neil in mind, which is why the shirt integrates the letters "N" and "Y" in the design. Maybe we'll see Neil wearing the Omemee tee during a future concert.
PTBO Northern Originals t-shirts are available at Flavour Fashion (383 George St., Peterborough, 705-741-0016 or online at ptbonorthernoriginals.com.
For more information about Douglas + Son, visit douglasandson.ca.
The original version of this story has been corrected with information provided by Bill Douglas of Douglas + Son.
Trent University researchers invent new travel mug to keep hot liquids at a safe drinking temperature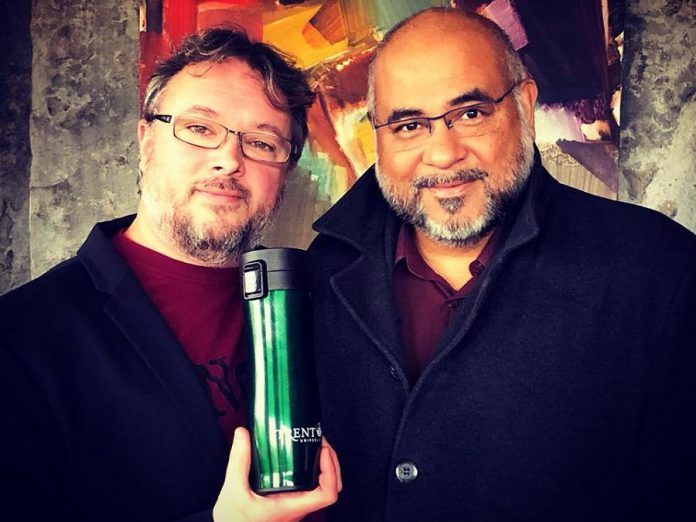 Dr. Suresh Narine, director of the Trent Centre for Biomaterials Research at Trent University and one of the world's foremost authorities and leading scientists in the groundbreaking field of biomaterials, has designed a new travel mug that keeps hot liquids at a safe drinking temperature of 65° C.
The Prolong Travel Mug is based on the original vacuum flask designed and invented in 1892 by Scottish scientist Sir James Dewar as a result of his research in the field of cryogenics (the most well-known type is called a "thermos", the brand name of the leading manufacturer of vacuum flasks).
A vacuum flask keeps liquid hot or cold by inhibiting both the transfer of heat from the liquid inside the flask to the outside, and the transfer of heat from outside the flask to the liquid inside. The interior chamber of the flask is made from a thin material (glass, metal, or plastic) with a silver coating on the inside that reduces heat transfer by radiation (infrared), a near vacuum surrounding the inner chamber reduces heat transfer by conduction and convection, and the screw-in cap prevents heat transfer by convection. In addition, the case surrounding the near vacuum chamber provides additional insulation.
To reduce hot liquids to a safe drinking temperature and keep them there, Dr. Narine's design replaces the near vacuum with what is called a "phase change material" — a substance that melts and solidifies at certain temperatures and is capable of storing and releasing large amounts of energy when it changes from one phase to another. For the Prolong Travel Mug, the phase change material is made out of soybean oil from Ontario soybeans. At room temperature or colder, the material is in a crystalline state. When hot liquid enters the flask, the material absorbs some of the heat from the liquid and melts in the process.
"In this way, it reduces the temperature of the beverage very quickly to safe drinking temperature — that's 65 degrees Celsius", Dr. Narine says in a interview on CBC Radio's Ontario Morning program. "Interestingly, if your beverage cools below a temperature that is too cold, the material re-crystalizes and gives the heat back. In this manner, it keeps your beverage at a safe and pleasurable temperature for more than three hours."
So how did Dr. Narine arrive at the temperature of 65° C as a safe drinking temperature? It has less to do with comfort and more to do with health. The International Agency for Research on Cancer (IARC) of the World Health Organization has classified drinking beverages hotter than 65° C as a "probable" carcinogen, after conducting a meta-review of research suggesting a correelation between drinking liquids above this temperature and esophageal cancer.
The Prolong Travel Mug is available for $40 online at prolongmug.com
Fleming College alumnus and entrepreneur Duane Parnham receives Premier's Award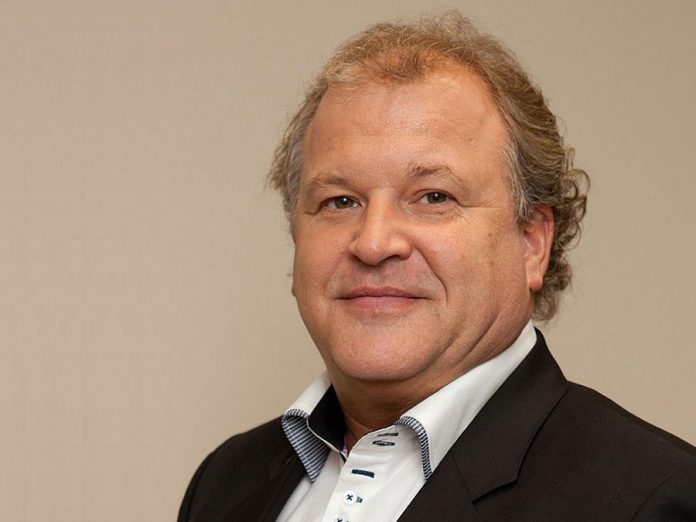 Fleming College alumnus Duane Parnham has received a Premier's Award for his business achievements and contributions to education.
The 1985 graduate of the Frost Campus (Mineral Engineering Technology/Geological Technician) is President and CEO of Broadway Gold Mining Ltd. Since 1996, his companies have created hundreds of jobs and generated over $1.2 billion in shareholder value.
In 2011, he and his family established the Parnham Foundation to support underprivileged, impoverished, or otherwise disadvantaged students from the southwest African country of Namibia to pursue a diploma at Fleming College. Also in 2011, the Parnham family donated $1 million to Fleming's Frost Campus to create the Parnham Training Centre for Resources Drilling Technician students. A portion of the donation went toward new drilling equipment and created an endowed fund to provide financial assistance for students.
More recently, Parnham has been involved in Fleming College's campaign to raise funds for the new GeoCentre at the Frost Campus. The campaign is aiming to raise $1.5 million toward the renovation project that will create new state-of-the-art geology labs and classrooms as well as for programs and student financial assistance.
Recent changes in Peterborough's media landscape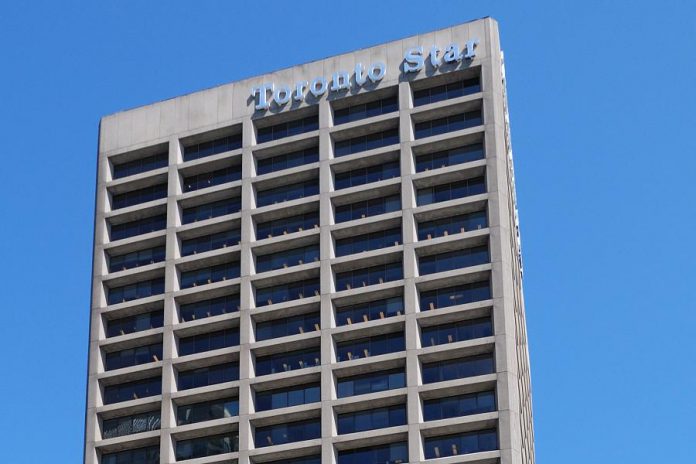 Last Monday (November 27), Torstar Corp. and Postmedia Network Canada Corp announced a deal that closed Northumberland Today and placed the Peterborough Examiner under the ownership of Metroland Media — the same company that operates Peterborough This Week.
Both the Peterborough Examiner (which publishes daily) and Peterborough This Week (which publishes twice a week) have stated both newspapers will continue to operate separately and independently. However, it remains to be seen if having the two competing media companies under common ownership will not eventually result in operational changes.
In other local media news, Peterborough's politics and culture newspaper Electric City Magazine (which publishes monthly) will be purchased by the Resonance Centre for Social Evolution, a collective that runs Peterborough Dialogues and Axiom News, in January 2018.
City of Peterborough to create new communication division with a full-time manager
The City of Peterborough plans to create a new communication services division in 2018 and hire a full-time communications manager.
The city's 2018 draft operating budget includes $131,800 for salary and benefits for the new communications position.
The purpose of the new division and position is to better communicate and engage with the public when it comes to city and council news and decisions, as well as to better manage the city's website and social media channels.
Under the proposed new division, the city's existing customer services coordinator and related position as well as the city's existing crporate sponsorship coorinator would report to the new management position.
This expenditure is in addition to the $400,000 the city is spending to develop a new website as well as $77,000 for local company BrandHealth to come up with a new slogan and logo for the city.
Peterborough-based Loomex Group continues to expand with contract to operate two airports in northern Ontario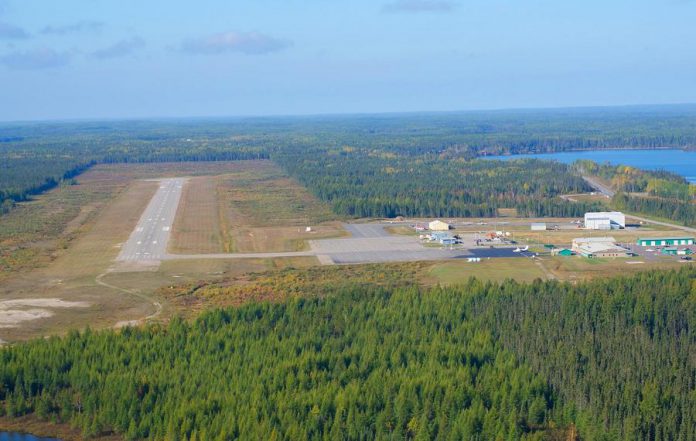 Loomex Group, the Peterborough-based aviation services company, has been awarded a contract to manage and operate two airports in the community of Greenstone, located north of Lake Superior: the Greenstone Regional Airport and the Nakina Airport. Both airports provide a critical link to northern Ontario.
Located nine kilometres north of Geraldton, the Greenstone Regional Airport has a 5,000-foot (1,524-metre) runway, a terminal building, and fueling amenities, and is the home of the Ministry of Natural Resources and Forestry's Greenstone Fire Management Headquarters.
Located adjacent to the community of Nakina, the R. Elmer Ruddick Nakina Airport has a 3,500-foot (1,066-metre) runway, a modern terminal building, and fueling amenities. It is the closest airport to the territory known as the Ring of Fire.
Locally, Loomex Group runs the Peterborough Airport as well as the Kawartha Lakes Municipal Airport.
Anishinaabe entrepreneur wins annual Cubs' Lair competition in Peterborough
Rich Cochrane of Status Exempt has won the annual Cubs' Lair youth entrepreneur competition hosted by FastStart Peterborough, the Innovation Cluster and the Trent Youth Entrepreneurship Society.
Cochrane was one of six finalists who made their pitches to a panel of judges at the Gordon Best Theatre in downtown Peterborough on Thursday (November 30). Anishinaabe and a member of Curve Lake First Nation, Cochrane launched Status Exempt to make it easy for First Nations shoppers to buy online, tax exempt. He has been working in the Cluster's incubator The Cube creating a platform for businesses and First Nations consumers to provide tax exemption in an easy way
Top 10 finalists selected for Win This Space entrepreneurial competition
On Thursday (November 30) at Catalina's in downtown Peterborough, judges and sponsors reviewed video applications for the "Win This Space" competition and selected the top 10 finalists.
The finalists are Escape Maze, Scars & Strops, StayFit Apparel, Argania Natural Health Clinic, Baby Bop Teething Accessories, The Willow's Bark, Best Wishes in a Basket, The Bicycle Museum by Dandyhorse Media Inc., Alexander Frames, and Bonita's Ballroom and Latin Dance Studio.
The winner, who will be announced on March 1, 2018, will receive a prize package valued at more than $40,000 that includes a free lease to a downtown storefront for a year and thousands of dollars in donated prizes including office and computer supplies, marketing and financial services, and advertising and promotion.
Read our full story, including the finalists' video applications.
Grant recipients for Starter Company Plus Funding to be announced on December 6
On Wednesday (December 6), Peterborough & the Kawarthas Economic Development will be announcing the latest round of grant recipients from the Starter Company Plus program, an entrepreneurship program offered through the Peterborough & the Kawarthas Business Advisory Centre.
Funded by the Government of Ontario, the program is designed to provide business training for aspiring to experienced entrepreneurs, aged 18 and over in the City and County of Peterborough, who are launching a business or expanding an existing business that has been operating for five years or less.
The announcement — to be held from 4 to p.m. at Market Hall Performance Centre (140 Charlotte St., Peterborough) — will also include a showcase of the funding recipients, an opportunity to meet with entrepreneurs that are growing their business with the support of this program, and information about plans for the Starter Company Plus program in 2018.
Support local home builders and Habitat for Humanity Peterborough & Kawartha Region on December 7
The Peterborough and the Kawarthas Home Builders Association (PKHBA) — which has represented the professional home building industry in Peterborough and the Kawarthas since 1956 — is hosting its annual Christmas dinner and auction on Thursday, December 7th at 6 p.m. at the Peterborough Curling Club.
Funds raised at the event will not only support the programs and work of PKHBA, but this year a portion of the proceeds will be donated to Habitat for Humanity Peterborough & Kawartha Region, supporting the charitable organization's mission to help low-income families achieve strength, stability, and independence through affordable homeownership.
An selection of live and silent auction items will be up for bid throughout the evening, including building materials and supplies, furniture and design, sports and entertainment packages, and unique experiences.
Tickets are now available to the public and can be purchased for $50 each (or $350 for a table of eight) by contacting PKHBA at 705-876-7604 or info@pkhba.com.
Special holiday edition E-Connect featuring Michael Konopaski on December 12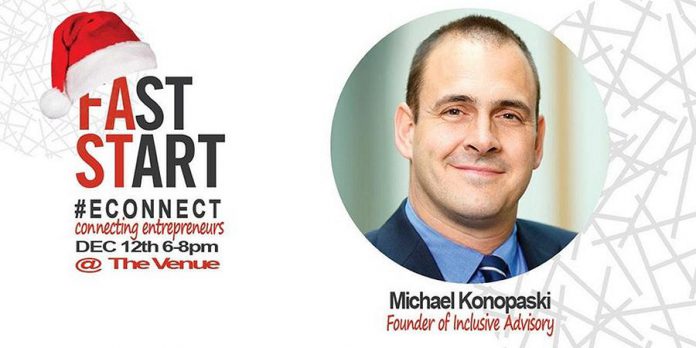 FastStart — a partnership between Trent University, Fleming College, and the Innovation Cluster — is hosting a special holiday edition of its E-Connect entrepreneurial networking event on Tuesday, December 12th from 6 to 8 p.m. at The Venue (286 George St. N., Peterborough).
The event features speaker Michael Konopaski, founder of Inclusive Advisory. Konopaski is a Chartered Professional Accountant (CPA) who also holds a PhD in Entrepreneurship from one of the top 50 management schools in the world. He has spent more than 20 years studying "pain points" for entrepreneurs, business owners, and busy professionals. His research reveals there is a massive opportunity for a brand new industry and his firm is filling the gaps.
In celebration of the Christmas season, Kris Kringle will also make an appearance, and attendees are encouraged to wear their ugly Christmas sweaters for photos with Santa. There will be a prize for the best ugly Christmas sweater. Appetizers and a cash bar will be available.
You can register for the free event at Eventbrite.
Kawarthas Northumberland offers Ignite Experiential Training in Alonquin Park from January 22 to 25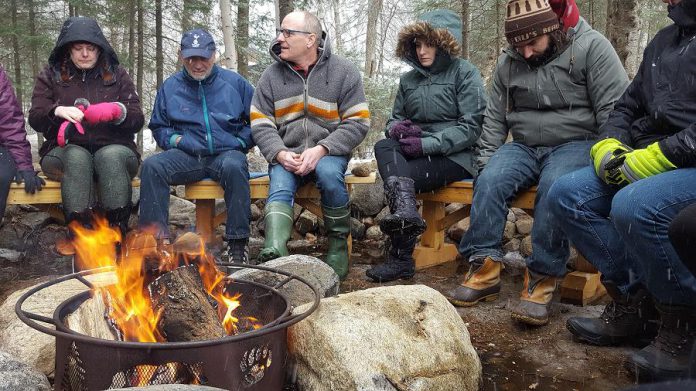 Through Regional Tourism Organization 8, Kawarthas Northumberland is offering "Ignite", an experiential training program, at Northern Edge Algonquin in Algonquin Park from January 22nd to 25th.
This isn't the standard classroom or conference-type training. The program involves a combination of physical activity, cultural interaction, and engagement with companies that are well known and respected in the "Explorers' Edge" region of Ontario.
This learning opportunity received rave reviews from those who attended the sold-out program last March. For $575, you'll get three days of learning and networking while enjoying the off-the-grid splendor of award-winning Northern Edge Algonquin.
The cost includes transportation from and to Peterborough, farm-to-table meals, hands-on immersive experiences, and three nights' accommodation. There are only 16 spaces available and applications are due by Friday, December 15th. To apply, visit rt08.com.
Upcoming Business Socials

There are a number of business organizations in the Kawarthas holding their annual holiday socials in December.
First up is the Greater Peterborough Chamber of Commerce's PBX Christmas Social, on Tuesday, December 5th from 4 to 6 p.m. at The Publican House Brewery (300 Charlotte St., Peterborough). The event is open to all, but registration is required as space is limited. The Chamber will be drawing its #LoveLocalPtbo $1,000 contest winner at the event.
On Wednesday, December 6th, the Women's Business Network of Peterborough (WBN) is hosting its annual Holiday Gala and Auction Fundraiser at the Holiday Inn Waterfront Peterborough. The event is open to WBN members and their guests, and will raise funds for the YWCA Crossroads Shelter.
On Thursday, December 7th, the Port Hope Young Professionals group is hosting its Annual Holiday Social from 6 to 8 p.m. at Table+Loft (59 Walton St., Port Hope). Festive attire is encouraged, and festive drinks and food will be available for purchase. While admission is free, attendees are asked to bring a wrapped gift of a $10 value to participate in a gift exchange game.
On Wednesday, December 13th from 5 to 8 p.m., Kawartha Lakes Construction (KLC) will host the Kawartha Chamber of Commerce & Tourism's Annual Christmas Social at KLC's location at 3359 Lakefield Road. Mingle by the fireplace, check out the showroom, and enjoy holiday refreshments. KLC will be collecting toys for the Lakefield Lioness Club's Toy Drive and donations for the Lakefield Community Food Bank and, once again this year, will be running their employee DIY Christmas Tree challenge (guests will be asked to help pick the winner).