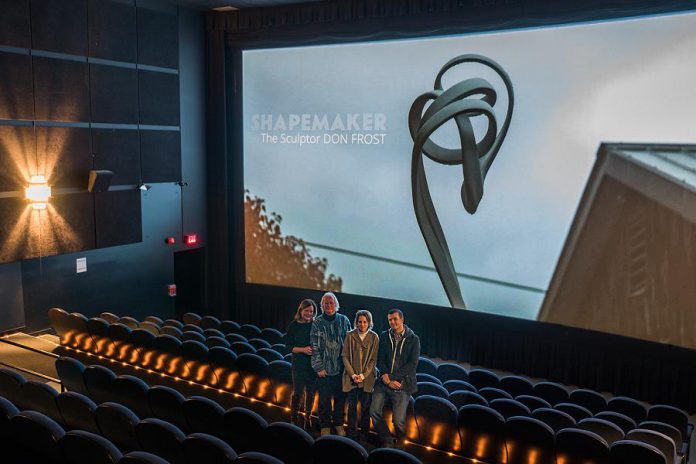 Reflecting on a lifetime devoted to his art, Lakefield sculptor Don Frost lays claim to not having watched television for more than 40 years now.
"I mouthed off to somebody years ago that I don't want to watch a movie, I want to be a movie," says Frost, suggesting one should not only be careful what one wishes for — one should also be grateful when a wish comes true.
"That just happened. Wow. What a major thing to have happen in your life."
Frost is referring to ShapeMaker: The Sculptor Don Frost, co-directed by Mary L. Holley and Michael Morritt, which premiered in September at the Canada-China International Film Festival in Montreal where it was nominated for Best Cinematography.
Close to two years in the making, the 22-minute documentary will be screened at 3:50 p.m. on Friday, January 26, 2018 at Showplace Performance Centre during the ReFrame Film Festival.
This marks the second collaboration involving Morritt and Holley. In 2016, their 10-minute experimental film SHOW also premiered in Montreal and shortly after was screened at Galaxy Cinemas for Artsweek audiences. At the New York State Film Festival held this past April in Manhattan, SHOW was awarded Best Experimental Film.
"At my first meeting with Mary years ago, she already knew that she wanted to make three distinct films," says Morritt, founder and creative director of Peterborough-based Whitebulb Production Company. "A documentary was one of them."
VIDEO: Trailer for ShapeMaker: The Sculptor Don Frost

Holley formally pitched the original idea for ShapeMaker to Morritt in May 2015 while the duo were finishing up the editing for SHOW. She had already approached Don to see if he was interested in something like this.
During the pitch process, Holley played for Morritt a 10-minute audio recording she made of a conversation she had with Frost.
"I immediately got a sense of the warmth of his personality," recalls Morritt. "I was drawn in and I wanted to learn more."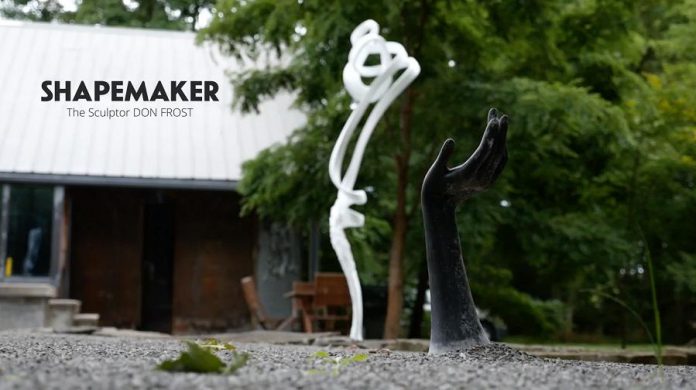 For her part, Holley was sure at the outset of her vision for the project.
"I knew that I didn't want to do a traditional journalistic documentary film," she says. "I wanted to take it to a different level.
"My vision was to take traditional documentary filmmaking and provide the viewer with both a documentary about an artist and a work of art in the form of a film. My aim was to capture the essence of Don and his work — to reflect the intimacy and revelation of an artist in his studio and his constantly evolving gift of creativity.".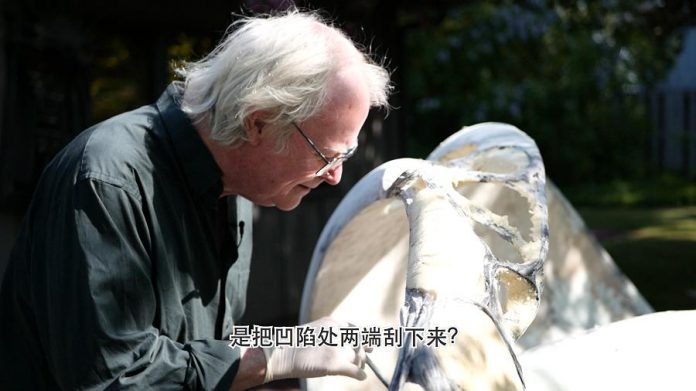 With Morritt's production company secured, the duo — working closely with Frost and his partner Vikki Foy — embarked on a journey with more twists and turns than any one of their subject's celebrated sculptures.
"Producing a documentary is very different than producing a narrative work of fiction," Morritt explains. "You go into a documentary with a number of contingency plans, but you have to start with a solid outlook. That's what Mary and I did in the first several weeks of planning.
"We brought out the cork-board and the thumbtacks and we put the recipe cards up and we said 'Here's what we know about this artist and here are the chapters for the documentary that we want to establish'. The next five months were a series of discoveries that led to us realizing most of those were not going to be able to be shot.
"That's what a documentary is. You have to roll with the punches. It is a process of adaptability. This project was very much about letting the subject guide the narrative."
Frost was more than willing to play along.
"When Mary approached me, I knew she had already made a movie," he says. "I jumped in with both feet.
"Printmakers can make prints by the millions. Anybody who is a painter can run a print off. They get all sorts of advertising that way. In the world of sculpture, to duplicate is a very difficult thing. There's no kind of natural outlet like that for sculpture. This is a golden opportunity for me."
The experience of being filmed, he adds, was "overwhelming."
"You can say what you like and be what you like in your daily life, and let it all loosely run amiss. But when somebody has a camera aimed at you, you have to really have your ducks in a row. There's no fluffing it off."
Saying his favourite piece is "the next one I'm working on," Frost has enjoyed great success since 1974 when Marathon Realty, then the owners of Peterborough Square, commissioned him to create 'Figures Dancing', the 14-foot-tall steel and fiberglass piece that still dominates the mall's downtown courtyard.
In 1983, he created 'Equinox', a 50-foot piece inside the Michael Starr Building in Oshawa. And he also created the striking 24-foot 'Resurrection Cross' outside the Catholic school board office on Lansdowne Street West in 2010.
In addition, his work graces private collections around the world — including four large sculptures purchased by the Saudi Arabian royal family.
Not too bad for an artist who, in his early teens, discovered he was colour blind.
"So I started sculpting," Frost says. "My mother kept the first piece I made. It was a little chunk of wax that I made a little dinosaur out of when I was three years old. It was barely recognizable as anything, but I knew what it was.
"My father had a room off the back of the house with all kinds of tools and wood and that, so it was a natural thing for me to start fiddling around with dimensional stuff. I had a great curiosity."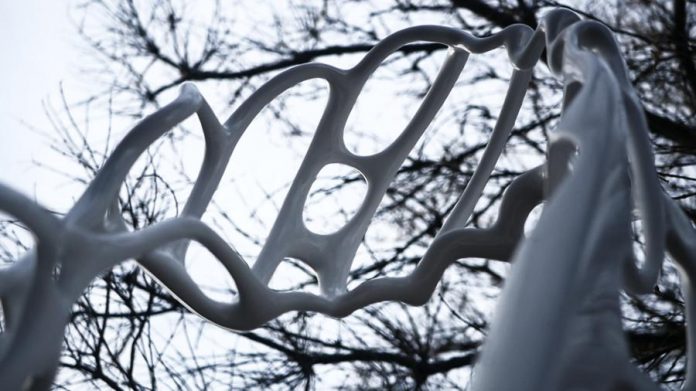 More notably, however, he was and remains the real deal — as both Holley and Morritt discovered to their delight when production of the film took longer than they originally thought.
"It was supposed to be shot very quickly and basically was to be an introduction to the documentary form for Mary," Morritt says.
Instead, it took 16 months of filming.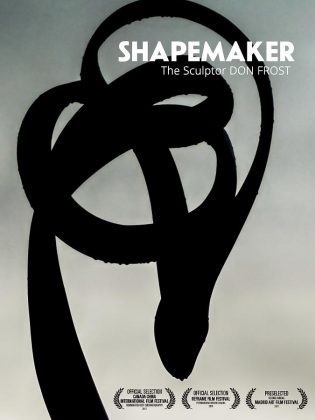 "We always came back to Don himself during production," Morritt recalls. "That's what touched me and moved me and convinced me this documentary needed to be made.
"I thought that what we were creating might be the only archive of Don's legacy that would ever exist, and it was vital to get it right."
"It's all about the study of the human being," adds Holley. "In both film and theatre, we can't forget it's an examination of humankind. No matter what the subject is, it's all about people. This documentary is grounded in the real world — in real relationships. There needed to be a lot of trust."
The finished documentary was screened for Frost at Galaxy Cinemas — a private showing also attended by Foy, Morritt, and Holley and her husband.
"They've made something out of me that's better than me," says Frost, particularly impressed by Morritt's composing and performing of the piano score that runs through the entire soundtrack.
That review is music to both Morritt's and Holley's ears.
"Don is such a talented artist and a humble person," she says. "How do you do him justice? That's when the project felt a little overwhelming. What if he doesn't like it?
"Words cannot express my gratitude to Don and Vikki for allowing us to enter into their lives to create this film."
Looking ahead, whether another Holley-Morritt collaboration is in the cards is anyone's guess. That said, Holley is hopeful of working with her mentor again — "Film is a little like life. You never know what's around the corner."
For more information on the film, visit the official website at www.shapemakerfilm.com. To learn more about Don Frost and to view his work, visit his website at www.donfrostsculptor.com.
For more information on the Reframe Film Festival, including how to get tickets and passes, visit www.reframefilmfestival.ca.