"I'm talkin' about the blues, I ain't talkin' about monkey junk." – Eddie James "Son" House Jr. (1902-1988)
In the 1960s, when American delta blues singer and guitarist Son House described how contemporary musicians played the blues, he dismissed it as "monkey junk" instead of actual blues music.
So it's self-deprecating but not entirely inaccurate for Ottawa-based blues-rock trio MonkeyJunk to have proudly chosen the phrase as their moniker.
"The truth of the matter is that we aren't exactly a blues band," says frontman Steve Marriner. "In the beginning that was true, but now we write our own songs, and let them come out however they may."
While the band's musical prowess draws from iconic masters of country and delta blues like Lightnin' Hopkins and John Lee Hooker, they push the boundaries of the genre by incorporating swampy blues and rock stylings along with intelligent and thougtful lyrics. They also listen to music from bands such as JJ Grey & Mofro, The Black Keys, Sit Down Servant, Tedesschi Trucks Band, and more.
VIDEO: "Time to Roll" – MonkeyJunk

"We don't owe the blues nazis, the blues purists, a thing," Marriner says in a 2013 interview with The Toronto Star.
Formed in March 2008, MonkeyJunk is celebrating its 10th anniversary this year and is kicking off a tour of southern Ontario, followed by a tour of the U.S., with a concert at Market Hall Performing Arts Centre in Peterborough on Tuesday, Jaunary 9th.
The band consists of Marriner (lead vocals, baritone guitar, harmonica, and Hammond organ), Tony "D" Diteodoro (lead guitar, vocals), and Matt Sobb (drums and percussion, vocals).
The band doesn't have a bass player, in the tradition of blues bands like Hound Dog Taylor and the HouseRockers and Moreland & Arbuckle, which also helps form their unique sound. Marriner often plays a baritone guitar, which is tuned to a lower pitch than a standard guitar, to fill out the bottom end.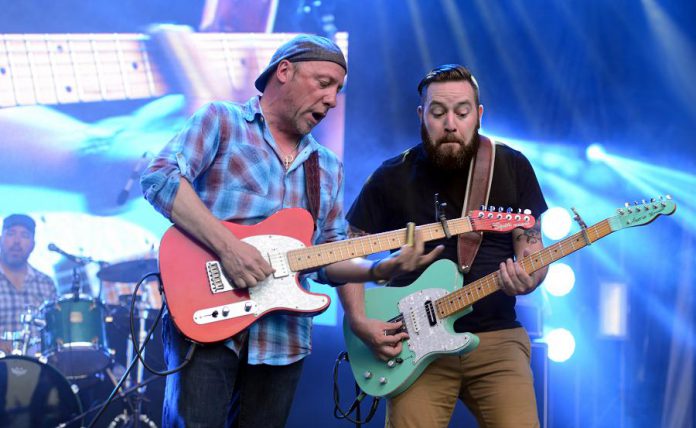 Marriner, the youngest member of the band at 33, first garnered attention in the Ottawa blues scene in his early teens as a blues harmonica prodigy. Prior to forming MonkeyJunk, he performed in Ottawa bands the Johnny Russell Band and the JW-Jones Blues Band.
As well as being a producer, sideman, and session player, Marriner has toured the world performing alongside Harry Manx and has shared the stage with musicians such as Randy Bachman, Colin James, and Big Sugar. He's performed at The Dobro in downtown Peterborough in the past, most recently this past December (MonkeyJunk has also played at The Dobro several times).
Diteodoro, who was born in Italy before emigrating to Canada with his family when he was very young, began playing the trombone in school. He was good at it, but switched to guitar when he was 13, inspired by Jimmy Page of Led Zeppelin ("You can't pick up chicks with a trombone"). At the age of 19, he performed for three nights in Buddy Guy's band and, at the age of 29, opened for the legendary Stevie Ray Vaughan.
These events helped propel him into a long-standing career with his own popular project, The Tony D Band. He has also toured with some of Canada's greatest blues musicians, including the late Dutch Mason.
VIDEO: "Once Had Wings" – MonkeyJunk

Sorb played his first gig when he was 18, when the drummer in his brother's band didn't show up for a rehearsal. Although he wasn't a very experienced drummer at the time, Sorb sat in and by the end of the rehearsal was the new drummer ("It was baptism by fire").
Before joining MonkeyJunk, he was a very busy session drummer around Ottawa. He has backed up several regional, national, and international artists live on stage, both touring and in studio. Sorb has performed with Kim Wilson (Fabulous Thunderbirds), Jeff Healey, Tom Wilson (Junkhouse, Blackie & The Rodeo Kings, Lee Harvey Osmond), The Tony D Band, his brother's band Marty Sobb and The Mobb, among many others.
MonkeyJunk has released five records: Tiger in Your Tank in 2009 (re-released in 2014), To Behold in 2011, All Frequencies in 2013, Moon Turns Red in 2015, and their latest album, Time To Roll, in 2016.
So far, they've won two Canadian Independent Music Awards, a Blues Music Award, a Juno Award, and an astounding 20 Maple Blues Awards — with three nominations for the 21st annual Maple Blues Awards on January 15th including Songwriter of the Year and best harmonica player and drummer.
VIDEO: "You Make A Mess" – MonkeyJunk

William Shatner, who hosted the 2012 Juno Awards where MonkeyJunk won for best blues album for To Behold, called the band "The Sultans of Swamp R&B."
The band was also a favourite of the weekly syndicated radio program Elwood's BluesMobile, hosted by famous actor and Ottawa native Dan "Elwood Blues" Aykroyd. The program, which began as House of Blues Radio Hour in 1993, showcased blues and blues-based music until it ended in July 2017.
Come out to the Market Hall at 8 p.m. on Tuesday, January 9th to help MonkeyJunk celebrate its 10th anniversary. Tickets are $20 and are available at the Market Hall box office, by phone at 705-749-1146, or online at markethall.org.
As legendary Canadian guitarist David Wilcox has said, "MonkeyJunk are keeping the spirits of Muddy Waters and the other roots giants alive with their own unique brand of music. Check it out — you won't be disappointed."