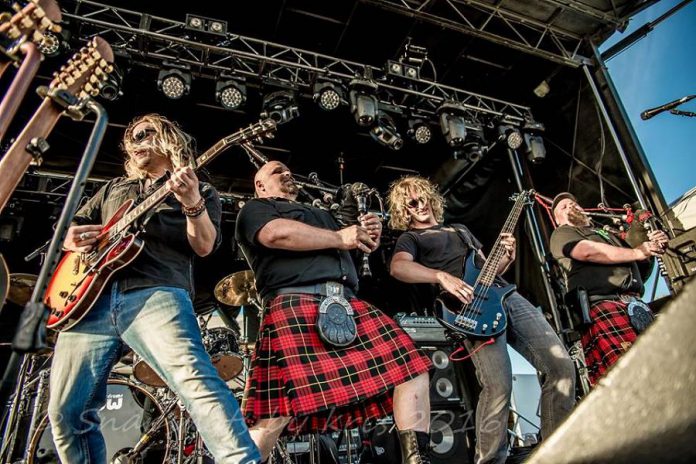 For the third January in a row, Canadian Celtic rockers Mudmen are performing at Peterborough's Market Hall Performing Arts Centre.
In a happy coincidence, 2018 is the 20th anniversary of both Mudmen and the Market Hall. In fact, the Mudmen concert on Saturday, January 13th takes place the night after "Lights Up!", the Market Hall's 20th anniversary celebration.
Mudmen was founded by Robby Campell and his older brother Sandy in March 1998 in Alvinston (near Petrolia). The brothers, who play bagpipes in the band, originally began performing as The Campbell Brothers in 1993.
In 1998, the brothers changed their name to Mudmen, based on their occupation before forming the band: mixing mortar and carrying bricks for bricklayers.
VIDEO: Mudmen Promotional Video

The band's music is a fusion of hard rock and punk with traditional Scottish music, well represented by the kilt-wearing brothers. They were exposed to Celtic music as children, with both their mother and grandparents being musicians who frequently brought fiddlers into their home.
"My brother was supposed to learn the fiddle but the fiddle teacher died," Robby says. "The barber in town was offering free bagpipe lessons if you joined the pipe band. Sandy and I were both 13 when we started."
The other members of Mudmen are Mike Meacher (lead vocals, guitar, banjo), Dan Westenenk (bass guitar, vocals), and Jeremy Burton (drums).
Over the past 20 years, Mudmen have performed more than 2,600 concerts and have released nine studio albums: Mudmen (2001), Overrated (2003), Defending the Kingdom (2005), The High Road (2009), Another Day (2010), Donegal Danny (2012), Where I Came From (2013), Train (2015), and Old Plaid Shirt (2016). Originally signed with EMI Records, they have been producing their records independently since 2005.
They are now working on their 20th anniversary record, expected to be released in July 2018. Robby is also writing an anniversary memoir for the band, 20 Years of Mud, to be released this spring. The book will cover the band's challenges and successes from their origins as The Campbell Brothers to present day.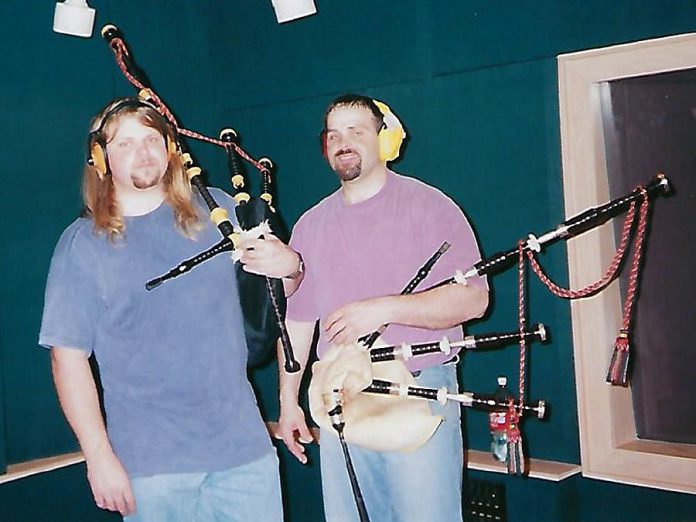 Some of those successes include meeting and performing for Queen Elizabeth II on Canada Day at Parliament Hill in Ottawa, reccording the new version of the Hockey Night in Canada theme song, and performing at the 1984 Edmonton Oilers reunion with Wayne Gretzky. They've also opened for The Guess Who and ZZ Top, toured with Jonny Reid, and their music has been featured on television and in video games.
Calling themselves "Canada's Celtic Rock Warriors", Mudmen are known for their high-energy and family-friendly live performances. There's a reason why Mudmen have performed in Peterborough for the past three years in a row: they've build a solid local fan base through regular performances.
"Fleming College was Mudmen's first show in Peterborough, opening for Bif Naked," Robby says. "We were standing in the hallway outside of the dressing room waiting for show time and the crowd started chanting, 'MUDMEN, MUDMEN, MUDMEN!' You can't buy that feeling."
VIDEO: "Where I Came From" – Mudmen

Advance tickets for Mudmen are $20 (including fees) for general admission seats or $25 (including fees) for assigned cabaret-style table seating.. Tickets are available at the Market Hall Box Office, by phone at 705-749-1146, or online at markethall.org.
Congratulations to our VIP reader Yvonne Guerin, who won a pair of tickets to see Mudmen courtesy of the Market Hall. To qualify for exclusive free tickets and other giveaways from kawarthaNOW.com, sign up for our weekly VIP enews.