On Friday, January 12th, the first theatrical production in the Kawarthas for 2018 opens with the Anne Shirley Theatre Company's production of Morris Panych's black comedy 7 Stories at the Gordon Best Theatre in downtown Peterborough.
Directed by Khora Tatyana and Liam Parker, 7 Stories is a farcical look at life and death as a man on a ledge gets a view into the lives of a collection of eccentric individuals, whose only connection is that they inhabit the same apartment complex.
First presented in 1989 at the Arts Club Theatre in Vancouver, Panych's 7 Stories has an interesting narrative concept that works very well on the small stage. With a flat set depicting a brick wall and eight windows, revealed to be the seventh storey of an apartment complex, the characters in 7 Stories interact with the show's nameless protagonist — who is standing on the ledge trying to work up the nerve to jump to his death — by talking to him through their windows.
Through these conversations, the audience is subjected to Panych's odd and often cynical take on a variety of subjects ranging from lust, sanity, matrimony, religion, art, theatre, humanitarianism, mortality, sexuality, and social interactions.
For the most part the characters in the show are self-involved and generally terrible people, with little to no concern for the man on the ledge of the building — most of the time they don't even ask what he's doing out there. But, despite being morally awful, the characters have just enough quirks to be likeable, which in itself creates another cynical look at the shallowness of society.
Drew Mills plays the show's protagonist, known only as The Man, who opens the show by climbing onto the ledge while muttering the days of the week.
Just why he is there and why he wants to end his own life isn't immediately explained, and he begins to be interrupted by the residents of the building who, more concerned with their own daily dramas, converse with the man through their open windows.
There is Charlotte (Claudia Masatti) and Rodney (Matt Campbell), who are having an abusive love affair steeped in violence; Leonard (Kelsey Morewood), a sleep-deprived professional suffering from paranoia; Marshal (Tom Keat), who is hours away from marriage but living the world's biggest lie; Rachel (Amy Graves), a religious zealot whose acts of faith border on being criminal; Michael (Simon Banderob) and Joan (Whitney Paget), two artists whose relationship is thrust into chaos over Michael's sensitivity to colour; Nurse Wilson (Dani McDonald), the meanest caregiver this side of Nurse Rachett, and her ward Lillian (Analucia Diaz), a 100-year-old shut-in with a zeal for existing; and Jennifer (Lori Branch), Percy (Hannah Lash), and Al (Liam Parker), who are stuck at possibly the worst party ever thrown.
None of the characters, with one exception, seem to be very concerned about The Man as they talk to him. It becomes obvious The Man isn't the only one who has issues; all of them have their own eccentricities and dramas to deal with. Can The Man find anything in the seven stories to convince him to get off the ledge, or is the human race too far gone?
Usually I don't enjoy anything soaked in cynicism, but there's something about 7 Stories that allowed me to look past the negative commentary on society and sit back and smirk. 7 Stories isn't a drama nor is it really a full-blown comedy. It's funny, but not in a laugh-out-loud way. Instead, the show has a quick and dry wit, and it often dips its toes into the theatre of the absurd without allowing itself to become fully immersed in insanity. Frankly, that is a type of comedy I can get behind.
Like the show itself, the characters have a strange charm to them. You don't realize it while watching the show but, in retrospect, they are all pretty shallow and terrible characters (except perhaps the character of Lillian, who is actually very sweet and lovely to listen to). They have a fascinating quality and some of them (such as Marshall, Al, and Joan) are fairly likeable.
Along with the fact they are played by a very talented and likeable cast of performers, the characters' quirky charm pulls the show together and saves the audience from a potentially bleak commentary of society. Each time a window opened, I found myself excited to see who was going to pop out next and what they were going to say.
I am reluctant to go into much discussion about each character's individual story, as not to ruin the audience's own surprise at discovering what the characters are all about; that is part of the fun of the show. But I will say the dialogue is punchy, the script is clever, and 7 Stories has a lot to say.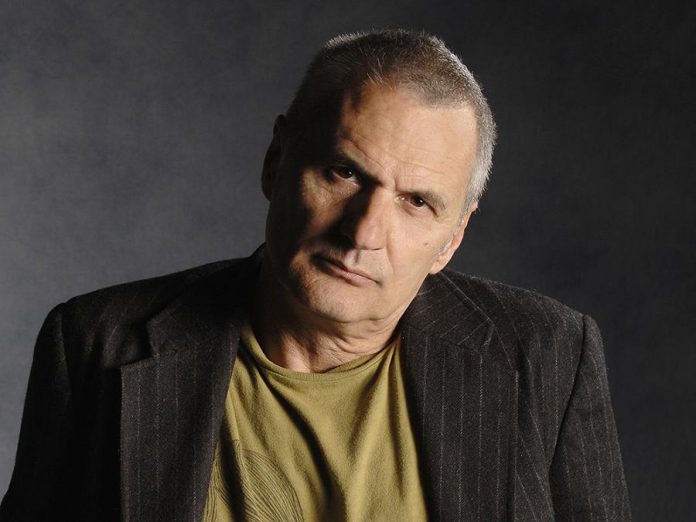 I found Panych's satire on art and theatre to be the most amusing. Tom Keat's segment as Marshall, an actor caught in what could be considered either his greatest role or his biggest deceit, to be particularly entertaining. His take on the fabrication of the theatre is very clever and funny — especially when being told on stage in front of a theatre audience (his comments on intermissions will never make me take an intermission the same way again). And the over-the-top discussion of beige and green by Michael and Joan is a hilarious parody on cultural elitism.
Meanwhile, Jennifer's concern about her own popularity — and admitting that she doesn't like her 940 "friends" — hits on the lack of intimacy between people in our modern society. With 7 Stories being written long before social media existed, Jennifer's monologue proves Panych was ahead of his time.
7 Stories is also blessed with a fantastic set created by Scott Sheward with assistance by Liam Parker. The two-level set takes the appearance of a great brick wall with eight windows cut into it. Drew Mills stands between the edge of the stage and the massive set piece, while the other characters draw their blinds up and down to talk to him. There is a sense of depth behind the actors in the windows, making it look like there are really apartments behind them. It's a simple yet effective set piece that becomes a character of its own.
The most exciting thing about 7 Stories is the talented cast Liam and Khora have brought together. WIth the exception of a few performers, the actors in the show were all new to me, which is always extremely exciting to see. With many of the previous cast of Anne Shirley Theatre Company regulars having graduated, it has left a lot of room for new actors to take the spotlight. For me, 7 Stories became a showcase for some of the new actors who will hopefully become regulars on the Peterborough stage.
The performances by this talented group of actors is one of the strengths of 7 Stories. You can tell they really like their characters, which makes the audience also like their characters. Without their ability to believe in the characters they portray, 7 Stories could be an entirely different sort of production. The strength of the show is a testament to the strength of this fantastic cast.
It's been a while since I've written about an Anne Shirley Theatre Company show, and 7 Stories has me excited about this new crop of performers and what comes next (which, incidentally, is The Hunchback of Notre Dame this spring). 7 Stories is smart, darkly humorous, well produced, and features a great cast. It's a great way to get the theatrical year started again.
7 Stories is presented at the Gordon Best Theatre on January 12th and 13th and January 19th and 20th. Show starts at 7 p.m., with 2 p.m. matinees on January 13th and 20th. Tickets are $15 and are available for sale outside of Wenjack Theatre at Trent University, Moondance in downtown Peterborough, and at the door.