Hot flashes, night sweats, fatigue, and mood swings.
What may sound like a short vacation in the tropics is actually the backdrop for the upcoming performance of Menopause the Musical, coming to Showplace Performance Centre in downtown Peterborough on March 8th and 9th.
Written by Jeanie Linders, the longest-running scripted production in Las Vegas has been gracing stages all over the world for 12 years. It's a groundbreaking celebration of women who are on the brink of, in the middle of, or have survived menopause, also infamously called "the change" — a life adjustment that hits most women in their 50s.
The musical revue provides a safe place for sisterhood and sympathetic laughter. It is good, cathartic fun even though it comes with a serious underbelly, says producer Mark Zimmerman, whose company ShaggyPup Productions holds the production rights for Menopause the Musical in Canada.
"The laughter and energy is palatable in the theatre every night, whether it's in a 3,000-seat casino or a 300-seat theatre. It's such a feel-good show," says Zimmerman, who opened the show in Toronto in 2006 and has produced an impressive 513 consecutive performances to date.
Zimmerman is delighted by the cultural impact of the show.
"Years ago, menopause was in the closet and wasn't really spoken about because it's very personal," he notes. He adds that more women these days are beginning to discuss menopause rather than mumble about "women's problems."
"It's universal and the show celebrates this and creates somewhat of a sisterhood. Women let their hair down, have a great time, and see that they're not experiencing this alone. It's very powerful and empowering for women."
VIDEO: "Menopause The Musical" at Showplace Performance Centre

Janet Martin, who is Zimmerman's partner in ShaggyPup Productions and one of the musical's lead cast members, agrees.
"Women are always coming into this time of life, and ladies like to go out together in groups, commiserate and laugh about what a ridiculous time menopause is.
"Menopause the Musical is a fun night on the town. It's about comedy and laughter. It's the underlying sincerity of the topic that's really for us to laugh at. It's our coping mechanism as human beings."
In a Bloomingdale's department store, four women by different circumstances meet while shopping for a black lace bra at a lingerie sale. After noticing unmistakable similarities among one another, the cast jokes about their woeful hot flashes, mood swings, weight gain, and other not-so-desired changes.
These women form a unique bond with the entire audience as they bask in celebrating that menopause is no longer "the silent passage."
Along with Martin ("Iowa Housewife"), the all-star Canadian cast features Jayne Lewis ("Soap Star"), Nicole Robert ("Earth Mother"), and Michelle White ("Professional Woman").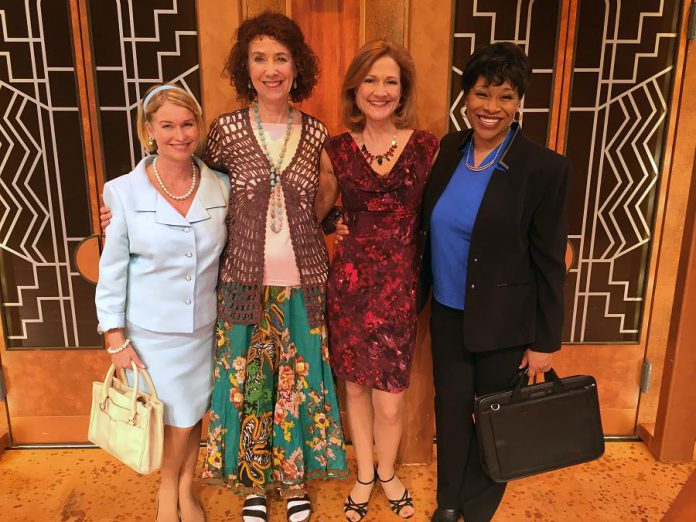 In parody form and with a soundtrack of hits from the '60s, '70s and '80s performed by the cast, Menopause the Musical takes a heartfelt look at how menopause affects women in different ways.
To commemorate the hot flashes that torment the menopausal woman's search for sleep, the Bee Gees' "Stayin' Alive" and Peter, Paul and Mary's "Puff, the Magic Dragon" gets lyrically tweaked into "Stayin' Awake" and "Puff, My God, I'm Draggin'."
The '60s pop song "The Lion Sleeps Tonight" becomes the satirical lament "My Husband Sleeps Tonight" — because the wife certainly isn't.
The lyrics are clever, creating a rapport between the cast and the audience, and a camaraderie between all women who are in attendance.
Even though this is a grab-your-gal-pal-and-go kind of event, with women making up over 96 per cent of the audience, Zimmerman — who jokingly uses the catchphrase 'mandatory viewing for men' — says it's a great way for men to get a few tidbits of essential education.
"Even though the majority of the people who come to our show are women, it is great entertainment for men as well," he says. "Many men walk away from this show closer to their partner or spouse because they see what these women are going through and they have more empathy and understanding for them. I think we're responsible for saving a few marriages."
So, the next time you have to change your sheets after an episode of night sweats or forget the name of your eldest child, don't worry about it. Have a chuckle instead, and then go and share your experience with your besties.
Menopause the Musical runs for two performances only, on March 8th and March 9th at Showplace Performance Centre in Peterborough. Tickets are $55.85 and can be purchased at the Showplace Box Office, by phone at 705-742-7469, or online at showplace.org
For more information about the show, visit ShaggyPup Productions website at www.shaggypup.ca or follow Menopause the Musical on Facebook.
VIDEO: "Menopause The Musical" Promo (US production)