This month, Eva Fisher discovers Northumberland's finest craft beers, tastes authentic Jamaican Jerk Chicken, finds a beer inspired by Kawartha Dairy ice cream, and checks in at a new restaurant with a huge variety of wings.
---
Taste local craft beer with Northumberland's Brown Bag Tour Company
Looking for an exciting taste tour? Try brown bagging it. Brown Bag Tour Company (PO Box 702, Cobourg Ontario, 1-877-519-2483) offers tours to craft breweries throughout Northumberland.
The Brown Bag Tour Company was founded by Andrew Hall and Doug Bates in September 2017. According to Operations Manager Anna Kowalski, the two founders were sitting over burgers when they came up with the idea.
"They landed on beer as something that was, forgive the pun, untapped. They saw an opportunity to highlight Northumberland's craft beer experience."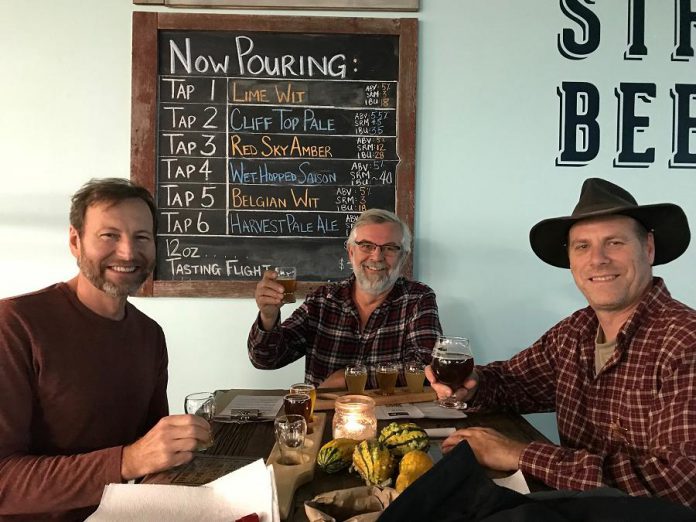 Tours visit William Street Beer Co. (975 Elgin St W, Cobourg, 888-524-2337), Northumberland Hills Brewery (1024 Divison Street, Cobourg, 289-435-2004), Church-Key Brewing (1678 County Rd 38, Campbellford, 705-653-9950), and Empire Cider Co. (222 Old Wooler Rd, Codrington, 613-438-3791)
Anna says that Northumberland is a great destination for a craft beer tour because of the type of people who make beer there.
"The due diligence. The care. The artisanal craftmanship. When you know how much somebody cares about something it really draws you in to caring about it as well."
Because Northumberland is a rural area, brewers are able to work directly with farmers.
"It really is farm to beer here. There are a lot of places that get their hops from local farms."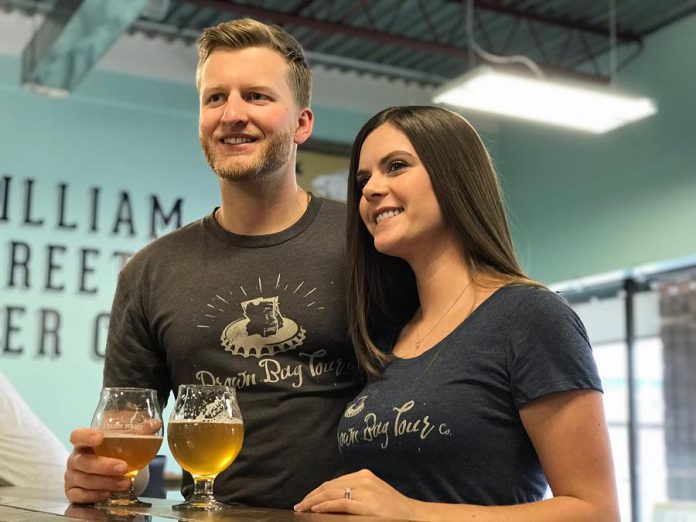 Tours can be customized to suit your interests.
"We want to give people an immersive experience where they're not only trying new beer but they're experiencing Northumberland and getting to know the people behind the beer."
To book a tour, visit brownbagtour.ca. For a custom tour call 1-877-519-2483.
Caribbean Sizzle heats up George Street in downtown Peterborough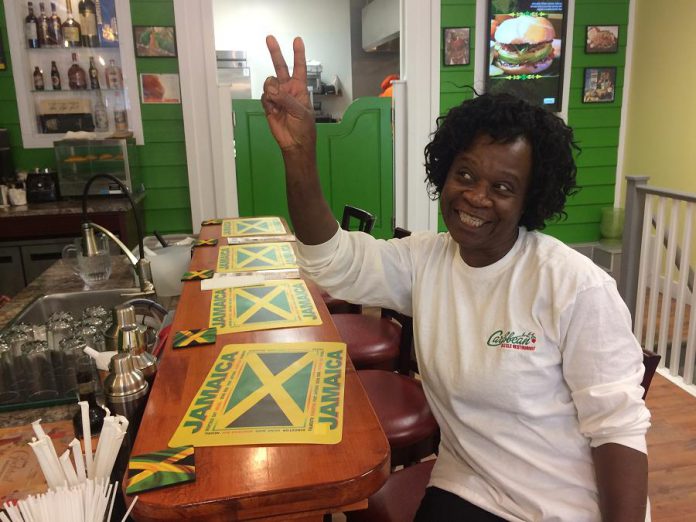 Caribbean Sizzle (427 George Street N., Peterborough, 705-743-9320) is bringing a menu of authentic Jamaican cuisine to downtown Peterborough. Owner and chef Minitha Brown Thomas opened the restaurant this January.
The menu includes the national dish of Jamaica, Ackee and codfish. Ackee and codfish is a sautee of boiled ackee with cod. The ackee becomes almost like scrambled eggs. Ackee is the national fruit of Jamaica and is related to a lychee. At Caribbean Sizzle it's served with plantain or provisions, which includes banana and dumpling.
Minitha learned to cook ackee and codfish as a child growing up in Jamaica ("My mom taught me in the kitchen"). Now it's one of the signature dishes in her restaurant.
Caribbean Sizzle also offers authentic Jerk chicken.
"Jerk chicken is straight from Jamaica. If you get jerk chicken anywhere else, it's not the real thing."
It's served with a spicy sauce that contains scotch bonnet peppers and allspice, but Minitha insists that there's more to it than that.
"There's a secret to making jerk chicken which I might not tell you right now."
You can also choose from curried goat, Festival, steamed fish, oxtail, Jamaican fruit cake, and even jerk chicken poutine.
Caribbean Sizzle is open Tuesday through Saturday from 10 a.m. to 2 a.m. You can also find them online at caribbeansizzle.ca or on Facebook.
Kawartha Dairy ice cream inspires new Salty Caramel Truffle Beer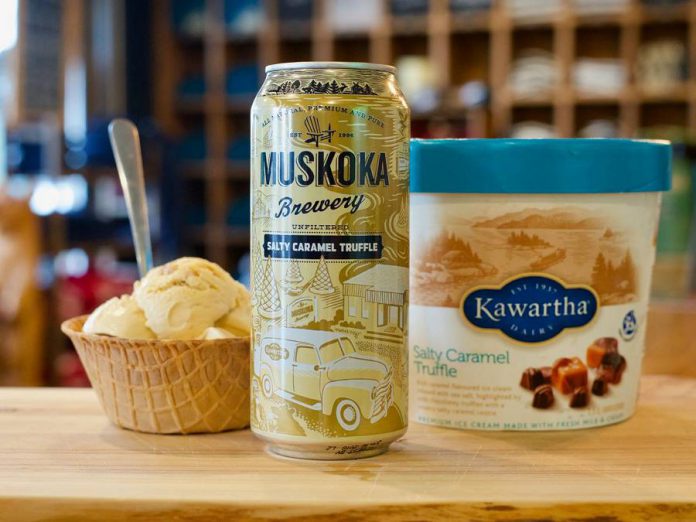 Kawartha Dairy's (89 Prince S.t W., Bobcaygeon, 705-738-5123) latest collaboration is a decadent treat, but you probably won't want to serve it in a waffle cone.
Muskoka Lakes Brewery has released a new salty caramel truffle beer, inspired by the dairy's popular ice cream flavour.
The bock-style beer is brewed with Caramel 60 malt and Chocolate Malt, which produce distinct notes of chocolate and caramel. The recommended pairing for the beer is, of course, Kawartha Dairy's salty caramel truffle ice cream.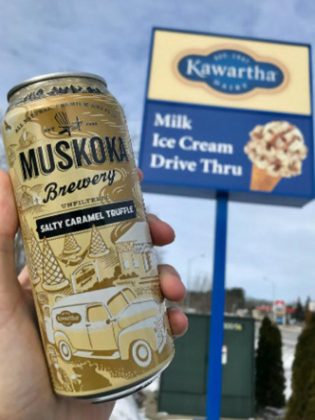 Shannon Mulligan, public relations and social media lead at Muskoka Lakes Brewery, says that choosing an ice cream to brew with wasn't easy — but then, when you're picking an ice cream at Kawartha Dairy, it's often a tough decision.
"Kawartha Dairy has a great selection of premium flavours. Narrowing it down was tough. We wanted to go with an ice cream that offered a challenge to our brewers and was different in flavour profile than any other beer we've produced. And of course, it doesn't hurt that Salty Caramel Truffle is a fan favourite!"
In celebration of this collaboration, Kawartha Dairy and Muskoka Lakes Brewery have plans to team up to support local improvement projects. Shannon says that they are still determining which causes to support.
"Right now we're still in talks with Kawartha Dairy on what the projects will be, but they'll closely align with our values of environmental stewardship and helping to better our communities."
You can find Muskoka Brewery Salty Caramel Truffle at select grocery stores and at the LCBO.
Wing House serves over 150 varieties of wings at a fresh new location
Owner Arul "Suji" Siva has brought a Wing House franchise to Peterborough.
Wing House (320 Water St., Peterborough, 705-874-7555) serves over 150 flavours of wings, including traditional wings, creamy wings, and wings inspired by a variety of international destinations, from Croatia to Guyana to Scandinavia to Tokyo.
Suji says that the Garlic Parmesan, Honey Barbecue, Texas Homicide and Knockout Garlic are some of the top sellers. His pick, the Texas Homicide, is tossed in their spicy "third degree" hot sauce, then drizzled with ranch dressing and sprinkled with taco seasoning.
When I asked him what sets his wings apart from other wing restaurants, Suji had two answers, and both were pretty fresh.
"We do fresh wings, we prep every single day and we don't do frozen… and I guess we're better looking."
Started in Mount Albert, Wing House now has five locations throughout central and eastern Ontario (Mount Albert, Midland, Cobourg, Penetanguishene, and Peterborough) with restaurants opening soon in Cannington and Port Hope.