The Peterborough Axe Club is sending six players to participate in the final round of the National Axe Throwing Championships on Sunday, February 18th in Toronto.
Evan Flak, Ken Smith, Chris Proctor-Bennett, Jamie "The Rooster" de Haan, Mark Hoar, and Phoenix Parkin will be participating in the tournament, which pits the top 128 throwers against each other in a double elimination playoff bracket.
The 7th annual tournament runs from 10 a.m. to 6 p.m. at The Backyard Axe Throwing League's two Toronto locations: 33 Villiers St. and 153 Bridgeland Ave., Unit 15. Spectators are welcome to attend.
Next up in our series of profiling this year's #NATC2018 competitors, we're happy to introduce 6 throwers who will be representing Peterborough ON from PTBO Axe Club! Submit candidates to admin@nationalaxe.com.
NATC 2018 matchups: https://t.co/LCvHuP0n9U . #AxeThrowing #NATF pic.twitter.com/29t5lmwNij

— National Axe (@nationalaxe) February 11, 2018
A purse of $7,500 will be divided among the top six finishers, with the champion being awarded the Wilson Cup. The event is organized by the National Axe Throwing Federation (NATF) as part of its All-Star Weekend.
The weekend isn't just about throwing axes. It also raises funds for the Red Door Family Shelter in Toronto, which provides a temporary home to abused women and their children, homeless families, and newcomers to Canada.
Last year, NATF donated $4,800 to the Red Door Family Shelter from the 2017 All-Star Weekend.
VIDEO: National Axe Throwing Championship 2017

In addition to the championship tournament, the All-Star Weekend also includes the "Winter Skillz" competition, held on Sunday, February 18th from 6 to 10:30 p.m. at 33 Villiers St. in Toronto. Spectators are welcome to watch the competition.
The competition consists of four axe-throwing events; "Around the World" (a race to hit six specific spots on the target in order), "Doubles" (a partnered competition where both competitors must throw their axe at the same time at the same target for each throw), "Time Trial" (a timed event comprised of three rounds of four throws each, moving along the targets in a single arena), and "Ambidextrous" (players throw two axes at the same time at the same target, with one axe in each hand).
VIDEO: Axe Throwing Skills Competition Winter 2017

The tournament and skills competition will be followed by the Axe Prom and Awards Ceremony on Monday, February 19th at 6 p.m. at the Palais Royale (1601 Lake Shore Blvd W., Toronto). This formal celebration (which is sold out) closes the 2018 All-Star Weekend with awards, food, dancing, and professional photography.
For more information about the NATF All-Star Weekend, visit www.nationalaxe.com/all-star-weekend-2018.html.
If you can't make it to Toronto to watch the competition, NATF will be streaming the finals beginning Sunday at 2:30 p.m. live on Facebook.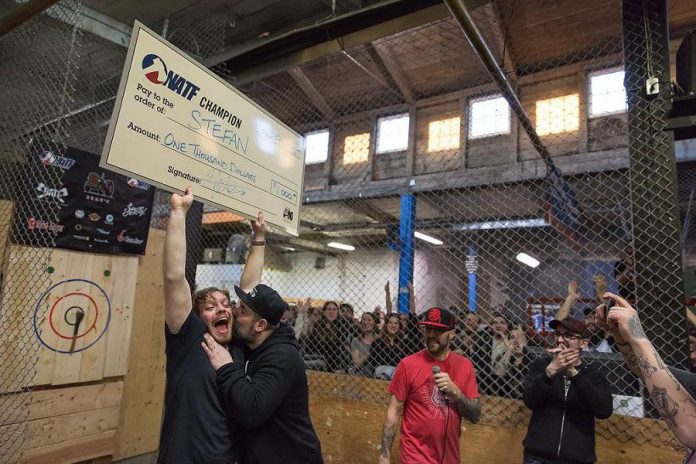 NATF Commissioner Matt Wilson originally pioneered the sport of urban axe throwing in his Toronto backyard in 2006. Since then, the sport has gained world-wide popularity with member organizations across Canada as well as in the U.S., Australia, Poland and Thailand.
NATF was established in 2016 to service the sport of axe throwing globally, with a vision to create broad and standardized competition among players, while providing member support through a mandate to promote universal safety, sportsmanship, and competitive protocol.