With International Women's Day (IWD) on March 8th, this is a week when women around the world share stories and celebrate what it means to be female.
In celebration of IWD, FastStart Peterborough hosted this month's E-Connect yesterday (March 5) in a new panel discussion format that featured four fierce female founders.
Jeannine Taylor, co-founder and publisher of kawarthaNOW.com, was one of the four panelists, along with Rhonda Barnet (co-founder of Steelworks Design), Lindsay Brock (founder of Amusé Coffee), and "serial entrepreneur" (and personality about town) Peggy Shaughnessy.
Special guest Maryam Monsef, Minister of Status of Women and MP Peterborough-Kawartha, introduced the panel and pointed to the focus on women in the recently announced 2018 federal budget. Monsef also pointed to the need for more role models for young women.
"If you can't see her, you can't be her."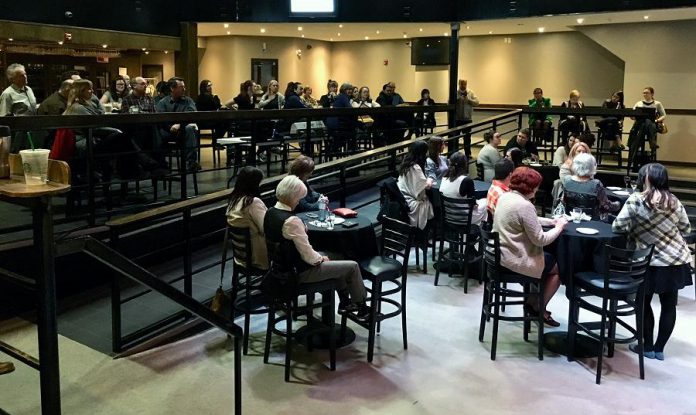 The four role models were blunt when asked if they had to make any sacrifices to get where they are today.
Barnet, who is the first female chair of the Canadian Manufacturers and Exporters (CME) national board of directors, said the only way to succeed as an entrepreneur is to make sacrifices.
"But when my daughters look at me and tell me what a great example I am, it makes it all worthwhile."
Taylor, a media trailblazer by any standard having launched an online news publication way back in 1995, said she has no regrets.
Instead, she's garnered a lifetime of learned experience — and a lot of followers. She's grown her media brand to reach 2.5 million unique viewers per year, with almost 10,000 followers of the @kawarthanow Instagram account.
"After 10,000, that's when the magic happens."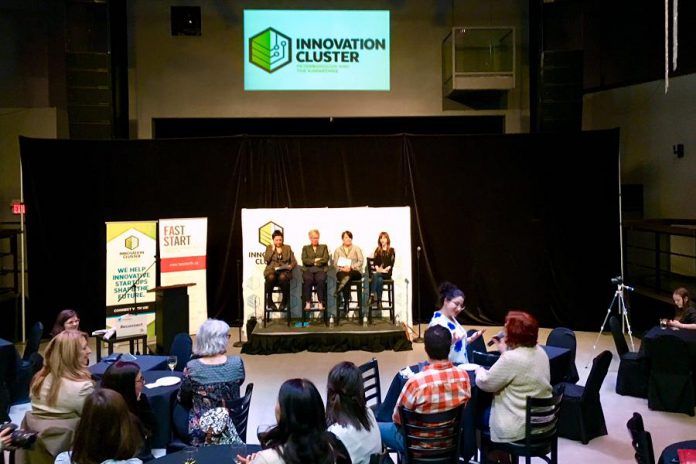 "We all make sacrifices. Getting out of bed in the morning is a risk," Shaughnessy said to laughs.
The former nurse and current PhD candidate, café owner, and health consultant characterizes herself as "the drywaller of social services. I'm there to fill in the gaps."
Brock, who just opened a pop-up satellite café in the VentureNorth building, said there have been times when she thought she was "missing life" as her friends began to have children. But she's doing exactly what she wants to do and feels respected in the community.
"It's all about personal integrity and being genuine. I'm in favour of community over competition."
"Being ethical generates respect," Taylor added. "Our brand is respected because we try to always take the high road."
"Like Jeannine, I believe it's about ethics," Shaughnessy said. "I often say your job doesn't end when you go home: people see how you live your life. My life story is my brand, and that gives me confidence."
"I draw confidence from being in my shop," Brock said. "When I'm behind the counter, I come to life and feel that's where I belong. I love my customers and that makes me feel confident."
Barnet, who turns 50 this year, said, "I've been treated very well as a woman, I've been noticed, and it's served me in a positive way. I thank all the men in my life who have elevated me."
The CME recently completed its survey of women in manufacturing and found that women feel they need to work harder to gain respect in business.
"And whether or not this is a reality or a perception, it still needs to be addressed," Barnet added. "When I joined the CME board it was all men, but I was quickly elevated to become the chair."
Taylor said there is definitely ageism in the digital age, and that working in media means working in a male-dominated landscape.
"It really shouldn't make a difference if you are a woman or a man in a leadership role."
Still, she said, "We've only had the vote for 100 years — think about that."
Host Rose Terry, Marketing Manager at the Innovation Cluster, ended the panel discussion on a lighter note, asking the female founders: What would you tell your teenage self?
Barnet said, "I'd say the 15-year-old math geeks become 50-year-old math goddesses."
"Everything I've been through made me who I am today so I wouldn't say anything to 18-year-old me," Shaughnessy answered.
"I agree with Peggy," Brock said. "I took myself too seriously at 18, so I might have said 'Lighten up,' but then I wouldn't be where I am today, doing what I want to do, so instead I'd say: 'Keep doing what you are doing! You're good at it!'"
Taylor deadpanned: "Buy Google (stock)."
The evening rounded out with some questions from the mostly female audience of about 50 people, including the age-old question: How does one achieve work/life balance?
Shaughnessy said simply: "You don't."
"Your family is a part of your business and your business is a part of your family," Barnet replied, adding that an advisory board is part of her "secret sauce."
Brock said a decent day timer, and scheduling things down to 10 minute slots, has really helped her stay balanced … plus seeking outside advice.
A young woman who recently went into business with her fiancé in construction asked the panel, "How do you get away from that notion that you are the woman behind the man?"
The panelists all looked at each other with a smile.
"My husband is the man behind the woman," Barnet answered to applause. "It's never been a better time to be a female entrepreneur."
All in all, it was a great kick off to International Women's Day (IWD) week in Peterborough.