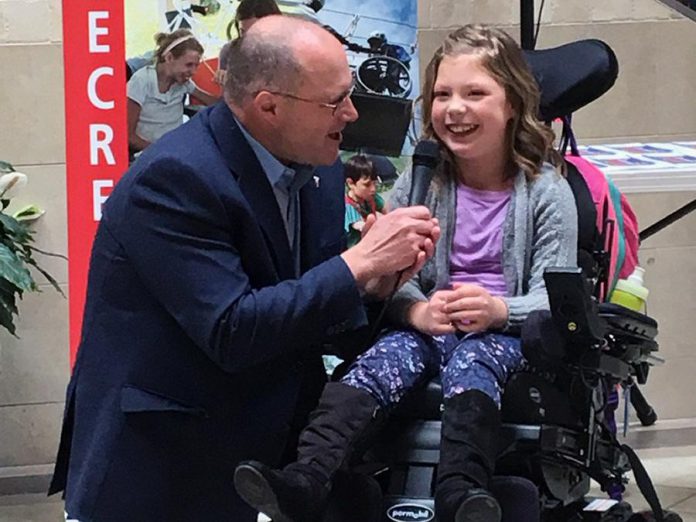 Somebody had best tell Kaydance Lane that her role as 2018 Easter Seals Ambassador isn't a job for life — she's having just too much fun with it, and melting hearts in the process.
On Thursday (March 8) at Lansdowne Place, the nine year old stole the show as details of this year's local Easter Seals Telethon were announced. As her mom April watched on proudly, Kaydance, who's reprising her 2017 Ambassador role, related her summer 2017 five-day experience at Camp Merrywood near Perth, a summer activity oasis operated by Easter Seals for children with physical challenges.
For the record, sailing was Kaydance's favourite camp activity, leaving her very much excited in anticipation of this summer's 10-day stay.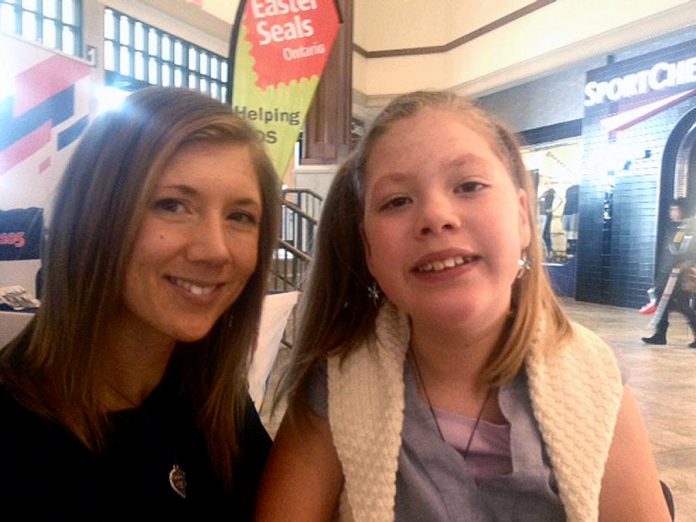 It was back in the early 1970s that the Ontario Easter Seal Society — it was known then as the Ontario Society for Crippled Children — held its first fundraising telethon. That event has been an annual tradition since with this year's local telethon — the theme is 'Helping Kids Be Kids' — takes place on Sunday, April 8, from 10 a.m. to 4 p.m. at the Cogeco YourTV studios on Goodfellow Road in Peterborough. It will be broadcast live on YourTV and CHEX TV.
According to Easter Seals Ontario Senior Development Officer Coralie Jacobs, the telethon goal of $80,000 is unchanged from last year's target. That said, the 2017 telethon brought in $113,000.
"When I started six years ago, the telethon goal was $45,000 and we met that goal by the hair of our chinny-chin-chin," noted Jacobs.
"Peterborough is engaged. We keep people informed. We help them understand what is we're doing and they continue to embrace what we're doing, so the goal has continued to grow."
Jacobs notes the majority of the dollars raised "helps families with mobility-assisted devices, anything that helps children move through the world, literally and physically … wheelchairs, walkers, van lifts, ramps, braces, that sort of thing. Another huge segment sends kids to camp. We have two fully accessible camps the kids can go with their families."
Returning for a 35th year to the telethon broadcast is Greater Peterborough Chamber of Commerce President and CEO Stuart Harrison.
"You kind of get drawn in instantly because the stories are essentially the same. It's about acceptance, it's about ability not disability … that's really compelling stuff," said Harrison, who will be joined this year by local media personalities Graham Hart, Mike Melnik, Teresa Kaszuba, Catherine Hanrahan.
"Kaydance said she's proud of her disability. I just thought 'Oh my God, I've never heard that before.' Out of the mouths of small children, right? How could you phrase it any better? That's what we try to project every year. They're just kids with physical challenges that we can all help them and their families overcome. That's what we're there for."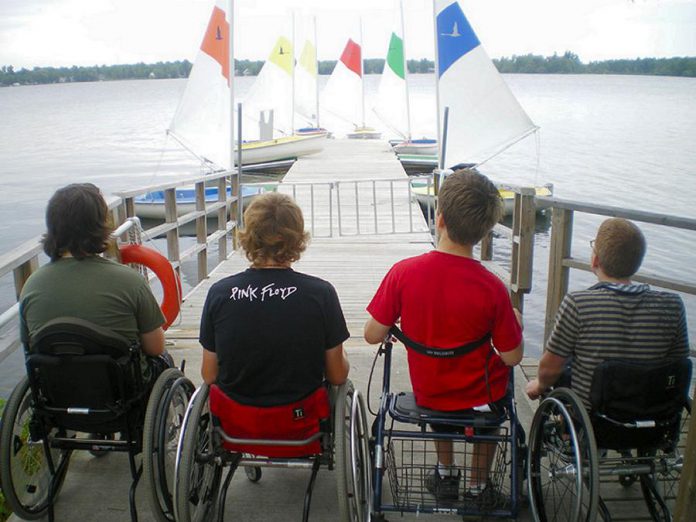 On telethon day, interviews with Easter Seals families and sponsors will be held. As well, wheelchair challenges will be issued, corporate donation matches will be sought and video clips of kids enjoying camp will be shown.
During the telethon, donations can be phoned in at 705-874-2121 or 855-239-3972. As well, donations can be made online before, during and after the telethon at www.eastersealstelethon.org/peterborough.
"Peterborough continues to impress me … it steps up to the bar and rises above," says Jacobs.
"Online is a growing element of fundraising but mostly it's the individuals who come the day of and encourage people to support them. The phones are very busy. That's the real deal. We really do count on atrocious weather on April 8 so everyone can stay in, watch a little bit of The Masters (golf tournament) and then watch a little bit of the telethon and give some money. It really does get down to the nitty-gritty of the day and letting people know what we're up to."
While complacency isn't an issue, Jacobs notes that it's important that the public be reminded every year of the ongoing need.
"We're engaging people and helping them understand what it is we're doing, reminding them that we're helping families in this region. What the money they're given us is for: that it's not being wasted on overhead expenses and that sort of thing. Getting them excited and introducing them to new families.
"Last year we met Kaydance. She had never been to camp and she needed equipment. Easter Seals stepped in and helped. She has excellent equipment to meet her needs. She went to camp by herself. I can tell you all day long about what it is we do but I can't do that anywhere near as good as the kids can."
To that end, new at this year's telethon will by the inclusion of "junior reporter" Ty Young. He'll "turn the tables" on the telethon hosts and interview them.
"I think he's going to get the phones ringing," Jacobs says. "He's got a great story too."
As part of Thursday's announcement, Peterborough Mayor Daryl Bennett brought greetings from the City, declaring March as Easter Seals Month.
For more information about Easter Seals' mandate and its long history, visit www.easterseals.org.