This week's business news includes provincial funding for Ontario's horse racing sector that may help Kawartha Downs, a new owner of Sullivan's Pharmacy in Peterborough, a new program to encourage Innovation Cluster incubator startups to hire Fleming College and Trent University graduates, a planned subscription service to deliver monthly care packages to post-secondary school students, the 2018 Summer Company program for young entrepreneurs in the City and County of Peterborough, and how The Commonwell Mutual Insurance Group helped area charities last year.
Upcoming regional business events include an intellectual property workshop in Peterborough on March 29th, a review of the provincial budget with MPP Lou Rinaldi in Port Hope on April 3rd, a seminar on mental health in the workplace in Haliburton on April 10th, and the 2018 Business Symposium in Bancroft on April 10th.
We publish businessNOW every Monday. If you want your business news or even to appear in businessNOW, please email business@kawarthanow.com.
---
New provincial funding for horse racing sector may help Kawartha Downs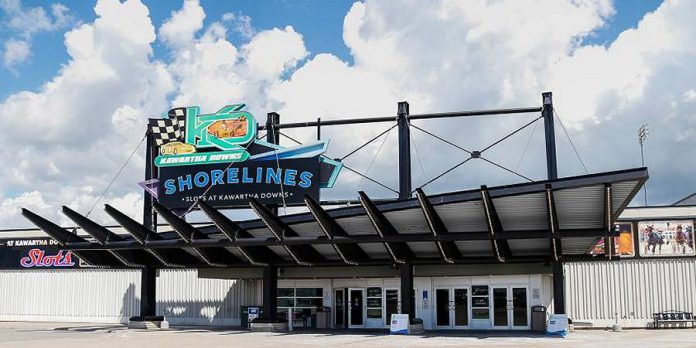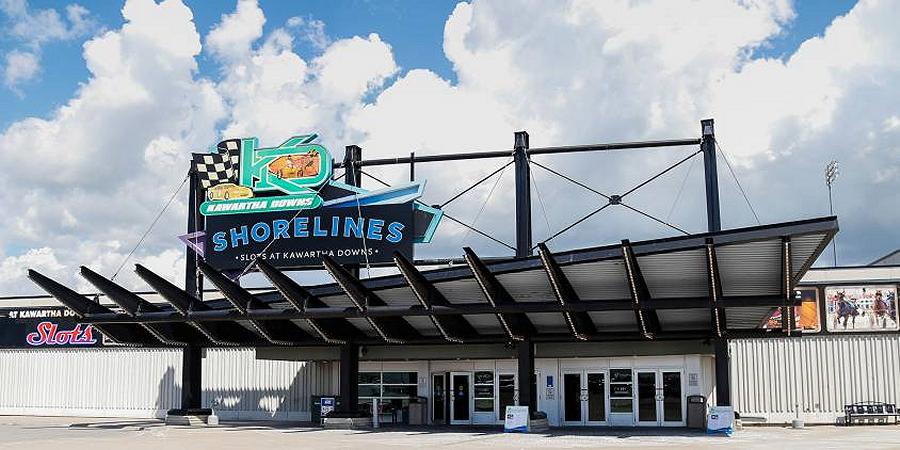 On Friday (March 23), the Ontario government announced long-term funding of $105 million a year over 19 years to support the province's horse racing sector.
There will also be additional supports for smaller racetracks and those experiencing financial shortfalls, such as Kawartha Downs in Fraserville in Cavan Monaghan Township.
"This new, collaborative agreement will provide owners, breeders, and racetrack operators with the support they need to ensure stability and success for the long term," said Peterborough MPP Jeff Leal, Minister of Agriculture, Food and Rural Affairs.
The funding, to start in April 2019, will be administered by Ontario Racing, a non-profit horse racing industry association. There are 15 racetracks in Ontario — more than any other North American jurisdiction.
In the announcement, the Ontario government also said it would continue the Enhanced Horse Improvement Program and introduce a new Racetrack Sustainability Innovation Fund, providing up to $6 million over three years, beginning this year, to help regional racetracks innovate, diversify. and expand revenue sources.
The new funding may help Kawartha Downs, whose financial viability has been in question even since the April 2016 announcement that Shorelines Casinos would be relocating its 450 slot machines from Kawartha Downs to a new casino in the south end of Peterborough. According to Kawartha Downs general manager Orazio Valente, the slots make up 85 per cent of Kawartha Downs' revenue.
In February, Valente called a media conference for a "major announcement regarding the future of Kawartha Downs," leading some to speculate he would be announcing the end of harness racing after the 2018 season. However, Valente cancelled the media conference at the last minute because of an unspecified "major development," which may have been the pending announcement of provincial funding.
Jason Hinton is now sole owner of Sullivan's Pharmacy in Peterborough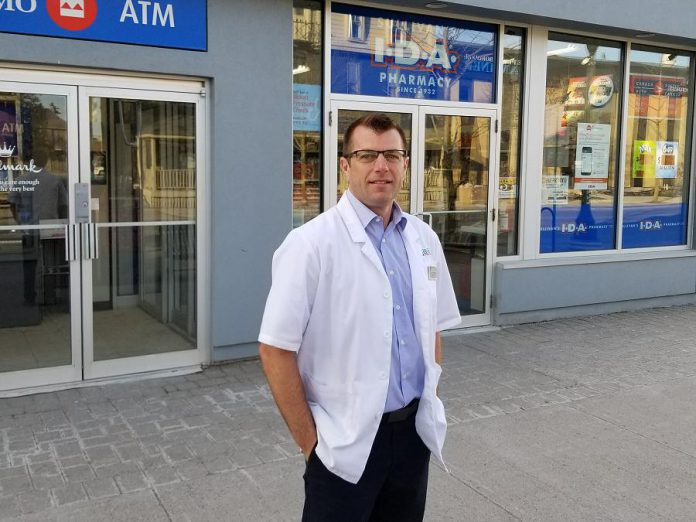 Jason Hinton is now the sole owner of Sullivan's, a 105-year-old pharmacy located in Peterborough's East City.
Hinton, who is also the lead pharmacist, bought out former business partner Doug Shier, who had taken a leave of absence from the business for personal reasons in February 2016.
Before joining Sullivan's as a pharmacist in 2013, Hinton had previously owned and operated Shoppers Drug Mart franchises at Mapleridge Plaza and in downtown Peterborough.
Hinton and Shier originally purchased the business in 2014 from Hugh Sullivan, whose grandfather J.C. Sullivan began the pharmacy in 1913.
As well as being a pharmacy, the business operates a Canada Post outlet.
New Innovation Cluster program encourages incubator startups to hire Fleming College and Trent University graduates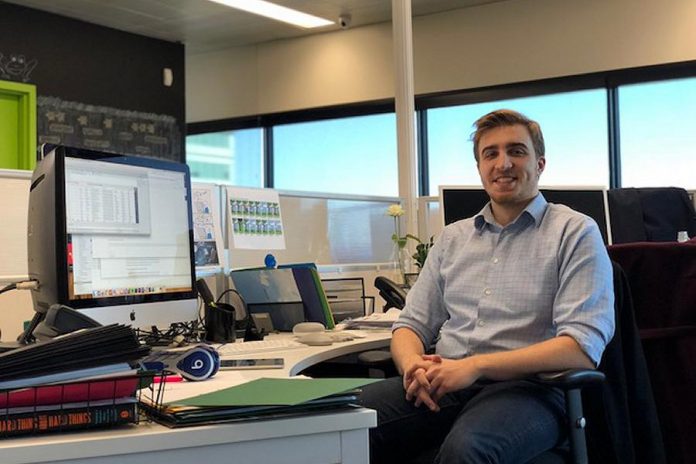 The Innovation Cluster – Peterborough & The Kawarthas has launched a new program to encourage its startups to hire alumni of Peterborough's post-secondary educational institution by providing free office space.
A partnership of the Innovation Cluster, Fleming College, and Trent University, the Graduate Program promotes startup companies located in The Cube incubator to hire locally through Fleming College and Trent University alumni, to increase both employment rates for Peterborough's educational institutions as well as reduce cost for incubated startups.
Startup founders currently pay a monthly fee of $100 per desk space per employee. Under the Graduate Program, startups whose current and future employees are Trent and Fleming graduates will not incur a fee for desk space for those employees.
"Fleming College and Trent University does a great job at bringing in national and international students," says Michael Skinner, President & CEO of the Innovation Cluster. "We hope this program will retain this talent in our region."
Graduates who have passed through programs like software development, sales and marketing, and business administration are frequent positions needed by startups.
Favourite Box Co. subscription service to deliver monthly care packages to students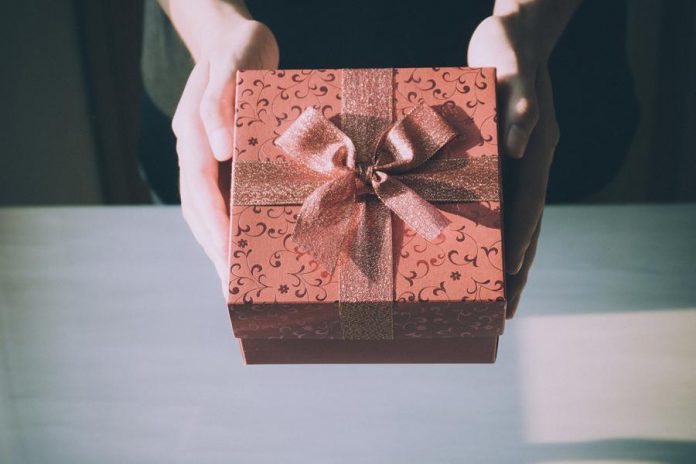 Kimberly Wells, a second-year business administration student at Trent University, plans to launch a new subscription-based "care package" service for new post-secondary students in Peterborough and Lindsay this fall.
For a monthly fee starting at $10, Favourite Box Co. will deliver packages each month filled with unique items to make the move away from home a little easier for students.
The student-run business plans to include products from local businesses and vendors in the boxes, so everyone can have a taste of the Kawarthas region.
Currently in its pre-launch phase, the service is seeking student and local business interest. The first 30 students who sign up for pre-launch uupdates will receive a coupon for 10 per cent off their first box, and all students who sign up will be entered into a draw for a free box when the service launches.
For more information and to subscribe to pre-launch updates, visit favourite-box-co.launchrock.com or find Favourite Box Co. on Facebook, Instagram and Twitter @favouriteboxco.
Applications now being accepted for 2018 Summer Company program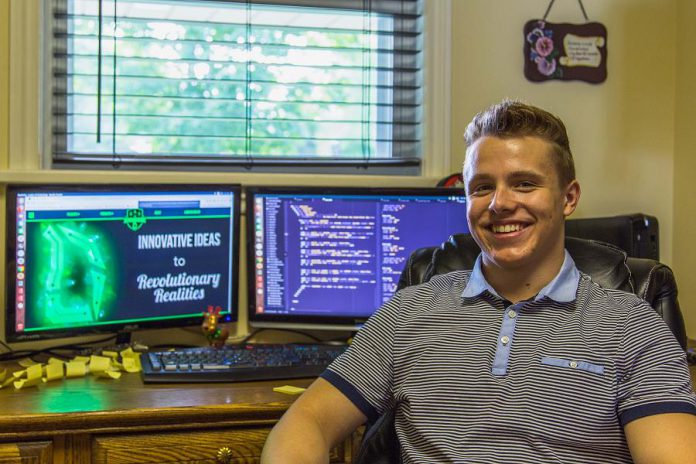 Peterborough & the Kawarthas Business Advisory Centre is now accepting applications for aspiring student entrepreneurs through the Summer Company program.
Summer Company is the Government of Ontario's flagship youth entrepreneurship program that connects students with training, mentorship, and funding to start a summer business. The program helps students navigate the business plan writing process and financial management. Throughout the summer, students have the opportunity to take part in workshops and training, covering such topics as mastering social media, marketing and sales, managing business risk, and networking.
Nine grants of up to $3,000 are available for young aspiring business owners between the ages of 15 and 29 from the City and County of Peterborough. The deadline for applications is May 19, 2018 and spaces fill quickly.
Business Advisory Centre staff are available to help wth the application process. Those interested in learning more about the program and how to get involved can visit www.peterboroughed.ca/summer or contact Madeleine Hurrell at 705-743-0777 ext. 2136.
The Commonwell Mutual Insurance Group supports charities in the Kawarthas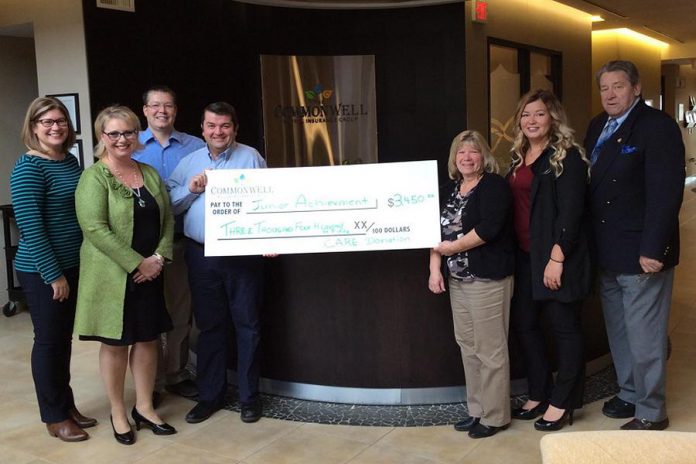 Ontario-based home and auto insurance company The Commonwell Mutual Insurance Group donated $547,000 to charities across the province in 2017, including several in the Kawarthas.
The insurer made the donations to charities as part of C.A.R.E (Create a Ripple Effect), a program started in 2011 by one of its three legacy companies, Farmers' Mutual Insurance Company in Lindsay.
Some of The Commonwell's donations in the Kawarthas included $20,000 to Five Counties Children's Foundation, $20,000 to Campbellford Memorial Hospital, $10,000 to Kawartha Food Share, $10,000 to Kawartha Lakes Food Source, $7,500 to A Place Called Home, $5,972 to Big Brothers Big Sisters – Kawartha Lakes, $3,450 to Junior Achievement, and $1,500 to Osteoporosis – Peterborough Chapter.
For more information about The Commonwell, visit thecommonwell.ca.
Shawn Casemore speaks at Kawartha Family Business Group on March 26th
Empowerment and motivational speaker Shawn Casemore is speaking at the Kawartha Family Business Group (KFBG) from 4:30 to 6:30 p.m. on Monday, March 26th at the Best Western Plus Otonabee Inn (84 Lansdowne Street East, Peterborough).
In his talk "Building an Unstoppable Family Business", Casemore will discuss how to recognize the pride and passion behind a family-owned business, three ways to use it to increase employee engagement and empower customers, and how family-owned businesses can differentiate themselves from their competition.
Admission is free for KFBG members, and $75 per family for non-members. To register, please contact Michelle O'Neill at michelle@maxcommunication.ca or 705-741-9819 or Jhane Brasier at 705-875-0602 or jhane@maxcommunication.ca.
Peterborough Chamber of Commerce Annual General Meeting on March 27
The Peterborough Chamber of Commerce is hosting its Annual General Meeting (AGM) on Tuesday, March 27th from 7:30 to 9:30 a.m. at Peterborough Golf & Country Club (1030 Armour Rd., Peterborough).
The AGM will take a look back at highlights from 2017 and chamber members will be asked to approved the corporation's audited financial statements, the actions of the board of directors for 2017, and the proposed bylaw change.
The AGM will be followed by a special presentation by keynote speakers Jeffrey Humble, Director of Planning and Development Services with the City of Peterborough, and Bryan Weir, Director of Planning with the County of Peterborough.
The event costs $20 for members and $30 for non-members. Doors open at 7 a.m. for networking, with breakfast at 7:30 a.m. followed by the AGM at 8 a.m. and guest speakers at 8;30 a.m. For more information and to register, visit www.peterboroughchamber.ca.
Makeover seminar for retail businesses on March 27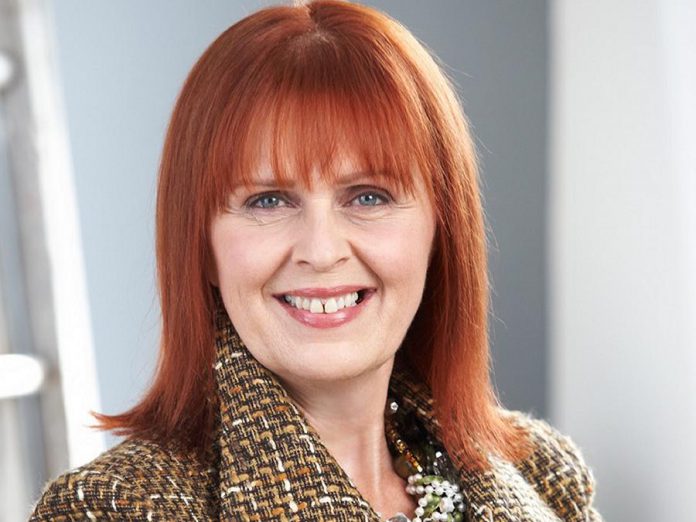 Peterborough & the Kawarthas Economic Development and the Peterborough Downtown Business Improvement Area are hosting "A Retail Makeover For Your Business" from 8 to 11:30 a.m. on Tuesday, March 27th in the boardroom at VentureNorth (270 George St. N., Peterborough).
The seminar will be led by Barbara Crowhurst, North America's leading retail business coach and trainer, who will have you evaluate your business and consider how you generate traffic, engage more customers, and generate higher revenues.
The event costs $8.99 to attend and you must register by Friday, March 23rd at www.eventbrite.ca/e/a-retail-makeover-for-your-business-tickets-42725350674.
Kawarthas Northumberland Regional Ambassador session on March 28

Regional Tourism Organization 8 (RTO8) is seeking frontline staff and business operators who want to become Kawarthas Northumberland Regional Tourism Ambassadors.
RTO8 is hosting a session on Wednesday, March 28th from 10 a.m. to 2:30 p.m. at Holiday Inn Peterborough Waterfront (150 George St., Peterborough) where you can learn what it takes to be a Regional Ambassador and the tools you can use to stay up to date on what the region has to offer.
You can also meet other people who share your interest in encouraging visitors to stay longer, explore farther, and spend more during their visit.
Lunch and refreshments will be provided. Space is limited. To register, contact Sarah Kerr at sarahp@rto8.com or 705-874-8505 ext.102.
Small business training session in Bobcaygeon on March 28
The Kawartha Lakes Small Business Entrepreneurship Centre is hosting a free session on how to use the Business Model Canvas to start a new business or gain a better insight into their current business, and to learn more about the Starter Company Plus business training program.
The session takes place from 1:30 to 3 p.m. on Wednesday, March 28th at the Bobcaygeon Service Centre (123 East St. S., Bobcaygeon).
Additional sessions will take place in April in Coboconk and Omemee: from 6:30 to 8 p.m. on Wednesday, April 4th at the Coboconk Service Centre (9 Grandy Rd., Coboconk) and from 1:30 to 3 p.m. at Coronation Hall (1 King St. W., Omemee).
If you are interested in attending one of these three free sessions, email bminhas@kawarthalakes.ca or call 705-324-9411 ext. 1383.
Intellectual property workshop in Peterborough on March 29
The Innovation Cluster – Peterborough & The Kawarthas is presenting an intellectual property workshop from 12 to 1:30 p.m. on Thursday, March 29th at the Innovation Cluster (270 George St. N., Peterborough).
"Hands-ON: Sushi and Searching with Prima IP" is hosted by Marcelo König Sarkis, founder and senior patent agent with Prima IP, a patent agency registered with the Canadian Intellectual Property Office.
At the workshop, you will learn how to carry out a simple search on existing intellectual property to get an idea of what has been disclosed, how to search for the patents or patent applications of your competitors, reasons for carrying out a search, publicly available databases, and tips on preparing your search strategy.
The workshop is free, but limited space is available. To secure your space, register in advance at www.eventbrite.com/e/hands-on-sushi-and-searching-with-prima-ip-tickets-44152507338.
Provincial Budget Review with MPP Lou Rinaldi in Port Hope on April 3
The Northumberland and Port Hope Chambers of Commerce are hosting a Northumberland-Quinte West MPP Lou Rinaldi at 12 p.m. on Tuesday, April 3rd at the Port Hope Town Hall Council Chambers (56 Queen St., Port Hope).
Rinaldi will provide an overview of the Ontario Budget and respond to questions from the audience.
The event is free, but an RSVP is requested to the Port Hope Chamber at 905-885-5519 or admin@porthopechamber.com or the Northumberland Chamber at 905-372-5831 or chamber@nccofc.ca.
Peterborough Chamber PBX at the Mount Community Centre on April 3
The Peterborough Chamber of Commerce's next PBX (Peterborough Business Exchange) takes place from 4 to 6 p.m. on Tuesday, April 3th at The Mount Community Centre (1545 Monaghan Rd., Peterborough).
Purchased in 2013 by the Peterborough Poverty Reduction Network, the property was turned over to The Mount Community Centre after its incorporation as a non-profit charitable organization. The organization's Board of Directors kick-started the project and began the property's redevelopment in 2014 through community support and an innovative social finance plan.
Today, the organization offers apartment units at both affordable and market rate rents in the completed South Wing, office space for not-for-profit organizations and local businesses, as well as space for performing arts and other community gatherings.
The event is free and all are welcome to attend. Bring your business cards.
Employment Standards Act and Bill 148 seminar in Lakefield on April 4
The Kawartha Chamber of Commerce & Tourism is hosting an Employment Standards Act seminar with a special focus on recent changes to labour laws under the Fair Workplaces, Better Jobs Act, 2017 (Bill 148).
The seminar runs from 5 to 7 p.m. on Wednesday, April 4th at the Lakefield Legion (10 Nicholls St, Lakefield).
The session will include a speaker from the Ministry of Labour, and discussions on minimum wage, hours of work, public holidays, leaves of absence, and more. A question and answer period will follow (participants are also email their questions in advance to generalmanager@kawarthachamber.ca).
Admission is free but please register. Contact the Chamber office at 705-652-6963 or email events@kawarthachamber.ca for more details.
Mental Health in the Workplace seminar in Haliburton on April 10
The Haliburton Highlands Chamber of Commerce's monthly breakfast meeting takes place from 7:30 to 9 a.m. on Tuesday, April 10th at Maple Avenue Tap & Grill (172 Highland St., Haliburton).
Jack Veitch, Health Promoter and Educator with the Canadian Mental Health Association, will speak about mental health issues in the workplace, including strategies, approach, and prevention.
The cost is $15 for Chamber members and $20 for non-members (includes taxes and gratuity).
Bancroft Chamber of Commerce 2018 Business Symposium on April 10
The Bancroft Chamber of Commerce's 2018 Business Symposium takes place from 7 a.m. to 1 p.m. on Tuesday, April 10th at Bancroft Pentecostal Tabernacle (311 Hastings St. N., Bancfort).
The event includes a keynote from Hastings—Lennox and Addington MP Mike Bossio and three morning panels: "Show Me The Money" (where you get the capital to grow your business) with Michael Gatschene – BDC, Carolyn Barker-Brown – CFDC, and Jacques Pilon, Launch Labs; "Hidden Gems" (community-focused organizations that can help your business) with Loyalist College, Brad Labadie – ECOTB, Melanie Wright – CFDC, and Mark Hanley – Hastings County; and "Seeing through the Smoke" (what you need to know about marijuana in the workplace) with Joel Ribideau, Nancy Wiechenthal – NHFP, and Bancroft OPP.
The cost is $35 for Chamber members and $45 for non-members (includes breakfast). To register, call 613-334-1513 ext. 213 or register online at www.bancroftdistrict.com.
Application deadline for Slingshot incubation program for young entrepreneurs is April 20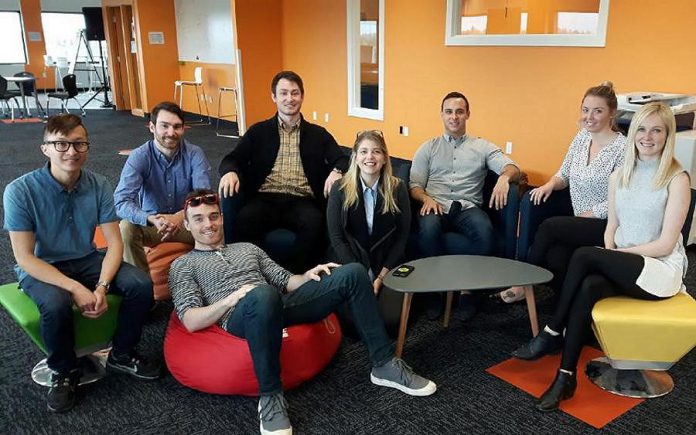 The application deadline for Slingshot, the Innovation Cluster and FastStart Peterborough's summer incubation program for young entrepreneurs between the ages of 18 and 29, is midnight on Monday, April 20th.
Successful applicants will receive coworking space in the downtown Cube along with tools, resources, and funding opportunities to grow their business — a value of $5,000 for four months.
Particpants in the inaugural Slingshot program in 2017 included businesses related to social media, drones, hockey, influencer marketing, podcasting, and digital solutions. (Photo: Innovation Cluster)
Applicants must be between the ages of 18 and 29, planning to start their company in Peterborough and the Kawarthas, and have an idea for a company or have been operational for under one year. Applicants outside of the region are encouraged to apply if they intend on making the move to Peterborough.
At the end of the summer, the most successful company will receive a $1,000 cash prize along with other prizes. Last year's winner was Vetterview, a social media influencer marketplace created by founder and Slingshot participant Alex Gastle. He is now in London, England growing the company.
Successful applicants will move into the Cube to begin working on their company on May 1st. For more information or to apply, visit www.innovationcluster.ca/slingshot/.