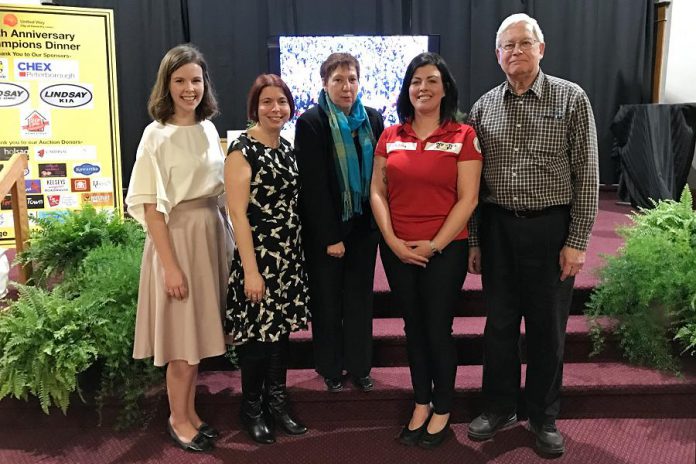 On Thursday (March 22), the United Way for the City of Kawartha Lakes (UWCLK) held its 50th anniversary campaign touchdown event where it announced its largest fundraising total to date: $483,222.
The UWCKL ran two different campaigns in 2017/18 as part of its 50th anniversary which, rather than establishing campaign chairs and setting a financial goal, focused on inspiring others to support the more than 30,000 people served by United way agencies.
The Community Champions campaign helped shine the spotlight on more than 250 donors and volunteers, and the Canadian Heroes campaign brought both retired astronaut Col. Chris Hadfield and Invictus games medalist Denise Hepburn to Kawartha Lakes.
Hepburn spoke to a sell-out crowd at the March 22nd touchdown event, which was held at Celebrations in Lindsay. The retired 8-Wing Master Corporal, who suffered a C2 spinal injury in a training exercise, shared her journey of overcoming her life-threatening injury to compete in the 2017 Invictus games, where she won four bronze medals in swimming.
She spoke about the need for awareness and understanding for people who are combating mental and physical health issues. Many soldiers come back from tours in war-torn countries with wounds that are not always visible. Many have life-long struggles with post traumatic stress disorder as well as physical injuries.
UWCKL executive director Penny Barton Dyke thanked the community for its historical support of the United Way.
"Over the past decade, we have seen the number of people touched by United Way grow from 23,000 a year to more than 35,000 people," she said. "For many people, our funded agencies have delivered programs that have had profound and life-changing impact."
The 2017/18 campaign also saw several highlights throughout the year.
Col. Chris Hadfield met more than 1,600 elementary students and his Academy Theatre speaking engagement was sold out in May. Crayola hit a milestone of a total gift of over $1 million through its annual sale and employee workplace campaign. LCBO's At the Till campaign topped its last year contributions from stores in the City of Kawartha Lakes and Haliburton County with a donation of $61,048.
At the touchtown event, volunteers for the annual bonspiel received an award for raising more than $100,000 for the United Way, including $14,000 from this year's bonspiel. The Volunteer of the Year award was presented to long-time board member, Lynne Downey, who will step down after nine years of service.
While the touchdown event took place on March 22nd, the campaign is continuing until the end of March. You can donate to UWCKL at www.canadahelps.org/en/charities/united-way-for-the-city-of-kawartha-lakes/ or by calling 705-878-5081.