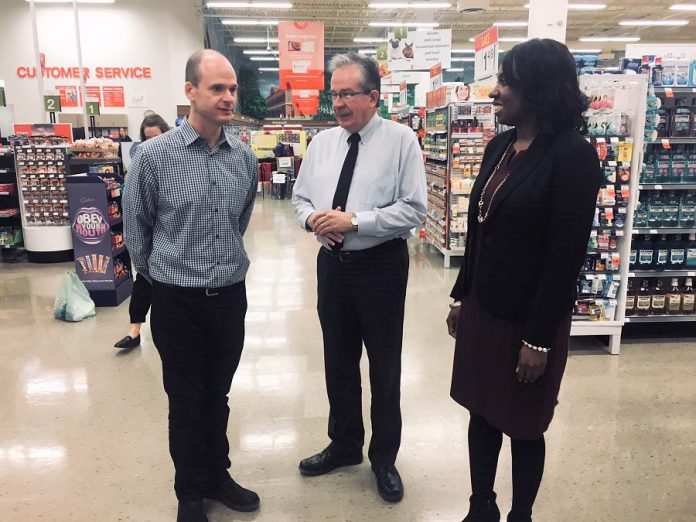 For young people shopping for an elusive job opportunity, what better to place to announce help is on the way than a Peterborough grocery store that has made hiring young people a regular practice?
On Tuesday morning (April 3) at Morello's Independent Grocer (400 Lansdowne Street East, Peterborough, 705-740-9365), Peterborough MPP and Minister Responsible for Small Business Jeff Leal joined Minister of Advanced Education and Skills Development Mitzie Hunter to formally announce the Province's new Employing Young Talent Incentive.
Aimed at providing Ontario businesses with financial incentives to hire young people aged 15 to 29, $124 million was earmarked last fall for the program that was launched in January and has thus far secured employment for some 70 young people in Peterborough. What it offers is as follows:
Small businesses with less than 100 employees receive an initial $1,000 incentive followed by additional $1,000 retention incentive after six months for hiring someone aged 15 to 29 through Employment Ontario.
Businesses of any size receive an initial $1,000 incentive followed by an additional $1,000 retention incentive after six months for hiring someone aged 15 to 29 who faces barriers to employment through the Youth Job Connection program.
"It's all about creating opportunities for young people to find jobs and get their first experience learning on the job in a supportive work environment," said Minister Hunter, the MPP for Scarborough Guildwood.
"Being part of a family, part of a team, that's what our small businesses are all about. They're the fastest growing part of our economy in Ontario. That's why we're providing this incentive because we know small businesses want to hire young people. This gives them the extra boost to do so.
"Getting that first job, that first foot in the door, can be tough. Some employers may have hesitations about hiring a younger or less experienced person but's a moment of opportunity, a chance to train an eager and enthusiastic worker to learn new skills and be the kind of employee you need to grow your business."
While the ministers brought news of the incentive and how it works, it was Morello's employee Amanda Gurney's words that put a face to the benefits of the investment.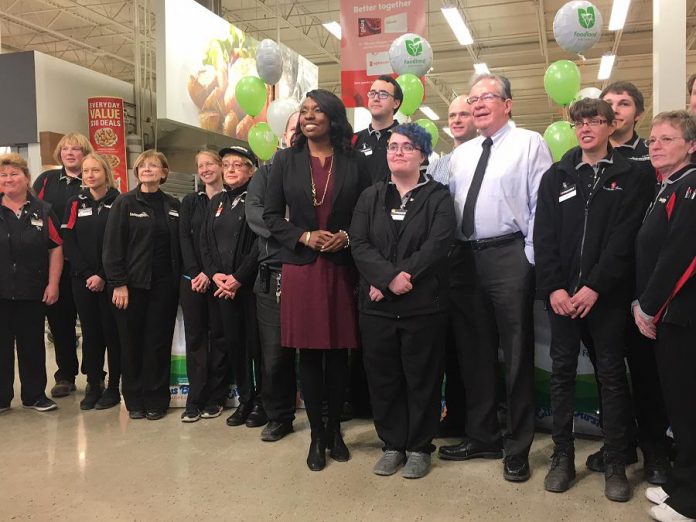 A client of Employment Planning and Counselling (EPC) Peterborough as part of the Youth Job Connection program, she was hired by Morellos's on a placement that ended in February. She has attained regular employee status since.
"A year ago, I didn't know a program like this existed, I didn't know anyone actually cared enough to help people like me get a job," said Gurney, noting she "struggles" with anxiety and depression.
"It is probably one of the best things I've done for myself. I learned so much that they don't teach in schools. I had no idea how to grow up. I landed the interview with Dave (Morello) and managed to actually land a job and here I am now. I owe a lot to Dave and EPC for letting me be here."
Afterwards, Minister Hunter referenced Gurney's "very powerful story" as evidence of the benefit of the Province's investment in young people's securing of employment.
"Being part of this family here is allowing her to grow up and learn new skills. She's going to continue to thrive and do well in this environment and maybe one day will be her own independent business owner."
Minister Leal added that giving those with "challenges in life" and "in need of that first big break" is key to ensuring a strong economy moving forward.
"When you can put together an organization like the local Employment Planning and Counselling office and a willing employer like Morello's, it creates an opportunity," Leal said. "We know when young people get their start working for small businesses, it's great for local communities."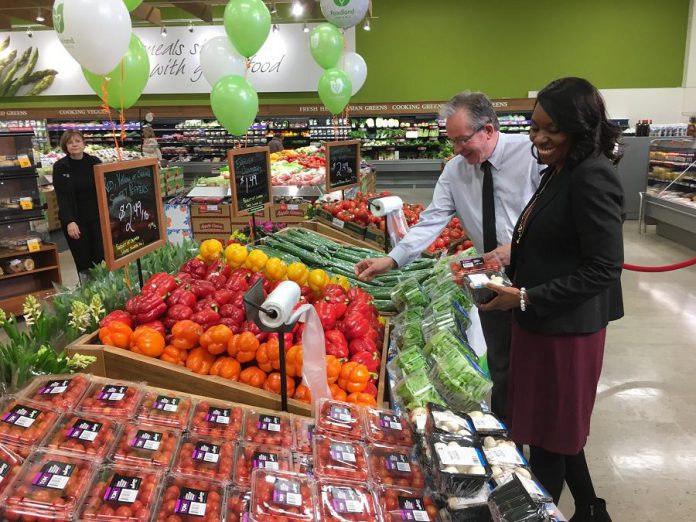 Dave Morello noted he has hired more than 20 employees brought to him by programs offered by outside agencies.
"For me and my wife, the people we work with really are our priority," he said. "Agencies like Employment Planning and Counselling help those who struggle finding jobs but ultimately they help us find great people."
Karen Wilson of Employment Planning and Counselling said the agency works with hundred of local employers each year.
"If it weren't for employers willing to give our clients a chance, there's a lot of people that would really continue to struggle," she said.
"Having a job that has meaning, where you're learning something, means everything to young people wanting to launch their careers. The Employing Young Talent Incentive enhances opportunities greatly and will result in more employers providing opportunities for youths."
According to the Province, an estimated one-third of Ontario workers are employed by small businesses.
Between October 1, 2015 and March 31, 2017, more than 22,000 young people with employment barriers, including lack of experience, have participated in the Youth Job Connection program.
For more information on the Employing Young Talent Incentive, visit ontario.ca.