On the last weekend of April, International Jazz Day Peterborough returns for its fourth year with dinner jazz concerts at local restaurants, a jazz workshop, and a headliner concert at Market Hall featuring acclaimed Canadian jazz bassist and vocalist Brandi Disterheft with her band from the epicenter of jazz, New York City.
According to organizer John Fautley, the focus of this year's event is to feature and encourage women in jazz as well as to encourage amateur musicians of any age to incorporate jazz into their music-making and listening.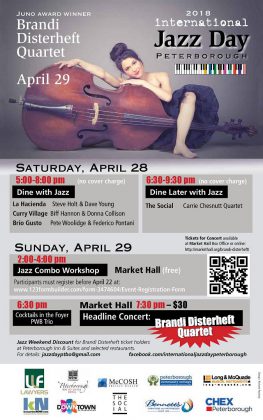 And, as in previous years, the event has the goal of cultivating a wider appreciation of and audience for jazz, by giving both local and international jazz musicians a chance to play. It also encourages people to visit downtown Peterborough and dine out at local restaurants while enjoying jazz from local musicians.
On Saturday, April 28th, there will be "Dine With Jazz" events from 5 to 8 p.m. at La Hacienda (190 Hunter St. W., Peterborough, 705-742-1559) featuring Steve Holt and Dave Young, Curry Village (306 George St. N., Peterborough, 705-742-1432) featuring Biff Hannon and Donna Collison, and Brio Gusto (182 Charlotte St, Peterborough, 705-745-6100) featuring Pete Woolidge and Federico Pontani.
New this year is a "Dine Later with Jazz" event on Saturday, April 28th from 6:30 to 9:30 p.m. at The Social (295 George St. N., Peterborough, 705-874-6724) featuring the Carrie Chesnutt Quartet with Carrie Chesnutt, Mike Graham, Dennis Pendrith, and Rakesh Tewari.
For all the Dine With Jazz events, there is no cover charge — you just pay for what you order.
The dinner jazz concerts have been a staple of International Jazz Day Peterborough since it was first organized in 2015 by Peterborough jazz musicians Chelsey Bennett and Craig Paterson. In 2011, UNESCO designated April 30th as International Jazz Day to celebrate "the virtues of jazz as an educational tool, and a force for peace, unity, dialogue and enhanced cooperation among people."
Since then, events celebrating jazz take place at the end of April in cities all around the world, including Paris, Milan, and New York City.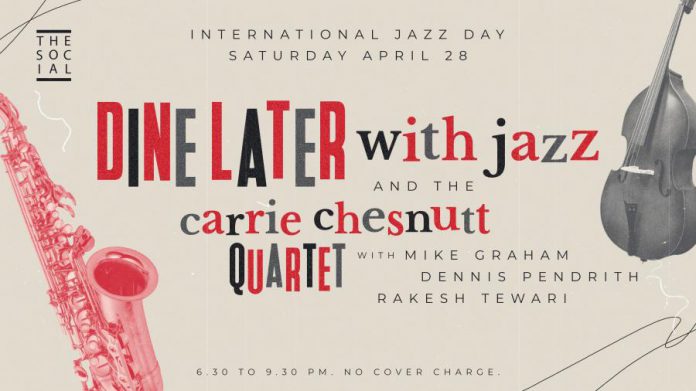 Speaking of New York City, the organizers of this year's event in Peterborough have scored a major coup in bringing Brandi Disterheft to the Market Hall Performing Arts Centre (140 Charlotte St., Peterborough) at 7:30 p.m. on Sunday, April 29th.
Originally from Vancouver, the gifted upright bassist and vocalist relocated to New York City for an apprenticeship under Miles Davis' bassist Ron Carter.
Her 2007 debut record, appropriately named Debut, was critically acclaimed (All About Jazz called it "the kind of first album that most musicians can only dream of to launch their careers") and won the 2008 Juno Award for Traditional Jazz Album of the Year.
VIDEO: "60 Dollar Train" – Brandi Disterheft

VIDEO: "If Dreams Come True" – Brandi Disterheft with Harold Mabern and Joe Farnsworth

The Globe and Mail proclaimed Disterheft as "the hottest bassist in Canadian jazz" and the late jazz legend Oscar Peterson gave her high praise: "As we say in jazz, she is very serious."
For her Market Hall concert, Disterheft will be joined by three New York jazz musicians: saxophonist Vincent Herring, drummer Carmen Intorre, and pianist Alex Minasian.
Tickets are $30 general admission (cabaret table seats are assigned) and are available in person at the Market Hall, by phone at 705-749-1146, or online at markethall.org.
The doors will open at 6:30 p.m. for a cocktail hour in the foyer prior to the concert, featuring live jazz supplied by Peterborough's own PWB Trio. The youth jazz trio is comprised of bassist and bandleader Christopher Parnis, pianist Ian Webster, and drummer Aaron Blewett.
Earlier on Sunday and also at the Market Hall, there will be a Jazz Combo Workshop where participants can explore skills in improvisation and small combo musicianship.
The workshop — led by Sean Hully (winds and brass), Mike Graham (guitar and bass), and Brandon Munro (percussion) — takes place from 2 to 4 p.m.
The workshop is free both for participants and observers, but if you want to participate, register before April 22nd at www.123formbuilder.com/form-3474604/Event-Registration-Form.
Participants will be determined based on instrumentation and stated level of ability. Youth participants are encouraged, but musicians of any age are welcome.
For more information about International Jazz Day Peterborough, visit Facebook at www.facebook.com/internationaljazzdaypeterborough/.