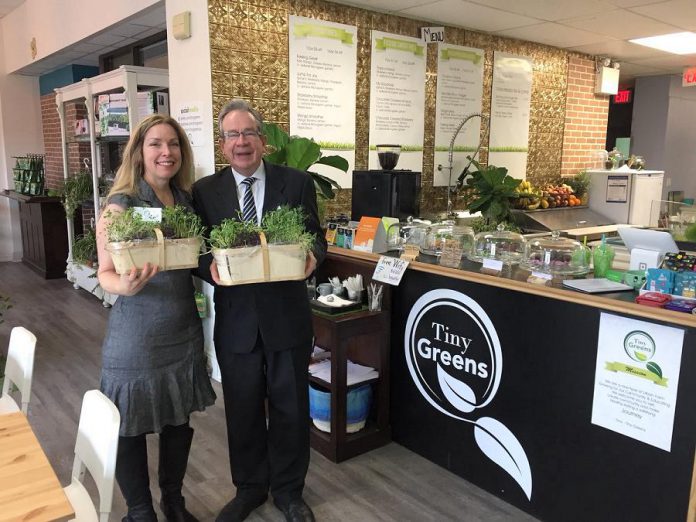 Peterborough MPP Jeff Leal was at the Peterborough County building today (April 18) to announce up to $430,000 in downtown revitalization funding for the City of Peterborough and municipalities within Peterborough County.
The funding for rural communities through the provincial government's Main Street Revitalization Initiative was originally announced on January 23, 2018.
"Our government is committed to ensuring our rural communities and downtown cores thrive today and for many years to come," Leal said. "Investments that support small businesses and main streets will help communities be better positioned to attract investment, create jobs, and grow their local economies."
The funding is intended for improvements to downtown areas and main streets including the installation of pedestrian crosswalks or landscaping. Municipalities can also direct funding to local businesses to improve the appearance of their storefronts by installing lighting or new signage.
Funding under the program is allocated to municipalities based on population size, using the most recent data from the 2016 Statistics Canada Census of Population, with an adjustment for municipalities with fewer than 25,000 residents to ensure that small communities are provided a sufficient level of funding.
Here is the funding the City of Peterborough and each municipality within Peterborough County will receive under the Main Street Revitalization Initiative:
City of Peterborough – $96,964
Township of Selwyn – $50,494
Township of Cavan-Monaghan – $43,522
Township of Douro-Dummer – $41,726
Township of Otonabee-South Monaghan – $41,693
Municipality of Trent Lakes – $40,615
Township of Havelock-Belmont-Methuen – $39,881
Township of Asphodel-Norwood – $39,524
Township of North Kawartha – $38,143