Business news this week includes the opening of the expanded Bigley's Cottage Kitchen in Bobcaygeon, a sneak peek at the soon-to-be-open Kawartha Coffee Co. at The Doctor's Office in Bobcaygeon, a new employee time clock app called MotherClock developed in Apsley, website awards for the City of Kawarthas Lakes, the winners of the Bobcaygeon Chamber of Commerce Awards of Excellence and the Trent Hills Chamber of Commerce Business Excellence Awards, and a government investment in CPK Interior Products Inc. of Port Hope.
New regional business events this week include an accessibility workshop for businesses on May 3rd in Peterborough, a provincial all-candidates meeting on business and agriculture issues on May 3rd in Port Hope, a free financial seminar from Community Futures Peterborough on May 4th, and the Innovation Cluster's annual general meeting on May 31st.
---
The expanded Bigley's Cottage Kitchen in Bobcaygeon is now open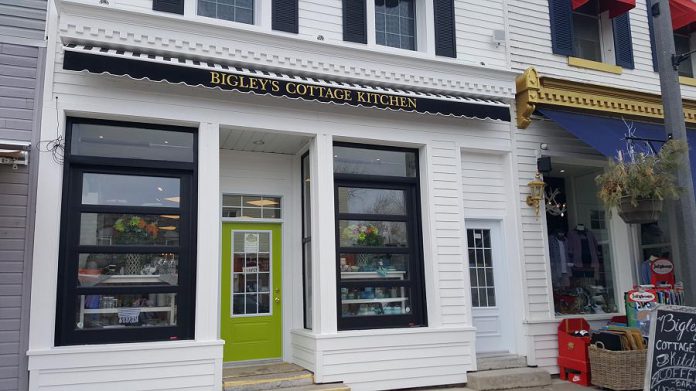 The expanded Bigley's Cottage Kitchen is now open in the former location of Kawartha Coffee Co. at 49 Bolton Street in Bobcaygeon, and is gearing up fora grand opening celebration on the Mother's Day weekend.
kawarthaNOW spoke with Sherry Peel, owner of Bigley's — one of Bobcaygeon's largest and most well-known retail businesses — about their expansion from a small cottage store across the street to the new two-level store.
"The Cottage Kitchen store originally was about 1,000 square feet and was really outgrowing that space," Peel says. "Customers were asking us for an expanded version of these product lines. When the opportunity arose to look at the Kawartha Coffee Co location, it made sense to do it."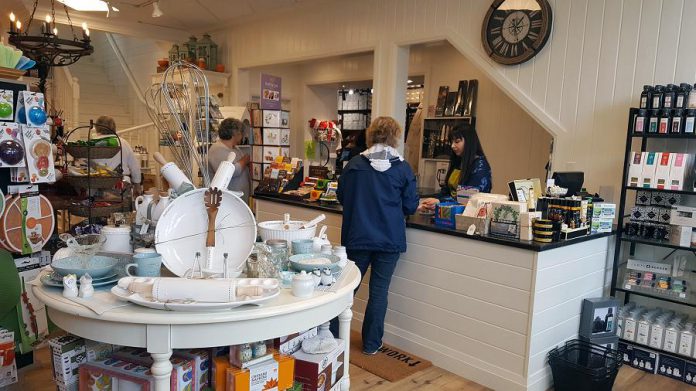 Kawartha Coffee Co. moved out of the 49 Bolton Street location late last fall and is preparing to open across the street at the building previously known as The Doctor's Office (see our story below).
"The location is right beside our men's wear store and 30 per cent of our kitchen product shoppers are men," Peel explains. "For quite some time we've wanted an entirely seamless shopping location, and that has now happened. This was a perfect opportunity and the timing was right to make it happen."
The renovation included opening the exterior wall of 49 Bolton Street into the adjacent Bigley's men's section, which means that customers can now walk from the new kitchen retail space into men's wear, and then into women's fashion, and of course into the shoes section for which Bigley's is renowned.
The second floor of the kitchen space is now a café, designed to grab a quick coffee or tea while shopping in the store or as a place to take a break. Peel also sees the second floor as a perfect space for special events, for sampling their gourmet food lines, and for shopping nights.
"Incorporating services like the café is a trend that just makes sense," Peel says. "We've been her for 30 years and retail has changed immensely in that time. The pace of change is increasing faster now with social media and online shopping. We're a family-oriented retailer — the entire family shops here together and we're striving to give our customers what they want in a destination retail location."
The store is absolutely chock full of colourful trendy and practical kitchen gadgets and hostess gifts. The back area of the store now includes a gift basket creation area, where you can tell staff your budget and they'll create a basket for your hostess gift, or for Mother's Day, or even a BBQ basket for a cottage host.
Kawartha Coffee Co. at The Doctor's Office opening in Bobcaygeon in May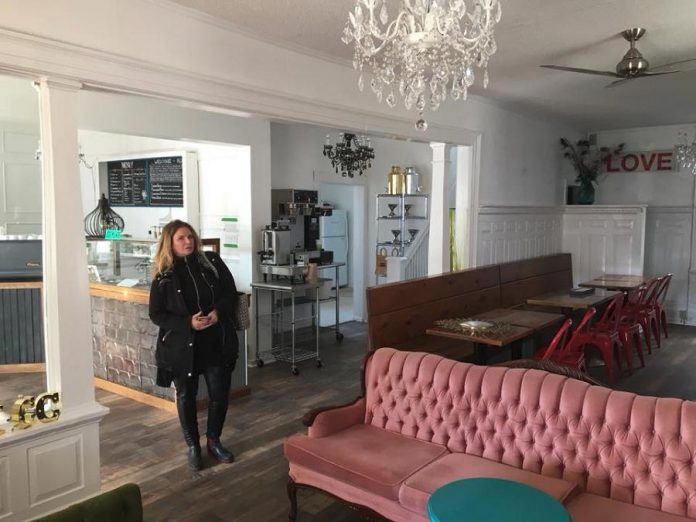 If you're a resident of or a regular visitor to Bobcaygeon, there's little doubt you've been missing the food and fun at Kawartha Coffee Co. since they moved out of their location at 49 Bolton Street last fall. But good news is on the horizon as Kawartha Coffee Co. is getting ready to open at its new location, literally just across the street.
Known for many years as "The Doctor's Office", the building located at 58 Bolton Street is the new home of Kawartha Coffee Co. And this new location may well be home to the largest outdoor patio in The Kawarthas, with room for 110 people.
Owner Kathleen Seymour tells kawarthaNOW that "Kawartha Coffee Co. at The Doctor's Office" in in the final phases of its renovation and redesign and is gearing up for a mid-May opening, with some exciting food ideas and patio plans in store.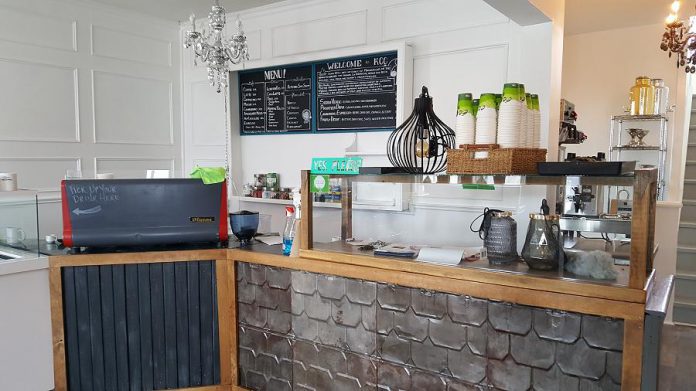 Kawartha Coffee Co.'s new chef Graeme Miller is a recognized name as the oh-so-healthy chef from Two Healthy Rabbits. Genevieve McAdam, previously from the Lil Organic Kitchen in Whitby, is joining Miller.
Seymour says the plan is to incorporate global flavours, like Mexican fusion, with locally sourced food. Kawartha Coffee Co. is an Ontario Culinary Tourism designated FeastOn restaurant, which means that patrons can be assured that locally sourced food and drink is guaranteed and indicated on the menu.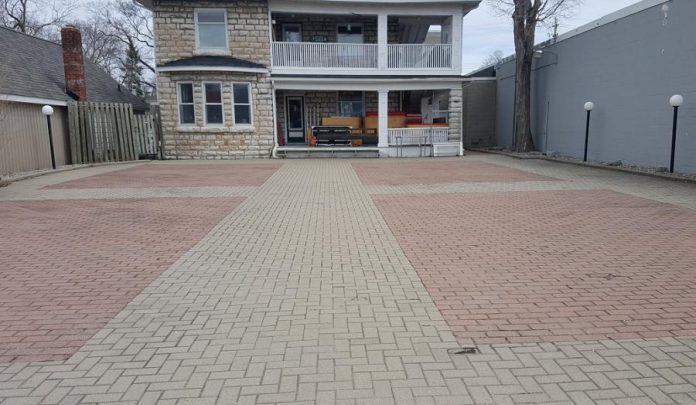 Inside the restaurant, customers will find comfy seating areas with room for 30 in this beautiful heritage building dating back to the early 1900s. While Kawartha Coffee Co. will continue to serve their signature hot and cold beverages with their decadent treats, the focus in their grab-and-go area will be on healthy eating, including smoothies, composed salads, baguette sandwiches, fresh juices, and more. They will also feature local artisan-made products.
The patio area will feature a food truck along with a refrigerated beer truck as part of the bar area. Penni Holdman, a resident of Fenelon Falls, is helping Seymour design the exterior patio space. Holdman is an international award-winning special event design architect and production professional, with over 30 years of hands-on event experience providing complete 'beginning to end' event design, management, and production.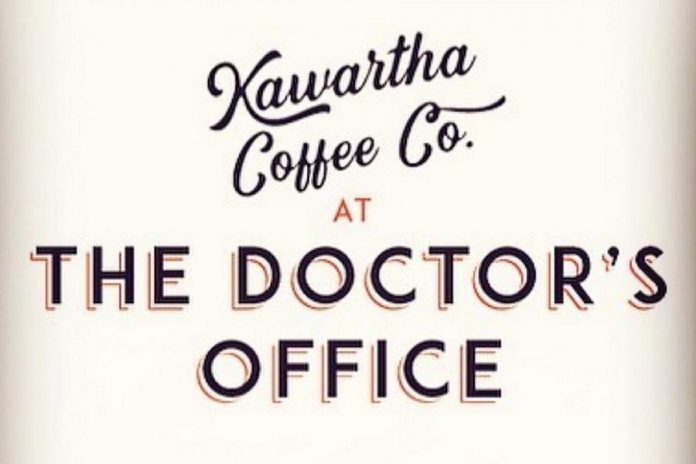 In addition to its heritage features and immense front area, The Doctor's Office was indeed a real doctor's office in the '70s and '80s. It later became a large cottage bar and then a restaurant. Coincidentally, Seymour met her husband Mike Fagan at that location — and he is now a doctor.
Apsley-based startup's app turns a smartphone or tablet into an employee time clock
MotherClock Inc., a Apsley-based digital startup cofounded by Jeff Sayers and Brad Thompson, is launching its mobile app that turns a tablet or a smartphone into an employee time clock.
As of Monday, May 7th, employers in Ontario can download a beta version of the app to test the time-tracking functionality with their employees.
At Sayers Foods, a family-owned and operated grocery store in Apsley with around 50 employees, Motherclock developer Jeff Sayers went through three different payroll platforms, each with its own set of issues. Finding it difficult to stay organized while manually calculating each employee's work hours into the payroll system, he knew there had to be an easier way.
So Sayers developed the MotherClock app for Android mobile phones and tablets. The cloud-based app allows employees to sign in and out with the simple click of a button and also allows an employer to manage employee information, view, edit, and delete time clock records, and review calculated payroll totals including employee pay, taxes and deductions, all free of charge.
Developed with the cooperation of the Canada Revenue Agency and some of Canada's leading financial institutions (co-founder Brad Thompson oversees the financial strategy of the company and is also the head of sales), Sayers' app will also allow users to transmit payment instructions to the banking system to pay employees, as well as related taxes and deductions to the Canada Revenue Agency, for a transaction fee of two dollars per employee per pay.
Sayers is hoping various Ontario businesses will download and test the beta version of the app and provide feedback to the company, prior to the release of an official version.
For more information and to sign up for the beta program, visit www.motherclock.com. As of May 7, 2018, the beta version of the app will also be available on Google Play.
City of Kawartha Lakes receives international awards for its new municipal and tourism websites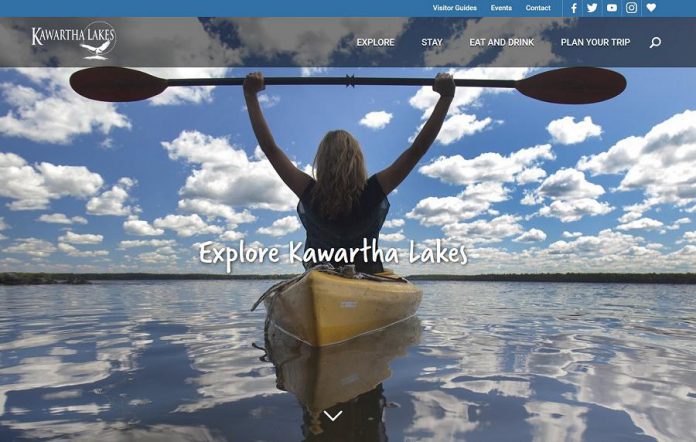 The City of Kawartha Lakes has received two 2018 Hermes Creative Awards for its new municipal and tourism websites launched in 2017.
The Kawartha Lakes Tourism website at www.explorekawarthalakes.com was named a gold winner in the tourism website category, and the City of Kawartha Lakes municipal website at www.kawarthalakes.ca received an honourable mention in the government website category.
The Hermes Creative Awards is an international competition for creative professional involved in the concept, writing, and design of traditional materials, marketing and communication programs, and emerging technologies. The awards are administered and judged by the Association of Marketing and Communication Professionals, and international organization comprising several thousand creative professionals. The competition receive more than 6,000 entries each year.
"We would like to thank our residents, local businesses, and special interest groups for providing valuable input to ensure the new websites would meet the needs of our community," said Cheri Davidson, Manager of Communications Advertising and Marketing. "Special thanks to our web developer eSolutions Group who expertly led us through the redevelopment process. The success of our websites has been driven by a partnership between government, community and industry."
The City of Kawartha Lakes websites were funded with support from the Kawartha Lakes Community Futures Development Corporation (CFDC), which invested $100,000 for website development under the Eastern Ontario Development Program's Community Innovation stream. The Ontario Ministry of Tourism, Culture and Sport provided 50 per cent funding for all of the imagery and videos used on both websites through the Regional Tourism Organization (RTO8) Kawarthas Northumberland.
Bobcaygeon Chamber of Commerce hands out 2018 Awards of Excellence
On Saturday (April 28), the Bobcaygeon & Area Chamber of Commerce announced its 2018 Awards of Excellence at a gala at the Lakeview Arts Barn.
Ruth McIsaac, president of the Bobcaygeon Horticulture Society, was selected as Citizen of the Year at the Bobcaygeon Chamber of Commerce 2018 Awards of Excellence gala.
Other award winners were Andy Lummiss and Jessica O'Neill (Employee Achievement), Bobcaygeon Eye Care (Business Achievement), Granny Birds Wool Shop (New Business Achievement), Happy Days Houseboats (Hospitality), Bobcaygeon Canada Day Committee (Not for Profit Achievement), Canada/US Walleye Tournament (Tourism Achievement), and Sarah Quick of Globus Theatre (Creative Arts Achievement).
Trent Hills Chamber of Commerce hands out 2018 Business Excellence Awards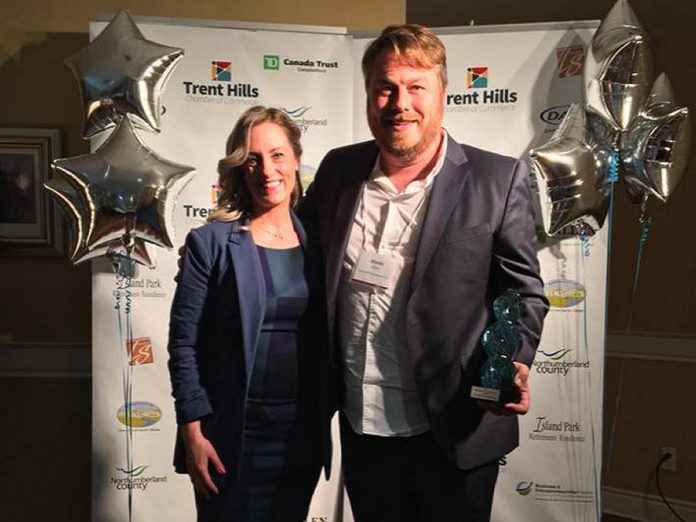 Also on Saturday (April 28), the Trent Hills Chamber of Commerce handed out its 2018 Celebration of Business Excellence awards at a ceremony at Island Park Retirement Residence in Campbellford.
The 2018 recipient of the Business of the Year Award was True Saffron of Warkworth. From their farm in the rolling hills of Northumberland County, entrepreneurs Martin Albert and Eric Charbonneau produce saffron, the most expensive spice in the world, which is derived from the flower of the saffron crocus plant. True Saffron is the top producer in Canada of high-quality organic saffron.
Other award winners were Johanna Allen (Chair's Award), E Squared Fitness (Emerging Entrepreneur Award), Kinch Eddie Litigation (Customer Experience Award, service-based), The Bakery Warkworth (Customer Experience Award, product-based), The General on Main (Pride And Progress Award), The Natural (Ignite 2018 – Business), Community Care Northumberland (Ignite 2018 – Non-Profit Organization), Antonia's Bistro (Excellence In Business), Beautiful Images by Montserrat (Community Impact Award), and Dollarama Campbellford (Inclusive Community Employer Award).
CPK Interior Products Inc. of Port Hope receives $895,000 from the Eastern Ontario Development Fund
CPK Interior Products Inc., which manufactures automotive interior products such as door panels and consoles for the North American market, has received an $895,000 investment from the Province of Ontario under the Eastern Ontario Development Fund.
Along with its own investment of $7,237,400, the company will use the funds to modify its facilities and install advanced new equipment.
Headquartered in Port Hope, the company also has locations in Belleville and Guelph as well as in Auburn Hills in Michigan.
The total investment will support 333 existing jobs in eastern Ontario and will create 89 new jobs. The project is expected to be completed by the end of 2020.
Peterborough Chamber hosts accessibility workshop for businesses on May 3
The Greater Peterborough Chamber of Commerce is hosting a lunch-and-learn workshop on accessibility from 11:45 a.m. to 1:30 p.m. at the Chamber's offices (175 George St. N., Peterborough).
You will learn how the Accessibility for Ontarians with Disabilities Act (AODA) applies to your business and the advantages of developing an inclusive workforce. Topics will include responsibilities under the legislation, how to develop an accessibility plan and comply with the AODA, why hiring individuals with disabilities makes good business sense, and resources available to help you hire, accommodate, and retain employees with disabilities.
The event is free, but advance registration is requested at www.peterboroughchamber.ca.
Community Futures Peterborough offers free "Financial Fridays: Record Keeping Made Easy' seminar on May 4
Community Futures Peterborough is offering a new training series called Financial Fridays with the aim of supporting small businesses and entrepreneurs with information on finance and business acumen.
The free sessions will be held on the first Friday of each month and will be a combination of workshops and seminars delivered by the economic organization's community partners and local experts, giving attendees the chance to connect with professional service providers in their area.
The inaugural Financial Friday takes place from 10 a.m. to 12 p.m. on Friday, May 4th at Community Futures Peterborough (351 Charlotte St., Peterborough). "Record Keeping Made Easy" will educate you in Canada Revenue Agency's guidelines and requirements, how organized records benefit your business in the long run, and what resources are available to help you.
The seminar will be presented by Carey McMaster, founder of TRIACON. She has provided consulting and training services for over a decade, with clients including start-ups, community service agencies, commercial enterprises, municipalities, and the provincial and federal government. She has also managed and operated several successful companies in her career.
The session is free, but seating is limited and you are encouraged to RSVP in advance at www.eventbrite.com/e/financial-fridays-record-keeping-made-easy-tickets-45556256991.
Northumberland – Peterborough South All-Candidates Meeting in Port Hope on May 3
The Port Hope and District Chamber of Commerce is hosting a provincial election all-candidates meeting from 7 to 9 p.m. on Tuesday, May 8th at the Cameco Capitol Arts Centre (20 Queen St., Port Hope)
The free event will include an opportunity to meet the candidates (Liberal incumbent Lou Rinaldi, PC candidate David Piccin, and NDP candidate Jana Papuckoski) and learn about issues that affect local business and agriculture.
Business Owners Sharing Solutions (BOSS) – Mental Health in the Workplace on May 9
The Kawartha Chamber of Commerce & Tourism's next Business Owners Sharing Solutions (BOSS) seminar takes place from 7:30 to 9:30 a.m. on Wednesday, May 9th at the Lakefield Legion (10 Nicholls St., Lakefield).
The session will focus on coping strategies and techniques to encourage mental wellness in your workplace, with panelists Jack Veitch of the Canadian Mental Health Association, Dave Pogue of Team 55, and Ashley Challinor of the Ontario Chamber of Commerce.
The cost is $15 for Chamber members and $25 for non-members. Registration is requested.
Innovation Cluster Peterborough and The Kawarthas hosts its annual general meeting on May 31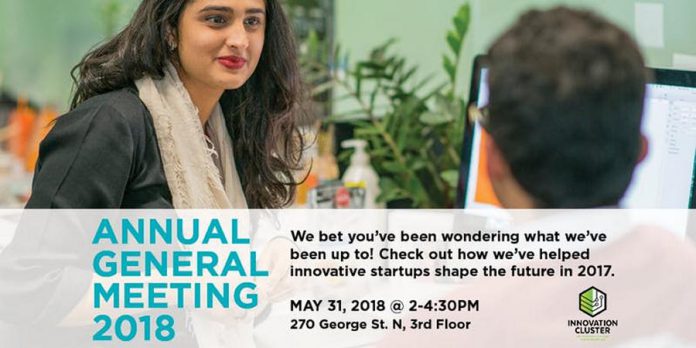 The Innovation Cluster Peterborough and The Kawarthas is hosting its annual general meeting from 2 to 4:30 p.m. on Thursday, May 31st at VentureNorth (270 George St. N., Peterborough).
Beginning at 2 p.m., the public can tour The Cube, the Innovation Cluster's 10,000-square-foot business incubator, and meet some of the region's most promising start-ups.
The annual general meeting, which is open to the public, takes place at 3 p.m. and will include highlights from 2017.
The event is free to attend, but registration is requested at www.eventbrite.com/e/the-innovation-cluster-annual-general-meeting-tickets-45475696031.
Kawarthas Northumberland annual tourism partner meeting on June 20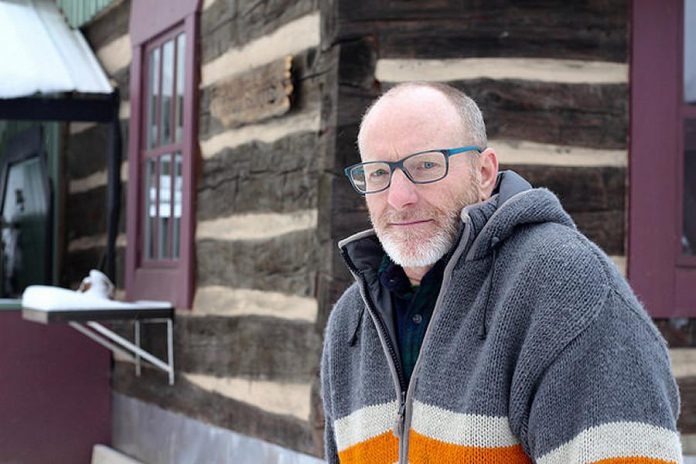 RTO8's Kawarthas Northumberland is inviting tourism operators from within the Kawarthas Northumberland region (City of Kawartha Lakes, City and County of Peterborough, and Northumberland County) to its annual partners meeting (annual general meeting) from 1:30 to 4:30 p.m. on Wednesday, June 20th at Iron Horse Ranch (804 Ontario 7A RR1, Bethany).
The meeting will provide tourism operators with the opportunity to meet Kawarthas Northumberland board members and staff, along with representatives and advisors from the Ontario Ministry of Tourism, Culture and Sport, and to network with other tourism operators.
The guest speaker at the session will be Todd Lucier, co-founder of Northern Edge Algonquin Retreat Centre, a retreat designer and IGNITE facilitator. Lucier will speak on how tourism operators can leverage their own resources to build new and exciting visitor experiences, with an appreciation for the importance of community collaboration.
The event is free, but advance registration is required by 5 p.m. on Friday, June 8th. Register at Eventbrite.