You can visit one of the nicest (and most private) beaches in the Kawarthas for free this year.
Otonabee Conservation has removed the day use entrance fee for the Selwyn Beach Conservation Area, which is now open for the 2018 season.
The conservation area is located on the northeast shore of Chemong Lake at 2251 Birch Island Road, just north of Peterborough.
Selwyn Beach is best known for its excellent swimming, provided by a gently sloping sandy beach on Chemong Lake. The shallowness of the swimming area makes it ideal for families with young children.
Parents should note that the beach and swimming area is unsupervised, and dogs are not allowed on the beach (all dogs must be leashed at all times). Washrooms and change houses are located near the beach area.
"Visitors will have access to the sandy beach for swimming, the boat launch and docking area, hiking trails and open greenspace," says Jessie James, Conservation Lands Program Manager for Otonabee Conservation.
"The area is also popular for organized group camping and picnics as well as special events, for which a permit and fee will continue to be required."
The picnic shelter includes a central barbecue and tables, and can be rented for $30 per day for family or other organized functions.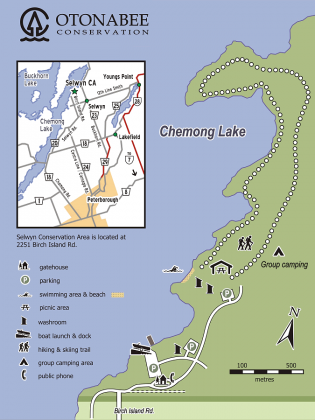 Camping is available for $6 per person per night for organized groups, and $9.50 per person per night for unorganized groups.
Free boat launching and docking facilities provide access to Chemong Lake and the Kawartha Lakes system, for recreational boating and fishing.
Marked hiking trails are also free to use by visitors.
The Selwyn Beach Conservation Area is one of the largest properties of undeveloped waterfront in the area.
Otonabee Conservation acquired the property in 1973 from the family that owned it to ensure that the waterfront would remain available for public use and to ensure the protection of the natural features and flora and fauna of the area.
The day use admission fee was previously $12 per vehicle, or $4.50 per adult and $2.75 per child for walk-in visitors. Otonabee Conservation discontinued the admission fees as the cost to collect the fees at a staffed gatehouse exceeded the revenue from the fees.
To reserve the picnic shelter or for camping and permits for special events, call 705-652-3161.