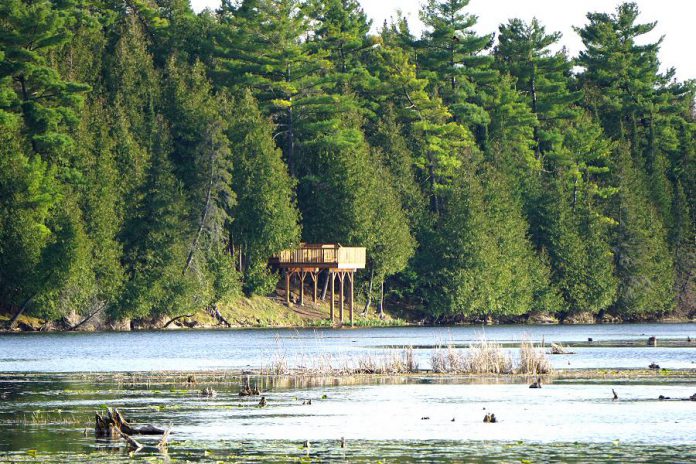 After more than five years, the redeveloped McLaren Marsh viewing platform at Ken Reid Conservation Area (277 Kenrei Rd., Lindsay) is now open to the public.
"The completion of this project has been a long time coming," says Director of Stewardship and Conservation Areas Kristie Virgoe. "The viewing platform has always been one of the most recognized and favourite spots for visitors to Ken Reid Conservation Area."
Kawartha Conservation and the Kawartha Conservation Foundation undertook a multi-year fundraising campaign to construct the new multi-tier, accessible viewing platform.
"We were extremely fortunate to receive a significant private donation which allowed us to move forward with the redevelopment of the viewing platform, as well as a grant from the Canada 150 Community Infrastructure Program," Virgoe says.
"In designing the platform, we wanted to ensure it was accessible as well so that the marsh, waterfowl, birds and other wildlife can be enjoyed and appreciated by even more people."
The new accessible viewing platform can be accessed from a variety of trails, including the Woodland Loop, Rabbit Hollow, Marsh Lookout Trail, and Marsh Boardwalk Trail.
"The addition of the multi-tier viewing platform will be a tremendous addition to Ken Reid Conservation Area," says Julia Taylor, Chair of the Kawartha Conservation Foundation.
"The Kawartha Conservation Foundation's mission is to support the vision of Kawartha Conservation by raising funds, promoting awareness, and engaging the community to restore and sustain a healthy environment for future generations, and we're thrilled to be a part of this exciting redevelopment at Ken Reid."
The viewing platform passed final inspection on Monday (May 14).
"Having the redeveloped viewing platform will be a wonderful, accessible attraction for visitors," says Kawartha Conservation CAO Mark Majchrowski.
"This project would not have been possible without the generous financial support of private donors and the Canada 150 Community Infrastructure Program and, on behalf of all of our visitors, I would like to thank them for making this project possible."