"Welcome to the Rural Renaissance".
On Thursday (May 17), Cobourg Mayor Gil Brocanier acted as emcee for the grand opening of Venture13, Northumberland County's new entrepreneurial hot spot, heralding it as a "great day for Cobourg and all of Eastern Ontario".
Brocanier said the Town of Cobourg and Northumberland Community Futures Development Corporation (CFDC) have a lot to be proud of — and the journey has just begun.
"This remarkable journey, that included repurposing one of our existing municipal properties into a state-of-the-art innovation and entrepreneurship centre, would not have been possible without the dedication and leadership of Northumberland Community Futures Development Corporation and the support of FedDev Ontario," he said.
VIDEO: Cutting the ribbon for Venture13 in Cobourg on May 17, 2018

"The Town of Cobourg is extremely proud of the educational opportunities and community engagement that will be made possible at Venture13 as we work with Fleming College, Northumberland Makers, and all of our partners, to position Northumberland County and Eastern Ontario for the innovation age."
A place for business start-ups
On Thursday, Venture13 — known as V13 for short — officially opened its doors at 739 D'Arcy Street in Cobourg with a grand opening celebration that included a ribbon cutting and a tour of the facility.
The new innovation and entrepreneurship centre features three "essential components" to assist business start-ups.
The VentureZone is an accelerator space supported by the Northumberland CFDC. The MakerLab is a full-service lab with cutting-edge equipment that can be used for custom desktop manufacturing and 3D printing, prototyping and engineering. The third essential component is an 80-seat lecture hall with adjoining seminar rooms that offers a community space for discussions and workshops.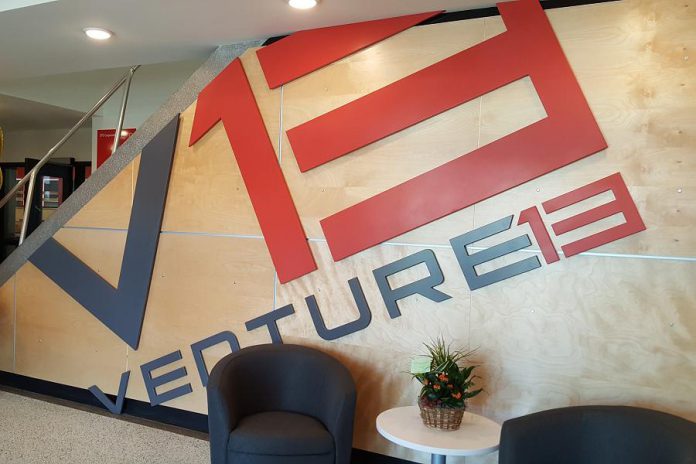 Also in attendance for the grand opening was Northumberland-Peterborough South MP Kim Rudd, who kicked off her message to the community with a congratulatory video from the Honourable Navdeep Bains, Minister of Innovation, Science and Economic Development.
"Venture13 is one of the most exciting projects ever undertaken in Eastern Ontario," Rudd said.
"I firmly believe it will be the crown jewel in any ongoing innovation strategy for the region. I want to give credit to the efforts of Northumberland Community Futures Development Corporation, the Town of Cobourg, and Cobourg Police Services. Their dynamic collaboration is jump-starting a new era in rural innovation."
About the Site
The building itself is an inspiring place for learning and innovation.
With the vision of local architect Reno Piccini, the impressive open-concept 15,000-square-foot first floor of the building includes a 80-seat lecture hall, demo space and two seminar and activity rooms. The site also includes the 800-square-foot MakerLab and a scannable tool library.
"The planning for this site was a labour of love," Piccini said.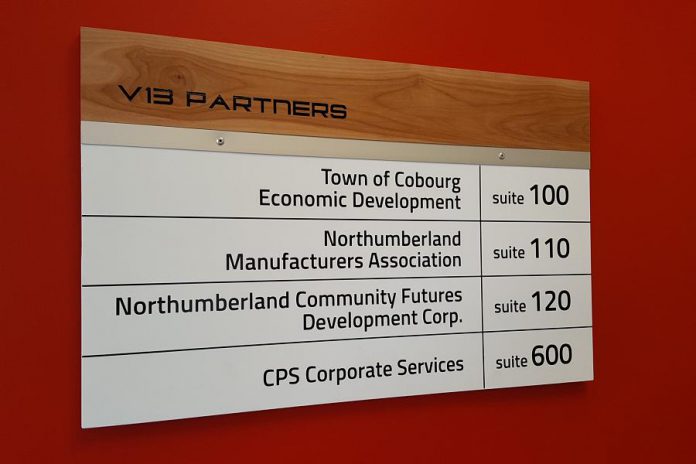 The colour red can be seen throughout the building. According to Northumberland CFDC Executive Director Wendy Curtis, the red is "Canada Red", a strong nod to our country and commitment to shaping the economic future of our nation. A 30-foot mural greets visitors near the entrance, and natural light floods the space from its many windows.
The building was once the site of a Canadian Forces Base known as "Building 13" — hence the Venture13 name. During the 1950s, Building 13 was the Town of Cobourg's largest employer at its peak. With Cobourg Police Services signed on to inhabit the second floor of the site, the Town is hopeful that Building 13 will once again be a major source of jobs for the local economy.
The VentureZone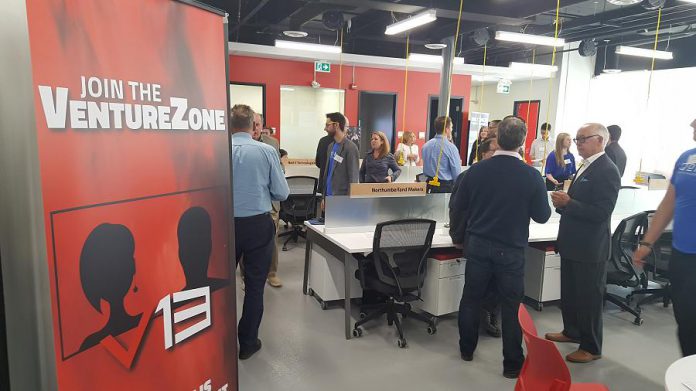 With The VentureZone, the Northumberland CFDC has created a flexible co-working and business accelerator space for technology startups and entrepreneurs. The VentureZone includes 24-hour secured access, fibre connection and public wifi, as well as web-based booking.
"Together with the Town of Cobourg, and with the support of the Government of Canada and FedDev Ontario, we have designed and created a unique and inspiring platform — a truly local response to the imperative of innovation in the twenty-first century," said Wendy Curtus, Executive Director of the Northumberland CFDC,
The MakerLab
The MakerLab is supported by a community organization known as the Northumberland Makers. Teaching applied skills and offering experiential learning, the lab is an inspiring space with cutting-edge equipment for prototyping and engineering.
"We believe that making is a skill that should be accessible to all who wish to learn," says Northumberland Makers President Phil Mandryk.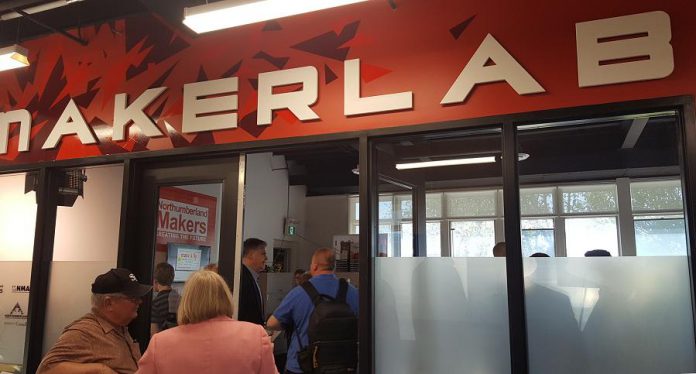 "We cannot wait to have a home base at Venture13 to deliver community programming that offers individuals the opportunity to 'learn through doing' in an accessible social environment."
The MakerLab aims to play a major role in positioning Northumberland County and Eastern Ontario "as a place for technology entrepreneurship and innovation", Mandryk said.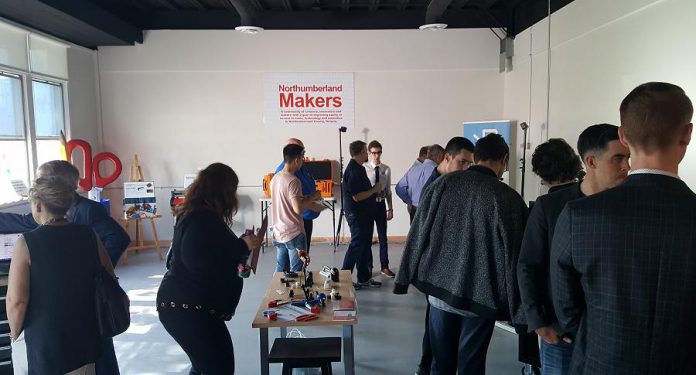 Programming will focus on STE(A)M education (Science, Technology, Engineering, Arts and Mathematics) with bi-weekly safety and equipment training, a Tedx-inspired talk series, and a one-week "Lego robotic camp" for children in the summer.
Innovation and Law Enforcement
When it comes to Venture13's second floor, while no uniformed officers will be working on site, the presence will definitely be blue upstairs.
Cobourg Police Services have found a home for their administrative operations and growing technology business unit at this new location.
VIDEO: Official promotional video for Venture13

Cobourg Chief of Police Kai Liu believes that job creation will continue to grow on the second floor, as the police add secure servers and other innovative technological advancements to their practices.
Innovations in policing will be paramount and access to the second floor will be highly restricted.
According to Liu, this initiative is ground-breaking by nature as it is "unique amongst police services" to have a dedicated place to focus on the use of new technology in policing.
Education
Fleming College, which joined the strategic board of innovation partners in November 2017, will deliver a technical programming component at Venture13. Courses will be offered in Business and Leadership as well as Trades and Technology and will be booked on a regular basis at the centre.
"We are delighted to support the Venture13 initiative in partnership with the Town of Cobourg and the Northumberland CFDC," said Tony Tilly, President of Fleming College. "We see a clear alignment between our innovative programming and the needs of those developing new and growing enterprises throughout the region".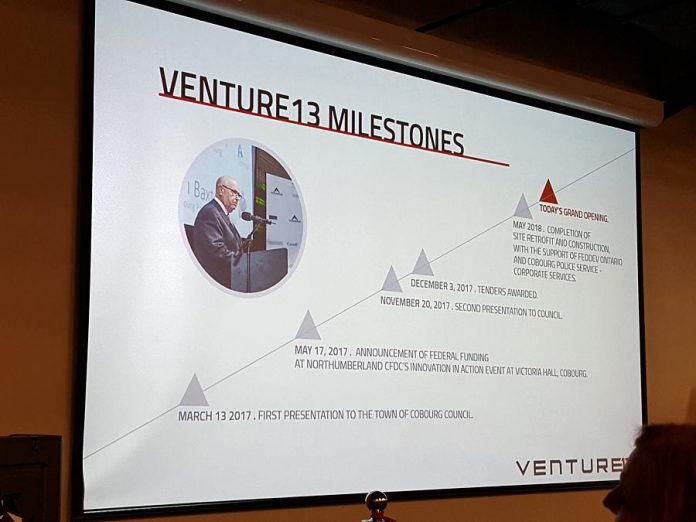 "As a primary post-secondary partner, Fleming College is committed to providing training experiences that are responsive to employer needs and areas of job growth," added David Francis, the college's Dean of Professional and Continuing Education.
"We are also committed to bringing the Fleming College experience more broadly to Cobourg and Northumberland County in terms of providing guest speakers and linkages to the community."
While post-secondary students are currently first in line to benefit from the new centre, plans to include younger students at the high school and elementary school levels are likely in Venture13's future. In the meantime, parents who are interested in getting younger kids involved are welcome to look into age-appropriate workshops, camps, and seminars.
Partnerships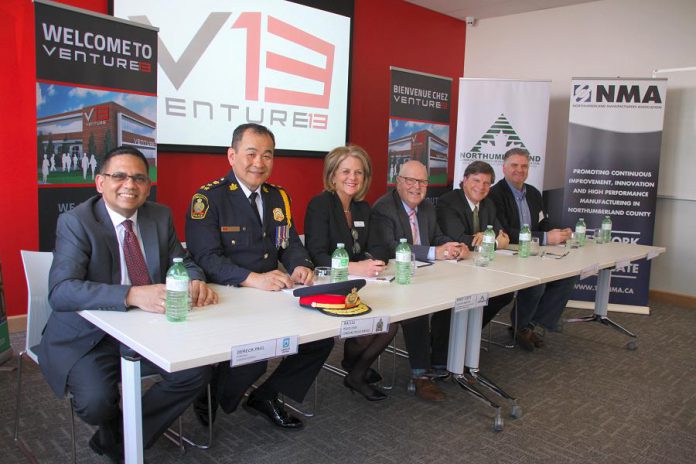 According to Curtis, partnerships are essential to the success of Venture13. She said collaboration has been at the foundation of everything accomplished to date and will continue to play an ongoing role in the future successes of the centre.
"We are not alone in this endeavor," she explained. "We have brought together local innovation-focused community organizations with our wider network of regional innovation centres from Oshawa to Peterborough to Cornwall, and across Eastern Ontario."
N100 Evolution: a pitch-based competition for tech start-ups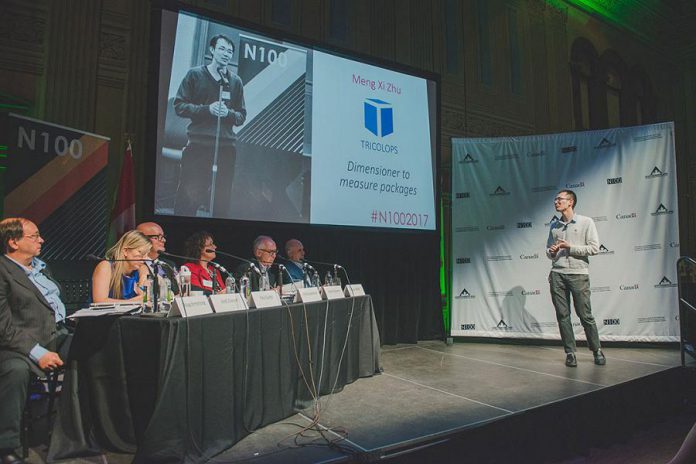 Curtis also announced the inception of N100 Evolution, Northumberland's "biennial open invitational technology startup competition".
With start-up funding from $100,000 to $250,000 up for grabs, projects with high-growth potential that are technology-driven and that will have a presence and impact in Northumberland County are invited to pitch their ideas for a chance to make their business dreams a reality.
The deadline to apply for the first N100 Evolution is Friday, July 13, 2018. Eight semi-finalists will be selected to compete in the N100 Pitch Contest at Venture13 on Thursday, September 13th. The top three finalists will then present their investment proposals in October, with the winner announced in November.
If you've got a great business idea and need help to get it off the ground, N100 is now accepting applications for the 2018 technology start-up competition. Visit www.n100.ca to find out more and to apply.
To learn more about how you can get involved and support Venture13, visit venture13.ca.