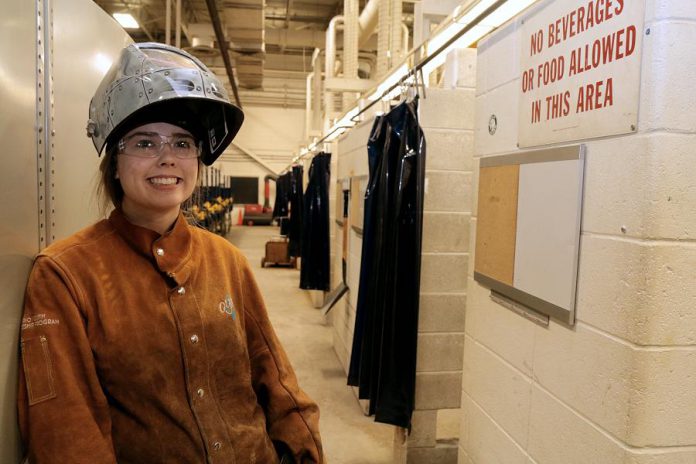 Maddy Paulson-Carlin started high school like most kids: uncertain of her future plans. When she was given a chance to explore the trades, she was immediately drawn to the welding profession.
Welding has traditionally been viewed as a male-dominated trade, but this has never discouraged Maddy from pursuing her goals.
With the laser-like focus of a welder making a precise plasma cut, and with the help of the Ontario Youth Apprenticeship Program (OYAP), Maddy can see a clear path leading directly from her secondary school education to her post-secondary apprenticeship — and eventually, her dream job.
Maddy, along with her fellow student Owen Robinson, each start their morning with a complimentary bus ride to the Durham College's Whitby Trade Centre, where both students are part of the OYAP welding program.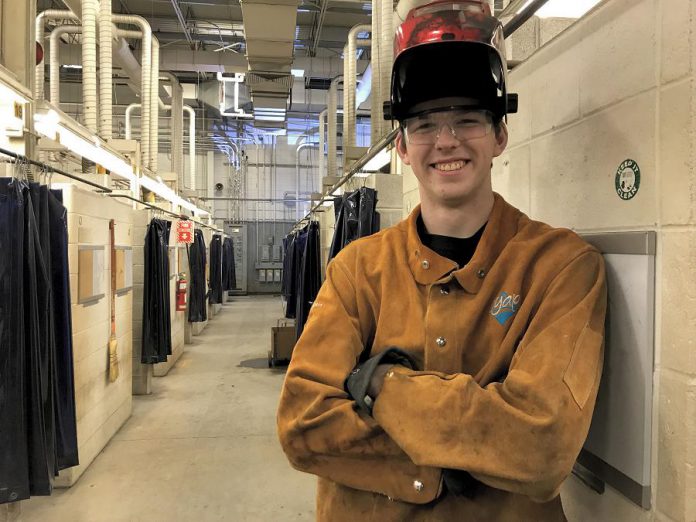 Maddy hails from St. Thomas Aquinas Catholic Secondary School in Lindsay while Owen attends St. Stephen Catholic Secondary School in Bowmanville.
Getting an early morning start to catch the OYAP bus is well worth it for these welding students. Both Maddy and Owen will finish high school having completed Level I training in their field — a considerable advantage in the race to securing employment post-studies.
For Maddy and Owen, the path to a happy vocation is clearly via the trades. Not only do they enjoy what they do, but through their OYAP co-op placements they are learning the value of contributing a small part to a larger project.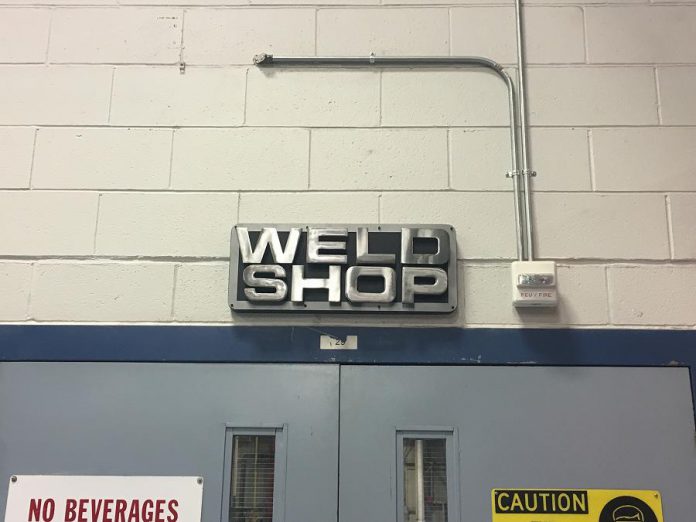 Owen notes that seeing a completed project, and knowing how welding contributed to it, makes the role of a welder very meaningful to him.
Maddy adds that learning a skilled trade is a great path toward future job security.
"You're always in high demand, so you're always guaranteed a job — and you'll make good money no matter what you go into."
And for anyone curious about OYAP, or the skilled trades in general, Maddy has some good advice.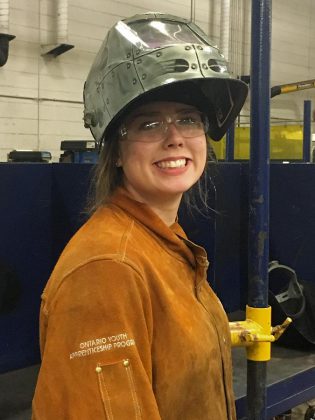 "No matter whether you're a guy or a girl, try something in the skilled trades. You may not think of it as a life-long career, but you'll definitely get some good skills out of it."
Through OYAP, students can explore many of the skilled trades while working towards their high school diploma. The program began as a three-year pilot project in 1996 and is funded today by the Ministry of Advanced Education and Skills Development. Multiple school boards and levels of government have worked in tandem to create the opportunities provided to OYAP students.
"Students apply for the OYAP program when they're in Grade 11," explains Margaret Murray, a Student Success Consultant and OYAP Coordinator for the Peterborough Victoria Northumberland Clarington Catholic District School Board (PVNC). "They sign on to a training agreement with the ministry and hopefully it will continue after they graduate the following year."
Books, safety equipment and transportation costs are all covered while students attend classes at the Whitby Trade Centre.
"When the OYAP students are not in school, they are in a co-operative education placement related to the trade," Margaret says.
It can be challenging for some students to find the best skilled trade for them. Owen Robinson changed his path more than once before entering the OYAP program, finally selecting welding with the goal of becoming a firefighter and utilizing his skills in emergency situations.
Owen admits he was a "good welder in metal shop" but he didn't really "see the potential for a career in welding" until he began OYAP.
For her part, Maddy knew that she wanted to be a welder since she was in ninth grade, first trying her hand at welding in the Exploring Tech program. Her guidance counselor was very supportive of her plans and helped her to discover OYAP.
While she has rarely faced prejudice about being a young woman interested in what has been a traditionally male-dominated trade, there has been some.
"I was one of two girls to start in a plant for co-op," Maddy says. "When I first started, there were comments from some of the men."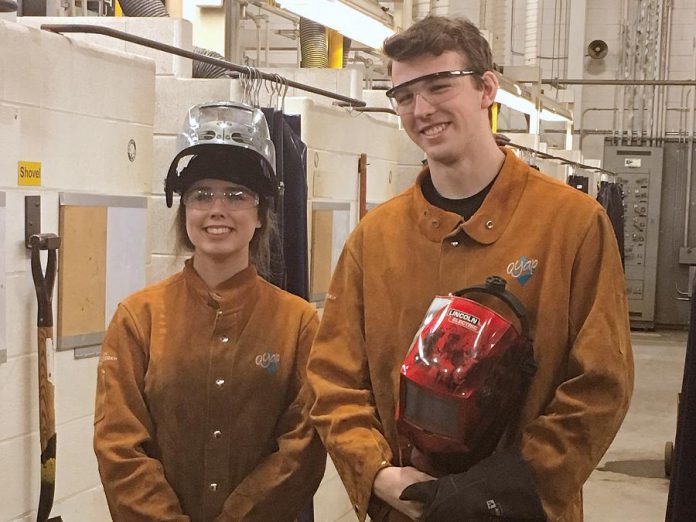 But Maddy claims that as more girls choose to enter the skilled trades, things are getting better.
Girls in the trades "stick together" but, despite this, Maddy doesn't isolate herself from her male peers, who she says are very supportive and accepting of their female counterparts entering into the trades.
That may be because an increasing number of female students like Maddy are choosing to pursue careers in the skilled trades. Over the past three years, PVNC has witnessed a number of young women succeed in OYAP.
"We've seen a female plumber, automotive service technician, carpenter, industrial millwright mechanic, and a welder graduate from high school with their OYAP Level I," Margaret says, "and successfully be hired as second-year apprentices in their respective fields."
Maddy hopes to score her second-year apprenticeship and complete her Red Seal trade in Ontario. She dreams of one day living and working somewhere near the Alberta/BC border.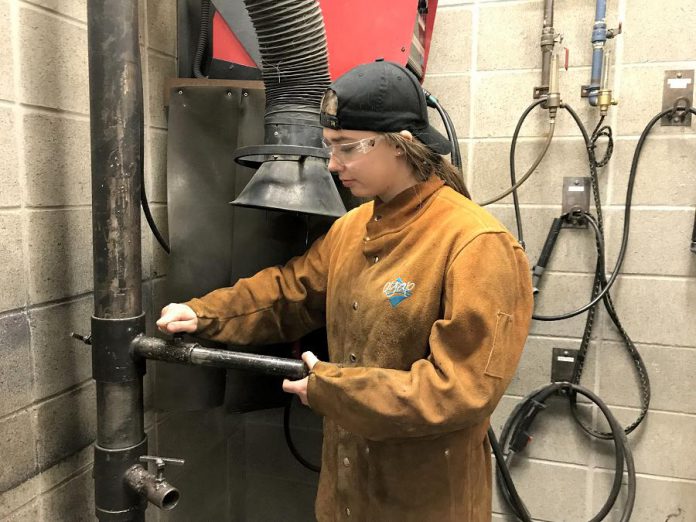 Owen would also like to travel west to British Columbia to work once he has completed his education.
In addition to a head start in their trade, OYAP students are also given financial opportunities that make it less of a financial burden to complete their trade's entry level.
"We were given welding gloves, our own shop coat, and, if we don't have our own helmet, they have a cabinet of helmets to use as well as all the tools you need," Maddy says.
Both Maddy and Owen share a passion for working with metal and have even created art with their welding skills in the past.
Maddy's advice to anyone considering trying welding is to "just go for it."
"Whether you take it for the artistic factor or are actually considering it as a career — it's still a great skill to have, as well as any other trade".
Applied learning and the future of the OYAP
The long-term success of OYAP students like Maddy and Owen wouldn't be possible without experienced and passionate instructors.
Take William Joy, who has been a welding instructor at the Whitby Trade Centre for five years and a welder for 40. He believes that applying what they learn during their placement is essential to the success of his students.
"For them to come here to be instructed and then to use those things they've learned out in the work force, it's a big plus for their future employment," William says. "It's a really well-rounded program."
William also has noticed an increase in female interest in both the OYAP and welding.
"It's important to get the word out on social media and by word of mouth. I find the [OYAP] students are very successful, both male and female.
"Being in the trades, you are so engaged in what you are doing you're never really looking at the clock. And there is a satisfaction to being involved in projects that you can see to completion."
Speaking of welding projects, PVNC Student Success Consultant Alexander Duketow notes that the school board is currently installing 36 new and fully equipped welding booths across its six secondary schools.
Alexander says the initiative was inspired by "industry demand, a local job summits hosted by MP Maryam Monsef, and ultimately by our teachers who have observed tremendous enthusiasm by their students who learn the skill of welding."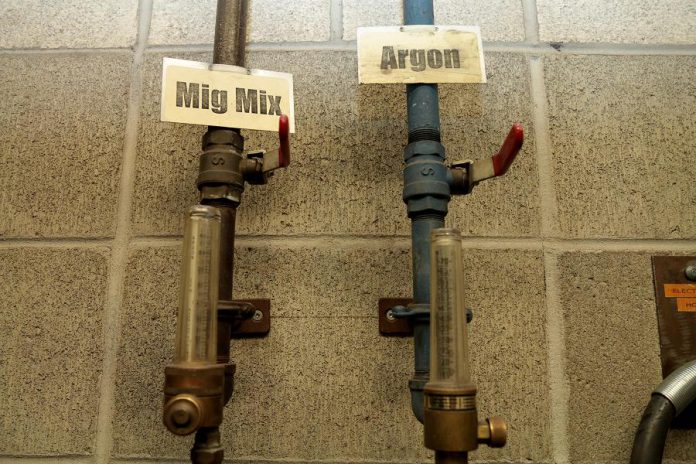 And to ensure the students are taught the latest real-world techniques, Alexander says that a partnership with the Canadian Welding Bureau Foundation and local heavy equipment manufacturer McCloskey International includes welding skills training for teachers.
OYAP intends to create even more opportunities for students who wish to learn welding skills, while also supporting local industry with a consistent stream of skilled welding apprentices.
As Alexander says, it's a "win-win".
High school students who are interested in attending trade school should contact their Cooperative Education Department for information about the OYAP program.