A cast of children, a gruesome literary classic, and the music of Pink Floyd.
These are the elements that create what may be one of the most unorthodox pieces of theatre to hit the Kawarthas in a long while. On Friday, May 25th and Saturday, May 26th, Hasting's The Little Town Theatre presents Ida Brown's original play Lord of the Flies: The Musical at the Norwood Town Hall.
Over the past few weeks, there's been a lot of chatter about this family-friendly production based on the William Golding novel and set to a classic rock score of Pink Floyd hits. Seeming to come out of nowhere, the unusual combination of Lord of the Flies and Pink Floyd has had the theatre community curious about how this show came to be and what it's all about.
The buzz led me to an after-school rehearsal on May 8th at the Norwood Town Hall, where I can attest to the fact that the production is indeed a spectacle to behold. Ths show features a cast of 10 kids between the ages of nine and 15 from Norwood, Hastings, and Warkworth, along with four adult cast members primarily made up of parents,
I watched the children run their lines while working through Floyd songs such as "Comfortably Numb", "Goodbye Blue Skies", "Wish You Were Here", and "Another Brick in the Wall". The kids are raw, but have an infectious spirit about them that flowed throughout the town hall as writer and director Ida Brown watches them with conviction for her unique theatrical vision.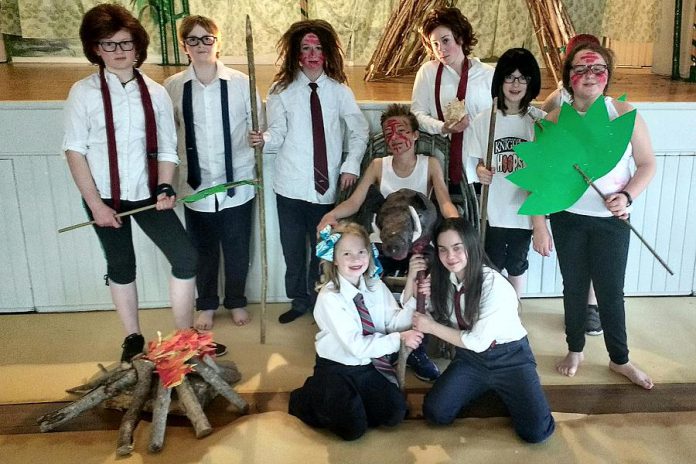 I was surprised to learn this is not the first time that Ida and her company have put on this show — it's the third production of Lord of the Flies: The Musical since 2006. Although relatively new to the Kawarthas, Ida and her family have been bringing together children and their parents in producing theatrical productions since 1999 throughout the various communities in which they've lived.
"We would have play group practices in my house which would include parents and children getting together to do shows," Ida says. "It all started because drama classes were expensive. The kids would love it because every week they'd get together, and often the parents would take on acting or production roles.
"But often the kids would get really wild. This one time all the kids were picking on this one boy and someone said 'It's like Lord of the Flies in here.' So we decided that we would do Lord of the Flies.
"But I always do musicals. One of my favourite bands was Pink Floyd, so I started writing the script and putting Pink Floyd songs into it. Every week I would write an act while looking at the book, and then I'd choose a Pink Floyd song."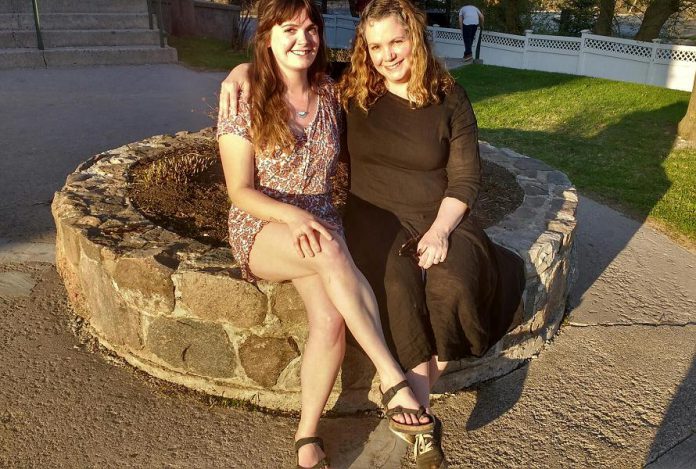 Pregnant at the time, Ida wrote a scene each week by writing out scenes directly from Golding's source material and matching it to a Pink Floyd song.
"I'd scribble it in handwriting, and then my friend would type it out, and then we'd do it with the songs," Ida explains. "Then we'd present it, and the kids would always have ideas of how it could be better."
Ida reads a passage from the script that she took out of the book.
'We're all drifting and things are going rotten. At least at home we had a grownup to ask. How I wish … oh, what's the use?'
'I wish my father was here,' said Simon.
'I wish my Auntie was here,' said Piggy. 'They know things, and they'd meet and have tea and discuss and then things would be alright.'

"Those lines are right from the book and they go perfectly with Wish You Were Here," Ida tells me. "Every single song that we chose works perfectly in the dialogue."
Ida and her company first produced Lord of the Flies: The Musical in Hamilton at the Staircase Café Theatre in 2006, and then revived it in 2012 at the Fergus Grand Theatre in Fergus. Not long after, Ida and her family moved to Hastings where the family cottage was located, and Ida brought her small theatre company to the Kawarthas.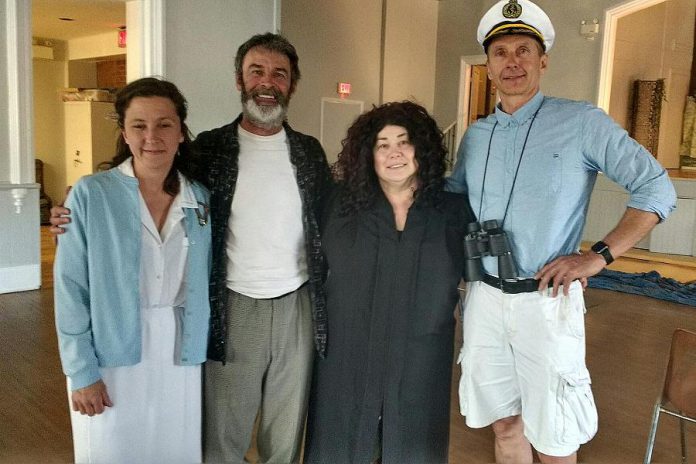 Since 2015 the Little Town Theatre has put on productions of Oliver, The Secret Garden, and Peter Pan, but it is definitely the surreal concept of Lord of the Flies as a musical that has captured the attention of the larger theatre community.
Each time Ida has done this show, one or more of her own children have stepped into the cast or production team, making it a true family affair. This production is no exception, with her youngest son Dakota playing Piggy and her oldest daughter Bethany stepping in as the show's musical director.
Bethany, who has been involved in the original production as a child actor in 2006, has had a unique relationship on both sides of the show.
"I think it's interesting how each show brings something new and develops differently," Bethany says.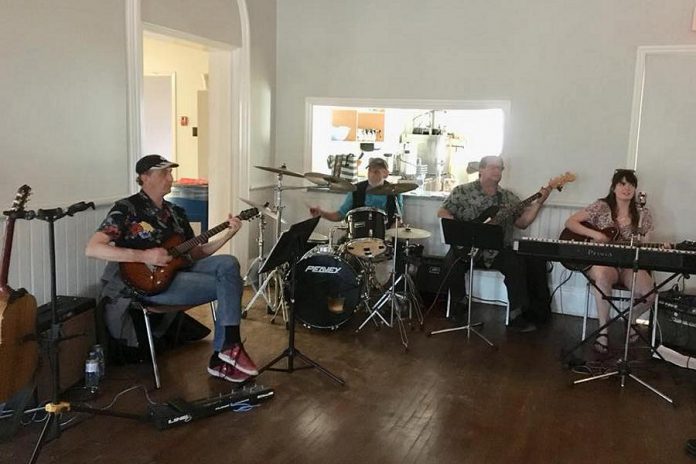 To create the unforgettable and all-important Pink Floyd soundtrack for the show, Bethany has recruited Peterborough musicians Ken Tuck, Tom Batten, and Mac Palmer. Having played together for nearly 30 years, the combo call themselves E1.
"I put out a post on Facebook saying I need a lead guitar player, and someone left Ken's name in the post and he and I agreed to meet," Bethany recalls. "He said he played at the Dobro every Wednesday, so my Mom and my stepfather went and saw them and then we said 'Come do this free show with children' and they agreed to do it. I thought it'd be a harder sell."
"We've played a lot of Pink Floyd in the past," Ken says. "But I don't know how anybody could ever organize it to have a bunch of kids to sing Another Brick in the Wall Part 2. That doesn't come off very often, so I'm very happy about it. Also, we're introducing a new generation to the music and the ideas as well."
"The kids really lift me up," fellow musician Mac adds. "I love it."
At the centre of Ida's production is a strong message about anti-bullying and the impact that cruelty has on people of all ages.
"I hope that the kids learn that they shouldn't tease or hate each other for what they look like or who they are," Ida says. "I was bullied as a kid, and I'm open to eradicating bullying. With this group of kids, you never see any kids teasing any kids about anything."
I have seen some pretty strange things in my time, but I have to admit that Lord of the Flies: The Musical is one of the strangest. Created with pride and performed by a young amateur cast with tons of vigour and spunk, Lord of the Flies: The Musical will be a special experience.
The production will be performed on Friday, May 25th and Saturday, May 26th at the Norwood Town Hall (78 Colborne St., Norwood). Each show starts at 7 p.m. and is free, with a cash donation collected at the door in support of the further artistic endeavors of The Little Town Theatre.