Last year, Peterborough native Michelle McLeod landed the lead role in Don't Talk To Irene, a feel-good movie that had its world premiere at the Toronto International Film Festival (TIFF) last September.
Since then, the film — written and directed by Pat Mills (Guidance) and also starring Bruce Gray (Big Fat Greek Wedding), Geena Davis (Beetle Juice), Scott Thompson (Kids In the Hall), and Anastasia Phillips (Bomb Girls) — has been released nationwide in the United States and has gone on to critical acclaim, largely based on Michelle's debut performance.
Variety wrote "McLeod's turn as the bizarre yet indefatigable Irene helps sell the film's misfit-makes-good sentimentality", The Toronto Star wrote she "creates a wonderfully plucky and empathetic character in Irene".
NOW Magazine wrote she "has terrific presence and exactly the right kind of theatre-kid confidence for this role." The LA Times' review of the film concludes "this cute movie hits all the heartwarming notes."
VIDEO: "Don't Talk To Irene" Official Trailer

Most recently the film has been nominated for four Canadian Comedy Awards: Best Feature, Best Writing in a Feature (Pat Mills), Best Direction in a Feature (Pat Mills), and Best Performance in a Feature (Michelle McLeod).
The awards will be announced on June 3, 2018 — exactly one day after Don't Talk To Irene screens for the first time at Galaxy Cinemas Peterborough (320 Water St., Peterborough).
"This funny and widely praised film has never been released in Michelle's home town," writes Greg McLeod, Michelle's father, in an email to kawarthaNOW.com.
There will only be a single screening of the film, at 7 p.m. on Saturday, June 2nd.
Her father Greg says that both Michelle and the film's writer and director Pat Mills will be attending the screening and will participate in a question-and-answer session following the film.
Tickets are available online at www.cineplex.com/Movie/dont-talk-to-irene-2018 and at the kiosks in the Galaxy Cinemas Peterborough lobby.
VIDEO: Pat Mills and Michelle McLeod on "Don't Talk To Irene"

Michelle, who currently lives in Toronto, began her acting career in Peterborough when she was eight years old, participating in her first St. James Players community play. She went on to take various roles in several St. James Players musicals and Peterborough Theatre Guild productions, where she won theatre awards from both groups.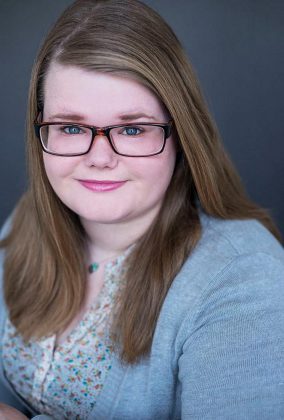 In Don't Talk To Irene, she plays Irene Willis, an overeight teenage girl who lives in the fictional small town of Parc north of Toronto (the film was shot in Hamilton). Irene's passion is to become a cheerleader, despite being called "the fattest girl in high school" by bullies and being discouraged from her dream by her overprotective mother.
After getting suspended from school, Irene is forced to do two weeks of community service at a retirement home — where she decides to organize her new circle of elderly friends into an unlikely dance troup and sign them up for a talent-search reality show.
According to her father, Michelle hasn't rested on her laurels. She just completed a three-week shoot for her second feature film, and is currently acting in a segment for the second seasion of the British-Canadian drama series Tin Star starring Tim Roth, which is broadcast in Sky Atlantic in the U.K. and on Amazon Prime in the U.S.