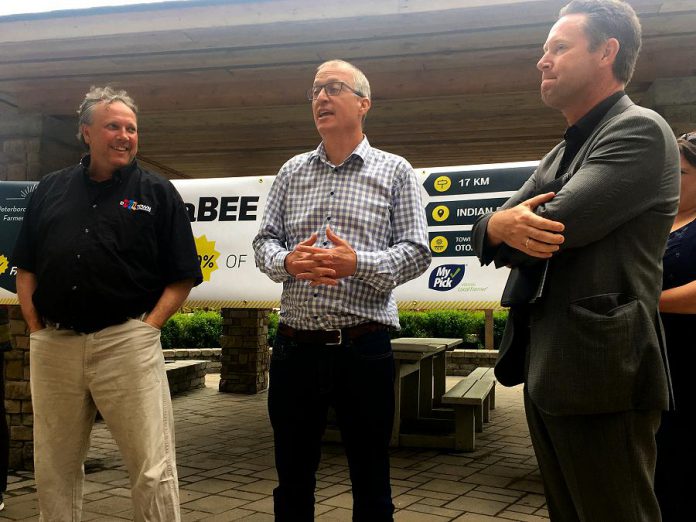 The Peterborough Regional Farmers' Network (PRFN) is bringing country goodness to the urban landscape, announcing Tuesday (May 22) that it will locate a new farmers' market in the Citi-Centre Courtyard off Aylmer Street.
Less than two weeks after announcing their plan to open and oversee a farmers' market, PRFN members gathered at the downtown Peterborough location, confirming the market will open Saturday, June 9th and continue each Saturday, 7 a.m. to 1 p.m., into the fall.
"We're building community downtown and we're ready to welcome you," said PRFN board president Neil Hannam.
"It's a super exciting day. Last Friday (May 18) at 9 o'clock I got an email from (DBIA executive director) Terry Guiel saying 'How about a downtown location?' Six minutes later, I responded. By 3 o'clock, Terry had introduced me to (AON president and CEO) Brad Smith. We met over the weekend and agreed this is the absolutely perfect site."
"We need a hard surface. You can only bring a half-ton with a trailer onto a hard surface. We need water. We need power. We need a great person (Smith) to work with. It's a natural fit."
A farmer-led not-for-profit group, the network grew out of the Saturday Peterborough Farmers' Market's refusal to approve applications submitted by seven returning vendors. At the root of the dispute were board-expressed concerns over the source of food sold at the market and how that was represented to the public.
In a statement on its website at www.ptbofarms.com, PRFN alleges the Saturday market board "is not following its own rules" and further "created the framework to unjustifiably kick out seven local vendors."
"We didn't have any intention of starting another market until we were forced into making that decision," says Hannam, noting the board received "multiple" offers of space for the new market.
"We never had a doubt there was widespread support (for us) because the default is when you go to a local farmers' market, you expect to be able to buy local food from farmers. That's the premise."
Hannam explains PRFN is employing a two-stage third party verification process to ensure all food sold at the market is indeed local.
"Every farmer has to fill out a Farmers Market Ontario 'My Pick' (form) — What are you growing? How much? What does it look like? How much power do you use? How many seeds have you put into the ground? It's very detailed. Other verifications are certified organic – there's a whole process about what it is you're growing. And there's the Canadian Food Inspection Agency which deals with quotas. Third-party verification … that's the kind of verification we're talking about."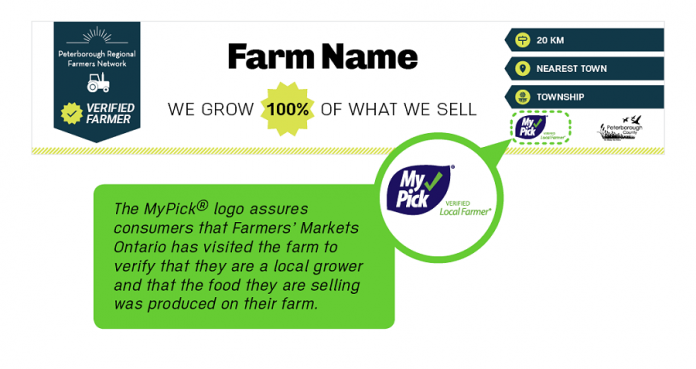 "In addition, we're going to have a citizens' committee. People like myself and other farmers are going to show up at your farm and say 'Hey, how it's going? What's in your greenhouse?' When you arrive June 9th, you don't have to think 'Is any of this not local?'"
Saying the number of vendors is "a work in progress," Hannam added "My phone was ringing all day today. There are a number of vendors looking for a home. There's a number of small local farms that never had access to the existing market, so this is their opportunity to come and shine."
With the new market set to open, there are now three in the city — the new market, the aforementioned Saturday morning market, and the Wednesday Downtown Peterborough Farmers' Market held on Charlotte Street. If Hannam is concerned that three markets is too many for the community to support, he's not showing it.
"That's going to be up to the consumers to decide. People are looking for a place to go and support local farms. They're looking for authentic third-party verification (of locally produced food)."
Hannam invites anyone interested in being a vendor to apply at www.ptboregionalfarmersmarket.org.
Along with Hannam, the other members of the PRFN board are Peter Hughes, Josh Blank, and Melissa Johnston.
For his part, Guiel is thrilled that AON has stepped up to give the new market a downtown home.
"This is a really creative space … it's a hidden gem in the downtown," said Guiel.
"Having a farmers' market in the downtown is essential for the cultural spirit of the downtown. It's where they belong. It just makes a whole lot of sense.
"This is just another addition that separates the downtown from other areas of the city. It just makes us even more outside the ordinary."