The Innovation Cluster Peterborough and The Kawarthas held its annual general meeting on Thursday afternoon (May 31) at the downtown incubator on George Street.
The event offered an opportunity for the public to hear what the local organization has been working on in the past year — including supporting businesses and employment with an economic impact exceeding $10 million.
John Desbiens, Chair of the Board for the Innovation Cluster, proudly relayed the various successes of the organization.
"I'm sure we've exceeded the imagination and expectation of the founders," Desbiens said. "I think they would be proud of what the Innovation Cluster team and entrepreneurs have accomplished."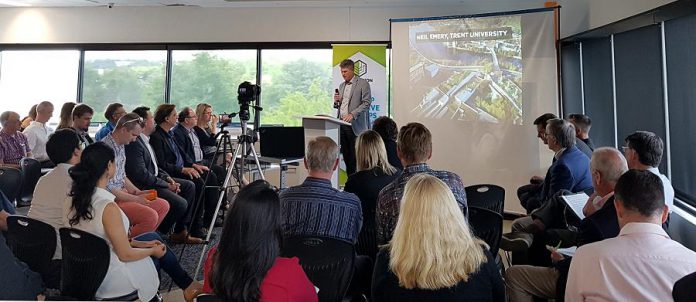 Dr. Neil Emery, Vice President of Research and Innovation at Trent University, explained to the audience that the Innovation Cluster, which started at Trent as the DNA Cluster focusing on forensics and life sciences, has continued to positively impact the community and young entrepreneurs since its inception in 2004.
The newly renovated Innovation Cluster now focuses on four key sectors: clean technology, agriculture technology, digital technology, and health care technology. The organization supports startups, helps with relocation or expansion of companies, facilitates the creation of new jobs, and assists clients in the process of procuring public and private investments.
"This success is only possible with the combination of the history of everyone involved, combined with our current staff, board of directors and most importantly the entrepreneurs that are willing to take the risk to follow their dreams," said Michael Skinner, Innovation Cluster President and CEO.
Skinner told the audience that, while 80 per cent of startups normally fail within the first two years, that number is reduced to less than 30 per cent with an incubation program like the one offered at the Innovation Cluster.
The organization, said Skinner, has proven that startups can succeed if there are programs to support them.
The Innovation Cluster reports it has supported 77 companies to date. These companies now employ 141 individuals, with an overall economic impact of $10,950,587 — surpassing the organization's own targets.
"That money from sales gets re-invested into our community," Skinner said.
Other speakers at the organization's annual general meeting included: Tony Tilly, President of Fleming College; Tim Barrie on behalf of Peterborough Region Angel Network; John Fielding, Regional Director, Business Development at Ontario Centres of Excellence; Ribat Chowdhury of Ribitt; and Brian Robinson of Horizon Aircraft.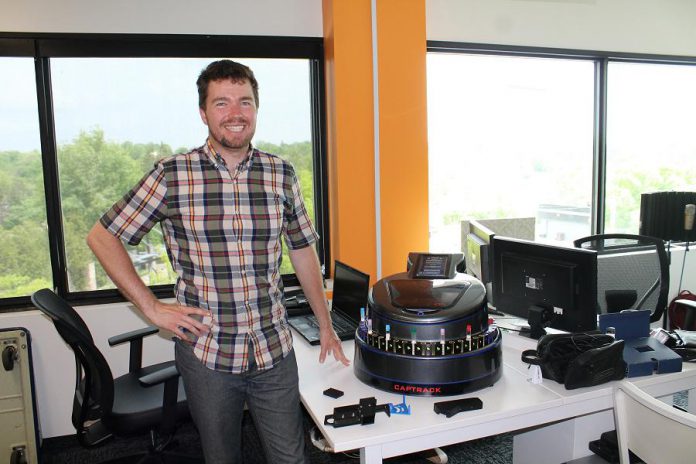 These speakers highlighted the diversity of projects undertaken by the entrepreneurs at The Cube, as clients and employees refer to the Innovation Cluster's business incubation space.
Alex Bushell of Lab Improvements has been working out of the Innovation Cluster for three years, beginning when the organization was operating as the DNA Cluster at Trent.
Bushell and his partner Steve Wright developed CapTrack, a device that caps specimen tubes for medical laboratories.
It is a simple task that can now be done by a machine, Bushell explained. Prior to this development, capping was done manually.
Bushell emphasized that his device does not aim to replace people's jobs with machines.
"The device optimizes people's time," Bushell said. "Automation sometimes gets a bad reputation for replacing jobs that people could do, but this device still requires highly trained workers. It just makes their work more efficient."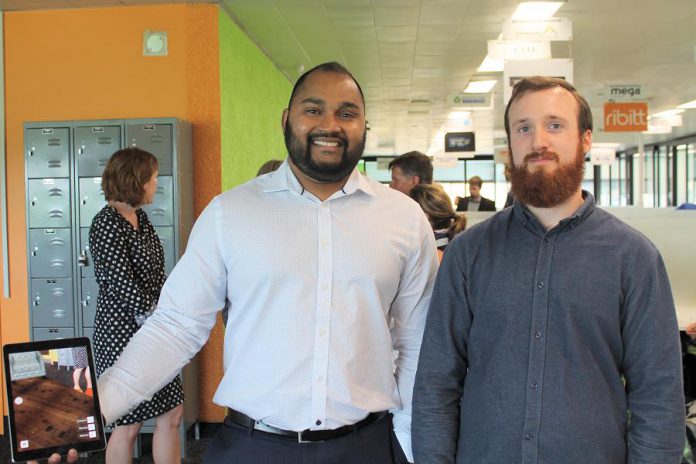 In another part of The Cube, Sanu Somaweera and Alexandra Campbell of Kavtek Software have developed an augmented reality app for Apple and Android phones.
The home remodelling app allows users to digitally design a space by adding content on top of real images.
"The idea is that a realtor could use the app to re-imagine the entire space," said Chris Bollissimo of Kavtek Software. "For example, a user can scan an area in front of them, such as a carpeted floor, and put hardwood floor on the space. You can also add furniture, like chairs, which are actually available to purchase."
While interior design software is available to real estate professionals, not many software options exist that allow users to instantly redesign a space.
A common theme among entrepreneurs at The Cube was identifying a potential market for their product vision.
Brooke Hammer, Founder of Chimp Treats, has successfully tapped into a market in the vegan food industry.
Hammer was in her last year of school at Trent University when she developed Nice Cream, a brand of frozen fruit products that is now selling coast-to-coast in 150 different stores across Canada. She discovered no one on a commercial level was manufacturing a product from bananas, and knew from people she talked to that there was a need for a healthier option. Nice Cream is vegan, non-dairy, contains no added sugar, and is low fat.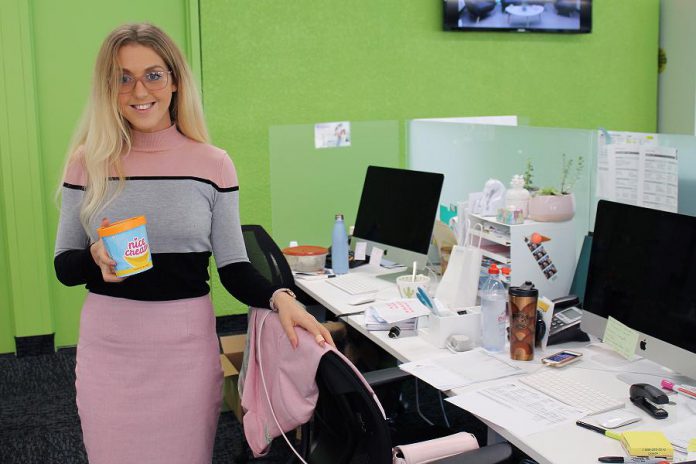 Hammer first brought her product to market through Jo Anne's Place, a local health food store with two locations in Peterborough and one in Lindsay.
"I made it in my kitchen and brought it in a tupperware container," she said. "I would buy packages, make and print out labels, and put it all together and deliver it to Jo Anne's."
Hammer said she wants to maintain the integrity of the product as her company continues to grow.
"Product quality has always been a top priority," she explained. "I like that the product is so accessible to everyone. Even babies can eat it. As we expand, I want to stay true to the vision of making a product that is just fruit. I want to be able to say we are entirely fruit."
Whole Foods was the first large company to carry Nice Cream in June 2017 and, since then, Chimp Treats is now carried by Sobey's, Metro, stores in the GTA, and even IGA and online retailers in British Columbia.
Despite the growth that Chimp Treats has experienced, Hammer still manages to do most of the product demonstrations herself.
"It's a great chance to talk to people and see how your product is being received. It's the best research. Do people care about low fat? Do people care about sugar content? You find out what matters to people."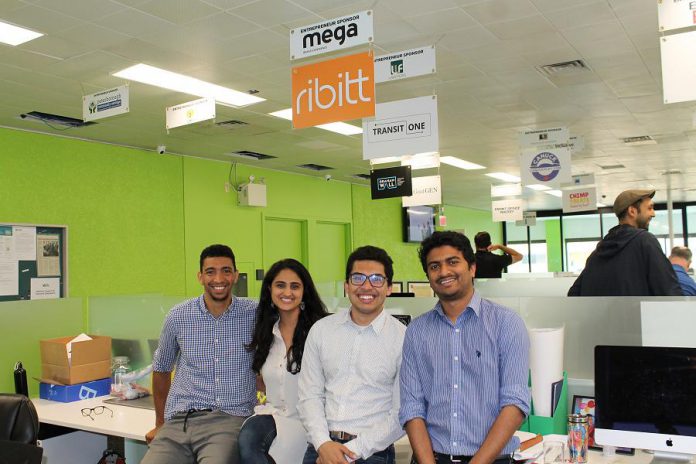 Ribat Chowdhury, who also addressed the crowd during the annual general meeting, believes in supporting local businesses.
Chowdhury, along with his co-founder Sana Virji, developed Ribitt, an mobile app that rewards people for shopping locally.
The app allows users to collect points by shopping at local vendors registered on Ribitt and those points can then be transferred to dollars.
Ribitt services Peterborough and the Roncesvalles neighbourhood in Toronto. So far, the app has been downloaded 5,000 times.
Chowdhury's vision is to have Ribitt in every community.
"We want to empower local business and bring them together, and we're glad to be able to build our product from Peterborough."
Networking and partnering with organizations and individuals within the local community is an invaluable experience that the Innovation Cluster offers clients.
Lab Improvements' Bushell said his experience at The Cube has been fantastic.
"There's such a wide range of business experience here. There are a lot of resources at your fingertips and you get to work with many different partners."
Other entrepreneurs relayed similar positive experiences at The Cube.
In his address to the crowd, Brian Robinson of Horizon Aircraft said the organization offers "access to incredible resources." He's been working on his project — a hybrid electric aircraft for personal transportation use — for a decade and noted access to resources as a barrier.
Geoff Wolfer of Front Office Hockey, an online registration platform for hockey camps, clinics, and lessons, stated that working at The Cube is inspiring and keeps him motivated.
"It's motivating to be around other people that are in the same position as you. It motivates you to keep going."
Likewise, Kavtek Software's Somaweera and Bollissimo described their experience as phenomenal.
"I don't think we'd be where we are without The Cube," said Somaweera.