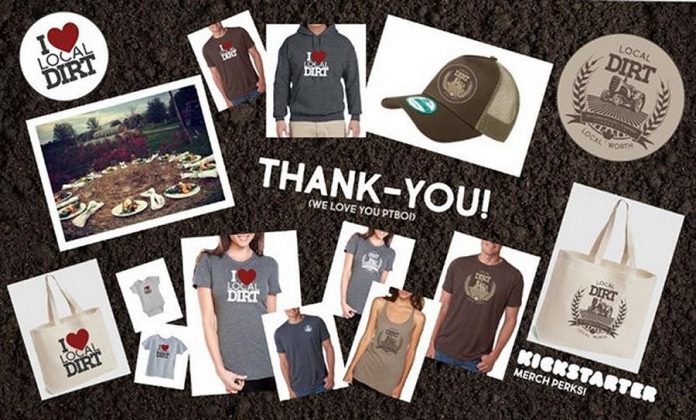 Just one week before the new Peterborough Regional Farmers' Market is set to open, the people behind it are now asking the public to help cover the costs of starting up the market.
Earlier today (June 1), the Peterborough Regional Farmers Network (PRFN) issued a media release announcing the launch of a Kickstarter campaign to support the market, which opens on Saturday, June 9th in the Citi Centre Courtyard at 307 Aylmer Street North in downtown Peterborough.
The PRFN says it hopes to raise $15,000 to help cover the start-up costs of the new market through the crowdfunding campaign. According to the media release, the campaign will include six different donation tiers ranging from $10 to $500.
Depending on the donation tier, backers will receive perks ranging from buttons labelled "I (heart) Local Dirt", to embroidered patches, decals, caps, t-shirts, and hoodies with a "Local Dirt, Local Worth" logo reflecting the theme of the campaign.
Those who give $500 will be invited to a "harvest dinner experience" in September at McLean Berry Farm, one of the farms behind the new market.
The campaign will run until Saturday, June 30th and will culminate in a celebration at the July 14th market where backers will be able to collect their perks.
The Kickstarter campaign is located at www.kickstarter.com/projects/2025612209/peterborough-regional-farmers-market.
A farmer-led not-for-profit group, the PRFN grew out of the Saturday Peterborough Farmers' Market's refusal to approve applications submitted by seven returning vendors. At the root of the dispute were board-expressed concerns over the source of food sold at the market and how that was represented to the public.
Correction: an earlier version of this story indicated the upper donation tier was $100 instead of $500.