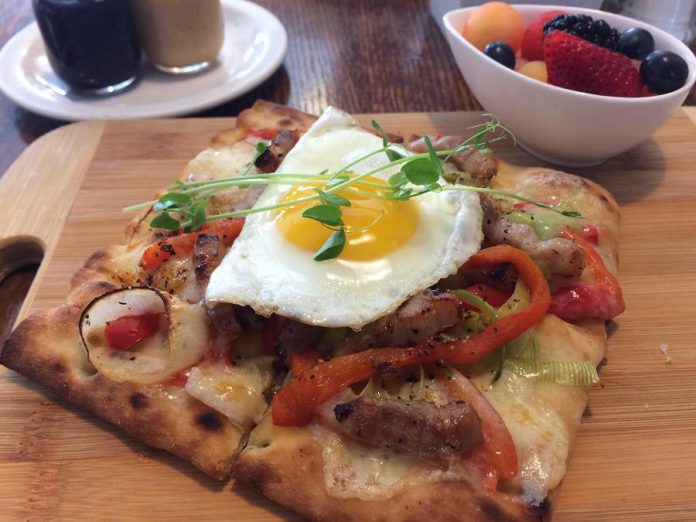 This month, our food writer Eva Fisher checks out the menu at the new Monaghan Café in Peterborough, talks to vendors at the new and old Saturday farmers' market in Peterborough, gets ready for a picnic in downtown Cobourg during the Cobourg Food and Music Festival, and learns about cooking in the backcountry with The Land Canadian Adventures.
---
Bold new ownership at Monaghan Café in Peterborough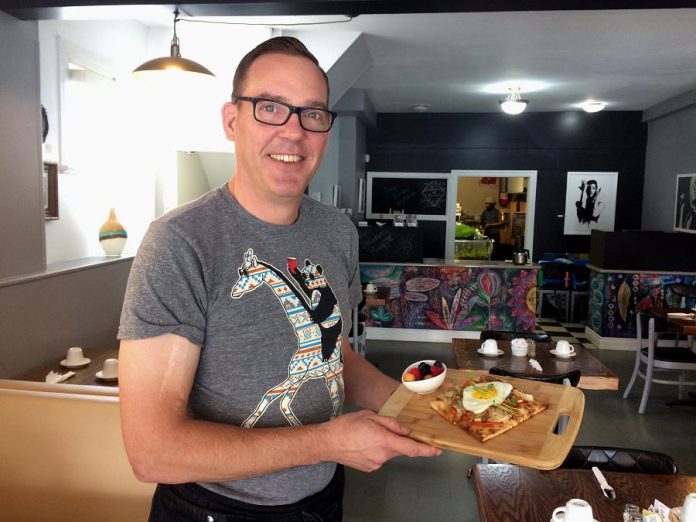 The Monaghan Café (1017 Monaghan Rd, Peterborough, 705-743-4800) has reopened under new ownership, and visitors to the classic Peterborough cafe will notice some changes.
A new menu offers fresh new options like the Sunny Up Pizza, a breakfast pizza with fresh herbs, a sunny-side up egg, and your choice of toppings (which could include seared salmon or pork belly, among others).
There are also a variety of Eggs Benedict, from the classic "Bubba" served with buttery hollandaise and your choice of pork belly or ham, to the "Not Just Florentine", served with a generous serving of seared salmon and an avocado hollandaise.
There are also vegetarian and vegan options. The Garden Bowl features fresh vegetables, potato, diced tomato, avocado, vegan bacon, jalapeno pesto, and cashew hollandaise.
Owner and Chef Jeffrey Wilfong has 25 years experience as an Executive Chef, beginning with a position at the British High Commission in Ottawa. Since then he has traveled and worked in France, England and Thailand. He served as Ron Joyce's personal chef at Fox Harb'r, and most recently he was the Executive Chef at Ste. Anne's Spa in Grafton.
At the Monaghan Café, Jeffrey works with his partner Ève-Alexandra St-Laurent, who is in charge of front-of-house, administration and public relations.
"We've always wanted our own little place that we could call home, and open our doors for everyone to come into our home," Jeffrey says.
The decision to open a restaurant came together suddenly.
"One morning I woke up, put my freshly pressed jacket on and got all dolled up and went to work, and realized an hour into my shift that I didn't have it anymore," Jeffrey recalls. "So I went to HR and resigned."
After finishing his shift he went home to tell Ève-Alexandra the news, but it turned out that she had some news of her own.
"She said 'Well, that's wonderful because we just bought the Monaghan Café!'"
From that time it was a whirlwind: finding a home in Peterborough, moving in, finding a school for his daughter, and reopening the cafe.
Some of the best details of the cafe have been preserved. That includes the stellar original waitstaff, and the cups of coffee that seem to small at first, but are constantly being refreshed. You can also still order a side of tomato slices with your meal.
For more information on The Monoghan Café, visit them on Facebook at www.facebook.com/themonaghancafe.
Peterborough now has two bustling Saturday farmers' markets
On Saturday, June 9th, a new Peterborough Farmers' Market was born.
The Peterborough Regional Farmers' Market runs every Saturday from 7 a.m. to 1 p.m. at the Citi Centre Courtyard (located beneath the Charlotte Towers) in downtown Peterborough.
The inaugural market was a hit, with 41 vendors attending, many of whom had sold out by 11:30 a.m. Peterborough Regional Farmers Market President Neil Hannam was delighted with the turnout.
"We didn't expect the whole city to arrive," he says.
A number of the 41 vendors present were previously vendors at the Peterborough Farmers' Market, a weekly market held beside Morrow Park.
That market is still in operation and is held at the same time as the new market.
Some vendors' applications to the summer Morrow market were denied, and they are now at the new downtown Saturday market. Some chose to leave the Morrow market for other reasons, while others opted to stay. I spoke with vendors about their decision to stay or go.
Why did you stay?
"We chose to stay here because we want to continue to be here for the customers who have made this market part of their weekly tradition, to include us in their Saturday of getting some perogies and a scone and just wandering around. That's a great thing to do on a Saturday. We also chose to stay for our vendor friends, because we have so many here. Whether it's our neighbours all around us or the Brunis next door, these are all people that we've spent the last five years of Saturdays with, and so they're massively important to us." – Graham Thoem, Hard Winter Bread Company
"I've been here all my life. As the late great Pino Bruni said, it's paid a lot of bills. I jokingly say that it's taken care of my farming habit for many years, and it's true. In '78 my dad started, and I wan born in '83, so it's a few years preceding me. Without this market being the way that it is, we would have never survived through the '90s. I'm very thankful for this place." – Andrew McIlmoyle, Waymac Farms
"I've come up here once or twice a year since I was younger. It's always been a super vibrant, booming market with all different types of vendors. I'm in my second year as a farmer and I see it as a great opportunity to sell my stuff here." – Tyler Davis, Foragers Farm (new to the Morrow market)
Why did you go?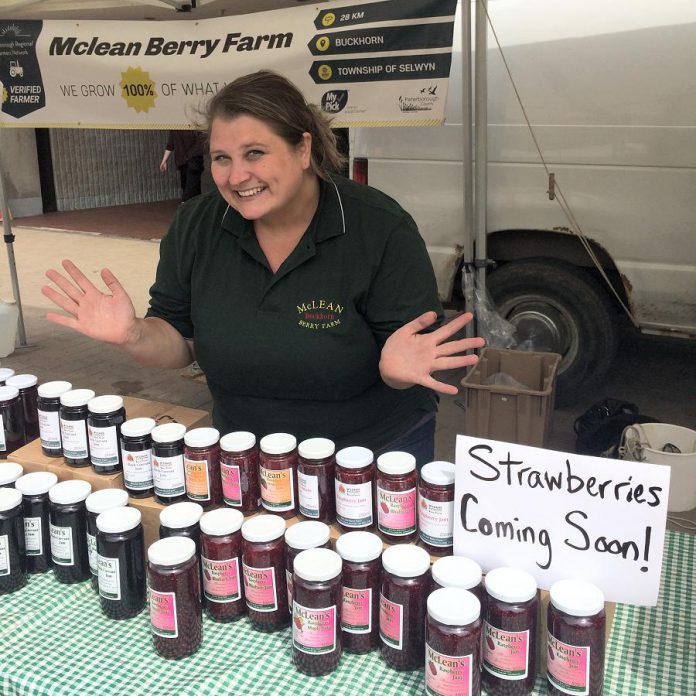 "We submitted an application and we weren't permitted to return. We've had crops in the ground for one to two years and tens of thousands of dollars, so we needed a place to sell things. We had to work with other people to make a place where we could sell." – Erin McLean, McLean Berry Farm
"I choose to shift my business to the new market because I cannot tolerate the decision and how it was executed by the board of directors in throwing out several true blue farmers! As well, the air there at the old market was becoming very heavy and many consumers have stopped shopping there. It feels like it's time for a new beginning, one that puts farmers first and the consumers as well." – Sherry Patterson, Chick A Biddy Acres
"The Farmers' Market — I loved them, it was a great place, I spent eight years there, but they don't follow their own rules. They aren't taking any responsibility and I just feel that it's not right." – Martin Carbajal, La Mesita Catering
"This market's so inviting for small farms. There are three other people here who are just like us, who just have an acre and love to grow vegetables." – Ben Carlsen, Rhyzosphere
"I think there's enough demand in Peterborough to support both markets and there are great vendors at both spots." – Devin LeBel, Rhyzosphere
Second Annual Cobourg Food and Music Festival turns King Street into a "Grub Hub"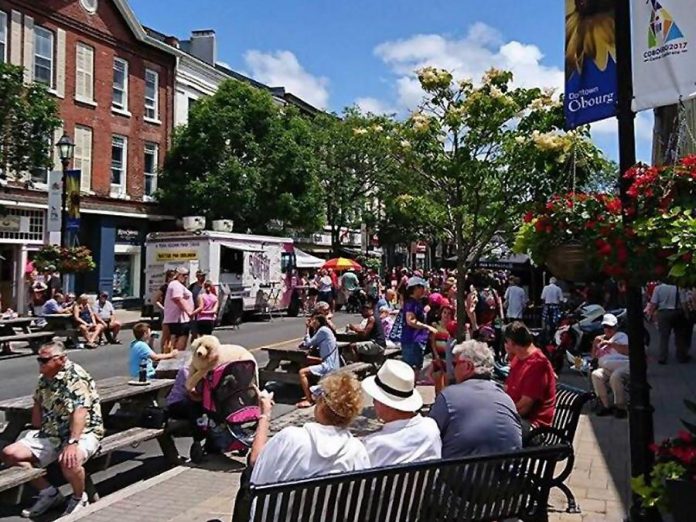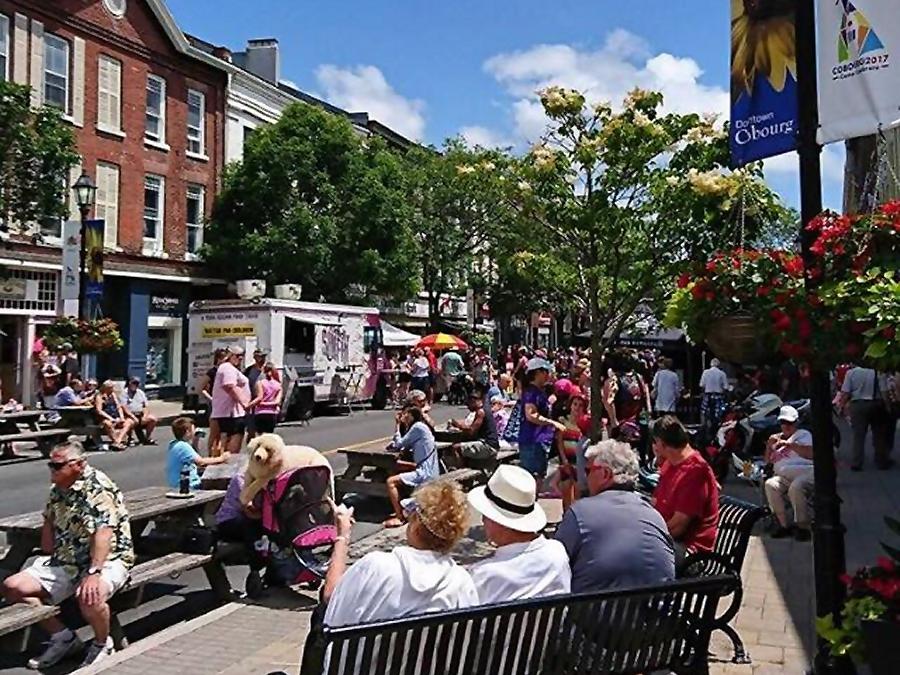 The Cobourg Downtown Business Improvement Area (DBIA) is hosting the second annual Cobourg Food and Music Festival on Saturday, July 7th from 11 a.m. to 9 p.m.
Last year, the festival closed two downtown blocks. This year, three blocks will be barricaded for the festivities.
This year's event will be picnic themed, with iconic red and white gingham tablecloths and plenty of picnic tables. Paige Wiggins, Event and Communications Coordinator for Downtown Cobourg, says that this event is all about eating communally.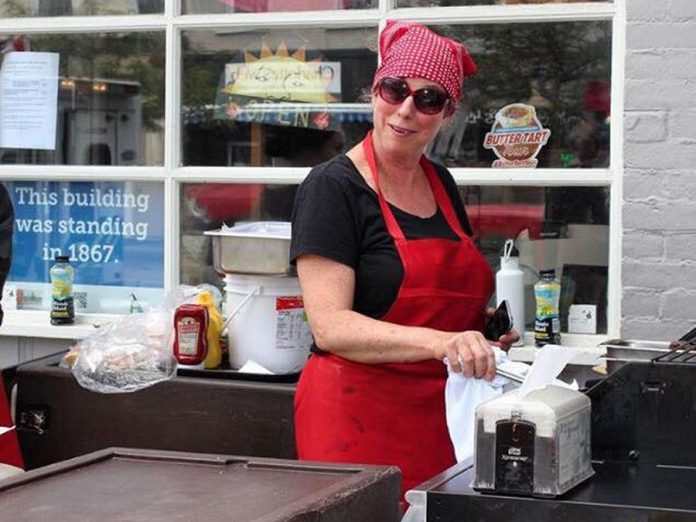 "We're going for the concept of a big family picnic. We really want people to eat together. So we're encouraging our restaurants to have a food and appetizer special, but something that they can easily make to go so that people can come and eat together."
Festival-goers can enjoy "Treat Central", a whole section of the festival dedicated to sweet treats.
Downtown Cobourg is home to Millstone Bread, The Dutch Oven, The Rustic Bean, The Human Bean, and the Black Cat Café, but more vendors will fill the street for the festival: KCC Catering, Our Little Bakery, Amina's Bakeshop, A1 Gluten Free Gals, Whistle Stop Café, and more.
The rest of the festival, which Paige dubs the "Grub Hub", will feature local restaurants already in the downtown, but will also contain food trucks. Paige is particularly excited for Meltdown Cheeserie, a food truck that specializes in over-the-top grilled cheese.
As the name implies, there will also be music. Max Mouse and the Gorillas, Storm the Palace, and Who Made Who (an AC/DC tribute band) are all slated to perform, among others.
Paige says that a food festival is an ideal way for people to build connection with their community.
"Even though people have different taste in music and different taste in food, there's something about everyone sitting down at a table that brings conversation and a sense of community."
The Land Canadian Adventures offers experiences for foodies gone wild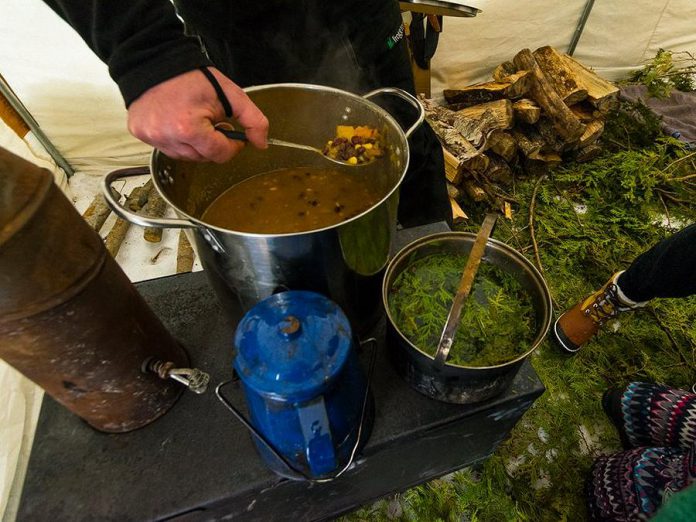 Could you make a delicious hot meal over a campstove?
The Land Canadian Adventures offers culinary courses that will not only enable you to eat well in the backcountry, they will teach you to identify and use wild edibles.
The Land Canadian Adventures is a team of local adventure guides who offer canoe trips, cycling trips, and a "School of the Wild Arts" to teach participants new skills such as photography, bushcraft skills, and backcountry cuisine.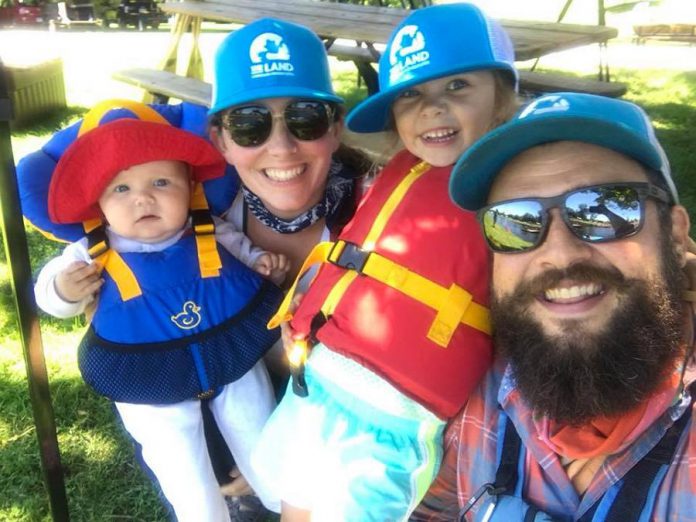 Bretton Clark, who founded The Land Canadian Adventures with his wife Briagh Hoskins-Hasbury, understands that food is an important part of any backcountry experience. At their backcountry cooking workshops, they approach food a little bit differently than your standard cooking class.
"Your first priority consideration is making sure that your dietary requirements are being met," Bretton explains. "This means dropping a bit of science right off the bat."
Bretton says that caloric expenditure on a trip can average 4,000 calories a day, so people should plan to eat more than they are used to on a trip to make sure that they stay sharp and strong.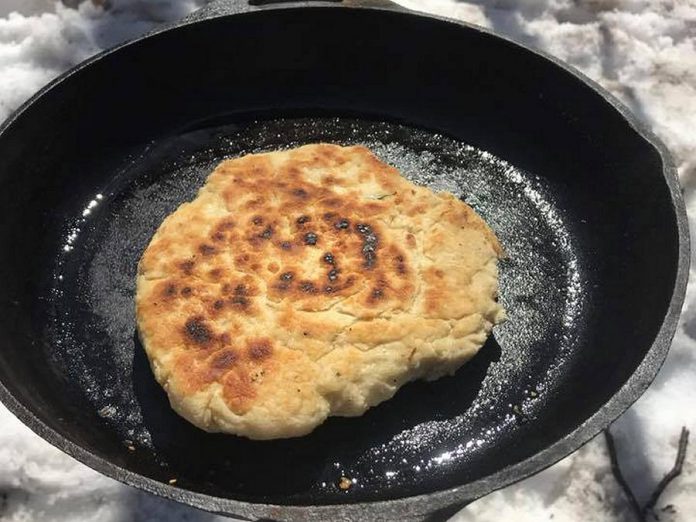 From there, participants are taught to build a menu to meet their needs, and to use cooking gear to prepare food in the wild.
"The flavour is so welcome when you're traveling all day. The trick here is to take the science and incorporate the art into it as well."
For Bretton, that means pineapple upside-down cake prepared in a dutch oven buried in coals, or hot apple crumble prepared for breakfast on the fifth day of a trip. Or Southern Thai Red Curry. Or Three Sisters Stew. Or dried mango slices. Or a good hot cup of tea. Food on a trip can be as diverse as food served at home.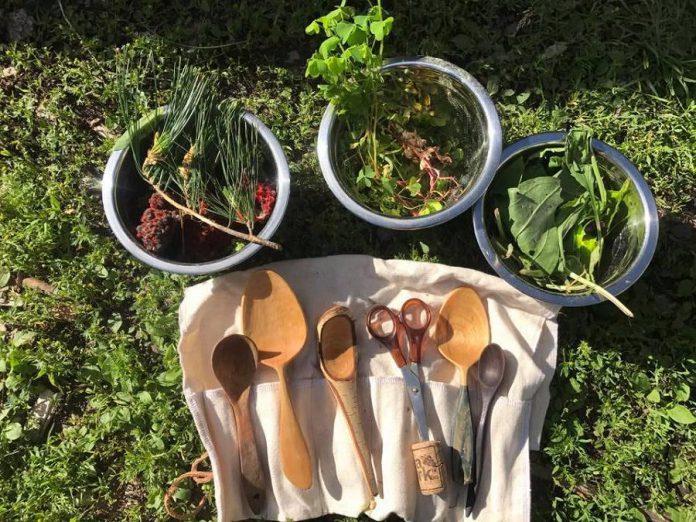 In addition to their backcountry cooking class, The Land Canadian Adventures offers "Wild Foodies Pick, Paddle and Party," an experience that teaches participants to identify and enjoy wild edibles.
"Food is everywhere, it's all around us… you can connect with nature by learning how it's there to help, whether medicinally or nutritionally."
Bretton says that once you start to recognize wild edibles, the whole landscape begins to look different.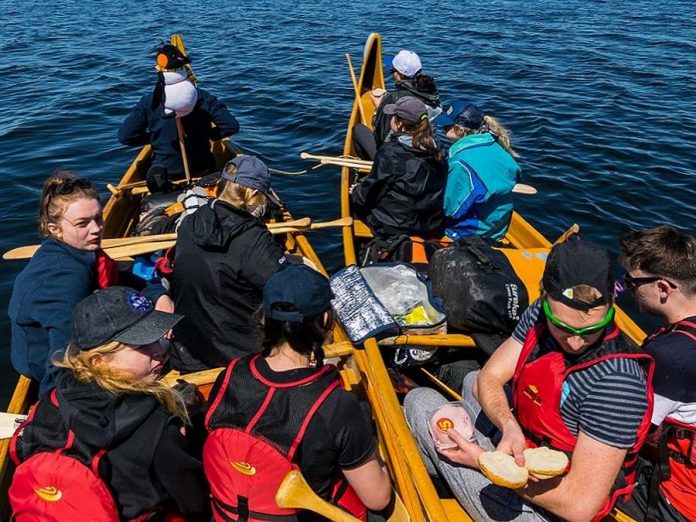 "You can't paddle through thousands of acres of sweet gale and not talk about the delicious little seed cones or the catkins with a peppery flavour … and when you make tea out of it it helps you to remember your dreams."
Lean more about The Land Canadian Adventures and their foodie adventures at canoecampingtrips.ca.