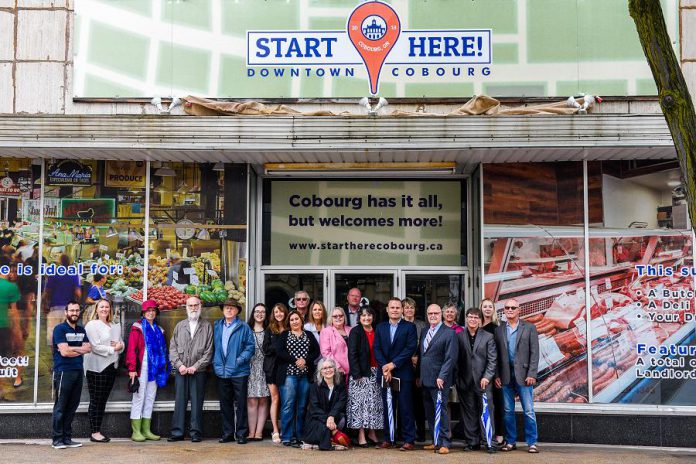 This week's business news features the launch of "Start Here" in downtown Cobourg, fully serviced office rentals from Peterborough Business Hub, the opening of Field Day Bed and Breakfast in Millbrook, Colborne Street Gallery of Fenelon Falls featured in The Toronto Star, Ritual Apothecary in downtown Peterborough now open for business, the new board for the Peterborough Downtown Business Improvement Area, the Canadian Mental Health Association, Haliburton, Kawartha, Pine Ridge seeking board members, and Board and staff changes at Regional Tourism Organization 8 (RTO8).
Regional business events added this week include an open house at the Peterborough & the Kawarthas Tourism Visitor Centre on July 12th and the application deadline for the Camp Startup youth entrepreneurial bootcamp on July 26th.
We publish businessNOW™ every week. If you'd like us to promote your business news or event in businessNOW, please email business@kawarthanow.com.
---
Downtown Cobourg launches "Start Here" business attraction marketing campaign
At the end of June, the Town of Cobourg, the Cobourg Downtown Business Improvement Area (DBIA), and the Northumberland Central Chamber of Commerce launched a new business attraction marketing campaign for downtown Cobourg called "Start Here".
The goal of the 12-month campaign is to attract businesses to the downtown, including supermarkets and other grocery stores, clothing stores (including women's clothing and accessories stores), specialty food stores, and a full-service restaurant (preferably a mid-scale family restaurant).
VIDEO: Start Here Campaign

The campaign will target potential business owners within a 45-minute radius of Cobourg, businesses with multiple (franchise) locations experiencing growth, and new entrepreneurs with a unique business concept.
"The Start Here Downtown Business Attraction Marketing campaign was created by the Downtown Marketing Partnership to further fulfill Council's strategic objective stating that we will complete the business attraction component of the Downtown Vitalization Action Plan," said Mayor Gil Brocanier. "We look forward to further rolling out this successfully executed marketing campaign as a team."
The campaign includes seven strategies, five of which have been completed: marketing materials including wrapping empty downtown storefronts into an attractive visual of what could exist within those spaces; a social media campaign; the launch of a website; attendance at trade shows within target sectors; and earned media coverage.
Two additional strategies to be implemented this fall include an "'Explore the Core" event (scheduled for September 12th) and the launch of an online, print, and broadcast advertising campaign.
For more information about "Start Here", visit www.startherecobourg.ca.
Peterborough Business Hub offers offers fully serviced office rentals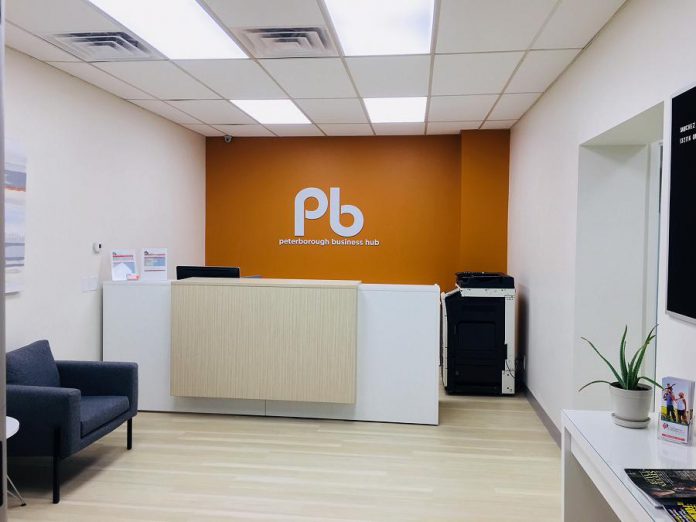 Peterborough Business Hub at 398 McDonnel Street in Peterborough held its grand opening in June.
The company offers "affordable space for business professionals", including both short- and long-term leases of office space.
Leases include free parking, choice of office layout, office furniture, after-hours keyless entry, administrative support, mail service, boardroom access, a fully equipped kitchen, secure Wi-Fi, high tech security, and more.
VIDEO: Peterborough Business Hub

The first business to use the service is Pilkington Immigration Law.
For more information on Peterborough Business Hub, email info@peterboroughbusinesshub.com or visit peterboroughbusinesshub.com.
Field Day Bed and Breakfast opens in historic Millbrook home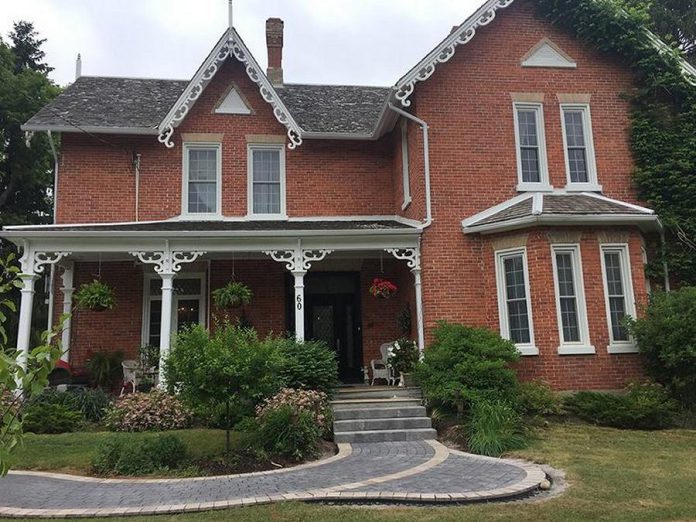 Field Day Bed and Breakfast in Millbrook held its grand opening on June 23rd.
Owners Brian and Kate (Segriff) Field have renovated their 4,500-square-foot Robert Amrstrong Heritage Home (also known to locals as the Westmacott House), built in 1874, into a bed and breakfast.
Field Day Art is also located in the home, featuring arts classes, a gallery, and art supplies.
The Fields offer overnight accommodation for both artists and non-artists, offering comfortable rooms with private bathrooms along with home-cooked meals.
The two-acre property has a park-like backyard, a swimming pool, and children's activities.
For more information, call 647-641-1236 or visit www.fielddaybandb.com
Owners of Colborne Street Gallery in Fenelon Falls featured in Toronto Star story about economic impact of cottagers
Chris Van Lierop and Tim Wisener, owners of Colborne Street Gallery in Fenelon Falls, were featured in a story in The Toronto Star on July 7th.
The Toronto natives, who previously summered in the area, moved themselves and their design business — Home By Tim+Chris — to Fenelon Falls last fall and opened a gallery. They have since become involved in the local business community.
The two are used as an example in a story by Tess Kalinowski about how rural municipalities are trying to encourage seasonal residents to become involved in the business life of the community.
"We decided Fenelon Falls is where we wanted to be because it needed some help," Van Lierop says in the story. "It needed some more businesses on the main street and a little bit more vibrancy."
Kalinowski's story also refers to a recent report from the Federation of Ontario Cottagers' Associations (FOCA) which "suggests there are opportunities to improve the vitality and viability of cottage communities by exploiting the talent, experience and wealth of cottagers."
FOCA executive director Terry Rees is also interviewed for the story.
"We've got to make sure our communities are thriving, aren't hollowed out," he says in the story.
Read the full story, entitled Can cottagers keep Ontario's lake regions afloat?, at www.thestar.com/business/2018/07/07/can-cottagers-keep-ontarios-lake-regions-afloat.html
Ritual Apothecary is now open in downtown Peterborough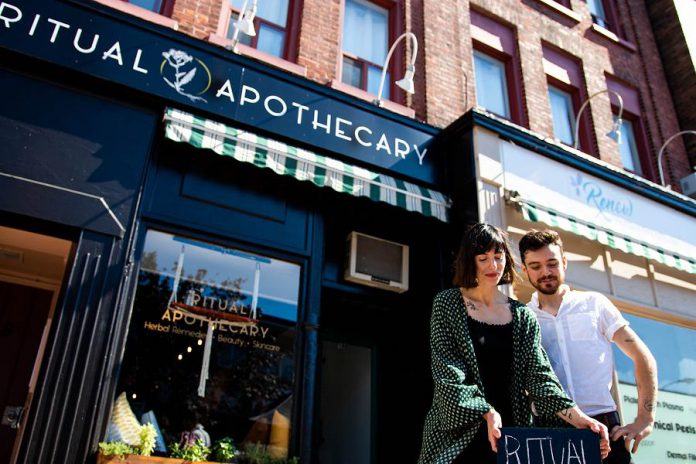 Nadine McCallen held the grand opening of her new store, Ritual Apothecary at 196 Charlotte Street in downtown Peterborough, last Wednesday (July 4).
The owner of The Willow's Bark, McCallen was the grand prize winner of the year's Win This Space entrepreneurial competition, which included one year of free rent in a downtown storefront.
"It will be the home of The Willow's Bark studio, which creates wildcrafted skincare and herbal remedies from locally foraged plants, as well as other like-minded companies producing all-natural, small-batch, sustainable beauty products, herbal remedies, and artisan goods with care and attention to protecting our natural habitat," McCallen says.
This is the second year for Win This Space, a competition that aims to support budding entrepreneurs and promote economic development in Peterborough's downtown. The initiative is made possible in partnership by the Peterborough Downtown Business Improvement Area (DBIA), Peterborough and the Kawarthas Economic Development, Community Futures Peterborough, and Shorelines Casinos.
"We are incredibly happy to see all of Nadine's hard work pay off," says Peterborough DBIA executive director Terry Guiel. "This new storefront not only gives her business the next step in reaching its full potential, but it also enhances the liveliness and economic vitality of our downtown. We hope this gives other business owners the inspiration they need to succeed."
The inaugural winner of Win This Space in 2017 was Tina Bromley of Tiny Greens.
New board elected for Peterborough Downtown Business Improvement Area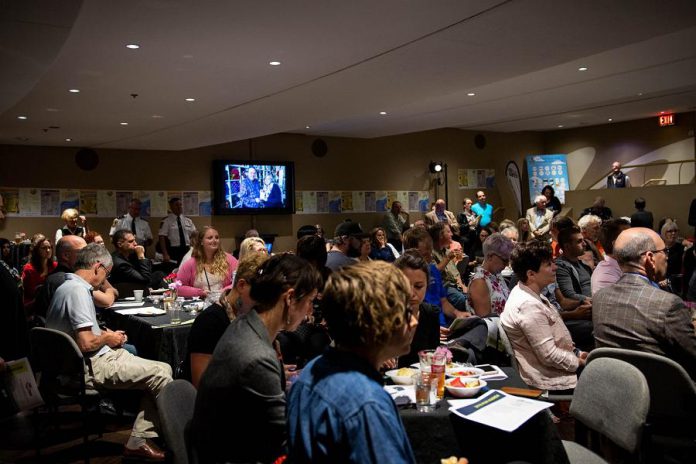 A general election of the board of management for the Peterborough Downtown Business Improvement Area (DBIA) took place the DBIA's annual general meeting on June 27th at Showplace Performance Centre.
The eight board members elected are Michael Cherney of Cherney Properties, Michael Gallant of Lett Architects, Paul Bennett of Ashburnham Realty, Tegan Moss of B!KE: The Community Cycling Hub, Sam Sayer of Sam's Place, Jean Grant of The Toy Shop of Peterborough, Brad Collyer of Grant Thorton LLP, and Sacha Lai-Svirk of BrandHealth.
The board members will serve a four-year term beginning in October 2018, along with an appointed representative from the City of Peterborough following the municipal election.
Canadian Mental Health Association, Haliburton, Kawartha, Pine Ridge seeking board members
The Canadian Mental Health Association, Haliburton, Kawartha, Pine Ridge (CMHA HKPR) is seeking applications for volunteers for its board of directors for the new board year beginning September 19th.
Applicants should live within the association's catchment area (Peterborough, Kawartha Lakes, Haliburton, and Northumberland) and demonstrate an understanding of the community and its mental health needs, as well as a passion to support mental health for all. The association is seeking with experience or knowledge across a variety of areas including the mental health system, Aboriginal mental health services, finance, law, fund development, board governance, stewardship, human resources, healthcare and not-for-profit organizations. Previous board experience is an asset.
The board meets throughout the year on the evening of the third Wednesday of each month, at locations in Peterborough, Lindsay, Cobourg, and Minden. Applicants must be able to commit to regular attendance at the monthly board meetings, as well as specialized committee meetings and representation of the organization at special events, including fundraising initiatives. The monthly commitment is approximately eight to 14 hours per month. Travel expenses are provided.
To apply, send a cover letter and resume by August 3rd to:
Canadian Mental Health Association Haliburton, Kawartha, Pine Ridge
Attention: Karen Wolff, Executive Administrative Assistant
415 Water Street
Peterborough, ON K9H 3L9
You can also email Karen Wolff at kwolff@cmhahkpr.ca or fax 705-748-4078.
Board and staff changes at Regional Tourism Organization 8 (RT08)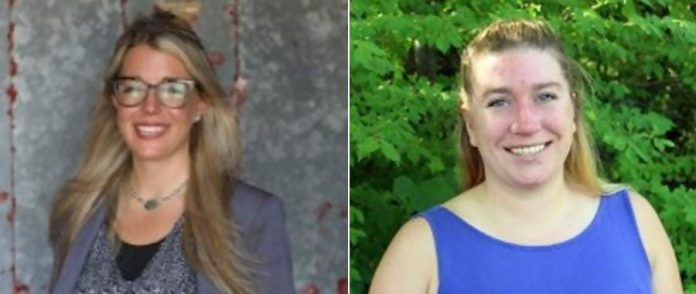 Several changes have taken place at Regional Tourism Organization 8 (RTO8), the organization funded by the Ontario Ministry of Tourism, Culture and Sport to promote regional tourism activity in the area that is now branded as Kawarthas Northumberland, and includes the City of Kawartha Lakes, the City and County of Peterborough, and the County of Northumberland.
Three new members have joined RT08's 12-person board in three-year positions: Bryan Buchanan, General Manager of Great Canadian Gaming – Shorelines Casinos; Montana DesJardins, CEO of the Market and Smor; and Thomas Wilkins, Digital Marketing Manager of Fleming College in Peterborough.
Abby Ross joined RT08 staff in June as the Partner Communications Lead. Contact Abby to list your experiences on the ontariotravel.net website, Kawarthas Northumberland Butter Tart Tour, Regional Tourism Ambassador Program, Trip Planner and the RTO8.com website. You can contact her at partner@rto8.com or at 705-874-8505 ext. 102.
Julie Cain also joined RT08 staff in June to cover a maternity leave. As Operations Coordinator, Julie will lead RTO8's Partnership Allocation Program along with board and office administration. She can be reached at admin@rto8.com or 705-874-8505 ext. 103.
Northumberland Central Chamber of Commerce Meet & Greet at Moonlit Pines Guest House on July 10
The Northumberland Central Chamber of Commerce is holding its next "Meet & Greet" networking event from 5 to 7 p.m. on Tuesday, July 10th at Moonlit Pines Guest House (6108-6A Curtis Point Rd., Roseneath).
Hosted by Chamber members on the second Tuesday of every month, this month's Meet & Greet will be hosted by Chris and Kerin Valcourt of Moonlit Pines Guest House. In addition to networking with other local business people, you'll have an opportunity to explore this beautifully appointed guest house.
The Chamber will also be announcing the travel partner and exotic destination for its 2019 Chamber trip.
The usual $10 non-member fee has been waived for this event, but advance registration is required at nccofc.ca/events/details/nccofc-meet-greet-moonlit-pines-guest-house-1341.
Peterborough & the Kawarthas Tourism Visitor Centre Open House on July 12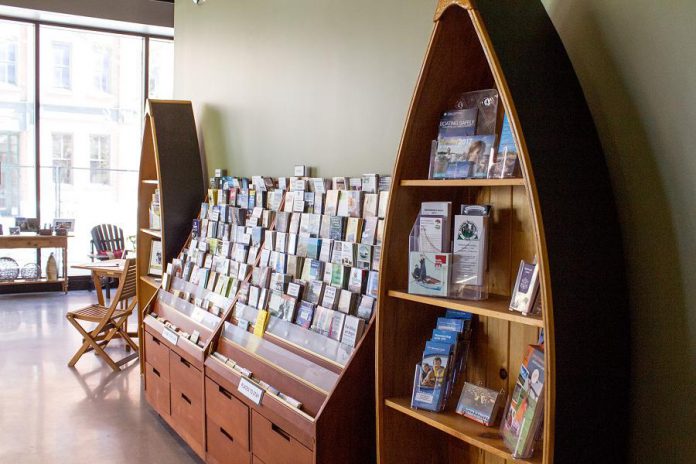 Peterborough & the Kawarthas Tourism is hosting an open house from 2 to 4 p.m. on Thursday, July 12th at the Visitor Centre (270 George St. N., Suite 101, Peterborough).
Called "Get the Scoop", the open house is intended for tourism partners, community members, and local media to learn about the visitor services and resources available through the Visitor Centre.
The event will include free ice cream (while quantities last), face painting with Faces by 2, and activities and fun for kids.
To RSVP, contact Cara Walsh at cwalsh@peterboroughed.ca or 705-743-0777 ext. 2116 or respond via Facebook at www.facebook.com/events/412393355942602/.
Application deadline for Camp Startup youth entrepreneurial bootcamp is July 26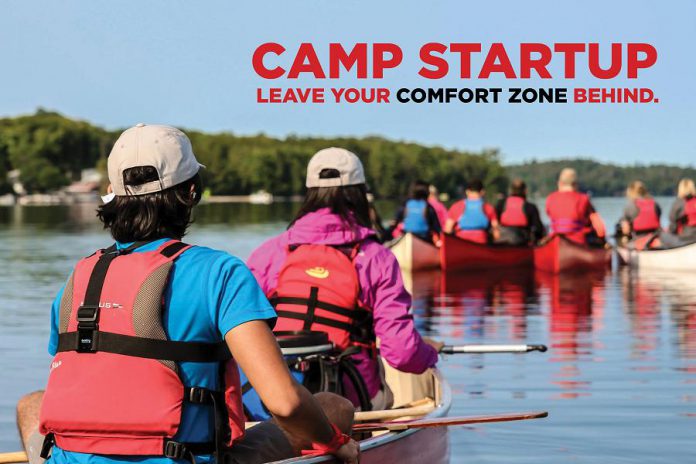 Previously known as Kawartha Backcountry Entrepreneurship Experience, Camp Startup is a new adventure for young entrepreneurs to push their limits past their comfort zone and dive into the world of entrepreneurship.
In September, 20 successful applicants will experience an action-packed weekend at Camp Kawartha. The weekend is open to all aspiring and current entrepreneurs between the ages of 18 and29 who want to learn about starting their own business or further develop their skills.
The costs are covered by FastStart Peterborough, but you must apply for one of the 20 spots by Thursday, July 26th at midnight. To find out more and to apply, visit www.innovationcluster.ca/campstartup.
Innovation Cluster hosts "Power Breakfast: Women in STEM – Building Business and Breaking Barriers" on July 27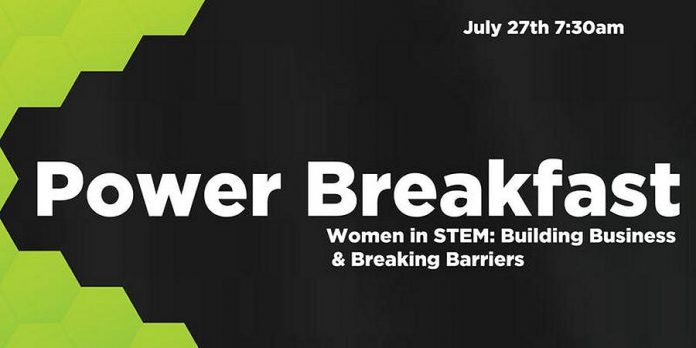 The Innovation Cluster is hosting "Power Breakfast: Women in STEM – Building Business and Breaking Barriers" from 7:30 to 9:30 a.m. on Friday, July 27th at Holiday Inn Peterborough-Waterfront (150 George St., Peterborough).
Over a hot breakfast, four successful female entrepreneurs will speak about their experiences in the fields of Science, Technology, Engineering, and Math (STEM), as well as the importance of maintaining and promoting women in STEM.
The speakers are Dr. Kate Withers (Business Development Manager for Central Ontario from Ontario Centres of Excellence), Miriam Verberg (Executive Producer of Bloom Digital Media), Dr. Andressa Lacerda (Chief Development Officer and Co-Founder of Noblegen Inc.) and Rhonda Barnet (President and Chief Operating Officer of Steelworks Design and National Board of Directors Chair for the Canadian Manufacturers and Exporters).
Presented by Southern Ontario Fund for Investment in Innovation, the event is free but seating is limited. Advance registration is required at www.eventbrite.com/e/power-breakfast-women-in-stem-building-business-and-breaking-barriers-tickets-46845151108.
Northumberland chambers host accessibility workshop for businesses on August 13
The local chambers of commerce in Northumberland County are hosting the "Discover Ability Workshop" from 6 to 8:30 p.m. on Monday, August 13th at Warkworth Legion (6 Norham Rd., Warkworth).
You can learn about the Accessibility for Ontarians with Disabilities Act (AODA), how it applies to your business (including your responsibilities under the legislation), and the advantages of developing an inclusive workforce. Light refreshments will be provided.
For more information and to register, visit business.trenthillschamber.ca/events/details/discover-ability-workshop-2831.