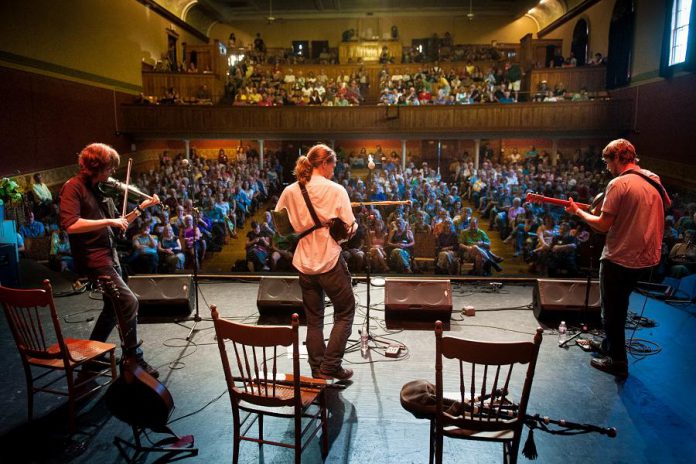 If you're a fan of Celtic music, whether moving ballads or foot-stomping jigs and reels, you won't want to miss a rare local performance of Cantrip when the trio of multi-instrumentalists comes to the Market Hall in Peterborough on Thursday, August 9th to perform a mix of traditional and original music.
The band's name is an archaic Scottish word meaning a mischievous or playful act, reflecting both the unexpected twists and turns in the trio's musical arrangements as well as their exceptional musicianship.
Cantrip was originally formed in Edinburgh, Scotland in 1999 as a quartet with current members Dan Houghton (bagpipes, flute, whistles, guitar, bouzouki, vocals) and Jon Bews (fiddle, vocals), along with Cammy Robson (guitars, bouzouki, banjo) and Ian Willis (percussion).
After playing the local pub and festival circuit, the band was signed to Scotland's Foot Stompin' Celtic Music label, and released their debut album Silver in 2001 (now out of print).
VIDEO: "Old, Waily, Windy Nights" – Cantrip

Following years of touring, including across the United States, the band went independent and released two more albums on their own: 2005's Boneshaker and 2008's Piping the Fish.
Soon after, the band redefined itself as a trio, with Robson and Willis leaving the group and American native Eric McDonald joining to perform on guitar, mandolin, bouzouki, and vocals. This led both to tighter arrangements and new creative inspiration for Cantrip's sound, resulting in the release of The Crossing in 2016.
"Their presentation is all energy as they channel modern swoops and slides of sound into the traditional repertoire," writes The Orcadian, a newspaper from the Orkney Islands in Scotland. "Their music comes from wild landscapes and wild places of the spirit."
VIDEO: Four Tunes by Cantrip

"Cantrip pulls together Breton, Scandic, a touch of the Balkans, and several strands of Scottish music to produce a rich and savoury feast from what is basically three lads having fun," writes Alex Monaghan in Irish Music Magazine.
Now, almost 20 years later, Cantrip is revisiting its roots and will be releasing a live version of their first album, Silver, in the fall of 2018.
Cantrip performs at Market Hall Performing Arts Centre (140 Charlotte St., Peterborough, 705-749-1146) at 8 p.m. on Thursday, August 9th. Tickets are $23 and are available from the Market Hall Box Office or online at markethall.org.
Celtic music fans will want to take advantage of a special bundle offer from the Market Hall: if you order tickets for both Cantrip and the April Verch Band featuring Canadian fiddler and step dancer April Verch on Sunday, October 21st, you will save $5 on the order. Bundles are available online at markethall.org.
VIDEO: Cantrip in Arlington

Dan Hougton (bagpipes, flute, whistles, guitar, bouzouki, vocals)
Dan was born in the West Afrian nation of Ghana, but was transported to Scotland shortly thereafter, where he was surrounded by the indigenous music. He began his career with the whistle at age seven and started playing bagpipes in the early 1990s, proceeding to win the Scottish Lowland and Border Pipers' Society Open Borderpipes and New Composition events multiple times, as well as the Maitre de Cornemuse at St. Chartier.
Over the years, he increased his versatility as a multi-instrumentalist, becoming an accomplished player on the flute, bouzouki, and guitar (in the popular DADGAD Celtic tuning). In 2010, with the help of many friends (including Jon Bews), Dan released his first solo recording The Long March Home. An instructor at the Vermont Institute of Celtic Arts, Dan can be heard as a member of Parcel of Rogues, Prydien, and Salsa Celtica as well as Cantrip.
Jon Bews (fiddle, vocals)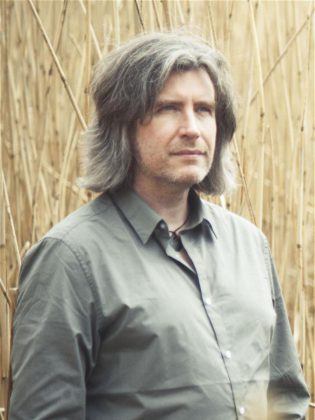 Having started playing fiddle at the age of four, Jon came to Scots music from a classical education by way of Goth rock. But it didn't take long for him to entrench himself in the world of Celtic music and carve a name for himself as a fiddler. A prize-winning graduate of the Royal Conservatoire of Scotland in 1994, he has performed and recorded with such diverse artists as Malinky, James Yorkston, Mikel Urdangarin, Ranarim, Deaf Mutes, and Samling. In addition to Cantrip, he currently plays with Edinburgh-based bands Urvanovic, OBT, and League of Regrettable Superheroes.
Jon is also widely recognised as a composer and arranger. His string arrangements have been sought out by Ewan MacPherson and Fribo and his tunes have won high acclaim. Jon moved to the Scottish Borders in 2003 where he spent two years as Traditional and World Music Development Worker for Scottish Borders Council.
Eric McDonald (guitar, mandolin, bouzouki, vocals)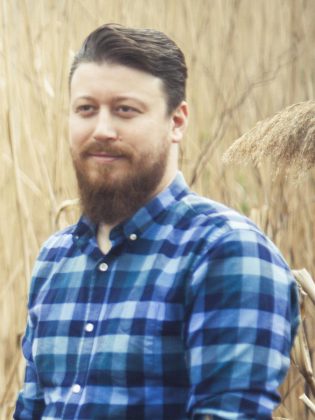 The only American member of Cantrip, Eric found his way to traditional music through the rich local music scene in his hometown Boston.
Nearly a decade after studying at Berklee College of Music under world-renowned musicians including guitarist/mandolinist John McGann and cellist Eugene Friesene, he is now established as one of the USA's premier accompanists in many styles.
Eric cut his teeth playing for contra dances in New England, and can still often be seen from the dance floor. He is an active session player, regularly recording and traveling with musicians of many stripes. Touring credits include The Outside Track, Chris Norman Ensemble, Andrea Beaton, Wendy MacIsaac,and Katie McNally.
In addition to Cantrip, he can currently be seen touring with traditional Irish music trio Daymark, Scottish fiddle champion Ryan McKasson, and award-winning singer-songwriter Connor Garvey. In addition to guitar accompaniment, Eric's debut solo album Rove features his unique style and approach to tunes on the mandolin, as well as carefully crafted deliveries of traditional ballads on voice and guitar.
VIDEO: The Crossing fundraising pitch – Cantrip