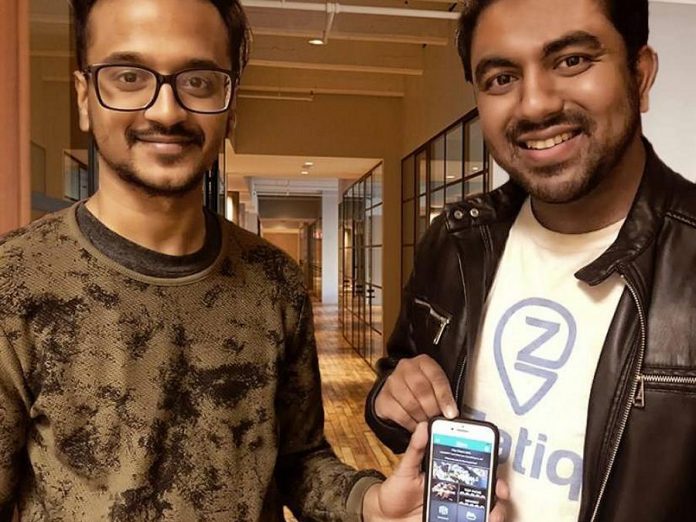 This week's round-up of regional business news includes the global expansion of Peterborough-based start-up Zatiq, realtor Ben vanVeen and former radio host Catherine Hanarahan launching a new real estate venture, the grand opening of The Schnitzel Shack in Port Hope, and the soon-to-be-open Lakefield Bakery On Queen.
Other news includes Peterborough's Tanna Edwards selected as Soroptimist International of the Americas Governor for Eastern Canada Region, Peterborough-Kawartha MP Maryam Monsef hosting a manufacturing and trade roundtable with Canadian Manufacturers & Exporters, Peterborough businesses on the move downtown, and the Peterborough Chamber of Commerce seeking members for its 2019 board of directors.
Regional business events added this week include a Starter Plus Workshop for Hastings County residents on July 17th, and the Love Local Ptbo Business Expo taking place this year at the Envinrude Centre on October 3rd.
We publish businessNOW every week. If you'd like us to promote your business news or event in businessNOW, please email business@kawarthanow.com.
---
Peterborough food app start-up Zatiq expands to Africa and Pakistan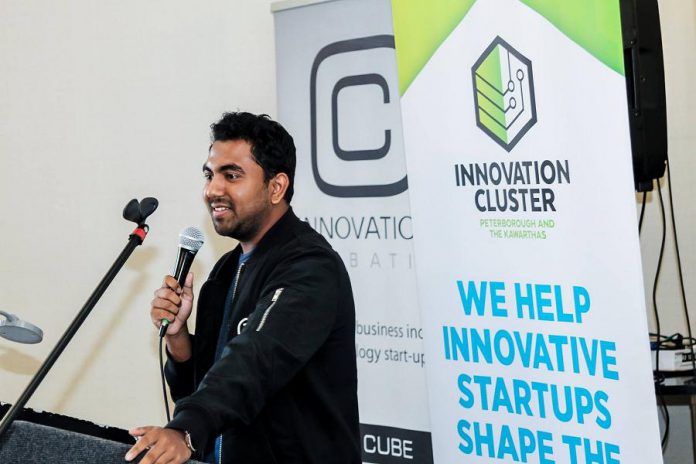 Peterborough-based startup Zatiq, which has developed a mobile app that uses artificial intelligence to match consumer food cravings with local meal locations, is expanding to Africa.
Founded by entrepreneur and Trent University student Sultan Moni along with Hasan Jafri, Zatiq has partnered with Luxér Corp. to expand its operations to Africa, with the first location is in Lagos, Nigeria with 35 businesses participating. Zatiq has also launched in Pakistan this summer.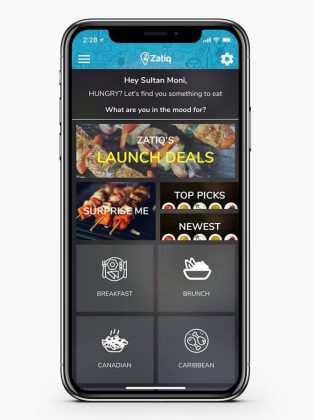 "Luxer's partnership with Zatiq for Africa's expansion is going to bring a lot of technological advancements to different countries in Africa," says Ayodeji Folikwe, Luxér CEO.
Zatiq now has 33 employees, including 11 in Canada, 20 in Nigeria, and two in Pakistan.
"It is an exciting time for Zatiq," Moni says. "In less than a year we were able to grow from a team of two co-founders to 33 members. Our expansion strategy will not only bring in more users and businesses on board but also create over 20 jobs in Canada within the next six months."
While a client of the Innovation Cluster, Zatiq launched the app in July 2017, leading to 54 restaurants in Peterborough providing their menus on its platform, including Popeye's, Silk Roots Fusion Cuisine, and Curry Village.
Moni has since added an augmented reality "smart menu" to the app, so users can see an exact visual of how their meal will look in 3D. Zatiq is also introducing customer relationship management software for restaurants to manage their workflow better.
The app was initially launched on the Android platform only, but is now also available for i0S devices. You can download it from Google Play and the Apple App Store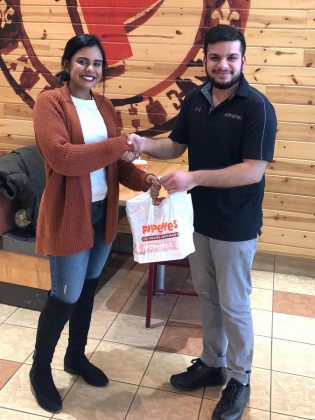 Despite the global expansion, the Zatiq team is continuing to invest in the local community. Through an exclusive sponsorship contract with Popeye's Peterborough, Zatiq is able to provide free food to users throughout the year.
"Large quantities of food are wasted by restaurants at the end of every day, which we thought could go towards people in need," Moni says. "I was surprised by how eager Peterborough's restaurant owners were to get on board, especially Asaad Butt of Popeye's Peterborough."
Popeye's Peterborough has signed a 12-month contract to allow Zatiq to offer free meals that would otherwise be wasted from its restaurant.
Moni, who was a finalist for RBC's Immigrant of the Year award, has also joined the board of directors of the YES Shelter for Youth and Families.
Ben vanVeen and Catherine Hanrahan launch Team Vanrahan real estate
Catherine Hanrahan, who recently retired from her career as a radio host, is teaming up with her life partner Ben vanVeen of Century 21 to launch a new venture called Team Vanrahan.
"The talented and driven Catherine Hanrahan and I will be joining forces to bring our clients everything they need in Real Estate," vanVeen writes on Facebook.
The Schnitzel Shack opens in Port Hope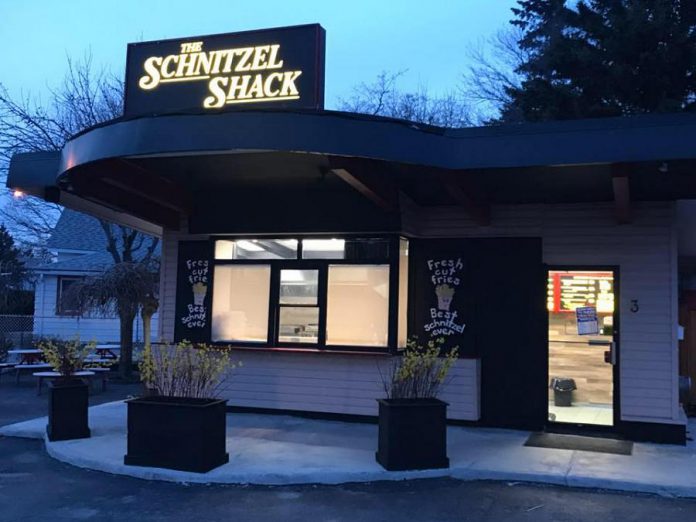 Port Hope's latest restaurant, The Schnitzel Shack, held its grand opening last Tuesday (July 10).
Owned by Anja Rohlfs, The Schnitzel Shack offers a variety of take-away schnitzel dishes — pork, Parmesan, chicken, and eggplant — in both sandwiches and standalone meals, as well as poutine and french fries.
The grand opening ribbon-cutting ceremony was attended by Port Hope Mayor Bob Sanderson, orthumberland Peterborough South MPP David Piccini, and Port Hope and District Chamber of Commerce board president Heather Norris.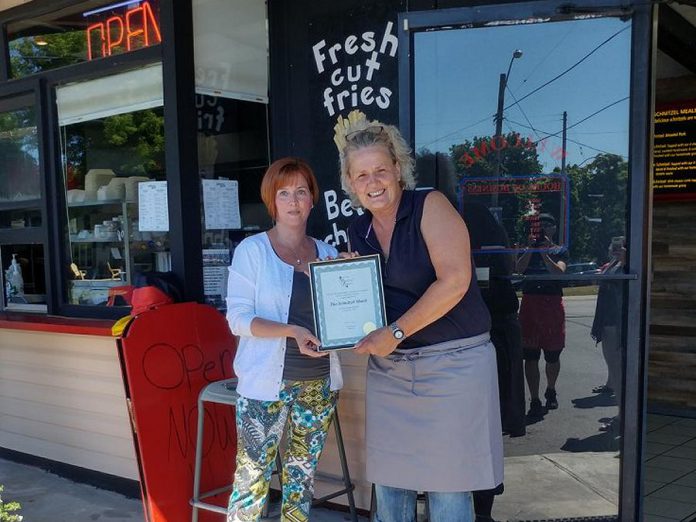 Located at 3 Toronto Road in Port Hope, The Schnitzel Shack is open from 11:30 a.m. to 7:30 p.m. Sundays to Thursdays, and from 11:30 to 8 p.m. on Fridays and Saturdays.
For more information, visit on Facebook.
A new bakery is coming to Lakefield in July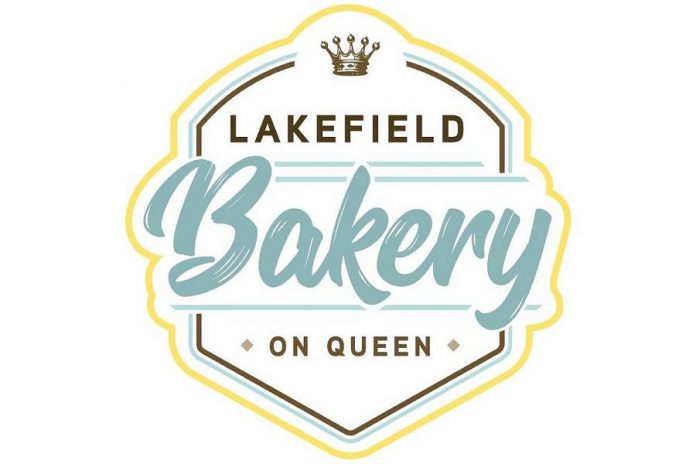 Lakefield Bakery On Queen is planning to open later this month.
Located at 127 Queen Street in Lakefield, the new bakery will feature special cultural sweets and savories along with many bakery classics.
Stay tuned to businessNOW for details on the grand opening.
For more information, visit lakefieldbakery.com.
Peterborough's Tanna Edwards selected as Soroptimist International of the Americas Governor for Eastern Canada Region
Peterborough's Tanna Edwards, a member of multiple clubs within Soroptimist International (SI) since 1994 and a past president of SI Peterborough, has been selected as the Soroptimist International of the Americas Governor for Eastern Canada Region for a two-year term.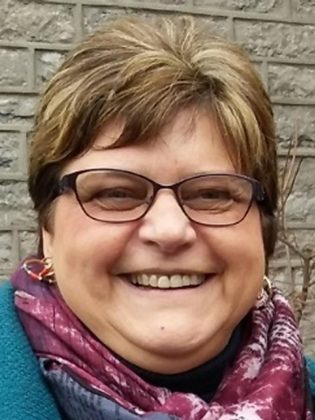 Soroptimist International is a worldwide volunteer service organization for business and professional women who work for peace, and in particular to improve the lives of women and girls, in local communities and throughout the world.
The Governor's role is to lead the Eastern Canada Region and support the local clubs and members as they work collectively to impact the lives of women and girls through the Dream Programs (the Live Your Dream Award and the Dream It, Be It program for teen girls).
These awards include financial support for students who are attending Fleming College and Trent University. In Canada, scholarships for graduate students are also available through the Soroptimist Foundation of Canada.
Edwards will travel to Japan in early August to participate in the Soroptimist International of the Americas Convention in Yokohama and the Governor's Round Table, with leaders from across the federations' 21 countries. While there, the leaders will continue to develop strategy and goals to support and empower women across the world.
The Soroptimist International organization raises funds to support their programs through membership fees, donations, and local fundraising events. The next Peterborough Soroptimist event is the Annual Ladies Charity Golf Tournament on Saturday, September 8th at the Quarry Golf Club in Ennismore. For more information about registration, please contact Pat Simpson at patsimpson909@gmail.com.
U.S. tariffs discussed at trade and advanced manufacturing roundtable hosted by MP Maryam Monsef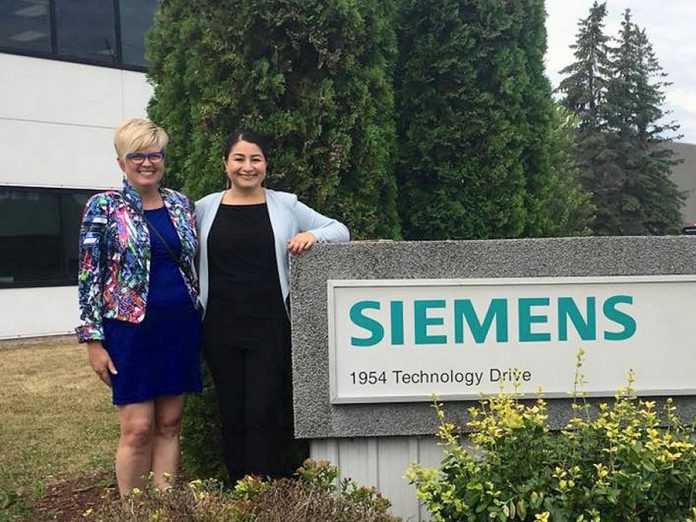 Last Friday (July 13), Maryam Monsef, Member of Parliament for Peterborough-Kawartha, partnered with the Canadian Manufacturers & Exporters organization to host a roundtable discussion with local manufacturers.
The discussion, which was followed by a tour of the Siemens facility in Peterborough, provided an opportunity for attendees to engage to discuss how national and international developments affect local manufacturing.
One issue discussed at the roundtable was the tariffs recently imposed by the United States on Canadian steel and aluminum products. Attendees agreed the tariffs are unacceptable and that they will harm industry, workers, and consumers on both sides of the Canada-U.S. Border — including manufacturers in local communities.
Monsef noted that, while the Government of Canada has imposed countermeasures and is pursuing the full and permanent removal of the unjustified and illegal U.S. trade-restrictive barriers, she will continue to engage with and support local businesses and workers impacted by U.S. trade actions.
Peterborough businesses on the move downtown
A number of Peterborough businesses have moved to new locations in downtown Peterborough.
Intellectual property services agency Prima IP has moved to 184 Charlotte Street.
Marketing and design agency We Design Group has moved moved to the VentureNorth building at 270 George Street North.
Home and business security firm Pro-Tect Lock & Safe Ltd. has moved to 380 Water Street, two doors north of their previous location.
Nominations now open for 2019 Greater Peterborough Chamber of Commerce Board of Directors

The Greater Peterborough Chamber of Commerce is seeking members in good standing who are interested in serving on the organization's board of directors for 2018
The board plays a significant role in the development of the chamber's policies and focuses on governance of the organization through policy governance.
Directors must be willing to make the appropriate time commitment (described on the application form).
If you are interested, download the board application form and submit the completed form by Wednesday, August 15th to the Chamber via email to lindsay@peterboroughchamber.ca, by fax to 705-743-2331, or by postal mail to Greater Peterborough Chamber of Commerce, 175 George Street North, Peterborough, ON K9J 3G6.
Starter Plus Workshop for Hastings County residents on July 17
The Small Business Centre — which serves Belleville, Hastings County, Lennox & Addington, Prince Edward County, and Quinte West — is hosting a Starter Plus workshop for Hastings County residents from 9 to 10 a.m. at Bancroft Community Futures Development Corporation (26 Chemaushgon Rd., Bancroft).
Starter Plus is a program funded by the Ontario government funded to provides entrepreneurs 18 years of age and older with the resources, knowledge, and funding to begin a new business or expand an existing one.
To register for the workshop, email brianna@smallbusinessctr.com or call 613-961-0590.
Application deadline for Camp Startup youth entrepreneurial bootcamp is July 26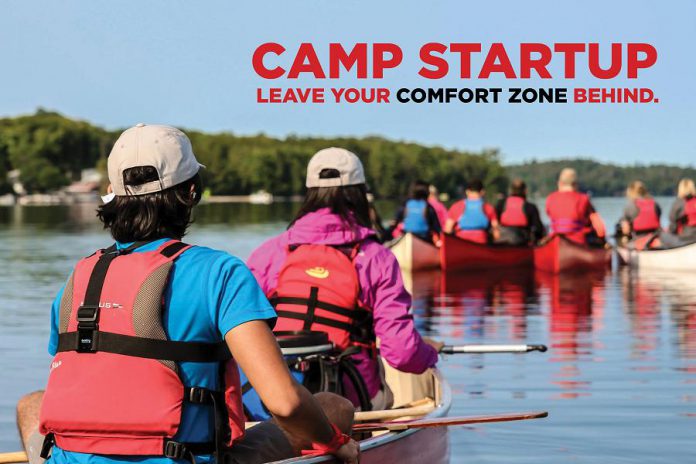 Previously known as Kawartha Backcountry Entrepreneurship Experience, Camp Startup is a new adventure for young entrepreneurs to push their limits past their comfort zone and dive into the world of entrepreneurship.
In September, 20 successful applicants will experience an action-packed weekend at Camp Kawartha. The weekend is open to all aspiring and current entrepreneurs between the ages of 18 and29 who want to learn about starting their own business or further develop their skills.
The costs are covered by FastStart Peterborough, but you must apply for one of the 20 spots by Thursday, July 26th at midnight. To find out more and to apply, visit www.innovationcluster.ca/campstartup.
Innovation Cluster hosts "Power Breakfast: Women in STEM – Building Business and Breaking Barriers" on July 27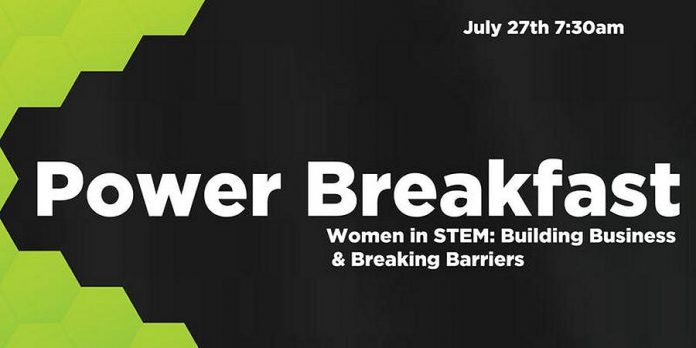 The Innovation Cluster is hosting "Power Breakfast: Women in STEM – Building Business and Breaking Barriers" from 7:30 to 9:30 a.m. on Friday, July 27th at Holiday Inn Peterborough-Waterfront (150 George St., Peterborough).
Over a hot breakfast, four successful female entrepreneurs will speak about their experiences in the fields of Science, Technology, Engineering, and Math (STEM), as well as the importance of maintaining and promoting women in STEM.
The speakers are Dr. Kate Withers (Business Development Manager for Central Ontario from Ontario Centres of Excellence), Miriam Verberg (Executive Producer of Bloom Digital Media), Dr. Andressa Lacerda (Chief Development Officer and Co-Founder of Noblegen Inc.) and Rhonda Barnet (President and Chief Operating Officer of Steelworks Design and National Board of Directors Chair for the Canadian Manufacturers and Exporters).
Presented by Southern Ontario Fund for Investment in Innovation, the event is free but seating is limited. Advance registration is required at www.eventbrite.com/e/power-breakfast-women-in-stem-building-business-and-breaking-barriers-tickets-46845151108.
Northumberland chambers host accessibility workshop for businesses on August 13
The local chambers of commerce in Northumberland County are hosting the "Discover Ability Workshop" from 6 to 8:30 p.m. on Monday, August 13th at Warkworth Legion (6 Norham Rd., Warkworth).
You can learn about the Accessibility for Ontarians with Disabilities Act (AODA), how it applies to your business (including your responsibilities under the legislation), and the advantages of developing an inclusive workforce. Light refreshments will be provided.
For more information and to register, visit business.trenthillschamber.ca/events/details/discover-ability-workshop-2831.
Save the date: Love Local Ptbo Business Expo on October 3
The Greater Peterborough Chamber of Commerce's Love Local Business Expo will take place this year from noon to 7 p.m. on Wednesday, October 3rd.
The region's largest business showcase, in previous years the Expo took place at the Morrow Building during September. While spacious, the location was also somewhat uncomfortable during the heat of late summer and required a lot of carpets to cover up the concrete floor.
This year's Expo is taking place at the Envinrude Centre, which features air conditioning and hardwood floors.
Watch for more details as the date gets closer, but you can register for a booth now at peterboroughchamber.ca.