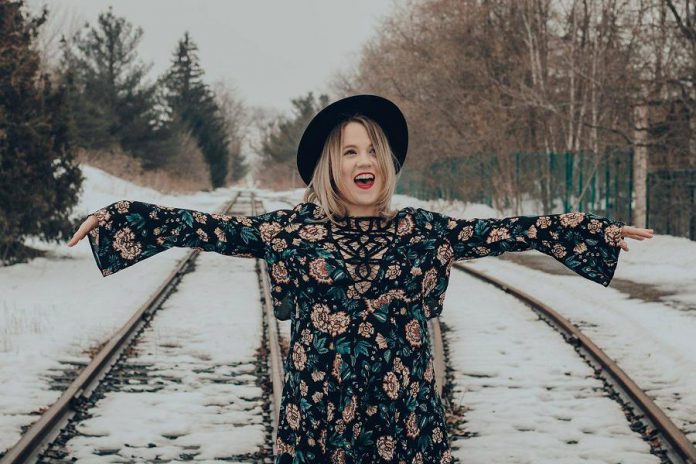 The Peterborough Folk Festival announced yesterday (July 17) that folk singer-songwriter Hillary Dumoulin is the recipient of the 2018 Emerging Artist Award.
The 23-year-old Lakefield native first performed publicly when she was 13 years old, at The Spill (now closed) in downtown Peterborough.
Primarily self-taught, Dumoulin released her self-titled EP in 2016, the same year she won the 15th annual Songs Revealed competition at Durham College.
"She had a strong sense of song craft, an original turn of phrase, and a great marriage of beautiful melodies and lyrics," said singer-songwriter David Leask, one of the judges for that competition.
VIDEO: "7 Months" – Hillary Dumoulin

In April of this year, Dumoulin released her first full-length album Fool's Gold. You can listen to her music on Spotify, iTunes, Google Play, and Apple Music.
As the 2018 Emerging Artist, Dumoulin will be opening for Juno-nominated Hamilton singer-songwriter Terra Lightfoot at the Peterborough Folk Festival's kick-off concert on Friday, August 17th at Market Hall Performing Arts Centre (140 Charlotte St., Peterborough, 705-749-1146).
Tickets are $30 and are available the Market Hall Box Office or online at markethall.org.
The Emerging Artist Award is selected by a committee who assess applicants on skill, dedication, and artistic merit. Applicants may be solo artists, groups, or bands and must live in Peterborough and te Kawarthas and be under the age of 30.
Dumoulin joins a long list of local musicians who have been named Emerging Artist, including:
2017 – Mary-Kate Edwards
2016 – Nick Procyshyn
2015 – Evangeline Gentle
2014- The Lonely Parade
2013 – Dylan Ireland
2012 – Jos Fortin
2011 – Melissa Payne
2010 – Kate LeDeuce
2009 – Missy Knott
2008 – Sean Conway
2007 – Dave Simard & Kelly McMichael
2006 – Drea Nasager
2005 – Benj Rowland
2004 – Beau Dixon
2003 – Jill Staveley
2002 – James McKenty
2001 – Serena Ryder