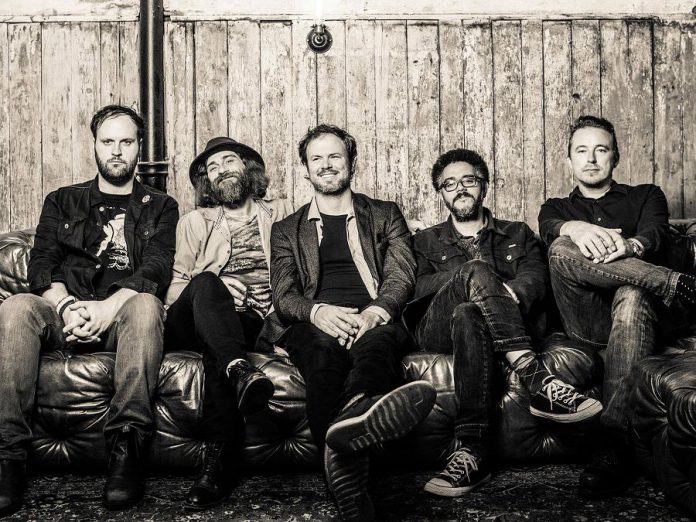 Good on the Peterborough Musicfest brain trust for ignoring famed American newspaper editor Horace Greeley's urging to go west — and instead look east when assembling its 2018 summer menu.
On July 4th, that brought The Trews to Del Crary Park and, come August 8th, will bring former Great Big Sea frontman Alan Doyle to the Fred Anderson Stage. Sandwiched neatly in between, on Saturday, July 21st, comes Halifax-born and Montreal-based indie rock band Wintersleep. Admission is free to the 8 p.m. concert.
Formed in 2001 by Paul Murphy (vocals/guitar), Loel Campbell (drums) and Tim D'eon (guitar/keyboards), Wintersleep released two albums with Dependent Music, a Yarmouth-born music label and artists' collective: a self-titled debut from 2003 and an untitled sophomore release in 2005.
In 2006, the band signed with EMI Canada subsidiary Labwork. Now with Jon Samuel on keyboards and Jud Haynes on bass, the band saw Labwork re-release those two records, with bonus tracks, and distribute them on both sides of the border. The following year, Mike Bigelow replaced the departed Haynes and the band was back in the studio to record Welcome To The Night Sky, its track list including the breakthrough single "Weighty Ghost".
VIDEO: "Weighty Ghost" – Wintersleep

That proved to be a turning point, with Wintersleep picking up the coveted New Group of the Year award at the 2008 Juno Awards — seven years after forming.
"The Juno award was cool in that it was the first time my parents were like 'You're actually a real band,'" says Murphy in a 2012 interview with Erin Lyndal Martin of www.popmatters.com.
"For me, a milestone was working with Tony (Doogan) for the first time for Welcome To The Night Sky and then with Dave (Fridmann) on this last record (2012's Hello Hum). I don't get excited by a lot of things but those are the things I get excited about. It's something tangible and you're working with this person on things, and that was way beyond the realm of possibility when I was 16 or 17 years old. I never thought I would be working with people of that caliber."
VIDEO: "In Came The Flood" – Wintersleep

Hello Hum, which was preceded by 2010 release New Inheritors and its high-charting singles "Black Camera", "Trace Decay", and "Preservation", cemented Wintersleep's standing as a band that wasn't going away anytime soon, much to the delight of a growing legion of fans.
Not hurting the band's cause was the traction "Weighty Ghost" initially provided and still does.
The track was featured in the 2008 film One Week and was named to The 100 Top Canadian Singles by acclaimed music writer Bob Mersereau. In 2009, Sir Paul McCartney took notice too, inviting Wintersleep to open his Halifax Common concert. In January 2011, Wintersleep performed "Weighty Ghost" to a U.S. audience on The Late Show With David Letterman and, in 2013, the tune became the theme song for the CBC crime drama Cracked.
The band's 2012 release Hello Hum, fueled by the singles "In Came The Flood" and "Nothing Is Anything (Without You)", peaked at #20 on the Canadian rock album chart. Then in late 2015, now signed by Dine Alone Records, the band returned to Halifax's Sonic Temple to record its sixth album, The Great Detachment.
That album — which earned the band a Juno nod in 2017 for Adult Alternative Album of the Year (they lost out to Gord Downie's Secret Path) — also spawned the band's most successful single to date in "Amerika".
VIDEO: "Amerika" – Wintersleep

Based on a line from the Walt Whitman poem "America", the tune's lyrics about the shattered American dream and its accompanying apocalyptic video (which includes a snippet of a Trump speech from well before he became the Republican candidate) serendipitously tapped into the zeitgeist of the 2016 American election — even though it was written three years before.
"It wasn't written for the election," affirms drummer Campbell in a 2016 interview with Lynn Saxberg of the Ottawa Citizen. "It's become all too real. We were totally not expecting the outcome."
And it was quite the outcome. By the end of 2016, "Amerika" had been streamed more than a million times on Spotify (by comparison, it took "Weighty Ghost" nine years to hit 2.7 million streams), and the tune reached #1 on both the Canadian rock and alt-rock charts. Another tune from The Great Detachment, "Spirit", peaked at #5.
VIDEO: "Spirit" – Wintersleep

Although their biggest hit to date is named after the country to our south, Wintersleep remains quintessentially Canadian — The Great Detachment also features legendary Rush bassist Geddy Lee laying down the bottom end on the tune "Territory".
The band, now with long-time sound engineer Chris Bell performing on bass, will be heeding Horace Greeley's advice following their Musicfest appearance, by heading west for a number of shows in Alberta and British Columbia before returning home to Nova Scotia late in the month for Rock The Hub in Truro.
Peterborough Musicfest is presenting 18 free-admission concerts featuring a total of 20 acts during its 32nd season — each staged on Wednesday and Saturday nights at Del Crary Park.
Overseen by general manager Tracey Randall and staff, a board of directors, and numerous volunteers, Peterborough Musicfest's stated mission is to "provide diverse, affordable live music to enrich cultural and economic prosperity in our community."
For more information on this concert or the entire 2018 season, visit www.ptbomusicfest.ca or phone the Peterborough Musicfest office at 705-755-1111.