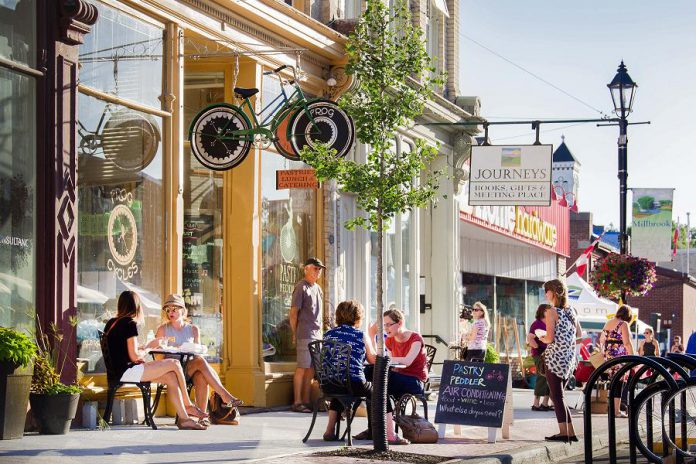 On Thursday, August 2nd the streets of Millbrook will be bustling with people, vendors, music, and entertainment for Ladies' Night, a popular "girls' night out" event hosted by the Millbrook Business Improvement Area.
Now in its 14th year, the annual event consistently draws over 1,000 people to the historic town of Millbrook. This year, visitors can expect new vendors and lively entertainment.
Kate Deklerck, co-organizer of the event and owner of The Quilter's Bolt (30 King St E, Millbrook, 705-932-2120) says responses to the event have been overwhelmingly positive.
"Ladies' Night brings the Millbrook community together, and it brings many new people into the community who get to witness the vibrant spirit of our hometown," says Deklerck, who has been involved with planning the event for the past three years.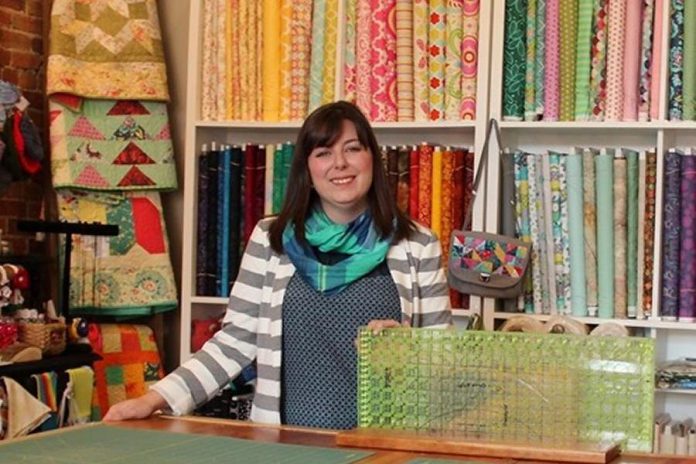 Ladies' Night pioneer and veteran, Bonnie McQuarrie, says the event can be summed up in one word: fun.
McQuarrie, of Bethany Hills Interiors (12 King St E, Millbrook, 705-932-1600), and Cathy Bond, former owner of the Millbrook Times, were the lead organizers of the first Ladies' Night 14 years ago, which drew around 200 people.
"The event continues to grow and attract more people every year," McQuarrie says. "When I send out invitation reminders now, everyone who has attended before always comments on how fun the event is. They tell me they wouldn't miss it."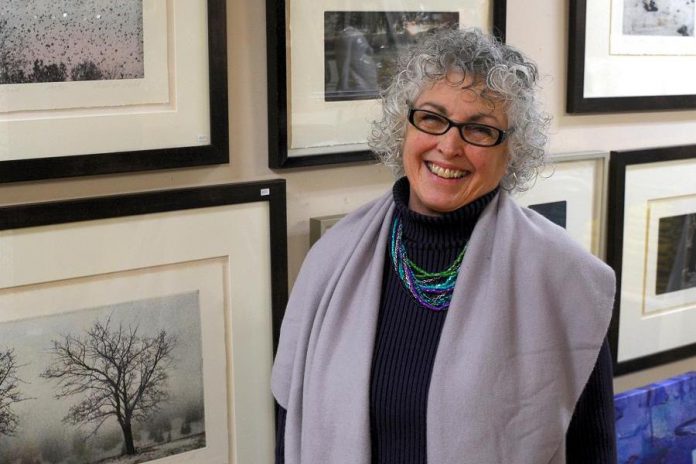 From 4 to 9 p.m., more than 60 vendors will be participating. A new addition to look forward to this year is a caricature artist. Visitors can sit for a sketch and take a piece of the evening home with them.
This "Divalicious" event is the result of months of planning and a dedicated team of community members with the goal to provide a relaxing, enjoyable night out for women.
Here are six more reasons to visit this year's Millbrook Ladies' Night:
1. The best in retail therapy
Downtown Millbrook offers a wide array of shopping choices.
Visitors can browse for gifts, antiques, fabrics, hardware items, linens, quilts, fashions, and more in the local establishments, and find unique products at the numerous vendor booths during Ladies' Night.
Merridy Senior of Puddleduck Farms (541 Glamorgan Rd, Pontypool, 705-931-5794) will be selling maple syrup, maple sugar candies, and fresh cut flowers at her booth. She's used to early mornings at farmers' markets and says it's nice to do an event in the evening.
"It's a fun evening with lots of shopping and food options to choose from," she says. "People can come after work and browse the local shops and booths, then get dinner and check out the Legion's wine garden."
Other products and services to be showcased by vendors include jewelry, pottery, home decor, clothing, alpaca sweaters, art, body sugaring, insurance advice, pet grooming, massage therapy, psychic readings, and more.
2. Wine, chocolate, ice cream … oh my!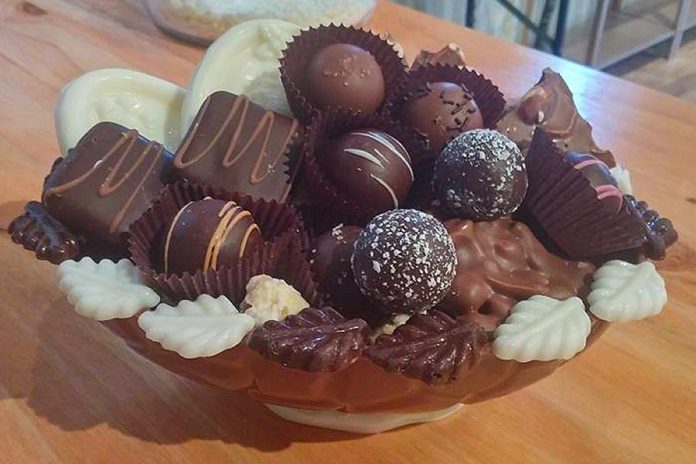 A variety of food vendors and local establishments will offer delicious cuisine.
Visitors can dine at the Millbrook Legion (9 King St. E., 705-932-2837) and afterwards enjoy a beverage on the Legion's back patio — which will be turned into a wine garden specifically for Ladies' Night.
For something sweet, Jackie Virtue-Flamminio of Millbrook Valley Chocolates (32 King St E, Millbrook, 705-932-0110) will be selling chocolates and scooping Kawartha Dairy ice cream. With increasing visitors each year, her shop usually has a line out the doorway.
Another local favourite to satisfy your sweet tooth, The Pastry Peddler (17 King St., Millbrook, 705-932-7333), is the place to go for fresh baked goods.
Other local establishments, including Moody's Bar and Grill (3 Tupper St, Millbrook, 705-932-6663) and Jule's Kitchen (11 Tupper St, Millbrook, 705-932-3663), will be open and ready to host Ladies' Night visitors. Both restaurants are only a short distance from the main street and worth the walk.
3. Classic rock faves from a live band
Rock n' roll cover band Close Enuff will get the party started.
Close Enuff will play from 4 to 6 p.m. After an intermission, they will start up again at 7 p.m. and play until close. The band — whose members hail from Peterborough and the Greater Toronto area — are excited for their first Ladies' Night gig.
"It's always fun to play outdoor venues, but the band is really looking forward to this one," says Steve Plunkett, the band's drummer. "Millbrook is a neat little village with a lot of character."
With covers of The Beatles, The Eagles, Billy Joel, and many other classics, Close Enuff is sure to get people up and moving.
4. A fashion show on King Street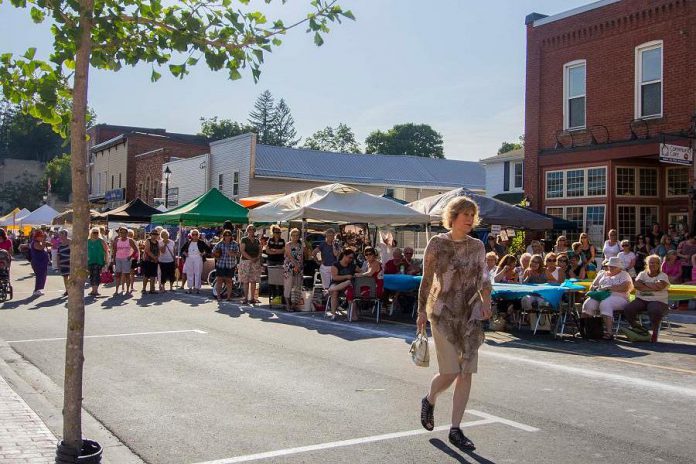 Nancy Fallis, owner of Oasis Boutique (26 King St E, Millbrook, 705-932-8267), is bringing back the Oasis Fashion Show this year.
Around 6 p.m. the band will take an intermission and the fashion show will begin.
Local women will model clothing from the boutique's collection, and the show will feature three wardrobe changes, each introduced by Fallis.
"The ladies have fun with it," says Fallis. "It's always a good time."
Oasis Boutique will also be offering one-night-only deals.
5. Info about local community services
Sales vendors won't be the only booths that line the streets of downtown Millbrook on Ladies' Night.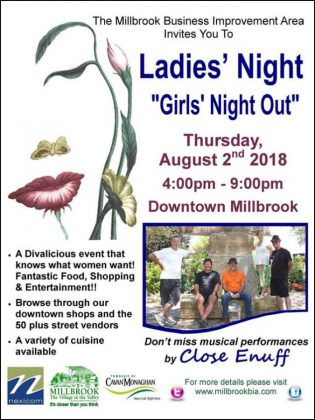 A few community organizations will be present to discuss the services they provide in the area.
The Old Millbrook School Family Centre (1 Dufferin Street, Millbrook, 705-932-7088), an agency that offers children and family programs, will be at Ladies' Night, as will the Cavan Monaghan Library-Millbrook Branch (1 Dufferin St, Millbrook, 705-932-291).
Ladies' Night is about shopping and entertainment, but it is also a chance to showcase the community resources available to individuals and families, something that is important to Deklerck.
"Including these organizations allows them to connect with people, which will have a positive impact on our community," says Deklerck, who notes that non-profits are given a free booth space for the evening.
6. A chance to win a basket filled with Millbrook goodies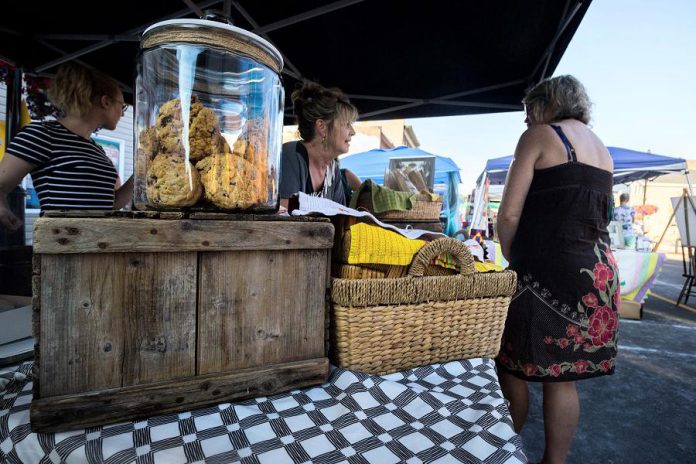 At the end of the night, a draw will be held for the highly coveted Diva Basket.
Throughout the evening, visitors collect ballots for the draw by shopping at the local businesses participating in Ladies' Night. Every time you make a purchase, you receive a ballot.
Most of the businesses contribute something to the basket, whether it be gift certificates or physical items.
For all these reasons and more, August 2nd is a date you'll want to make note of on your calendar.
Ladies' Night runs from 4 to 9 p.m. on Thursday, August 2nd in downtown Millbrook on King Street (which will be closed for the event). Admission is free. The event is presented by the Millbrook Business Improvement Area, Nexicom, and the Township of Cavan Monaghan.