This week's business news includes the opening of vegan quick-service restaurant franchise Copper Branch in Peterborough, Heritage Vodka from Black's Distillery in Peterborough to be available at the LCBO, the final summer for Lantern Restaurant & Grill on Stoney Lake, new partnerships for Kavtek and its home remodelling augmented reality app, and Algonquin Puzzle Company in Barry's Bay, a student-run business that transforms wilderness art into jigsaw puzzles.
Regional business events added this week include the Peterborough Chamber of Commerce's "Lunch Box Learning – Exceed as an Exhibitor" event on August 15th and the Kawartha Chamber of Commerce & Tourism's next Business After Hours event on September 19th.
We publish businessNOW every week. If you'd like us to promote your business news or event in businessNOW, please email business@kawarthanow.com.
---
Copper Branch vegan restaurant franchise opens in Peterborough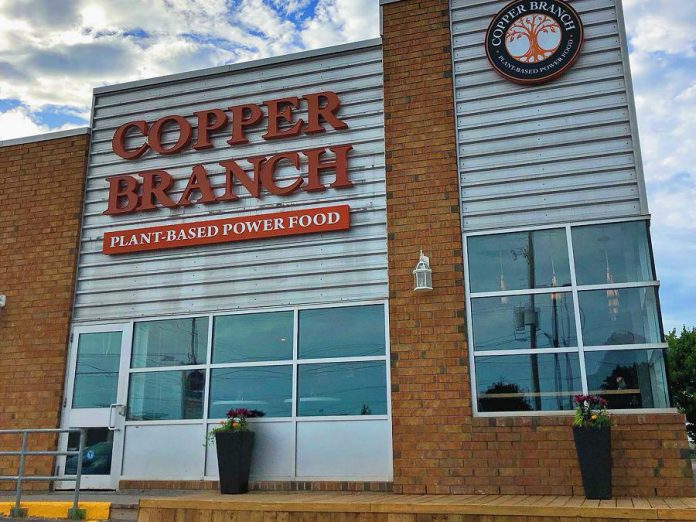 A franchise of the Montreal-based vegan restaurant offering plant-based "fast food" opens today (July 23) at 1040 Lansdowne Street West in Peterborough.
Founded in Montreal in 2014 by entrepreneur Rio Infantino, the mission of Copper Branch is to be "the undisputed leader in healthy fast-casual foods" by not only catering to vegetarians and vegans, but everyone seeking clean and healthy meal options.
The name "Copper Branch" is intended to reflect the company's values of high-quality cooking and energy (copper being a metal used in gourmet cookware and a conductor of electricity) with the "branch" symbolizing natural, whole food.
The company has been undertaking a major expansion over the past couple of years. There are already 16 locations in Quebec and six franchise locations now open in Ontario, including Peterborough, with 10 more in Ontario opening later this year and many more locations opening in Quebec. There are also locations opening in the next year in Alberta and France.
Copper Branch is known for offering a range of rice bowls, burgers, sandwiches, smoothies, and all-day breakfasts, made using with organic and non-GMO ingredients. Gluten-free options are also available.
The Peterborough location is open daily from 8 a.m. to 9 p.m. For more information, visit www.facebook.com/copperbranchpeterborough.
Heritage vodka from Black's Distillery in Peterborough coming to the LCBO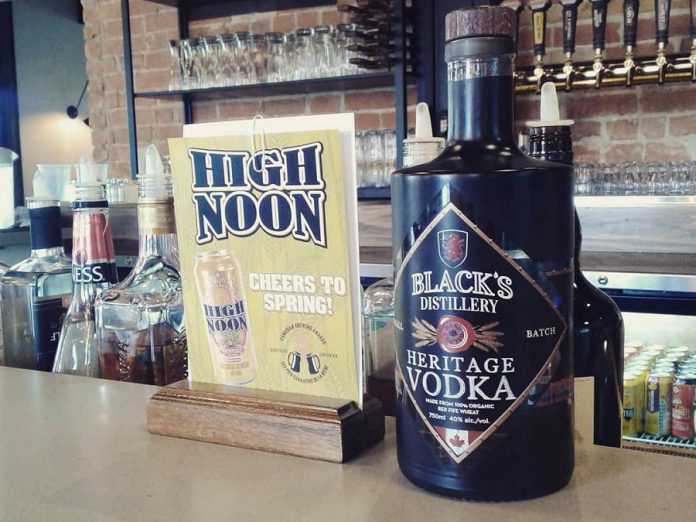 Black's Distillery in Peterborough's East City has announced its Heritage Vodka will soon be available at the LCBO.
Previously only available from the distillery at 99 Hunter Street East and at select local establishments like Publican House, the vodka will be sold at 25 LCBO locations, as well as online at lcbo.com. The locations will be announced soon.
Owner Robert Black makes and sells gin, heritage vodka, rye whiskey and barley whiskey. The vodka is made with local Red Fife Wheat. Black chose Red Fife Wheat because of its local significance.
"The Red Fife Wheat was locally developed here in Otonabee Township by David Fife in 1840," he says. "That's a marquis grain that our grains are developed from today."
He sources his wheat from a local farmer who still grows the original heritage grain.
Lantern Restaurant & Grill on Stoney Lake is closing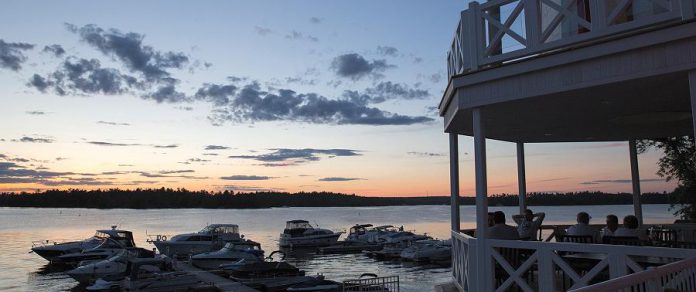 Geoff and Lesley Kirkland, owners of the seasonal Lantern Restaurant & Grill on Stoney Lake, announced on Sunday (July 22) that this will be the restaurant's final season, along with Firefly Bakery & Supply.
"In the past five short years, we have been continuously impressed and humbled by how graciously we were accepted and supported by the local community on the lake," they write on Facebook. "We are so proud to live and work in a place with people who avidly support local businesses and farmers.
"You inspired us to continuously grow and better ourselves not only with our food, drink, and service, but as employers as well. We are very proud of what our team has accomplished over the years, and we are so grateful to all our employees who contributed their creativity, ingenuity and positive energy to both of our businesses."
The pair provided no details as to why they have decided to cease operating the restaurant and bakery. However, they lease both locations from Harbour Town McCracken's Landing (2281 McCracken's Landing Rd., Douro-Dummer) which went up for sale earlier this year for $3.5 million. The listing is no longer available, so it's possible the property has been sold to a new owner and this has something to do with the decision.
Peterborough tech start-up Kavtek launches home remodelling augmented reality app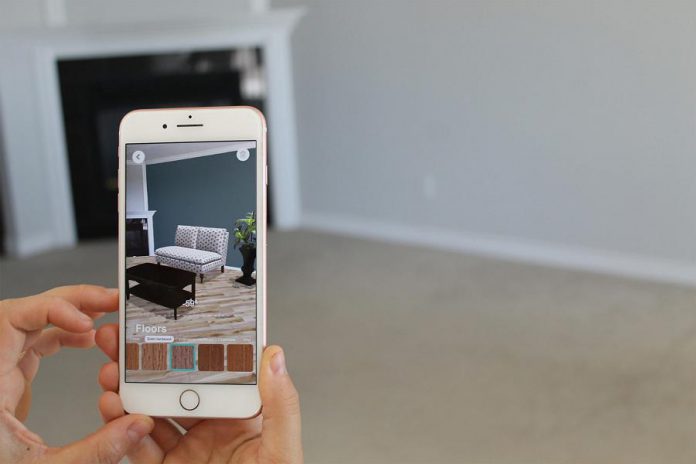 Peterborough technology start-up Kavtek has created the first augmented reality app of its kind for real estate agents and their clients.
The app, which is available for both iOS and Android devices, allows users to completely remodel any home and envision future possibilities for improvement. Current features include the ability to place life-sized furniture, paint walls, change flooring, add lighting, cabinets and appliances, as a digital layer on top of the real world.
Kavtek has recently partnered with North American home furniture online retailer Wayfair to display its products in the app. Other retailers in the home improvement industry, including Dulux Paints and Monaghan Lumber, have also partnered with Kavtek to allow home remodellers access to their products.
VIDEO: Kavtek – Make a House a Dream Home

Kavtek had already partnered with RE/MAX INTEGRA, to provide access to its augmented reality platform to over 10,000 real estate agents across Ontario and Atlantic Canada.
"Millennials make up the largest segment of homebuyers today, and most of them start their search for a new home online," says Christopher Alexander, Executive Vice President and Regional Director for RE/MAX INTEGRA in the Ontario-Atlantic Region. "Augmented reality apps like Kavtek cater to this mobile-savvy generation's desire for instant information and customizable experiences."
Kavtek was co-founded by Sanu Somaweera and Alexandra Campbell, who came up with the idea while showing a home to a hesitant buyer. Clients of the Innovation Cluster, they won the Innovation Stream of the Bears' Lair Entrepreneurial Competition earlier this year.
Real estate agents can download Kavtek on the Apple App Store and Google Play store for free, and receive two weeks of unlimited home remodeling followed by a monthly subscription. Kavtek is free for home buyers and sellers who get access through their real estate agent.
Algonquin Puzzle Company transforms local wilderness art into jigsaw puzzles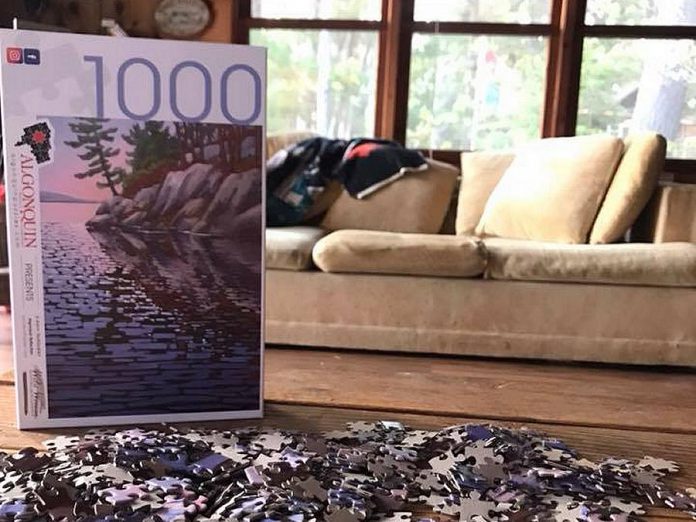 This is on the edge of the region we usually cover, but it's such a clever and unique business idea we just had to mention it.
A passion for business and a love for the cottage prompted 17-year-old Matthew Kelley of Barry's Bay to launch Algonquin Puzzle Company, in which he transforms wilderness art from local artists into jigsaw puzzles. Kelley launched his company this past spring with the help of the Ontario government's Summer Company program administered by Small Business Centre (Belleville, Hastings County, Lennox & Addington, Prince Edward County, Quinte West).
Kelley has already created the "Wild Women: Painters of the Wilderness" collection, featuring three 1,000-piece jigsaw puzzles based on prints of works by three Ottawa Valley artists: "Algonquin Reflection" by Joyce Burkholder, "Pine Lookout" by Kathy M. Haycock, and "Life is Good" by Linda Sorensen.
This trio of artists, who call themselves "Wild Women: Painters of the Wilderness", have published an art book of the same name and are part of the Madawaska Valley Studio Tour. Find out more at wildwomenartists.ca.
As for Kelley, he plans to continue running Algonquin Puzzle Company as he pursues post-secondary education in marketing at the University of Ottawa.
The puzzles are available online at algonquinpuzzles.com and at The Old Hastings Mercantile & Gallery, Art Gallery of Bancroft, Bayberry Design, Charlie D's, Wilno Craft Gallery, The Old School Cafe, Laundry & Greenhouses, Opeongo Outfitters, Grumblin Granny's, Algonquin Bound Outfitters, Pinewood Inn, and Barry's Bay Outfitters.
We can't think of a better activity for a rainy day (or even a sunny one) at the cottage.
Application deadline for Camp Startup youth entrepreneurial bootcamp is July 26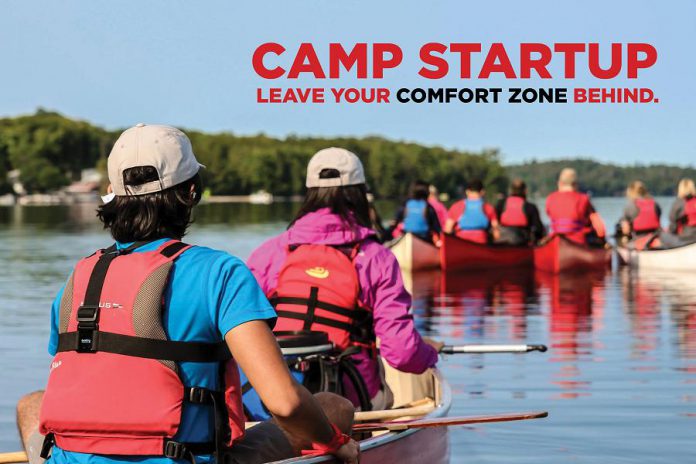 Previously known as Kawartha Backcountry Entrepreneurship Experience, Camp Startup is a new adventure for young entrepreneurs to push their limits past their comfort zone and dive into the world of entrepreneurship.
In September, 20 successful applicants will experience an action-packed weekend at Camp Kawartha. The weekend is open to all aspiring and current entrepreneurs between the ages of 18 and29 who want to learn about starting their own business or further develop their skills.
The costs are covered by FastStart Peterborough, but you must apply for one of the 20 spots by Thursday, July 26th at midnight. To find out more and to apply, visit www.innovationcluster.ca/campstartup.
Innovation Cluster hosts "Power Breakfast: Women in STEM – Building Business and Breaking Barriers" on July 27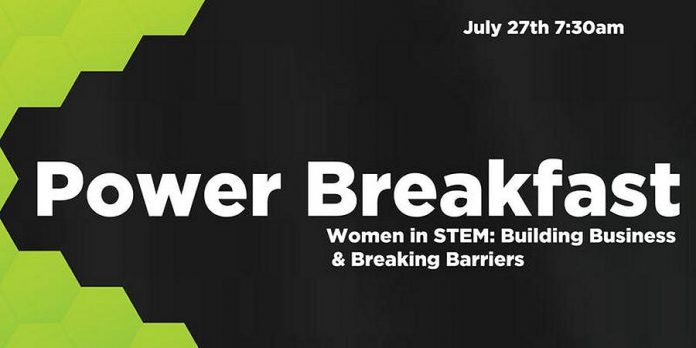 The Innovation Cluster is hosting "Power Breakfast: Women in STEM – Building Business and Breaking Barriers" from 7:30 to 9:30 a.m. on Friday, July 27th at Holiday Inn Peterborough-Waterfront (150 George St., Peterborough).
Over a hot breakfast, four successful female entrepreneurs will speak about their experiences in the fields of Science, Technology, Engineering, and Math (STEM), as well as the importance of maintaining and promoting women in STEM.
The speakers are Dr. Kate Withers (Business Development Manager for Central Ontario from Ontario Centres of Excellence), Miriam Verberg (Executive Producer of Bloom Digital Media), Dr. Andressa Lacerda (Chief Development Officer and Co-Founder of Noblegen Inc.) and Rhonda Barnet (President and Chief Operating Officer of Steelworks Design and National Board of Directors Chair for the Canadian Manufacturers and Exporters).
Presented by Southern Ontario Fund for Investment in Innovation, the event is free but seating is limited. Advance registration is required at www.eventbrite.com/e/power-breakfast-women-in-stem-building-business-and-breaking-barriers-tickets-46845151108.
Northumberland chambers host accessibility workshop for businesses on August 13
The local chambers of commerce in Northumberland County are hosting the "Discover Ability Workshop" from 6 to 8:30 p.m. on Monday, August 13th at Warkworth Legion (6 Norham Rd., Warkworth).
You can learn about the Accessibility for Ontarians with Disabilities Act (AODA), how it applies to your business (including your responsibilities under the legislation), and the advantages of developing an inclusive workforce. Light refreshments will be provided.
For more information and to register, visit business.trenthillschamber.ca/events/details/discover-ability-workshop-2831.
Learn how to become a better trade show exhibitor on August 15
The Peterborough Chamber of Commerce is hosting "Lunch Box Learning – Exceed as an Exhibitor" from 12 to 1 p.m. on Wednesday, August 15th at the CHamber office (175 George St. N., Peterborough).
Chamber staff Tiffany Arcari and Siam Grobler will host an open discussion on how to excel as a trade show exhibitor.
The noon-hour series is free to Chamber members and members of the Women's Business Network of Peterborough. Bring your own lunch.
For more information and to register, visit www.peterboroughchamber.ca.
Save the date: Business After Hours in Bridgenorth on September 19
The Kawartha Chamber of Commerce & Tourism's next Business After Hours event takes place from 5 to 7 p.m. on Wednesday, September 19th.
During the "Bridgenorth Hop", the Chamber will visit members in Bridgenorth, including Style Boutique and TCB Office Furniture & Supplies.
More details will be announced as the date nears.
Save the date: Love Local Ptbo Business Expo on October 3
The Greater Peterborough Chamber of Commerce's Love Local Business Expo will take place this year from noon to 7 p.m. on Wednesday, October 3rd.
The region's largest business showcase, in previous years the Expo took place at the Morrow Building during September. While spacious, the location was also somewhat uncomfortable during the heat of late summer and required a lot of carpets to cover up the concrete floor.
This year's Expo is taking place at the Envinrude Centre, which features air conditioning and hardwood floors.
Watch for more details as the date gets closer, but you can register for a booth now at peterboroughchamber.ca.